Greece and the economic crisis 2017
NEWS ARCHIVE - March 16 - March 22
---
March 22, 2017
Brussels: Tsakalotos – Stathakis – Ahtsioglou have 48hours to close the deal with creditors - Tovima
"A new –third- round of talks has begun today with the participation of Tsakalotos, Ahtsioglou, Houliarakis and and the new entry of Stathakis as negotiations concern the Public Power Corporation issue."
---
Fire damages 15th century Ottoman mosque in Greece - Fox
"Firefighters say the blaze broke out early Wednesday in the Bayezid Mosque, also known as the Celebi Sultan Mehmed Mosque, considered one of the most important monuments of its kind in the region."
---
In Greece, Europe's new rules strip refugees of their right to seek protection - ekathimerini
"...a European Commission action plan is putting Greece under pressure to change safeguards enshrined in Greek law. NRC, along with other human rights and humanitarian organizations, wrote an open letter to the Greek Parliament this month urging lawmakers to keep that protection for those most in need.

Importantly, this is just another quiet example of how what is happening in Greece is setting precedents that may irrevocably change the 1951 Refugee Convention. Europe is testing things out in Greece."
---
Greece eyes bailout deal with lenders within April - Investing
"The onus for an agreement was not only on the Greek government, but on its European Union and International Monetary Fund lenders too, government spokesman Dimitris Tzanakopoulos told reporters.

Three Greek ministers, including its finance minister, are in Brussels this week in an attempt to thrash out a deal with creditors on reforms, necessary for lenders to sign off on a bailout review needed for disbursement of a fresh tranche of aid."
---
Philip Morris to invest 300 millon euros in Greece for smoke-free product - nasdaq.com
Papastratos, with annual sales of 1.3 billion euros, has a 40 percent share of the domestic market and employs 800 workers. Philip Morris International makes six of the world's top 15 international brands and products sold in more than 180 markets.

The project will entail three new buildings at Papastratos' facility in Aspropyrgos, outside Athens, with new lines of tobacco processing and production of refills for IQOS. Executives said it will create 400 new jobs.
---
March 21, 2017
Greece's lenders among targets of intercepted booby-trapped parcels - Reuters
"Packages containing small amounts of explosive material were delivered to the International Monetary Fund in Paris and the German Finance Ministry last week, sent from Greece."
---
Eurogroup chief: Collective bargaining must be restored in Greece - Tornosnews
"Regarding differences of opinion between the IMF and European Commission about economic growth in Greece, Dijsselbloem said the IMF was more pessimistic but the last quarter downturn in 2016 "had shown it was right."
---
Bailout impasse renews Greece euro fears - Reuters
Online video report
"Greece will not last in the eurozone in the long run and officials working on a review of its bailout package should prepare for such a possibility. That's the view of one German politician as bailout talks again fail to reach any conclusion. Ivor Bennett reports"
---
8 Parcel Bombs Are Found in Greece - NYT
"The devices were discovered on Monday during a search of the Hellenic Post's main sorting office, north of Athens, according to a police spokesman, Theodoros Chronopoulos. "The packages were destined for European countries," he said, describing them as "similar" to the devices sent to the German finance minister, Wolfgang Schäuble, and to the monetary fund's offices."
---
Thessaloniki Port workers plan stoppage to protest port sale - Times India
"Workers at Greece's second-biggest port, Thessaloniki Port, will walk off their job for a few hours on Wednesday to protest the port's sale, a key condition of the country's international bailout."
More Coverage
Security Message for U.S. Citizens: Athens - OSAC
---
As bailout talks drag, gov't says might not sign EU Rome treaty - eKathimerini
"...government sources have threatened to block the Rome Declaration, Kathimerini understands, connecting it to the negotiations on the second review."
---
Greece, creditors stepping up talks as debt deadline looms - Fox
"Eurogroup chairman Jeroen Dijsselbloem said finance ministers from the 19 nations that used the shared euro currency agreed Monday on more talks "intensified in the coming days here in Brussels."
More Coverage:
Greece, lenders still divided, bailout talks to intensify: Dijsselbloem - Investing.com
Pressure on Greek government increases after Eurogroup - eKathimerini
---
March 20, 2017
EU Pressures Greece to Resolve Issues as New Debt Crisis Looms - Bloomberg
"Greece is edging closer to a repeat of the 2015 drama that pushed Europe's most indebted state to the edge of economic collapse. A Greek government official in Brussels declined Monday to say whether the country can meet debt payments due this July.

... The Greek government, which has more than 7 billion euros ($7.5 billion) in bond payments due in July, has balked at implementing mandated reforms to its energy and labor markets while also resisting calls for additional pension cuts..."
---
Review impasse threatens alarming situation - eKathimerini
"Apart from the state not paying some of its bills, the other worrying sign in the budget execution data is that tax revenues are also starting to look a little shaky. Gross revenues beat their target by 170 million euros but this was on the back of a one-off dividend received from the Bank of Greece's 2016 net profits, which was 334 million euros more than expected. Without this, revenues would have dipped below their target."
---
Greece, creditors stepping up talks as debt deadline looms - Fox
"...[Eurogroup chairman Jeroen Dijsselbloem] said the aim is to "clear those last big issues out of the way," including tax, pension and labor market reforms.

It's hoped the problems can be resolved by the next Eurogroup meeting on April 7, but Dijsselbloem said "there is no promise that all the work will be done by then."
---
March 19, 2017
Turkish Nationals Buy Houses in Greece to Get Residence Visa - Greekreporter
"According to "Greece My Residence: Golden Visa Program", foreign nationals who buy real estate property worth 250,000 euros or more get a renewable five-year residence permit for themselves and their immediate family.

So far, 57 houses have been sold to Turkish nationals and 12 of them already have the residence permits in their hands. The remaining buyers are in the process of receiving their own."
---
Greece needs a new technologically upgraded and extrovert growth model, says Econ Min Papadimitriou - amna
"It is the only way to cover the productive gap that characterises today the economy and in parallel to create new job positions in order to absorb the unprecedented unemployment that plagues the country". The minister said that "we focus on the attraction of investments to dynamic and innovative businesses in order to broaden their activities and to acquire extroversion (strengthening of exports) with aim the increase of added value and the creation of new qualitative job positions and intercept the brain drain."
---
March 18, 2017
Greece's Debt Crisis Could Still Bring Down Europe - Realclearworld
"...according to a recent investigation by a parliamentary committee, PASOK and New Democracy themselves had amassed loans worth a staggering 420 million euros based on little more than assurances of continued state funding, which Greek parliamentary parties receive according to their vote shares. Given their latest electoral results, New Democracy's and PASOK's bank loans are, according to data provided by parliamentary watchdog Vouliwatch, unserviceable."
---
US Pressures IMF To Walk Away From Greece: Déjà Vu, All Over Again - Talkmarkets
"The IMF isn't a fund to rescue political parties in creditor nations, nor should it be a junior partner to outside organizations that lack the commitment to do their work," he said. "For seven years now, the IMF has been used to shield eurozone officials from their voters, which has tarnished the fund's reputation, prolonged Greece's misery, and put off hard choices about Europe's future that must be made regardless."
---
More than 14,000 asylum-seekers relocated from Greece and Italy, says UN migration agency - un.org
"European Union countries have welcomed more than 14,000 asylum-seekers from Greece and Italy since October 2015, the United Nations migration agency today announced, encouraging EU member states to follow through on their commitments."
---
March 17, 2017
Greek PM heralds another corruption probe, into health - eKathimerini
"The premier called for a parliamentary probe into the health sector just a few days before a cross-party panel is to be set up to investigate years of defense sector procurement under previous Socialist and conservative governments. Widespread corruption and kickbacks are believed to have contributed to the huge debt pile that got Greece into its current economic mire."
---
Demy to represent Greece at Eurovision 2017 - Neo Kosmos
"Nee Dimitra Papadea, the Athenian currently signed with Greek Independent label Panik Records will be singing a song by the name of This Is Love composed by Dimitris Kontopoulos with lyrics from Romy Papadea and John Ballard."
March 16, 2017
Letter bomb that exploded at Paris IMF office was sent from Greece - UK Guardian
"Greek intelligence officials are working on the assumption that the blast in the French capital may have been orchestrated by an urban guerrilla group that claimed responsibility for a parcel bomb sent to the German finance minister, Wolfgang Schäuble, on Wednesday."
---
Greek public health system on brink, doctors warn - eKathimerini
"The National Health System (ESY) is on the the brink of collapse, according to the Panhellenic Medical Association (PIS), which cited chronic shortages in staff and equipment at public hospitals around the country due to limited finances, and disruptions in the primary healthcare system."
---
Lenders and Greece 'wide apart' on bailout review: euro zone official - Metro US
"The lack of enough progress at the technical level means that euro zone finance ministers who gather on Monday in Brussels for a regular monthly meeting are unlikely to reach a political compromise on a new loan to Greece, an outcome that would increase concerns over the country's financial stability."
---
Greece: A Democracy In Crisis - Zerohedge
"The Greek people have just about reached the limits of their strength. The economic situation is tragic. Illegal immigration is out of control, criminality increases day by day. The political system is steeped in corruption and the media have stopped being the communication channel between citizens and the political system. The Greek media are functioning as the praetorian guard of the euro; they favor the massive admission of Muslim populations into Greece and they fiercely attack every voice that disagrees with them.

Bishop Ambrossios is urging people to revolt. He characterizes the illegal Muslim immigrants entering the country as conquerors. He also says that Christianity is under attack in Greece, while Islam is being daily reinforced. He says that Greek Orthodox churches are being desecrated, robbed and burned by Muslim immigrants while the state just sits by and looks on.

Prime Minister Alexis Tsipras does not fully control his political party; his biggest problem is his cabinet."
---
Greece dismisses media report over snap elections as "fake news" - Sina.com
"According to a Reuters report, citing vague sources, released earlier on Thursday, the Left leader was about to make a TV address or release a statement by the weekend calling early elections, just 17 months after the previous national polls."
---
---
NEWS ARCHIVE - Mar 2017
---
---



---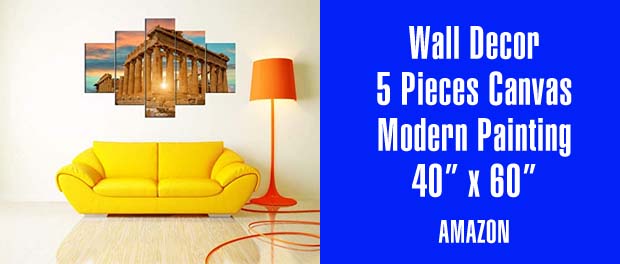 Parthenon Temple on the Acropolis of Athens Greece Artwork Wall Decor 5 Pieces Canvas Modern Painting Wall Art Home Decoration for Living Room Pictures HD Printed Framed Ready to hang(60''Wx40''H)
---
Create Amazon Business Account - save time and money on business purchases with competitive B2B prices and discounts