Greece and the economic crisis 2017
NEWS ARCHIVE - Feb 23 - Feb 28
---
February 28, 2017
Greece Said to Expect Revised Bailout Draft as Talks Resume - Bloomberg
"...Greek Prime Minister Alexis Tsipras's government last Monday agreed to legislate structural reforms demanded by the IMF that will lower the threshold of tax-free income and amend the pension system by 2019, effectively crossing what it had once characterized as a red line. The government says the deal won't increase austerity since the new legislation will include stimulus measures in addition to belt-tightening reforms."
---
Greece aims for preliminary deal with lenders by March Eurogroup: FinMin - Investing.com
"Greece will seek to reach a preliminary deal with its international lenders by the next meeting of euro zone finance ministers in March, Finance Minister Euclid Tsakalotos said on Tuesday."
---
Creditors back in La La Land (Greece) - Brookings
"...The Greek government asserts that an accord is not only feasible but almost certain in the next couple of weeks. But the creditors have to mention at least the first steps for a significant debt restructuring. Complicating this are the starkly different forecasts made by the IMF and the EC regarding whether or not Greece will meet its primary surplus target of 3.5 percent of GDP in 2018. The commission forecasts that Greece will meet the target readily, in line with its bailout requirements. By contrast, the IMF believes the surplus will be just 1.5 percent, making the budget balance before debt-servicing costs a source of contention. On top of that, disagreement persists over what surplus Athens can sustain in the 2018-2023 period. Thus, any rational person taking into account the mission's "trilemma mandate" (whereby the ECB, IMF, and EC struggle to reach policy consensus) should reasonably have doubts about the talks. Something is wrong here."
---
5 Things To Know About the New Round of Greek Bailout Talks - Fidelity
Article provides a nice and simple overview of what is happening and what may happen next.
Why Did the Negotiations Stall?

Although the International Monetary Fund didn't officially join the up to the EUR85 billion ($90 billion) third bailout in 2015, it wants Europe to commit to relieving Greece's debt after it concluded that the country's debt burden was "highly unsustainable."

But European lenders--led by Germany-- want Greece to stick to the targets and enact additional austerity measure. They also insist on a two-step sequence, in which Greece first signs up to all the additional measures before Berlin and the IMF sit down and discuss debt relief.
---
February 27, 2017
No debt relief for Greece, Germany's deputy finance minister says - Reuters
"There must not be a bail-in," Jens Spahn [Germany's deputy finance minister] told German broadcaster Deutschlandfunk, according to a written transcript of the interview.

"We think it is very, very likely that we will come to an agreement with the International Monetary Fund that does not require a haircut," he said, referring to losses that Greece's creditors would have to take if debt was written off."
More Coverage:
German finance minister hints at REFUSING Greece debt cut paving way for default - UK Daily Express
---
Greece is a case for the poverty-solving World Bank, not the IMF says ex-minister - UK Telegraph
"George Papaconstantinou, who was finance minister from 2009 to 2011, said Greece's finances were so weak and its institutions so immature that it needed support of the type that the World Bank offers to the least developed countries."
---
Flour power lifts spirits as Greek village stages mock battle - Reuters
"The popular event attracts visitors from across the country and overseas to the coastal fishing town of Galaxidi, about 200 km (124 miles) west of Athens.

"Clean Monday" celebrations mark the end of carnival season and the beginning of the Greek Orthodox Lent fast."
---
The 103rd anniversary of the proclamation of Autonomy in Northern Epirus was celebrated in Athens - Protothema
"On February 1914 the native Greek majority population of the areas of Argyrokastro, Delvino, Agioi Saranta, Himara, Premeti, Ersekas and Korytsa begun their armed fight as they denied to be placed under Albanian rule. These areas had been liberated the previous year by the Greek Army during the Balkan Wars after five centuries(!) of Ottoman oppression. But the Great Powers of those days decided to give these lands to the newly formed Albanian state! This way, for the first time ever, Epirus was divided and the Northern Epirus issue was created. "
---
February 25, 2017
In Defense Of Greece: An Open Letter To The IMF - econintersect
"In reality, the structural reforms the IMF is insisting on, will be just as deflationary as the earlier austerity measure were. Why, because virtually all of them will result in reductions in government expenditure or increased tax collections."
---
Hellas Sat 3 will mark new era for space technology use in Greece, minister says - AMNA
"With the formation of the National Space Agency we are in a position to have a strategic plan for space, to once again attract bright Greek minds now working, doing research and producing abroad, and to give our country what it deserves and is entitled to," [Digital Policy and Media Minister Nikos Pappas] said.
---
Turkish FM slams Greece on not extraditing ex-soldiers - Yenisafak
"Greece preventing the traitors from being prosecuted for their crimes is not in line with good-neighborly, friendly relations," Mevlüt Çavuşoğlu told Anadolu Agency.

The number of Turkish citizens who have illegally entered Greece since the July 15 defeated coup now stands at 100, including the eight ex-soldiers who fled there in a stolen helicopter hours after the coup bid and requested asylum.
---
February 24, 2017
Prime Minister: Greece Made 'Honorable Compromise' on Reforms - VOA
"Greece and its creditors agreed Monday to further reforms and in return Athens will adopt tax relief measures, in a quid-pro-quo to ease a logjam in talks that have held up additional funding.

Representatives of Greece's foreign creditors, the European Union and the International Monetary Fund, will return to Athens next week to discuss reforms the country must adopt to convince the IMF to participate in its current bailout program."
---
Greece's Tsipras: the era of austerity is over - Eyewitness Nesws
"Speaking in parliament, Tsipras described the deal reached Monday as an "exceptional success" and said it showed the country's creditors accepted Greece's insistence that it could no longer bear further budget austerity."
---
Greek unemployment surges to 1.09 million in January 2017 - Tornos
"The balance of hirings-firings last month was negative, according to OAED, as the agency's electronic system showed the loss of 29,817 jobs over the month, while the number of registered unemployed people nearly reached 1.09 million people, an increase by 24,652, in comparison to January 2016; up by 17.337 new jobless people from December 2016."
---
Greece's prime minister defends deal with bailout creditors - UK Guardian
"Alexis Tsipras tells the Greek parliament the latest deal with the country's European creditors was an an 'honourable compromise' "
---
Half of Germans against debt relief for Greece, survey shows - Reuters
"The INSA poll for the newspaper Bild showed 46.4 percent of people living in Germany, Europe's paymaster, thought giving Greece debt relief would be unfair for other euro zone countries."
---
Tsakalotos to plan tactics ahead of bailout talks - eKathimerini
"According to sources, Tsakalotos has been annoyed by the lack of unconditional support from other government officials and is determined to ensure that the political cost for the measures he is negotiating with bailout inspectors does not burden him exclusively."
---
Greece Aims to Attract More Tourists from India - News QTP GR
"...Greek Tourism Minister Elena Kountoura held a series of talks with Indian sector authorities, IMC Chamber of Commerce and Industry president Deepak Premnarayen, and tour operators, discussing among other issues collaboration in tourism, the promotion of alternative options in Greece and the possibility of using Greece as a filming destination."
---
Greek police bust human trafficking ring operating since October 2016 - Tornos
"...Eleven more individuals are also accused of similar charges. According to the police report, the criminal group was involved in trafficking illegal immigrants via the land borders between Turkey and Greece. After investigations Greek police determined their illicit activities has started in October 2016. "
---
February 23, 2017
Greece needs debt restructuring, interest rate cuts: IMF's Lagarde - Reuters
"We are much more confident after the progress made by the Greek authorities to come in the direction of the institutions to satisfy the requirements that we have in order to engage in a program," Lagarde told German public broadcaster ARD after talks with Chancellor Angela Merkel in Berlin.
---
Discomfort in the streets: No subway, electric, tram Athens today - Ta Nea
"Suffering today for passengers and drivers in Athens because of the 24-hour strike workers on fixed transport. Due to the strike the metro trains, electric and trams are immobilized today."
---
Greece will need a fourth bailout due to unsustainable debt pile says former finance minister - UK Telegraph
"Greece will need a fourth bailout as its debts remain utterly unsustainable despite years of austerity and attempted reforms, according to George Papaconstantinou, a former Greek finance minister."
---
New Greek reforms will have no fiscal impact, says Tsakalotos - eKathimerini
"The minister, Euclid Tsakalotos, told Parliament the "basic parameters"of the agreement with its international lenders brokered on Monday were already broadly known. He did not elaborate any further."
---
Briefings are given by the government and the spokesman speaks for all, Tsakalotos says in Parliament - AMNA
"Briefings are given by the government and its spokesman speaks for the government as a whole, Finance Minister Euclid Tsakalotos commented in Parliament on Thursday, deflecting opposition criticism about his alleged "disappearance" from the media after Monday's Eurogroup."
---
NEWS ARCHIVE - Feb 2017
---
---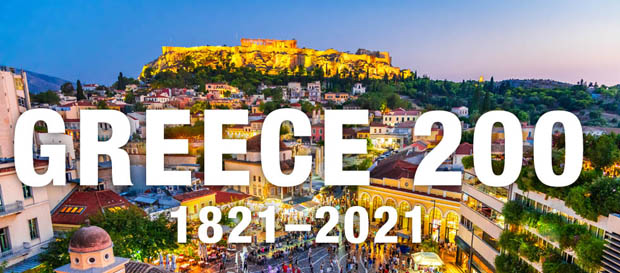 ---
You will see Amazon links on this web site because I am an Amazon affiliate. I earn from qualifying purchases.
Fodor's Essential Greece: with the Best Islands (Full-color Travel Guide)
---

---