Greece and the economic crisis 2017
NEWS ARCHIVE - Feb 15 - Feb 22
---
February 22, 2017
German lawmakers to drop support for Greece bailout if IMF quits: senior MP - Reuters
"German lawmakers will not back further financial support for Greece if the International Monetary Fund withdraws from Athens's bailout program, the deputy parliamentary floor leader of Chancellor Angela Merkel's conservative bloc said."
---
Greece's Forgotten Teenagers - BBC
Video report
"There are an estimated two thousand three hundred unaccompanied migrant children in Greece, most of whom arrived from Syria and Afghanistan via Turkey."
---
Cyprus reunification stalled in row over 1950 vote - eKathimerini
"Talks between Greek Cypriot leader Nicos Anastasiades and Turkish Cypriot leader Mustafa Akinci were abruptly interrupted last week over a decision taken by the Greek Cypriot parliament to honor the 1950 "enosis" referendum seeking union with Greece.

The unofficial referendum, in which only Greek Cypriots voted and was carried by more than 95 percent in favor, presaged by more than 20 years the violent division of the island between ethnic Greeks and Turks. It was not recognized by Britain, which was Cyprus' colonial ruler at the time."
---
February 21, 2017
Greece calls on Germany to ease budget demands - AP
"Greece's government has called on Germany to drop what it described as "irrational" budget demands in the country's bailout program, a day after Greece and its European creditors agreed to resume talks on new reforms."
More Coverage:
Greece says Germany must drop demand for high budget surplus - eKathimerini
---
IMF's Lipton said progress made on Greece -Reuters
"Some progress has been made," David Lipton, first deputy managing director of the IMF, told reporters in Berlin. "we would like to be in a position to help Greece," he added.
---
Foreclosed Greek homes go under the online hammer - Capital GR
"Auctions of properties to settle bad debts are seen as key to returning Greek banks to health by helping reduce the burden of non-performing loans. These currently stand at roughly 110 billion euros, or 50 percent of the banks΄ total loans. Under pressure from its lenders, in the summer of 2016 the Greek government passed measures allowing the sale of delinquent mortgages and small business loans to international funds, a move seen by many as yet another betrayal by the SYRIZA-led government."
---
ToposText in running for Digital Humanities Award- eKathimerini
"Recently launched by the Aikaterini Laskarides Foundation, the ToposText app is an indexed collection of ancient texts and mapped places relevant the history and mythology of the ancient Greeks from the Neolithic period up through the 2nd century. It includes references to ancient cities, medieval towers and castles, modern museums and excavation sites."
---
February 20, 2017
Strike closes Acropolis, ancient sites in Greece - Washington Post
"Monday's protest was not directly related to Greece's bailout measures, but the country's left-wing government is under renewed international pressure to limit spending and agree with lenders on new austerity measures and reforms.

A union representing the striking workers is seeking additional staff and overtime pay."
---
Thirty-seven arrested after attack on the offices of SYRIZA - iefimerida
"Among 44 arrested were seven foreigners who ewill be prosecuted for violation of the Aliens Act... The other 37 were released."
---
Europe Wants Greece to Work Harder for Aid Payout - Bloomberg
"Greece's bailout auditors -- the European Commission, the European Central Bank, the European Stability Mechanism and the International Monetary Fund -- are racing to complete the review before the start of a busy national election season in which surging populist parties would make protracted negotiations politically difficult. Greece needs to stabilize its economy by the time its 86 billion-euro ($91 billion) rescue program expires next year so that it can begin financing its own obligations."
---
Meteora: Greece's spectacular monasteries in the sky - CNN
"Only a few hours from Athens at the fringe of the Plain of Thessaly, the town of Kalambaka plays host to Meteora's spectacular mountaintop attractions.

Windswept monoliths rise abruptly from the earth, with vertical cliffs forming a dramatic backdrop against the flat fields around them."
---
Cost of impasse over numbers is adding up - eKathimerini
One of the key areas of disagreement is Greece's fiscal performance. The government insists that the primary surplus for 2016 provides all the evidence needed that there should be no concerns about Greece meeting its fiscal targets in the coming years...

...There is skepticism on the creditors' side. Even before we get to debating how large last year's primary surplus was, some of those who are lending Greece money are not convinced that enough of the overperformance is structural and that much of it may be driven by one-off occurrences. It will require further scrutiny of the final data to come up with a definitive answer to this question...
---
February 19, 2017
Schaeuble denies 'Grexit' threat, says Greece on right path - Yahoo
I guess it depends upon how you define "threat"
"Schaeuble said in an ARD television interview that Greece would not have problems if it implemented agreed reforms, but would if it fails to carry these out."
---
'From bad to worse': Greece hurtles towards a final reckoning - UK Guardian
"At 71, the farmer rarely ventures from Proastio, his village on the fertile plains of Thessaly. "But everything is going wrong," he lamented on Tuesday, his voice hoarse after hours of chanting anti-government slogans.

"Before there was an order to things, you could build a house, educate your children, spoil your grandchildren. Now the cost of everything has gone up and with taxes you can barely afford to survive. Once I've paid for fuel, fertilisers and grains, there is really nothing left."
---
Greece Celebrates with Carnival Events Across the Country - Greekreporter
"The days of carnival are a time where people have a good time. The word "carnival" comes from the Greek word "apokries" and the celebrations take place over a period of time which begins around 10 weeks before the Greek Orthodox Easter and lasts up to what the Greeks call "Clean Monday" — known in many parts of the world as "Ash Monday," or the first day of Lent."
---
February 17, 2017
The IMF Contribution to amount to 5 billion. Euro and a primary surplus of 3.5% - Ethnos
"According to the report, the IMF now agrees with the position of the European partners that Greece will have to ensure the 2018 primary surplus of 3.5% of GDP."
---
EU official rules out review wrap-up before Eurogroup - eKathimerini
"The official, who declined to be named, said that at best, and if the leftist-led coalition accepts creditors' proposals, eurozone ministers will green-light the return of technical experts to Athens to continue negotiations."
---
Deja vu as Greece and lenders race to agree deal - Yahoo
Video Report at the link.
"European Union officials have urged Greece and its lenders to conclude a long-overdue bailout review quickly to safeguard economic recovery. But as Ciara Lee reports, with days to go until a key meeting on Monday, Athens is saying it won't ask for "a euro more" from its austerity-wracked citizens."
---
GRAPHIC-Two budgets, two speeds: Greece outstrips France - Reuters
The graphic in the Reauters article is here
"Greece's primary surplus - the budget leftover before debt obligations - is set to run at 2.2 percent of GDP this year and 3.7 percent next year.

France, however, is expected to post a 1.1 percent primary deficit this year and a bigger one of 1.3 percent in 2018. It is one of only five countries - along with Latvia, Estonia, Spain and Finland - due to run such a deficit in the next two years."
---
Greece will run out of money in July and its creditors can't agree on what to do - MSN
"The eurozone had wanted to settle the dispute over how best to manage Greece's debt pile before the Dutch national elections in March, to avoid turning a financial problem into something more political."
---
Greece's future hangs in balance - Dollar Business
"It is crucial for Greece to receive the 86 billion Euro bailout package in order to fulfill its interest obligations, which it will inevitably default on without external aid. The tug-of-war between the creditors and the Greece government has culminated in a stalemate, with neither party willing to budge from its position with respect to stringent reforms and spending cuts."
---
Greece disappoints with Q4 results - Custom PK
"The last three months of 2016 provided unexpected changes and slowdowns in Greece, these were all coming from a tremendous third quarter the country posted. The Greece's gross domestic product fell as much as 0.4% in the last quarter of 2016 as opposed to the booming 0.9% increase in the previous quarter. According to the survey conducted, the country's median estimate was 0.4% expansion, but recent results posted a total of 0.3% economic growth for the entire year."
---
February 16, 2017
Greece's plea: No more austerity under the bailout deal - AP
"Greece has been struggling for months to conclude negotiations with its creditors on spending cuts and reforms demanded by European creditors and the International Monetary Fund as part of its third bailout program. It hopes to reach an agreement in time for a Monday meeting of eurozone finance ministers."
---
Dijsselbloem: Greece would default if IMF decides to withdraw from programme - Capital GR
"Eurogroup chairman Mr. Dijsselbloem said on Wednesday during a speech at the Dutch Parliament that Greece would default if the Fund decides to withdraw from the programme, adding that his task as Eurogroup chairman is to stabilize the situation in Greece, something that is in the best interest of all involved parties."
---
Swift deal on Greece needed to avert fresh uncertainty - Reuters
"Inconclusive talks between Greece and its international creditors on economic reforms and debt relief have cast doubt over the future of Greece's 85 billion euro bailout program.

"There is a common understanding that time lost in reaching an agreement will have a cost for everyone," Valdis Dombrovskis told Greek news portal Euro2day."
---
Greece says "not a euro more" in cuts as EU officials call for speedy deal - Yahoo
"An agreement on the way forward for the Greek programme is absolutely necessary .... With (a) little effort from all stakeholders, (it) seems to me doable," Moscovici told reporters in Vienna.

Another EU official, who asked not to be named, said it would be better to conclude negotiations soon but there was no real financial crunch.

"The liquidity situation in Greece is benign," the official, who has in-depth knowledge of the negotiations, said.
---
Museums to be closed on Monday as staff walk out in anti-austerity protest - eKathimerini
"The union representing guards at museums and archaeological sites called on authorities to pay outstanding wages for weekends and holidays."
---
February 15, 2017
EU financial affairs chief says progress made on Greek bailout review talks - Euronews
"Moscovici said they are close to an acceptable compromise: "I am confident that if efforts are made by all sides, yes, we can make very good progress and move towards that agreement. When I look at the figures I see that Greece has recovered now."
---
Gucci's runway plans for Greece come a cropper - Yahoo
"The Acropolis is not for rent: Greece may be indebted, but the message over its ancient heritage is clear after it rejected a request from Gucci to hold a fashion show amid the ruins.

The decision was reached unanimously by the Central Archaeological Council (KAS), the guardian of Greek heritage, local media reported on Wednesday."
---
Greece, The IMF And The Eurogroup: The Nonsense Continues - Talkmarkets
"The IMF is partly responsible for delays in closing the 2013 review since it was unjustifiably (given the final outcome) asking for additional parametric fiscal policy measures even when it was more than clear that 2013 fiscal developments were pointing to a primary surplus large over-performance..."
---
The fire that transformed Thessaloniki - eKathimerini
"It was four years after the great fire of August 5, 1917, which razed most of Thessaloniki's historic center – homes, churches, mosques, synagogues, offices, stores and workshops – within 32 hours, destroying 9,500 buildings and leaving an estimated 77,000 people homeless: 55,000 Jews, 10,000 Muslims and 10,000 Christians.

Reconstruction began in earnest in 1921, on the basis of a radical rejuvenation plan."
---
NEWS ARCHIVE - Feb 2017
---
---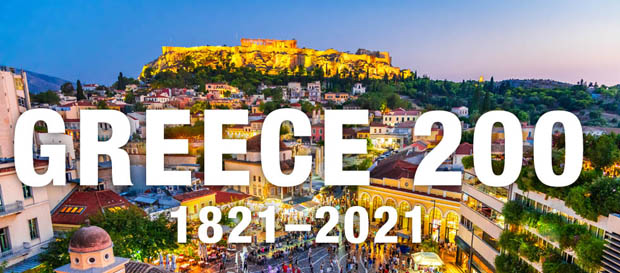 ---
You will see Amazon links on this web site because I am an Amazon affiliate. I earn from qualifying purchases.
Fodor's Essential Greece: with the Best Islands (Full-color Travel Guide)
---

---