Greece and the economic crisis 2017
NEWS ARCHIVE - Feb 7 - Feb 14
---
February 14, 2017
Germany 'freaked out' as Greece 'could ditch EU currency for US DOLLAR' - UK Express
"Greece could be poised to humiliate Brussels by ditching the euro and instead choosing to be tied to the US dollar, Donald Trump's reported pick as EU ambassador has sensationally claimed."
---
EU officials express support for Greece as IMF holds ground - eKathimerini
"Few officials from either side believe a deal is possible by the February 20 Eurogroup. Senior Finance Ministry officials are said to be pinning their hopes on a possible meeting of eurozone finance ministers in early March. The aim is for the bailout review to be completed before mid-March when the Netherlands has elections.

What remains unclear is whether Tsipras will make concessions after strong criticism of the IMF over the weekend."
---
February 13, 2017
Germany wants Greece in euro zone, IMF says no special deals - Reuters
"Germany on Monday backed Greece to stay in the euro zone and the European Commission dispatched a senior official to Athens to persuade it to take on further reforms to salvage its bailout accord."
More Coverage:
EU's Moscovici heads to Greece for debt talks - Yahoo
---
Greece's Latest War of Words With IMF Imperils Review Deadline - Bloomberg
"Over the weekend, Prime Minister Tsipras lashed out again at the International Monetary Fund, one the institutions monitoring Greece's rescue, as the auditors insisted on legislation that would trigger further budget cuts if fiscal targets are missed. That gives Athens about a week to reconcile those differences. Even though the European institutions have disagreed with IMF projections and said Greece didn't need the extra measures to meet requirements set out in its 86 billion-euro ($92 billion) bailout, they have fallen into line to keep the fund involved..."
---
Bailout monitors expected to return to Athens despite tensions - eKathimerini
"In a speech before SYRIZA's central committee on Saturday, Tsipras lashed out at Greece's creditors, calling on them to revise their "irrational demands" of Greece.

"We will not agree to demands that are not backed up by logic and numbers," he said."
---
February 12, 2017
WWII bomb defused in Greece; 70,000 evacuees heading home - Fox News
"Authorities in the northern Greek city of Thessaloniki say an unexploded World War II bomb found under a gas station was defused Sunday and safely taken to an army firing range outside the city, paving the way for over 70,000 people to return home."
February 11, 2017
Greece says bailout deal close, Juncker says it's on shaky ground - Reuters
"European Commission President Jean-Claude Juncker, however, said the deal was "on shaky ground" because the International Monetary Fund had not decided what role it would play.

The comments came a day after Greece and its international lenders made clear progress towards bridging differences over Athens's fiscal path in coming years, moving closer to a deal that would secure new loan disbursements and save the country from default."
More Coverage:
Mitsotakis to present alternatives in Berlin - eKathimerini
---
Trump envoy says Greece is now more likely to leave the euro - UK Guardioan
"Days after being accused of "outrageous malevolence" towards the EU for publicly declaring that it "needs a little taming", Ted Malloch courted fresh controversy by saying Greece should have left the eurozone four years ago when it would have been "easier and simpler".

Malloch made his comments as financial markets began to take fright at the possibility of a fresh Greek debt crisis later this year. "
---
Illegally trafficked sarcophagus fragment returned to Greece - Fox News
"The item dates to 200 A.D. and depicts a battle between Green and Trojan warriors. It was stolen from Greece in 1988, then smuggled and transported through Europe before landing in New York City."
---
Greece's debt drama rears its head again, what is different this time around? - UK Telegraph
"Early on Friday, eurozone officials signalled that an accord between Greece and its creditors had been reached to enable smooth disbursement before July, when sizeable payments to the European Central Bank and private creditors are due."
---
February 10, 2017
Greece's lenders patch up differences - Reuters
Video report at the link:
"Euro zone lenders and the International Monetary Fund have agreed to put aside differences and present a united front at a meeting with Greece in the latest bailout impasse, a step towards agreeing what Athens must do next. But will the Greek government accept the terms? Laura Frykberg reports."
---
As Greece's debt drama rears its head again, what is different this time around? - UK Telegraph
"Early on Friday, eurozone officials signalled that an accord between Greece and its creditors had been reached to enable smooth disbursement before July, when sizeable payments to the European Central Bank and private creditors are due."
---
Can Greece Break Its Deadlock With Lenders? - WSJ
Interviewwith Economy Minister Dimitri Papadimitriou
"Most important thing is that there is a disagreement among us and the European Union leaders about the projections of the IMF on how the Greek economy will perform. We are sure that we have turned the corner. The results point in that direction since the third quarter last year, and therefore we will be on the road to recovery and significant growth, allowing us to deal with the obligations that we have in servicing the loans, once we have a clear idea what the restructuring will be. Both in 2015 and 2016, the primary surpluses have been much better than what the program required and therefore we are confident that the goals that have been set for 2017-18 will be met."
---
February 9, 2017
Germany's Schaeuble rules out cutting Greece's debt - Yahoo
"We can't agree a debt reduction for Greece, it's ruled out by the (European Union's) Treaty of Lisbon," the conservative politician [German Finance Minister Wolfgang Schaeuble] told ARD public television on Wednesday evening.

"For that, Greece would have to leave the monetary union," he said.
More Coverage:
German FinMin sees Greek debt cut only with Grexit - ekathimerini
Greece would have to leave the euro area, Schaeuble says - capital GR
---
Trump envoy says Greece is now more likely to leave the euro - UK Guardian
"...Malloch made his comments as financial markets began to take fright at the possibility of a fresh Greek debt crisis later this year. Shares fell and interest rates on Greek debt rose after it emerged that the EU was at loggerheads with the International Monetary Fund (IMF) over whether to give the country more generous debt relief. "
---
Greek unemployment unchanged in November, still eurozone's highest - eKathimerini
"The number of officially unemployed reached 1.1 million people. Hardest hit were young people aged 15 to 24 years, with their jobless rate dropping to 45.7 percent from 48.9 percent in the same month a year earlier."
---
Merkel and Tsipras agree to close 2nd review in February - Protothema
"The two leaders also talked about the Greek-Turkish relations, with Chancellor Merkel informing Mr. Tsipras about her talks with Turkish President Recep Tayyip Erdogan in Ankara. Their talks also included the Cypriot issue, the refugee crisis and matters of regional security and peace.

Mr. Tsipras underlined his commitment to a just and viable solution to the Cypriot problem and the significance of the implementation of the EU-Turkish refugee agreement."
---
Puerto Rico or Ireland? The choice facing Greece - Money Illusion
"Greece faces two options. One is to become a sort of ward of the EU, kept afloat by endless subsides, with a loss of sovereignty. Here a model might be Puerto Rico, or the US possessions of the South Pacific, or perhaps the Native American reservations within the US. These regions consume more than they produce, with the help of transfers from Washington.

But there is another model. When I was young, Ireland was quite poor. Articles were written explaining how the Irish poverty reflected some sort of flaw in the Irish culture, or even a lack of intelligence. But then Ireland adopted a neoliberal economic model, and it has now become one of the richest countries in the world (although that's a bit overstated, as its GDP exceeds its GNP due to heavy multinational investment.) Still it's a successful economy."
---
February 8, 2017
Draghi: Greece must complete second review and have sustainable debt to join QE - Capital GR
"According to AMNA, addressing the European Parliament΄s Economic and Monetary Affairs Committee in Brussels, Draghi explained that the sustainability of Greece΄s debt must be addressed before the ECB can proceed to buy Greek debt."
---
Fraport secures bank financing for the 14 airports - eKarthimerini
"Fraport Greece has reached an agreement with four international credit institutions and a local bank for the financing of the privatization project by the German-led consortium concerning 14 regional airports around Greece, according to banking sources."
---
Government and farmers in search of an effective dialogue - Efsyn
"I had from the beginning of rural protests calling farmers in a meaningful dialogue. The meeting next Friday with the Nationwide Commission block is first made to farmers who are currently in demonstrations, " said Rural Development Minister Evangelos Apostolou, in view of the meeting, adding that "...we hope to be meeting, not just for communication purposes but with a substantial content [discussing] the present and the future of agriculture. [Also] besides me, will participate the ministers responsible for tax issues, insurance, environmental ".
---
February 7, 2017
Greece: IMF in Disagreement Over Bailout Measures - NY Times
"Negotiations over Greece's reforms remain mired in disagreement. Greece opposes labor reforms and the IMF is at odds with European lenders over the extent to which the country's massive debts should be eased."
More Coverage:
Greece says will not yield to 'illogical' IMF demands in bailout review - eKathimerini
Asked about the bailout program stagnation, Greeks put the blame on Europe - NeoKosmos
---
IMF board says Greece needs further debt relief - Yahoo
"Most Directors agreed that Greece does not require further fiscal consolidation at this time," since the country already is expected to hit the 1.5 percent target. However, "some Directors favored a surplus of 3-1/2 percent of GDP by 2018," the statement said.

The IMF does not identify the board members in its statement, but also noted that the directors "stressed the need" to have "realistic assumptions about Greece's ability to generate sustained surpluses and long term growth," an issue at the heart of the fund's dispute with the eurozone.
---
Is Greece's future in the Eurozone at risk? - MSN
Video report
"The IMF is warning that Greece's debt is unsustainable and will become explosive in the long run. It is urging the government to speed up "
---
The reduction of the tax free will hit low income - Naftemporiki
"The obligation to pay first income tax after many years will have by 2018 more than 1.5 million low-paid and low pensioners, if the government proceeded to reduce the taxable income threshold at a level between 6,000 and 7,500 euros, as requested by the IMF . In addition, another 1.5 million farmers with very low incomes, unemployed, casual workers and other citizens with no or meager annual income will also be required to pay income tax."
---
Buried World War II bomb prompts evacuation in Thessaloniki on Sunday - eKathimerini
"The bomb was discovered during excavations at a gas station last week in the populous suburb of Kordelio, prompting an emergency meeting between regional authorities, the police and military experts on how to safely remove the aged explosive device."
More Coverage:
60,000 Thessaloniki Residents to Evacuate so WWII Bomb Can be Defused - Pappas Post
---
The pension system remains out of balance - Imerisia
"According to the reports examined yesterday at the Board IMF ... The pension system remains out of balance. IMF experts suggests further rationalization of current pensions by applying the formula of the benefits of the recent reform to existing pensioners. The pension cuts are in the order of 1% where the pension system deficit reaches 11% of GDP (four times more than the average Eurozone deficit of 2.5% of GDP). "
---
NEWS ARCHIVE - Feb 2017
---
---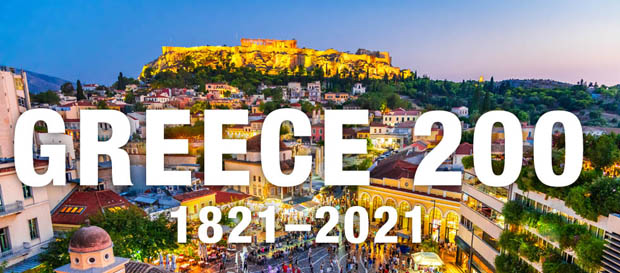 ---
You will see Amazon links on this web site because I am an Amazon affiliate. I earn from qualifying purchases.
Fodor's Essential Greece: with the Best Islands (Full-color Travel Guide)
---

---