Greece and the economic crisis 2015
NEWS ARCHIVE - Oct 7 - Oct 20
---
Oct 20, 2015
Greece's creditors back in Athens for talks - Daily News
"The European Commission's Declan Costello, the European Central Bank's Rasmus Rueffer, Nicola Giammarioli from the European Stability Mechanism and Delia Velculescu of the International Monetary Fund will travel to Athens as mission chiefs for the creditor organisations.

Starting Tuesday, they are expected to meet Finance Minister Euclid Tsakalotos and other Greek officials, local media said."
---
Greece eyes new reforms as workers call strike, farmers mobilise - Brecorder
"The Greek parliament last week approved a first raft of reforms to the pension and tax systems, sought by lenders as a condition for up to 86 billion euros in aid.

The retirement age will incrementally rise to 67, and there are increased penalties for early retirement and higher fines for tax evasion. The mission chiefs of Greece's international lenders will be visiting Athens for talks with authorities between Wednesday and Friday, EU Commission and Greek officials said.

With a first bundle of taxes passed, Athens must now prepare a new batch of reforms by increasing tax on farmers, a powerful lobby. Then there should be further pension reforms to ensure viability of the system until 2050, which will likely mean further pension cuts. Greece's private sector umbrella union GSEE called a 24-hour strike for Nov. 12 to protest reforms demanded by the country's lenders under its third bailout."
---
Tsipras: Greece feels an obligation to care for refugees - Sigma Live
"In remarks at a dinner at the Acropolis Museum hosted by Foreign minister Nikos Kotzias, Tsipras said, "Even now, in this difficult economic situation in the country, we feel obligated to take care of the refugees arriving at our shores... That's exactly why we believe that religion and culture act like bridges of communication and understanding between peoples."

The prime minister added that Greece "finds itself in the middle of a crisis touching Europe, the Middle East and the Mediterranean on an economic, political, geopolitical and spiritual level". One of the crisis' aspects, he said, was to decide what kind of Europe people wanted for the future, that of solidarity, growth and social justice or one of austerity and inequality."
---
Jews Accused of Exacerbating Financial Crisis in Greece - JewishPress
"Two prominent leaders of the Greek business community have accused a prominent Greek-Israeli businessman and the head of the American Jewish Committee of promoting a law that would lead to Greek layoffs while benefitting Israeli pharmaceutical firms.

Dimitris Giannakopoulos, a leader in the Greek pharmaceutical industry, and MP Nikos Nikolopoulos of the right-wing Independent Greeks party, accused ADL board member Sabby Mionis of exacerbating the financial crisis in Greece. They leveled the same charge against the head of the AJC.

Anti-Defamation League CEO Jonathan A. Greenblatt joined the Central Board of Jewish Communities in Greece in condemning the remarks, made on October 14, saying they "allude to anti-Semitic conspiracy theories that Jews benefit at the expense of others."
---
Oct 18, 2015
In Greece, forgoing paper maps for GPS - philly.com
"When I decided to vacation in Greece for the first time, I wanted to get back in the saddle, or the driver's seat, and spend a day driving from Athens to someplace touristy in the countryside. How hard could it be?

"Don't," cautioned most of my friends who had been to Greece, some multiple times. At the least, advised a friend who goes there annually to visit family, rent a car at the airport for the drive to Delphi, or Marathon, or even Olympia, all pretty much straight shots on good, uncrowded roads. "Don't drive in Athens," he said. "Everything is too crazy" - the drivers, the street signs, the street layout.

The advice was heard but ignored."
---
Key period for fiscal consolidation - eKathimerini
"As expected, the ruling coalition of SYRIZA and Independent Greeks on Friday passed the first set of prior actions set out in the third memorandum of understanding (MoU) ahead of the disbursement of a 2-billion-euro loan. Their deputies will have to assume the political cost of painful measures that have brought down three governments since 2010. They will be tested again in the coming weeks as the government will have to table a second, much more politically sensitive list of reforms in Parliament to help release an additional tranche of 1 billion euros in bailout funds and pave the way for the completion of the first review of the program. Many of the MPs will come under pressure from their constituencies, i.e. farmers, but it is our belief that the government will be able to pass the second bill as well.

In the meantime, an increasing number of analysts are revising their predictions about the country's economic performance this year. They seem to agree that the economy has shown greater resilience compared to what they expected after the imposition of capital controls."
---
Banking on Greece is a risky investment - Financial Times
"Greek banks preparing for their fourth recapitalisation in five years are about to discover whether investors are ready to back the four lenders still standing after Greece's latest annus horribilis.

It is a tall order: billions of euros of private investors' and government money have been wiped out as the shares of Alpha Bank , Eurobank, National Bank of Greece and Piraeus Bank have lost up to 99 per cent of their value over the past five years."
---
Oct 16, 2015
Greece's Big Challenge: Fix Bad Loans Without Destroying Banks - NY Times
"Tens of thousands of Greek people and businesses are unable to make their loan payments. So far, the bank has not started foreclosure proceedings, but Mr. Paliouras worries that that could change under modifications the government is considering to meet the terms of its new international bailout package.

Although dealing with delinquent loans is one of the biggest challenges facing the government of Prime Minister Alexis Tsipras and the country's creditors, the issue is so knotty that it was not included in the bundle of economic reforms the Greek Parliament was debating this week. Instead, it will be taken up later.

Officially, more than 40 percent of loans issued by Greek banks are seriously in arrears. By some estimates, the rate tops 50 percent, if loans that have gone sour in recent months are included. That is one of the highest rates in the world, and it has so weakened the Greek banking system that it raises doubts about the country's ability to mount an economic recovery. (The comparable figure in the United States is only 2 percent.) "
---
13,000 jobs lost in Greece during September - Egypt Independent
"In the past years Greece has faced repeated rounds of spending cuts and tax hikes imposed by the bailout agreement with Greece's European creditors. The country's multiple rescues from the brink of bankruptcy since 2010 thanks to bailout loans have led to increasing unemployment and rising poverty, and resulted in an overall erosion of living standards, labor lawyer Giannis Karouzos told Anadolu Agency.

Nearly 27.9 percent of the population could not find a job between 2009 and 2014, according to the Statistical Office of the European Union (EuroStat)."
---
What are Europe's borders? - eKathimerini
"In their efforts to protect their borders from refugees and migrants, European Union leaders seem to be avoiding the core of the issue: "sealing" the borders of Greece and Italy toward the sea will condemn many people to death; closing off these countries from other EU members will force them to host hundreds of thousands of people who do not want to be there. Unfortunately, some proposals on the table suggest that things will get worse.

...In a letter to EU leaders, the president of the European Council, Donald Tusk, stressed that "the exceptionally easy access to Europe is one of the main pull factors." The straits between Turkey and Greece are indeed narrow but they are deadly, as the almost daily death toll shows. The crossing to Italy is neither brief nor safe. A year ago, when Britain pulled its forces from an international rescue mission in the Mediterranean, it argued that the existence of such missions simply encouraged migrants. When the operation was scaled back, the death toll soared. The masses did not stop coming, nor will they stop when border controls are increased. What will the guards do? Sink the boats or shoot desperate people? "
---
Germany ready to give Greece financial aid to tackle refugee crisis - UK Guardian
"A day after the EU unveiled a deal worth up to €3bn (£2.2bn) to help Turkey deal with the Syrian refugee crisis, speculation has mounted that Greece will also need aid. More than 400,000 people have poured into the country this year.

Germany has also faced an influx of hundreds of thousands of refugees. By some estimates the total could exceed 1.5 million this year. "
---
Greece Overwhelmed by Migrants - Voice of America
"The U.N. refugee agency is warning that Greece cannot cope with the flood of refugees and migrants landing on its shores because it lacks proper reception facilities to register and screen them.

The backlog in processing is increasing tensions, violence and chaos, the UNHCR said. A violent flare-up in a crowd on the island of Lesbos Thursday forced its staff to be evacuated briefly from a registration site."
---
What Wiped Out Three Quarters of Ancient Greece? - Gizmodo
"The first sign that something was wrong came in 1250 BC, when many great cities suddenly started strengthening their outer walls. We don't know who they were trying to defend themselves from, but it didn't seem to do any good. Fifty years later, most large cities were in ruins.

Some historians speculate that the "Sea Peoples" may have been involved. These aggressive boat people show up in Egyptian records around 1200 BC. They could have been the people who brought the walls down in Mycenae or they could have been the refugees fleeing from their ruined cities. We don't know. "
---
Oct 15, 2015
Steep Ticket Hike planned for Ancient Sites, Museums - NY Times
"Cash-strapped Greece is planning steep increases in ticket prices for ancient sites and museums, which travel agents say could hit the country's key tourism industry.

The Culture Ministry wants to raise the ticket for the Acropolis from 12 euros to 20 euros, and to double entry charges for other popular sites and museums — which all together attracted more than 6 million visitors in January-June."
---
Think-tank IOBE warns of "last chance" to exit crisis - Yahoo
"The influential economic research institute projected the economy will contract less than it had previously estimated, helped by a better performance in the second quarter of the year, peak tourist season in Greece.

In its quarterly report, IOBE said the economy would shrink by 1.5 to 2.0 percent this year, less than forecast by Greece's international lenders.

It also said the economy could return to growth in the second half of 2016 provided the government takes steps urgently to shore up the battered banking sector, reform Greece's ailing pension system and make the country more business-friendly."
---
Greece Off The Boil, But Still A Never-Ending Story - Alpha
"As a lightning rod for the global capital markets, Greece has surrendered. Its role being taken up by China's rough transition or the Fed's continued reluctance to hike rates six years since the recession ended and despite the achievement of unemployment levels rarely seen.

However, the Greek project is far from complete. Greece still has to approve and implement far-ranging reforms and commit to new austerity measures in order to free up funds and recapitalize the banks. Every time Prime Minister Tsipras submits a new reform bill, the political fabric frays.

Over the weekend, Tsipras tightened his control by facilitating the election of three cabinet ministers to the leadership committee of Syriza. This strengthened his hand to submit the latest package of reforms to the parliament late yesterday. A member of the parliament from the junior coalition partner immediately threatened to abstain. The leader of the center-right New Democracy balked, claiming his party would not vote for the "recessionary measures."
---
Oct 13, 2015
The Greek Government is Getting No Breaks, Especially from Creditors - Economy Watch
"...Over the weekend, Tsipras tightened his control by facilitating the election of three cabinet ministers to the leadership committee of Syriza. This strengthened his hand to submit the latest package of reforms to parliament late yesterday. A member of parliament from the junior coalition partner immediate threatened to abstain. The leader of center-right New Democracy balked, claiming his party would not vote for "recessionary measures."

The package of reforms is part of the "prior actions" agreed upon with the EU and IMF and is required for the disbursement of another 2 bln euros of aid. Many of the measures had been rejected or diluted by Syriza or prior governments. ..."
---
EU migrant arrivals 170,000 in Sept, border agency Frontex says - Reuters
"...That compares with 282,000 migrants crossing irregularly for the whole of 2014 as Europe faces its biggest refugee crisis since World War Two. Some of the increase may reflect double-counting, notably due to a surge in people arriving in Greece but then crossing the Balkans and re-entering the EU in Hungary."
---
Oct 12, 2015
Greece Is a Precursor of Problems in EU - Bloomberg
Video brief by Jim Chanos, founder and president at Kynikos Associates LP, examines the state of the Greek economy and the risk of Spain, Portugal and Italy following the same path as Greece.
"Look, Greece is a difficult sitution... our view is that the country is a vassal state of the EU. They have really lost their soveriegnty, they lost it this summer, when the country basically voted overwhelmingly in the referendum to not sign for further austerity, and the government caved anyway. They really had no choice because the Germans and others had their banking system basically in a tight bind.

This is a country now that does not in a meaningful way make it's own decision..."
---
Big Test for Greece - New York Times
"...Legislation detailing dozens of actions — from liberalizing the Greek energy market to imposing stricter criteria for the protection of indebted homeowners — is expected to be submitted to Parliament on Monday; a vote is due by the end of the week."
---
Greece: Chaos, Insecurity in Registration Center - Reuters
"Poor organization and a lack of personnel is creating chaos and insecurity at a police registration center and surrounding informal camp for asylum seekers and migrants on the Greek island of Lesbos, Human Rights Watch said today.

In a visit to Lesbos on October 4 and 5, 2015, Human Rights Watch found that women with young children, pregnant women, and people with disabilities or medical conditions are often not identified as vulnerable groups nor ensured that they can register and get proper access to basic services such as food and health care."
---
Oct 10, 2015
---
Greece rolls out driverless bus pilot program. Is it a viable option? - ChristianScience Monitor
"The pilot program, using French-built CityMobil2 busses, is being tested in Trikala, a tiny town north of Athens. The vehicles have already been tested successfully under controlled conditions in Switzerland, France, Norway, and Finland, producing no vehicular accidents. The stated goal of the program is to revolutionize mass transportation and to wean European cities off of oil within the next thirty years, according to the Associated Press.

In order to get the program to work in Trikala, the Greek government amended its laws to allow the tests, and Trikala also had to build dedicated bus lanes. Trikala is the first town in Europe to be testing the driverless buses under real-world traffic conditions. "
---
Oct 8, 2015
Tsipras government wins key parliament - Yahoo
"The vote wraps up three days of debate, which were largely for form's sake after Tsipras in July signed Greece up to a roadmap of budgetary overhauls agreed with the IMF and EU in return for further bailout funds.

His agreement to further belt-tightening sparked a rebellion by the hard-left wing of his party, prompting the government to call fresh elections which Syriza comfortably won last month.

Before Thursday's vote, Tspiras said his primary goal was to implement reforms demanded by Greece's creditors, allowing them to "to conclude the recapitalisation of the banks by the end of the year and begin talks on debt restructuring".
---
Euro Little Changed After Greece Unemployment Better than Expected - Yahoo Finance
"The Euro was little changed versus the US Dollar after today's Greece unemployment data showed unemployment rate in Greece remained steady at 25 percent in July, after the June rate was revised down from 25.2 percent to 25 percent. The number was below economist's expectation for a rate of 25.4 percent.

It seems Greece related news effect on the Euro is weaker in recent months, after the Greece government was able to agree a new bailout deal with creditors in July. The deal seems to contribute investors' confidence that risks stemming from Greece are limited for the time being. Taking this into consideration and the fact that the ECB's account of the monetary policy meeting is due later today, investors appeared unfazed by the data and the Euro was little changed versus the US Dollar."
---
Oct 7, 2015
Tsipras Wins Confidence Vote - NY Times
"Just over two weeks after his re-election, Prime Minister Alexis Tsipras and his new coalition government won a confidence vote early Thursday, bolstering his efforts to enforce the country's third bailout while he seeks to revive the economy. As expected, all 155 lawmakers in the governing coalition in the 300-member Parliament backed Mr. Tsipras."
---
Pakistanis among 12 arrested in Greece for forging documents - Tribune PK
"Greek police said Wednesday they have arrested 12 members of a gang that forged documents for migrants trying to reach central Europe.

The 12 — nine Pakistanis, an Egyptian, an Iraqi and a Syrian — were held in raids on three flats in central Athens where police said they found and seized "whole laboratories for producing fake papers."
---
NEWS ARCHIVE - October 2015
---



---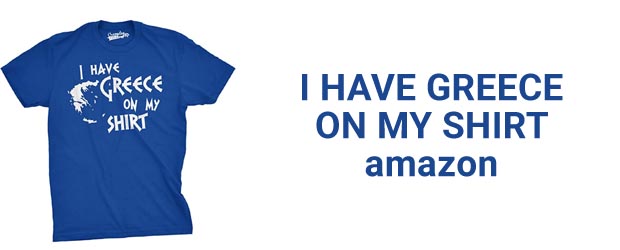 I Have Greece On My Shirt Funny Pun Geography Country Tee (Blue) - XL
---
Create Amazon Business Account - save time and money on business purchases with competitive B2B prices and discounts
---
Andros: The Little England of the Cyclades - AMAZON