Greece and the economic crisis 2015
NEWS ARCHIVE - Oct 21 - Oct 31
---
Oct 30, 2015
Greece blasts EU as shipwrecks leave 31 more refugees dead - Publico
"The death toll in the Aegean over the past three days has now reached at least 50. On the Turkish side, Turkey's state-run agency said four children drowned and two others were missing after two new accidents Friday involving boats en route to the Greek islands of Lesbos and Samos.

Nearly 600 people were rescued by the Greek coast guard in the past 24 hours, while thousands more made it safely from Turkey to Greece southeastern islands.

...Tsipras' left-led government has appealed for more assistance from its EU partners. It argues that the migrants should be registered in camps in Turkey, then flown directly to host countries under the EU's relocation program, in order to spare them the perilous sea voyage."
More Coverage:
Death Toll From Sinking of Migrants' Boat Off Greece Rises to 7 - NY Times
Greece criticizes EU handling of refugee crisis as 31 more die - LB Herald
---
Greece reconsiders a tax on private education - Economist
"Before Greece's snap elections in September, the outgoing left-wing government laid out plans for a value-added tax of 23% on private education. The measure, dreamed up by the governing Syriza party as an alternative to raising tax on beef, featured in their manifesto as a blow against plutocracy. It looked like a double win...

Some of the country's reasonably priced private schools were forced to close, leaving staff jobless. Elsewhere, fees rose. Those affected were not just rich families...

...The general mayhem caused by the tax is forcing the government to reconsider. Indeed, Alexis Tsipras, the prime minister, had already thought better of the move before the recent election and promised to reverse it. But that has proved difficult: the deadline for the government to find an alternative revenue-raising measure passed on October 23rd, putting the 23% VAT rate into automatic effect."
---
Discovery of 22 shipwrecks off Greece - Star Phoenix
"...As luck would have it, they came across a shipwreck on their very first dive, which the team took to be "a good omen." Over the course of less than two weeks — the duration of their survey permit — they would have been content to find three or four wrecks in total.

After the first five days, that number hit ten. Then, on a single day, they found an additional six.

At this point, overwhelmed with the unexpected fortune, they decided to stop looking for wrecks so they could focus on adequately recording information from the ones they had already encountered. But even this decision didn't stop them from finding a few more by the expedition's end, making the sum uncovered in just 13 days an astounding 22 shipwrecks."
---
Oct 29, 2015
Steinmeier: Greece should show determination in implementing reforms - Reuters
"Asked about debt relief talks the country hopes to start after wrapping up the review, Steinmeier said that EU partners and Germany will respect the agreements as long as Greece stick to its reform program.

..."European partners and especially Germany will continue standing by Greece and respect what it has been agreed," he said."
---
1800s watercolors at Getty Villa show an undiscovered ancient Greece - SCPR
"...the classic revival architecture of the 18th and early 19th centuries was largely inspired by Roman imitations of the originals. The great Acropolis originals — like Athens' Parthenon and Erechtheion — were almost unknown. At least until Edward Dodwell and Simone Pomardi arrived in 1801 and 1805.

Dodwell, a learned English classicist, was first. The Neopolitan painter Pomardi joined him four years later. Their purpose was a scientific, visual record of all that remained of the glory that was Greece. The result, now at the Getty Villa, can also be seen as great art — and as an intricately detailed peek into an almost unimaginable lost world."
---
Israel sends medicine to Greece for Syrian, Afghan refugees - Israel Times
"Israel has sent medical assistance to Greece to help deal with the flood of migrants and refugees who have been landing on the Greek Islands, most of them from Syria, Afghanistan, Iraq and Pakistan.

Teams from the Israeli nongovernmental aid agency IsraAid also have been operating in Greece since September, providing medical and psychological assistance to the refugees.

Last month, Israel announced that it will not take in Syrian refugees fleeing from the raging civil war in their country."
---
Oct 28, 2015
Greece Must Conclude Bailout Review to Recap Banks-EU Official - NYT
"Greece and international lenders must swiftly conclude on an assessment of the country's bailout-mandated economic reforms to recapitalise its banks by mid-November, EU Commission Vice-President Valdis Dombrovskis said on Tuesday.

"Euro group conclusions on this question are quite clear, that recapitalisation of the banks is to take place after the first review, but no later than the 15th of November," he told Greece's Skai TV in an interview."
---
3,500-year-old treasure trove unearthed from grave of Greek warrior-king - CNN
"Archaeologists in Pylos, southwest Greece, have excavated the intact tomb of a wealthy Bronze Age warrior-king buried about 3,500 years ago, in a discovery the team's co-leader hailed as "one of the most magnificent displays of prehistoric wealth discovered in mainland Greece in the past 65 years."

...The find has astonished and excited the archaeological community, both for the rare richness of the trove and the insights it promises to reveal on the ancient world at the dawn of European civilization."
---
So Many in Need, It's Hopeless? Quandary of Assisting Youth in Greece - Huffington Post
"The Greek Constitution is unique. It contains a number of solemn proclamations affecting the status of children: that childhood shall be under the protection of the State; that families with a large number of children, war orphans, and anyone who suffers from incurable physical or mental illness have the right to special care. The problem is: the State simply does not have enough funds to pay for it. "
---
Oct 27, 2015
EUR 523m fisheries and aquaculture investment package greenlit - FIS
"The European Commission has adopted a key investment package for the Greek maritime, fisheries and aquaculture sectors. The roughly EUR 523.4 million available for the period 2014-2020 includes more than EUR 388 million of EU funds.

Welcoming the adoption, Commissioner for Environment, Maritime Affairs and Fisheries, Karmenu Vella stressed: "With this investment package for fisheries and aquaculture in Greece, the Commission can help deliver projects with long-term benefits. Greece's has a world-renowned maritime tradition. With good spatial planning and an integrated strategy, its vast coastline can be a fundamental part of the country's economic recovery. We want to give a jobs boost to Greek fishermen, fish farmers and their communities."
---
Ancient warrior's tomb and huge treasure hoard found in Greece -Yahoo News
"He had been laid to rest with an array of fine gold jewellery, including an ornate string of pearls, signet rings, a bronze sword with a gold and ivory handle, silver vases and ivory combs.

The jewellery is decorated in the style of the Minoans, the civilisation that flourished on the island of Crete from around 2000 BC, with the figures of deities, animals and floral motifs."
---
'The Find of a Lifetime' in Greece -PJ Media
"The tomb of a Bronze Age warrior left untouched for more than 3,500 years and packed to the brim with precious jewelry, weapons and riches has been unearthed in southwestern Greece, according to researchers at the University of Cincinnati. The shaft tomb, about 5 feet deep, 4 feet wide and 8 feet long, was uncovered in May by a husband-and-wife team from the university. But the find was kept under wraps until an announcement Monday by Greek authorities. "
---
Oct 26, 2015
Greece's deputy finance minister gets bullet, threatening letter in post - Reuters
"Greece's deputy finance minister on Monday got a letter in the post with a bullet in it and a note comparing him to a collaborator with Germany's Nazi forces who occupied the country in World War Two, the Greek finance ministry said."
---
Spectacular 3,500-year-old warrior's grave found in Greece - WGN TV
"The Culture Ministry says the grave is the most spectacular discovery of its kind from the Mycenaean era in more than six decades. It contained about 1,400 artefacts, including gold and silver jewelry, cups, bronze vases, engraved gemstones and an ornate ivory-and gilt-hilted sword. "
---
Greece's Long Road From 'No' to 'Yes' - NY Times
"Greeks will commemorate the Oct. 28 national holiday in a very different country from what it was a year ago. The anniversary marks the day in 1940 when a Greek government rejected an ultimatum from Fascist Italy to allow its troops to enter the country. The "No" ("Ochi" in Greek) united a deeply divided country behind a right-wing dictatorship and thrust Greece into World War II on the side of the Allies. "No" is a symbol of defiance. But now Greeks must decide what they want, rather than what they reject.

...once again, we have a government that has halfheartedly committed itself to austerity and reform in exchange for lifesaving loans. Syriza won snap elections on Sept. 20, as voters appeared to reward it both for its resistance to creditors and for the turnaround that averted further damage. A die-hard "No" faction that split from Syriza failed to get into Parliament. Syriza, in other words, does not face the uncompromising opposition that it showed previous governments. But it has to make the third bailout succeed where the previous ones did not."
---
Greece Overhauls Licensing of Private TV Broadcasting - WSJ
"The new law calls for an auction for new 10-year licenses, expected next year, will exclude companies with tax arrears and those with other major public-sector contracts. The government says the latter provision will prevent media owners from applying political pressure, via their news coverage, to win public-works contracts.

The legislation also sets the cost of obtaining a license and a maximum number of employees that can be hired at each station depending upon the kind of programs the network broadcasts. News-heavy channels must pay more for licenses than purely entertainment channels."
---
Oct 22, 2015
Hollande visits Athens as Greece seeks debt relief - SF Gate
"French President Francois Hollande called Thursday for talks relieving Greece's crushing debt load and spurring investment, measures that could help the country recover as it imposes harsh austerity measures demanded by international creditors.

"I am aware of all the efforts that the Greek people have had to undertake, and all the reforms that have been carried out for years — and voted on in recent months," Hollande said during a meeting with Greek President Procopis Pavlopoulos, at the start of a two-day visit to Athens. "And more will be required to achieve success. But I have also said that negotiations on the debt must be the next step."
---
Greece to receive 3 billion euro aid tranche - Yahoo
"Reforms carried out by the Greek government are on track and its creditors will disburse the next 3 billion euro ($3.4 billion) installment of its aid program, European Economics Commissioner Pierre Moscovici told French radio on Thursday. "Greece has done a certain number of reforms, and we are going to give them money, 3 billion euros in all," Moscovici told Europe 1 radio. "
---
Oct 21, 2015
Greece in 'tough battle' with lenders over foreclosures - SFGate
"Greece's left-wing government said Wednesday it was in a "tough battle" with its bailout creditors over their demand to reduce protections for distressed mortgage holders.

A sharp rise in bad loans on banks' books due to the financial crisis has emerged as a key issue in the country's attempted financial rescue. The creditors say home seizures should be easier to make so that banks can clear out the bad loans, while the government is concerned about exposing too many people to eviction.

Finance Minister Euclid Tsakalotos and several other Cabinet members met with representatives of the European Central Bank, International Monetary Fund, European Commission and European Stability Mechanism."
---
Greece could lift capital controls if all goes well in Q1-official - Reuters
"Oct 21 Greece could lift capital controls in early 2016 if the country remained stable economically, Deputy Finance Minister George Houliarakis said on Wednesday."
---
Greece, lenders start talks on reform compliance - UK Reuters
"Team leaders from three European institutions and the International Monetary Fund are reviewing reforms Athens adopted on Oct. 16, and future 'milestones' Greece must pass soon to be eligible for a payment of 3 billion euros.

The amount is part of an initial loan tranche of 23 billion euros, which includes 10 billion already disbursed to Greece and 10 billion set aside to cover bank recapitalisation costs."
---
EU countries offer 291 border guards for Italy, Greece - US News
"The Warsaw-based agency said Tuesday that the 291 guards amount to about a fourth of what it had requested to handle the record number of migrants arriving in Europe.

In a statement, the agency's director, Fabrice Leggeri, said he hopes that countries will continue to volunteer more guards even though a deadline for the call has passed."
---
NEWS ARCHIVE - October 2015
---



---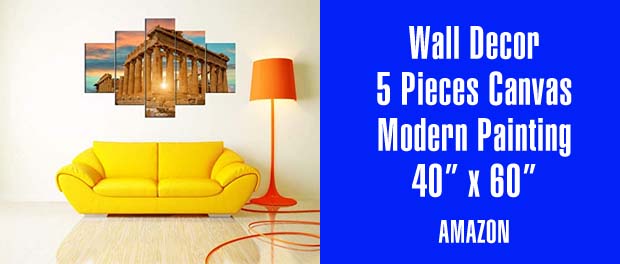 Parthenon Temple on the Acropolis of Athens Greece Artwork Wall Decor 5 Pieces Canvas Modern Painting Wall Art Home Decoration for Living Room Pictures HD Printed Framed Ready to hang(60''Wx40''H)
---
Create Amazon Business Account - save time and money on business purchases with competitive B2B prices and discounts