Greece and the economic crisis 2015
NEWS ARCHIVE - Oct 1 - Oct 6
---
Oct 6, 2015
Tsipras pleads for debt relief with austere budget - Reuters
"Greek Prime Minister Alexis Tsipras issued a resounding call for debt relief on Monday as his government unveiled an austere 2016 budget sticking strictly to international bailout targets in a new spirit of cooperation with European and IMF creditors.

The draft budget, released as Tsipras delivered his keynote four-year policy programme to parliament, projected that the economy would stay in recession next year, shrinking by 1.3 percent after a 2.3 percent contraction in 2015, before returning to growth in 2017."
---
Oct 5, 2015
Greece to unveil painful 2016 draft budget - Hindu Business Line
"Greece will unveil a painful 2016 draft budget on Monday meant to satisfy international creditors, projecting the economy will stay in recession next year before returning to growth in 2017, in line with the estimates by the country's lenders.

After seven months of heated negotiations with its EU/IMF creditors, Athens agreed in July to implement spending cuts and economic reforms in exchange for an 86 billion euro bailout that kept it in the euro zone under strict supervision.

Although government officials have expressed optimism that the recession this year will be milder than projected in the bailout programme, due to an increase in tourism revenues and stronger than expected first-half data, any change in the economic forecasts will only come later.

...Government officials said he will tell parliament that Greece will stick to the bailout, fight corruption and reform the state. But Tsipras will also outline what the government calls "grey areas" where it believes it can negotiate better terms or find alternative measures with the same fiscal impact."
---
Will Greece Bail on Its Bailout Terms? - Trefis
"As the EU demonstrated during negotiations earlier this year, they're very unwilling to force a default on Greece's debt or take away the euro common currency. Thus, it's likely that the EU will tolerate a considerable amount of foot-dragging and prevarication.

Much of Greece's 86 billion euros ($97 billion) of bailout funding will probably be released in dribs and drabs, just in time to make the repayments due on Greece's outstanding debt and recapitalize its staggering banks.

Greece has too much debt – a total of about $360 billion – that's clear. However, about $290 billion of that is owed to the IMF and the EU on low-interest, long-maturity terms, with about $220 billion of that produced by the first two bailouts. Hence, the downside of a Greek default on markets wouldn't be huge.

Conversely, the downside of a default from the EU and IMF would have serious consequences. And the effect of extending terms on Greek debt and rolling it over isn't that great, either. The most important thing is that enough money flows into Greece to balance the country's year-by-year cash flow, allowing it to employ most of its people and preventing it from spiraling downward into economic death."
---
Greece's Real-Life Drama is Being Played Out in European Theaters - Newsweek
This article is more theatre-review than news story, but still interesting in presenting a comparison between ancient Greek pressures with the modern variety.
"At the beginning of this year, Greek Prime Minister Alexis Tsipras compared the contemporary fate of cash-strapped Greece to Sophocles's tragedy Antigone, written in Athens over 2,400 years ago. In that play, Antigone defies her uncle Creon's edict to leave her renegade brother Polyneices's corpse unburied; she says she is following divine justice, not arbitrary human law. Tsipras likened the blinkered imposition of fiscal rectitude by Greece's main creditors—the European Central Bank, the European Commission and the International Monetary Fund—to Creon's narrow legalism, and his ruling left-wing Syriza party's stand against austerity to Antigone's noble defiance: "Greece is the country of Sophocles," he declared, "who taught us with his Antigone that there are moments in which the supreme law is justice."

...The backdrop of The Oresteia is the long, pointless Trojan War, which killed and maimed thousands. For much of the trilogy, there seems to be no end to the cycle in which bloodshed breeds more bloodshed; King Agamemnon sacrifices his daughter Iphigenia; his wife Clytemnestra murders him on his return from Troy; then their son Orestes returns to avenge his father's death by killing her and her lover."
---
Greece's Fascists Are Gaining - NY Times
"Just hours after Greek Prime Minister Alexis Tsipras's new cabinet was sworn into office on Sept. 23, Twitter users began protesting the appointment of one of his junior ministers, Dimitri Kamenos, from the right-wing anti-austerity party Independent Greeks. Mr. Kamenos had published homophobic, anti-Semitic and racist comments on Twitter.

Within hours, Mr. Kamenos was fired, making his tenure one of the shortest in Greek political history. ...

...Only three days before the ballot, Golden Dawn's "fuhrer," Nikos Michaloliakos, shocked the Greek public once again when he openly admitted that his party was accepting political responsibility for the murder of Mr. Fyssas. This was not a mistake but rather a planned strategy to present himself and his party as anti-establishment. As the election approached, Mr. Michaloliakos's provocative appearances escalated. An old video — in which he proudly admits that Golden Dawn members are the actual descendants of Nazi sympathizers — appeared online, and on the very day of the elections he predicted that his party would gain power due to the war that "the system and the media" had waged against him. (He was excluded from the official pre-election debates.)

Mr. Michaloliakos knows that provocation pays when seeking votes from a disoriented and cynical population. Manipulating their feelings is Golden Dawn's strategy, and it seems to be working.

In the area of Piraeus around Athens' massive port, where Mr. Fyssas was assassinated, Golden Dawn increased its share from 7 to 8 percent. Among its overall voters, 16 percent are young and unemployed. Regions like the southern Peloponnese — a traditional stronghold of ex-monarchists, and before that Nazi collaborators during World War II — also rewarded the party by giving it far more votes than the national average."
---
Oct 4, 2015
Tsipras: Greece must stick to program to exit bailout - Reuters
"Speaking to lawmakers of his Syriza party on the day a new parliament was sworn in, the premier said he aimed to complete the first review of a 86 billion euro bailout agreed in August as soon as possible so Athens could open negotiations with its euro zone partners on debt relief.

To achieve that, Greece is required to enact a swathe of reforms of taxation, pensions, healthcare, the financial sector and public services by Nov. 15 to unlock the next tranche of aid and receive help in recapitalizing its stricken banks.

"Implementing the bailout is not going to be easy. But we are obliged to make these decisions although we don't like them," Tsipras said. "It's necessary, in order to exit this system of surveillance and immediately start the discussion on the debt issue.

"Our main target is to exit this system of supervision, and regain market access. But a necessary condition for that is to return to growth," he added."
---
Boatloads more land on Greece's shores - Daily Mail UK
"More than 500,000 migrants have crossed the Mediterranean into Europe this year - double the number who crossed in the whole of 2014 - and 100,000 landed in Greece in August alone.

Around 1,500 landed in the country on Thursday, which is down from 5,000-a-day in recent weeks, the United Nations Refugee Agency claimed.

It has reported a 'noticeable drop' in migrants entering Greece by sea - as conditions become even more dangerous around winter - but acknowledged that any improvement in the weather will bring 'another surge in arrivals'.

Most of the migrants who make this journey spent time in refugee camps in Middle Eastern countries, having having fled war and persecution in Syria, Iraq and Libya, as well as African nations such as Somalia, Eritrea and Sudan."
---
Tsipras says Greece must now emplement harsh reform measures - Breitbart
"...now the bridge loan has run out, and Tsipras has to resume negotiations, and enact a set of reforms by November 15, to receive the next tranche in the 86 billion euro loan.

As you can tell from Tsipras's remarks quoted above, a major objective is to "regain market access." When he means by that is that he would like to do as little as possible, but whatever is necessary, to be able to return to the capital markets and start borrowing again, so that his government can start unlimited spending again.

Tsipras promised to complete the first review of the bailout plan as soon as possible, and open the negotiations with the lenders on debt relief. It's been a while since we've had weekly Greek financial crises, but those days should be returning soon. Kathimerini (Athens) and Reuters

Greece's neo-Nazi Golden Dawn party shows remarkable resilience A new analysis shows that the increasing popularity of Greece's Golden Dawn political party is related to the flood of migrants passing through Greece.

Besides the financial crisis, Greece is in the midst of one more major crisis. Greece is a transit country through which hundreds of thousands of migrants pass through in order to reach Germany and other northern European countries. Typically, human smugglers in Turkey transport the migrants, usually from Syria or Iraq, to a Greek island in the Aegean sea. From there, a Greek ferry transports them to the mainland. They travel through Greece to Macedonia, and then go north."
---
Greece likely to meet deadline for bank money release: euro zone officials
"Greece is likely to qualify for recapitalization funds for its banks by a Nov. 15 deadline because the payment depends mainly on financial sector reforms that it can implement by then, euro zone officials said on Friday.

The euro zone bailout fund has up to 25 billion euros ($28 billion) earmarked for the recapitalization of the Greek banking sector under Athens' third bailout.

Of that total, 10 billion is already in an account in Luxembourg, ready to be wired to Greece.

If European Central Bank stress tests of Greek banks show that they need more capital, and money offered by private investors for Greek banks is not enough, cash from the remaining 15 billion could be used, provided Athens implements the financial sector part of the bailout reforms by Nov. 15.

Euro zone deputy finance ministers discussed the reforms and the timetable of disbursements at a teleconference on Friday."
---
Oct 3, 2015
Greece must stick to program to exit bailout: PM - Yahoo
"Greece must implement its bailout program fast to achieve its main aim of regaining access to market financing and escaping international supervision, re-elected leftist Prime Minister Alexis Tsipras said on Saturday.

Speaking to lawmakers of his Syriza party on the day a new parliament was sworn in, the premier said he aimed to complete the first review of a 86 billion euro bailout agreed in August as soon as possible so Athens could open negotiations with its euro zone partners on debt relief.

To achieve that, Greece is required to enact a swathe of reforms of taxation, pensions, healthcare, the financial sector and public services by Nov. 15 to unlock the next tranche of aid and receive help in recapitalizing its stricken banks."
---
Greece's Battered Conservatives Square Off in Leadership Fight - Wall Street Journal
"Incumbent conservative leader Vagelis Meimarakis, who was at the party's helm when it lost the Sept. 20 elections, will be up against the younger, Harvard-educated Kyriakos Mitsotakis and relative newcomer Apostolos Tzitzikostas, the governor of a province in northern Greece.

Former Deputy Development Minister Adonis Georgiadis had also thrown his hat into the ring but his candidacy was rejected late on Friday because he submitted his application a few minutes after the deadline expired. Mr. Georgiadis, an outsider for the leadership bid, said he would appeal the decision.

Backed by party heavyweights including former Prime Minister Costas Karamanlis, Mr. Meimarakis starts the leadership race as the favorite, according to some party officials and analysts.

A senior party official who backs him said that despite his electoral defeat last month, Mr. Meimarakis helped raise the party's support among voters during the campaign and with more time would have done more.

But critics say Mr. Meimarakis's populist style, which appeals to Greek nationalists, and his status as a party veteran could push away the middle-ground voters New Democracy needs to defeat Mr. Tsipras and Syriza."
---
Grave in Greece honours Alexander the Great's best friend - NeoKosmos
"Inscriptions link the Amphipolis monument to Hephaestion

An opulent underground monument in northern Greece that caused a stir when excavated last year may have been a symbolic grave - but not the final resting place - of the closest friend and general of ancient warrior-king Alexander the Great, the excavator claimed on Wednesday.

Archaeologist Katerina Peristeri said she believes the vaulted structure, decorated with sculptures and a mosaic floor, "was a funerary monument for Hephaestion".
---
Oct 2, 2015
Weather Caused 'Noticeable Drop' in Greece Migrant Arrivals - VOA
"The United Nations refugee agency is reporting a "noticeable drop" this week in the number of migrants arriving in Greece, due to bad weather conditions on the Mediterranean Sea.

The UNHCR​ says only 1,500 migrants arrived in Greece Thursday, in comparison to the recent average of 5,000 arriving daily via the Mediterranean.

However, the downturn is not expected to last. U.N. refugee agency spokesman Adrian Edwards said "any improvement in the weather is likely to bring another surge in arrivals."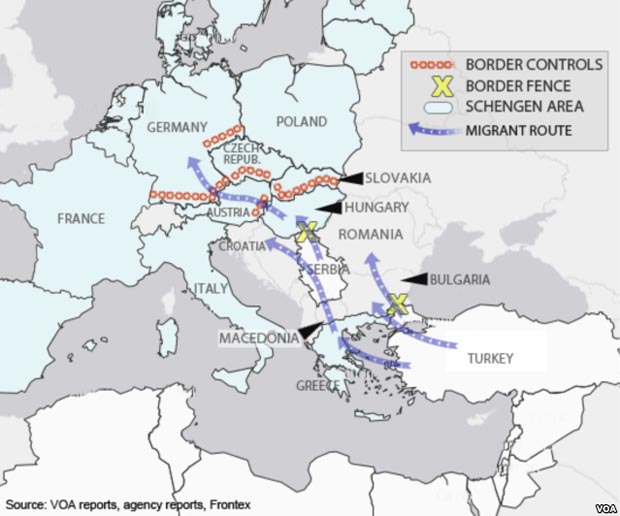 ---
Cyprus Seeks €4 Billion in Damages from Greece for Laiki Bank - Greek Reporter
"The story appeared on Thursday in Cypriot newspaper Politis and included a political angle given that the bank, commonly known by its previous name, Laiki Bank, is state-controlled. According to a Kathimerini report, the chances of the bank winning the case are very slim due to the res judicata in a case brought by a Slovakian bank to the ICSID.

Laiki's claim is based on an interstate agreement between Greece and Cyprus that concerns the mutual protection of investments. That protection did not apply in 2012 in the case of the Greek state bonds held by Laiki, which suffered a haircut and took significant losses that contributed to its eventual downfall, Kathimerini says."
---
IMF's mass debt relief call for Greece set to be rejected by Europe - UK Telegraph
"The reports came after a former IMF watchdog urged the world's "lender of last resort" to be more critical of its involvement in many bail-out countries for the sake of the institution's credibility.

"Few reports probe more fundamental questions - either about alternative policy strategies or the broader rationale for IMF engagement," said a report from David Goldsbrough, a former deputy director of IMF's Independent Evaluation Office (IEO).

The International Monetary Fund has come under fire for failing in its duty of care towards Greece by pushing self-defeating austerity measures on the battered economy.

The Washington-based fund has previously admitted it should have eased up on the spending cuts and tax hikes, pushed for an earlier debt restructuring and paid more "attention" to the political costs of its punishing policies during its five-year involvement in Greece."
---
Oct 1, 2015
Greece reopening Olympic venue to cope with asylum-seekers - Yahoo
"Authorities in Greece have reopened a disused Olympic venue to house migrants and refugees camped out in central Athens.

Police on Thursday escorted buses carrying about 500 people, mostly from Syria and Afghanistan, from Victoria Square in central Athens to the mothballed Galatsi Olympic Hall."
---
Greece should not expect big debt writedown, says Klaus Regling - FT.com
"I think now there's a big convergence," Mr Regling said in an interview. "The Greek government realises there will be no nominal [debt] haircut — and for good reasons. The Greek government should sell what has happened already — and what might have been — very positively to their electorate, to the Greek population, because the benefits are there in any case."

As part of the July deal, eurozone creditors agreed to reopen debt talks as part of the programme's first quarterly review, expected to begin next month. Mr Regling, whose ESM will hold more than 60 per cent of Greek debt at the end of the new €86bn rescue programme, could play a central role in those negotiations.

Even though Mr Regling agrees the July deal will lead to some form of debt relief for Greece, he has repeatedly rejected the need for large-scale writedowns — a view that has given cover to Berlin and other northern countries who have resisted such restructurings.
---
The Two Faces Of Greece's Response To The Refugee Crisis - Huffington Post
"Theodosiadou isn't the only one opening up her home to refugees. Alkis Paspatis from the island of Lesbos also welcomed people in need into his home. And, like Theodosiadou, he posted pictures on Facebook.

Although volunteers and organizations have stepped up to offer food and basic items in the past few months, these cases are few and far between. Stereotypes describing the people in Victoria Square as "illegal migrants" who will "steal from us" remain deeply held beliefs.

Greek photographer and activist Yannis Androulidakis described a recent example of this on Facebook: "

"Last Saturday, when we were getting back home around 1 a.m., it was pouring with so much rain, you couldn't see anything. Fifty refugees were sqeezed under the tiny tent of the local fruit shop in our neighborhood, among them many mothers with babies in their arms. The door of our house opened, and with one gesture the refugees got in. Fifty people on the stairs, from the front door up to the mezzanine. Outside our door, a family with kids -- the little girl had a fever. We gave them some medicine and bananas, made them some toast and gave them some blankets and pillows. Around 2:30 a.m. we heard a police car siren. A young guy, not older than 30, who lived on the fourth floor, had called the police to kick them out. We were surprised to hear the policemen asking him to show some understanding and let them spend the night at the entrance, saying, 'They are mothers with children, they are not going to steal from you.' The man insisted saying that 'it wasn't his problem.' We went down, we had a fight with him. He left when the refugees left ... I wonder if the guy that called the police realized that society isn't in danger from that woman but from people like him. "
---
---
NEWS ARCHIVE - October 2015
---



---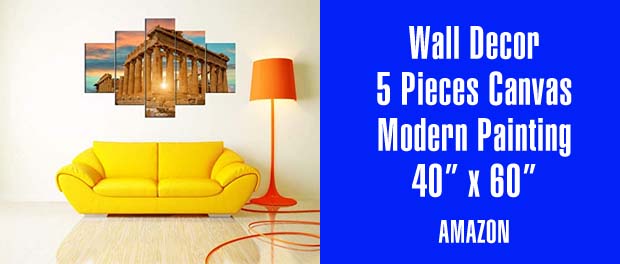 Parthenon Temple on the Acropolis of Athens Greece Artwork Wall Decor 5 Pieces Canvas Modern Painting Wall Art Home Decoration for Living Room Pictures HD Printed Framed Ready to hang(60''Wx40''H)
---
Create Amazon Business Account - save time and money on business purchases with competitive B2B prices and discounts