Greece and the economic crisis 2015
NEWS ARCHIVE - Sept 6 - Sept 14
---
Sept 14, 2015
Greece in Danger of Having to Keep Hundreds of Thousands Refugees - Greek Reporter
"The Schengen agreement guarantees the right of free movement across the borders of European Union member states. However, on Sunday Germany closed its borders with Austria refusing to receive any more refugees. As a result, hundreds of thousands refugees might end up trapped in Greece and Italy, which are the main entry points to Europe.

German Chancellor Angela Merkel said that, "Greece must take responsibility for the protection of the EU's external borders, which are currently not secure." Now Athens is forced to keep more refugees and migrants who are not likely to be forwarded to the European destination of their choice."
---
---
Amir Khan to lead aid convoy for refugees to Greece - Tribune
"Briton boxer Amir Khan is leading a campaign for the Syrian refugees by taking a convoy of trucks packed with clothes, tents and other essentials to Greece.

The Amir Khan Foundation together with the anti-poverty charity and Penny Appeal have gathered aid and will leave from Bolton, Khan's home town, on Tuesday for the four-day journey to Greece, the Daily Star reported.

The convoy will be heading out to the island of Lesbos where refugees are arriving from Turkey."
---
Online audio interview with James Angelos - Author of The Full Catastrophe- Travels Among the New Greek Ruins
Interview with the author of the June 2015 book on the economic collapse in Greece and the ramifications in Europe. Broadcast originally on ABC Radio.
---
34 migrants drown off Greece as Germany implements temporary border checks - Daily News
"...Greece's coast guard said the 34 people who died Sunday — including four infants and 11 older children — drowned when their wooden boat containing more than 130 people capsized near the island of Farmakonissi.

The boat may have tipped over due to wind gusts exceeding 30 mph, officials said. It's common for smugglers to require the refugees to pilot the overloaded crafts themselves through choppy seas, making the treacherous journey even more dangerous.

Officials said 68 others were rescued while 30 more swam to the barely populated island.

On Saturday, two other boats carrying asylum seekers capsized in the Aegean Sea and at least five people — four children and a 20-year-old man — were presumed drowned."
---
Sept 13, 2015
I'm sure that Syriza will come first, Tsipras - Euronews
"...I'm sure that SYRIZA will come first at the elections and I believe that reaching the absolute majority is absolutely feasible. Even if this happens we will look for cooperation, if not, we have our programme, our plan and I believe that there will be political forces and people in the parliament that won't be willing to risk a new round of elections. Therefore, I am sure that after the 20th of September, over the coming days, there will be a government which will proceed with the huge effort we started on the 25th of January".
---
New Migrant Tragedy Off Greece As Athens Dismisses Criticism - Updated News
"At least 28 people drowned in another migrant tragedy off Greece on Sunday, as Athens angrily defended its handling of the mounting refugee crisis in Europe.

Among those who lost their lives was a baby, the Athens News Agency reported, when the stricken boat carrying 112 people sank off off the southern Aegean island of Farmakonisi."
---
Greece expects debt-relief talks once compliance assessment made: finance ministry - Reuters
"Greece expects debt-relief talks with its creditors to start as soon as the first assessment of compliance with its bailout agreement has taken place, the finance ministry in Athens said on Saturday."
---
Merkel triggers contrasting images in Greece, migrant crises; but pragmatic style consistent - WBT
"Merkel hasn't pleased everyone in Europe with her approach to either crisis. Several countries that backed her insistence on tough conditions for Greece's new bailout, such as the Baltic nations and Slovakia, are now on the other side of the argument over whether to welcome refugees to Europe.

But the 61-year-old is undaunted, and her enduring domestic popularity is holding up as she approaches her 10th anniversary in office in November. That longevity has been based partly on her knack for convincing Germans that she is on top of complicated crises and taking account of their worries -- something that has earned her the nickname "Mutti," or "Mom."

Her insistence that Germany and its fellow members in the 28-nation European Union all have a duty to shelter people fleeing civil wars has cemented something similar among hopeful migrants."
---
Sept 11, 2015
Poll shows Syriza pulling ahead in election run-up - KSL
"Conducted by ProRata on Sept. 7-9, the nationwide poll questioned 1,300 people by telephone and had a margin of error of 2.8 percentage points. Other polls have shown the two main parties in a dead heat.

Friday's poll shows an improvement for both Syriza and New Democracy. In late August, a similar poll from the agency had Syriza at 23 percent and New Democracy at 19.5 percent.

All polls conducted so far show no party able to win enough parliamentary seats to govern without coalition partners."
---
Greece, the World's Best Investment. No Joke. - Bloomberg
"Greece isn't out of the financial woods by any means. Yet it's turned out to be a winning investment since the end of 2014, the top debt performer in the euro zone since January and the best of all assets in the world since July. Since the anti-austerity party Syriza was elected, there hasn't been a stock, bond, commodity or currency market that produced anything resembling the return of Greek debt, which earned more than 100 percent in a handful of months, according to data compiled by Bloomberg.

Greece beat every publicly-traded asset as its bonds increased in value from their lowest point in July to their highest today. Anyone sophisticated enough to buy those Greek bonds while simultaneously shorting, or borrowing the money to sell, the similar-maturing government securities of Dr. Fratzcher's Germany -- the most creditworthy country in the euro zone -- made a big profit on that trade too."
---
Sept 10, 2015
Overwhelmed, Greek Island of Lesbos Makes Push to Send Migrants Along - WSJ
"Stuck on this island for six days, Hussein Mahdi could finally continue his journey from Iraq to his desired destination—Britain—after authorities set up a processing center for migrants in an old soccer stadium.

Mr. Mahdi and thousands of others who arrived on Aegean islands in recent weeks have languished while Greece has struggled to cope with the exploding migration crisis. Local authorities, lacking money and personnel amid the country's near-bankruptcy this year, couldn't register migrants or put them on ships to the mainland fast enough. The buildup of refugees and other migrants on Lesbos with little provisions threatened to lead to chaos and violence.

...All 20,000 of the migrants on Lesbos will be transported to the mainland by Thursday, officials said. Those who left Wednesday cheered from ferry decks, while those left behind waved back and awaited their turn.

But thousands more are arriving here every day via Turkey, usually in dinghies after a perilous sea crossing. Ms. Tsirigoti said an estimated 3,000 people landed in Lesbos on Tuesday alone.

Coast guard figures show that some 260,000 migrants have entered Greece so far this year. The majority of them are refugees are fleeing the war in Syria, but many others come from Afghanistan, Iraq and other war-torn or impoverished countries. About half of those arriving in Greece landed on Lesbos, which is only 6 miles from the coast of Turkey."
---
On the defensive, Greece's Tsipras admits mistakes in election debate - US News
"There were mistakes and exaggerations, but they were corrected at the critical moment," said Tsipras, who spent much of the debate on the defensive.

"We did not surrender. We reached a painful compromise that has many positive elements for the Greek people."

Greece is expected to sink back into recession this year after briefly emerging from a six-year contraction. The prospect of continued hardship and the split in Syriza has seen Tsipras lose a huge lead in opinion polls that now put him in a dead heat with rival conservatives.

Smaller parties have also gained support, meaning the winner of this month's election would likely require the backing of at least two coalition partners.

But one possible Tsipras ally, Socialist leader Fofi Gennimata, criticized the government's seven-month record in office during the live debate.

"If there was a Golden Raspberry award for the economy, Mr. Tsipras would definitely be the winner," she said. "He turned surpluses into deficits, emptied out welfare funds, and took us to the brink of euro exit and catastrophe."
---
Iran, Greece Gladly Help Russia Fly Troops To Syria - Daily Caller
"Reuters reported the news Wednesday of an agreement that took shape in late August. Russia's alliance with Iran reflects both countries' support of President Bashar Assad, as his grasp on Syria becomes increasingly tenuous. (RELATED: Syrian Regime Bombing Kills 100 Civilians In Suburban Market)

The revelation comes on the heels of a successful U.S. campaign to keep Russian aircraft out of Bulgarian airspace. Bulgaria is in the middle of the path between Russia and Greece, so Bulgaria complying with the American request effectively blocks Russia's use of Greek airspace for military purposes.

And Russia avoids Turkish airspace because Turkey, a sworn enemy of the Syrian government, has a history of forcing Russian military planes to land. "
---
Sept 9, 2015
Greece denies rift with Russia over Syria flights - Reuters AFP
Moscow on Tuesday said it had demanded answers from NATO members Greece and Bulgaria after Sofia banned Russian supply flights to Syria from its airspace and Athens said it had been asked by Washington to do the same.

....Giving an entirely different take, the Greek foreign ministry spokesman insisted on Wednesday that "Greece's handling of the issue had been greatly appreciated."

...Speaking to AFP on Tuesday, a Greek government spokesperson said Russia had first requested use of its airspace "25 days ago" but had later decided to use an alternative route.

Asked if Athens would refuse permission for Russian overflights in future, the spokesperson said the situation was "delicate" but that Russia would likely avoid using the route.
---
Greece to look at recapitalising banks after election - Business Insider
"The economy ministry, in collaboration with Greece's central bank, decided Tuesday to establish a working group on the recapitalisation of the banks," the ministry said in a statement.

The group will contain lawyers, experts and representatives from the European Union, European Central Bank and International Monetary Fund -- the so-called "troika" of creditors loathed by many Greeks after years of painful austerity.

"The goal is that a framework for the recapitalisation is quickly set up so that the government elected on 20 September may have concrete proposals and it can make the right decisions," added the statement."
---
Juncker: Greece cannot be kept in the euro at all costs - UK Telegraph
"Jean Claude-Juncker has warned Greece's third government in four years that it will have no flexibility over the terms of its new €86bn bail-out plan and could still face the prospect of a disorderly eurozone exit.

..."It was important that [the Greeks] understood that they would not be saved at any cost," he said of the third bail-out agreement, reached in August.

Mr Juncker said any new government would have fully abide by the punishing conditions laid out by its creditors."
---
Sept 8, 2015
What's At Stake In Greece's Election? - Huffington Post
"Greece's economic crisis is still surging. The economy is in shambles, capital controls are still in place and the unemployment rate has risen to a staggering 25 percent. How to contain the enduring crisis and its omnipresent consequences remains the burning issue of the election.

With Greece being an entry point to Europe for thousands of migrants and refugees who escape relentless wars or excruciating poverty, the country is looking for ways to handle the situation while demanding help from other EU countries. As this huge humanitarian crisis is happening in parallel to Greece's economic crisis, the next government of Greece will also need to find viable solutions for effectively alleviating that situation. "
---
Yanis Varoufakis: How Europe Crushed Greece - NY Times
"In July, when Mr. Tspiras was forced to capitulate to the troika's latest "program," it spelled the end of our government. It also caused a split in our party, Syriza, between those who reluctantly agreed to implement the program and the rest of us (approximately 40 Syriza members of Parliament, out of a total of 149) who did not. The general election set for Sept. 20 is a result of this crisis.

For my part, having resigned as finance minister over the troika's ruthless, humiliating imposition, I plan to sit this one out. I will not contest my parliamentary seat in a sad election that will not produce a Parliament capable of endorsing a realistic reform agenda for Greece.

...Europe's indecision is a result of a deep rift between Berlin and Paris. Berlin has traditionally backed a rules-based eurozone in which every member state is responsible for its own finances, including bank bailouts, with political union limited to a fiscal overlord's possessing veto power over national budgets that violate the rules. Paris and Rome, cognizant that their deficit position would condemn them to a slow-burning recession under such a rules-based political union, see things differently.

... In March, I undertook the task of compiling an alternative program for Greece's recovery, with advice from the economist Jeffrey Sachs and input from a host of experts, including the former American Treasury Secretary Larry Summers, and the former British chancellor of the Exchequer Norman Lamont.

Our proposals began with a strategy for debt swaps to reduce the public debt's burden on state finances. This measure would allow for sustainable budget surpluses (net of debt and interest repayments) from 2018 onward. We set a target for those surpluses of no more than 2 percent of national income (the troika program's target is 3.5 percent). ..."
---
Russia demands answers as Bulgaria, Greece deny Syria flights - Yahoo
"Moscow on Tuesday demanded answers from Greece and Bulgaria after Sofia banned Russian supply flights to Syria from its airspace and Athens said it had been asked by Washington to do the same.

"If anyone -- in this case our Greek and Bulgarian partners -- has any doubts, then they, of course, should explain what the problem is," deputy foreign minister Mikhail Bogdanov told the Interfax news agency.

...He said that ferrying cargo, which included humanitarian and military aid, through the airspace of a third party -- as well as obtaining permission to do so -- should be a routine procedure. "
---
Kremlin Refuses To Comment On US Request To Greece On Not Allowing Air Space To Russia - Int'l Business
"Russian president's press secretary Dmitry Peskov said Monday that it was too early to comment on the request. "There was a corresponding statement by our Greek partners who said they were considering this request," TASS quoted the Kremlin spokesman as saying. "It is too early to speak about that until we have any reaction."

The Greek foreign ministry has confirmed that the U.S. made such a request. Reuters reported that Greece had sought to nurture closer ties with Kremlin when it was almost on the verge of an exit from the euro zone.

Russia, on the other hand, has been an ally of Syrian President Bashar al-Assad for a long time. Several Western countries including the U.S. believe that the political unrest in Syria can only be solved after Assad loses power."
---
Sept 6, 2015
Tsipras Expected to Unveil Election Manifesto - WSJ
"Mr. Tsipras's challenge is to revive flagging voter enthusiasm for Syriza, which while in government from January to August failed to deliver on its promise to overturn the tough austerity policy demanded by Greece's creditors and ended up signing a new, retrenchment heavy bailout program.

Speaking at Thessaloniki's annual international fair trade, Mr. Tsipras is expected to promise that if elected premier again, he will soften some of the tax hikes and spending cuts agreed with other eurozone governments and the International Monetary Fund. Many of the austerity measures are set to hit Greeks in the months ahead.

..."It is the first time in Greece that no one has the ownership of the bailout," said Wolfango Piccoli, a managing director at New-York based political risk consultancy Teneo Intelligence. "Even the creditors don't back it vigorously; the International Monetary Fund hasn't yet committed to take part in the bailout. This makes it very difficult to sell it to the public, as another round of austerity and pain is coming."

Both Syriza and New Democracy say they want to scrap the imposition of a 23% value-added tax on private education, one of the measures agreed by both parties less than a month ago as part of the bailout deal."
---
Syriza party, rivals neck-and-neck two weeks before vote: polls
"In a marked change from several weeks ago when charismatic Syriza leader Alexis Tsipras was by far Greece's most popular politician, the polls published by the To Vima and Ethnos newspapers also indicate a rise in popularity for Vangelis Meimarakis, leader of the conservative New Democracy party.

...surveys showed Syriza maintaining a razor-thin lead ahead of the vote on September 20, with To Vima placing the leftists on 26.5 percent against 25.9 percent for New Democracy. Ethnos' poll suggested 24.4 percent of Greeks intend to vote for Syriza, and 24 percent for the conservatives.

To Vima's poll also showed Meimarakis pulling ahead in the personal rankings... "
---
UN calls for emergency evacuation of 17,000 refugees on Lesbos - UK Telegraph
"In Mytilini there is just one tiny office to deal with the thousands of refugees – a battered container unit inside the ferry terminal.

Long queues form outside it every day but opening hours are erratic and applications are being processed by just two police officers. As a result, some of the refugees have been stuck on the island for two weeks or more, sleeping rough or in tents which now crowd the port area, an adjacent beach and a park shaded by pine trees.

Stray dogs wander around looking for scraps, barefoot children walk amid puddles of urine and there is rubbish everywhere – dirty nappies, plastic bottles, food packets and banana peels."
---
This year we will surprise even the most skeptical - ethnos
Interview with president of the TIF-Helexpo, Anastasios Tzikas.
"...Greek entrepreneurship continues to pass through difficult days, particularly in Northern Greece.

However, the development of entrepreneurship is the vehicle for the exit of Greece from this economic crisis...

It is no coincidence [during this time] that young people try their luck in the business arena and more and more start-ups make their appearance with innovative ideas and truly internationalized.

Our country, if it will improve the financial and investment framework, can be a business hub for the wider region of Southeastern Europe.

Obviously this period with its major constraints on economic activity, because of the capital controls, and also due to the election period, the uncertainty for many companies has increased significantly. We urgently need to restore normality to the market and to have an environment conducive to growth, investment and employment."
[English via Google translate]
---
NEWS ARCHIVE - September 2015
---
---



---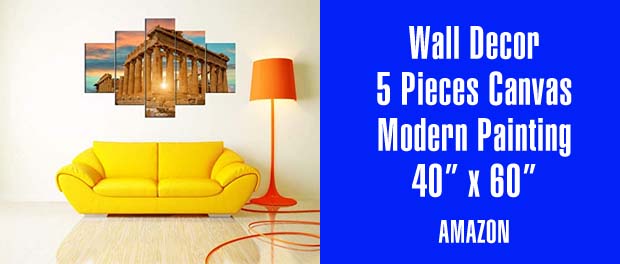 Parthenon Temple on the Acropolis of Athens Greece Artwork Wall Decor 5 Pieces Canvas Modern Painting Wall Art Home Decoration for Living Room Pictures HD Printed Framed Ready to hang(60''Wx40''H)
---
Create Amazon Business Account - save time and money on business purchases with competitive B2B prices and discounts