Greece and the economic crisis 2015
NEWS ARCHIVE - Sept 23 - Sept 30
---
Sept 30, 2015
Greece's debt is still unsustainable - Business Insider
"The risk of a debt crisis with losses for private parties remains substantial when both the debt ratio and financing burden can remain high. Along the central pathway of the simulation, the debt ratio decreases (the orange line in the left-hand figure) from 2018 onwards, and over time will be lower than 120% of GDP (the supporting line). The financing burden along the central pathway (orange line in the right-hand figure) is limited during the first decade, after which it stabilises at around 15% of GDP (the supporting line).

The supporting lines have been set at a debt level of 120% of GDP and a financing burden of 15% because these levels serve as anchors in the programmes for Greece. Above these levels, market access becomes difficult. The white and light orange planes indicate probability around the central path, based on historical data on the distribution of primary surplus, risk premium and economic growth. Under these assumptions, there is a 34% probability that the debt level will be higher than 120% after 20 years (in 2038) and a 48% probability that the financing burden will be higher than 15% of GDP between 2028 and 2038.

This autumn, the institutions will resume their talks with Greece about debt relief, with the main objective of ensuring that Greece will become financially self-supporting. This would require that the risk of a substantial debt increase under unfavourable circumstances is limited. The surplus on the long run is of crucial importance. Figure 3 below emphasizes the related sensitivity of the debt level and financing burden."
---
Tsipras: Greece Can Return to Bond Markets After Debt Restructuring - Greek Reporter
"Prime Minister Alexis Tsipras said that Greece can return to bond markets as soon as creditors restructure the country's state debt.

"The goal is to return to the markets. If there is a good decision on the debt issue, Greece could return to markets shortly after debt restructuring," Tsipras said in a Wall Street Journal interview on Tuesday.

However, creditors require that the first review on the progress of the bailout program is completed successfully before any talk on easing the Greek debt."
---
How Greece could collapse the eurozone EU fails to recognize that its actions may destabilize Europe - Market Watch
"The problem is not that the eurozone found itself facing serious economic challenges. The issue is its failure to anticipate the risk of such a crisis ever happening, the lack of contingency planning, and the eurozone's inability to deal with the problem on a timely basis. The Greek crisis is now over five years old, with no signs of a permanent solution.

There are only unpalatable choices. Some concessions will not solve the problem. Other eurozone members will have to continue to provide additional financing to Greece, further increasing their risk. Favorable treatment for the Greek government risks opening a Pandora's Box of demands from other countries to relax austerity measures. Demands for relaxation of budget deficit and debt level targets are likely from Spain, Portugal, Ireland, Italy, and France.

A write-down of debt would crystallize losses. It might threaten the governments of Spain, Portugal, Italy, Finland, the Netherlands, and Germany. If Greece leaves the euro then the consequences for the eurozone are unclear. Should Greece prosper outside the single currency, it reduces the attraction of the eurozone for weaker members."
---
In Greece, a Little Goes a Long Way - Huffington Post
"I am talking about how in Greece right now we can give a little and have it return a great deal more.

Every country is known primarily by its collective cultural persona. The national character is perceived by the behavior of politicians, bureaucrats and the effect of its economic skill and power in the global game. And when a country is disadvantaged by these standards, the world rushes in to take advantage. Or so it seems.

I despair when I hear what others say of Greece outside of the country, "the people brought it on themselves," "'they're lazy" "they're looking for a handout." But I know a different reality. In fact I am an active participant in a different reality. And here it is.

Underneath the skin of the collective national persona are 11 million plus stories. I am one of them. I am Philhellene. I chose to come here from a more "advantaged" country because there is a pulse to this land that is hard to measure by our material standards. It is beguilingly beautiful from north to south and east to west including its hundreds of islands with such diversity of ancient mountains, teal blue seas and rich arable lands. In the still-wild mountains, herbs and wildflowers grow in unmolested natural abundance. Six thousand species of flora and 200 species of olive trees offer up a precious pharmacopeia unmatched in most other lands."
---
Sept 29, 2015
"Greece may soon find itself excluded from the European Space Agency (ESA) while it has already lost its right to vote, since it has not paid its financial contribution to the ESA for the last three years, Thessaloniki University astrophysics professor Loukas Vlachos told the ANA-MPA radio 'Praktorio 104.9' on Tuesday.

"The astrophysics science community cannot see itself outside the ESA," Vlachos noted, saying that the problem arose largely because of the constant personnel changes at the General Secretariat for Research and Technology, as well as the lack of an overall strategy."
---
Man arrested over arms deal bribery charges - Reuters
"A Greek businessman has been arrested and charged with money laundering and bribery as part of an investigation into suspicious arms deals, court officials said on Tuesday.

Greece has promised to crack down on corruption and reform its spendthrift state, which many Greeks blame for the country's worst debt crisis. Prosecutors are investigating alleged financial scandals spanning decades in the debt-laden country.

Thomas Liakounakos, who appeared to be a commercial agent for Swedish company Ericsson in Greece more than a decade ago, is accused of paying a bribe of up to 2 million euros ($2.25 million) to a Greek official to secure a deal in 1999, court officials said.

...Liakounakos, who was arrested at his Athens home late on Monday appeared before a prosecutor on Tuesday and will remain in custody until he formally responds to the charges on Friday."
---
Impact of the Greece Bailout Continues - 4 Key Financial Reporting Considerations - CP Adviser
"The impact on the Greek economy continues to be unfold. The bailout calls for a series of austerity measures, including streamlining the Greek pension system and boosting tax revenue, especially from the value-added tax ("VAT"); reforming the labor market; privatizing the electricity network; and extending shop opening hours. Of note to investors, the package on the table will also add more debt and extend payments due on the existing debt.

In the face of uncertainty, it is important that companies with exposure to Greece consider the financial reporting implications. Even if companies have previously considered potential implications as the situation in Greece deteriorated, they should continue to monitor and evaluate new facts and update assumptions and conclusions as necessary"
---
Sept 28, 2015
"The risk of deaths among refugees and other migrants crossing into Greece by sea from Turkey, a key passageway in their bid to reach Europe, is expected to rise sharply in coming months with the onset of winter, volunteer groups and Greek officials warn.

Greek officials are bracing for more migrants, most of them refugees escaping conflict and violence in Syria and Afghanistan, to cross over into one of the country's islands, undeterred by the worsening conditions.

...About 350,000 refugees and other migrants have entered Greece this year—of which 70% arrived since July. The problem is hard to manage for Greece partly because it changes so rapidly."
---
Greece wants to keep majority stake in PPC - Reuters
"Greece wants to keep a majority stake in its dominant power utility PPC and also set up an independent power grid operator, as agreed with its international lenders, its energy minister said on Monday.

The state owns 51 percent of PPC, which controls 97 percent of Greece's retail elecricity market. Under the country's third bailout deal Athens needs to privatise its power grid operator or find an alternative scheme to open up the market. "
---
Greece's Eurobank says non-performing loans rose slightly in Q2 - Fiscal Times
"It said core pre-provision income excluding trading rose to 204 million euros ($228.2 million) quarter-on-quarter, while net interest income grew 1.4 percent to 378 million euros, helped by lower deposit costs and wider lending spreads.

It said funding from the European Central Bank and the Bank of Greece fell to 31.8 billion euros in September from 32.7 billion in June, with 22.2 billion euros of the total being emergency liquidity (ELA) drawn from the Greek central bank.

Deposits fell by 3.9 billion euros to 31 billion euros at the end of June, hurt by political uncertainty during the acrimonious talks with the country's international lenders."
---
Walking with migrants: the diary of a journey from Greece to Berlin - UK Telegraph
"...As soon as I got out of the metro, I found an entire community in the square. Tents were pitched, blankets used instead of beds, kids playing.

Two nuns stopped in a car to distribute foods, but the queue that formed in front of them was too long to give everybody a share. When some began to worry that the food was running out they tried to skip the queue and jostle to get a meal.

Most of the people in the square are poor, and couldn't afford to stay in hotels as they run out of money during their long journey. Some of them don't have the money even for food, such as Ibrahim Ja'fary, 32, from Afghanistan, who showed me that he only has five euros.

He doesn't speak English but his eyes reveal his feeling of loss. His wife was holding a baby in her hands, and his 11-year-old daughter Mariam was trying to help us in translation with very little English.

Ja'fary doesn't know what he will do for their next meal.

Greek charity workers are showing up every now and then with food, Sim cards and clothes, such as Mary Seath, who along with a friend was distributing second hand clothes collected through a Facebook group."
---
Sept 26, 2015
"Moody's Investors Service has today confirmed Greece's government bond rating at Caa3 and changed the outlook to stable," the agency said in a statement issued Friday.

"The key drivers behind the confirmation are the approval of the third bailout programme, and the emergence of a political configuration that is slightly more supportive than its predecessors for the implementation of reforms which the programme will require," it added."
---
Sept 25, 2015
"Tsipras pledged to respect Greece's commitments for further spending cuts, tax hikes and reforms, and said his first, urgent priority will be to launch talks on reducing the country's crippling debt burden and boost its battered banks.

Tsipras said implementing "without delay" the country's bailout agreement in order to "speedily conclude" the first review of Greece's progress by bailout inspectors.

"That will allow the process to go ahead speedily to open, as soon as possible, the crucial discussion on reducing Greece's debt, as foreseen in the (July bailout) agreement," he said.

Greece's European creditors have promised to look again at Greece's debt if the country gets past its first review. Though an outright cut in the country's debt has been ruled out, Tsipras will be hoping to get relief in the form of longer repayment periods and cuts in the interest rates on the loans."
---
Greece suffers the moonshine blues as EU demands tax hike - Egypt Independent
"Distillers in Greece were aghast Friday over EU demands for the abolition of long-running tax exemptions believed to cost the cash-strapped state millions of euros in lost revenue.

Raki, tsipouro and tsikoudia -- cheap traditional beverages that are widely consumed in the country -- are currently taxed at half the rate of other alcoholic drinks.

On Thursday, the European Commission pushed for the privilege to be abolished.

The Greek government has a month to respond, and unless the issue is resolved, Athens could be taken before the European Court of Justice.

...Agisilaos Rapsaniotis, head of the distillers' association in Tyrnavos, central Greece, argued that the measure will effectively equate the cost of locally made beverages with that of imported drinks.

"Today a bottle of tsipouro costs 11 euros, and the price will rise to 15-16 euros, which is how much whisky costs," he told the Ethnos daily."
---
Sept 24, 2015
"The performance of Greece's banking sector holds substantial significance in unlocking of three billion euros from the country's third bailout package. It's on Prime Minister Alexis Tsipras to carefully steer the performance of his country's economy — most importantly the financial sector — so Greece could take the European Central Bank (ECB) into confidence. Indeed, Thomas Weiser, head of the Euro working group, has stressed that it is crucial for Greece to achieve milestones in governing and reforming the country's financial sector, reports Bloomberg.

National Bank of Greece (ADR) (NYSE:NBG), one of the largest banks in Greece, has lost more than 61% of its market cap year-to-date (YTD). The stock has largely trended south of the S&P 500 Index this year, as shown in the graph below."
---
EU leaders agree $1 bn UN aid at refugee summit - CommodityOnline
"Tonight we have a common understanding that we cannot continue like we did before," Tusk told a press conference. "It's a quite symbolic moment -- I am absolutely sure that we have stopped with this risky blaming game."

The EU leaders agreed to mobilise an additional one billion euros for the UN refugee agency and the World Food Programme to help refugees in the region around Syria, former Polish prime minister Tusk said.

Brussels would also increase help to Turkey, Lebanon and Jordan, as well as to Balkan countries on the main migrant route to the EU which have been stretched by the huge numbers of people coming through, he said."
---
Kammenos quits hours after swearing in - SF Gate
"Dimitris Kammenos, a deputy minister for infrastructure, submitted his resignation hours after Tsipras' new Cabinet was sworn in.

The 49-year-old Kammenos is a member of parliament from the Independent Greeks, a small right-wing party that joined the new coalition government after a general election was held Sunday."
---
EU Commission wants tax hike on tsipouro - Sigmalive
"Greece has been asked by the European Commission to raise taxes on the locally produced alcoholic drinks "tsipouro" and "tsikoudia" as the rate it already too low.

Tax rates on the beverages are currently half the normal rate which makes them significantly cheaper than other beverages.

The Commission also objects to the extremely low tax rate (6 per cent of the standard consumption tax rate) imposed when the same drinks are produced in bulk by farmers using so-called "two-day stills".
---
Greece won't 'rock the boat' any time soon - Business Insider
"The relatively high consensus gained by SYRIZA means that it can form a small coalition government once again and join forces with prior right-wing austerity-skeptic coalition partner, Independent Greeks. Together, both parties command 155 out of 300 seats in Parliament.

While the absence of more moderate forces in the coalition is seen by some as a source of concern when it comes to program implementation, we would only partially share such concerns."
---
Sept 23, 2015
New Tsipras government takes oath of office in Greece - Yahoo Finance
"Tsipras barely had time to see his cabinet sworn into office before flying to Brussels for an emergency migration summit, a day after EU ministers forced through a controversial deal to relocate 120,000 refugees, angering several member states in the process.

In statements after his election victory on Sunday, Tsipras said Europe had failed to give adequate support to Athens and called for "shared responsibility" in managing the influx of migrants from Syria and elsewhere.

The new Greek cabinet is almost a carbon copy of the previous government headed by the 41-year-old premier, who resigned in August after seven months in office after losing his majority when anti-euro hardliners in his Syriza party quit in anger over an economic reform-and-rescue deal."
---
Euclid Tsakalotos remains finance minister after election - UK Guardian
"The mild-mannered Tsakalotos, an Oxford-trained former economics lecturer, is credited with rescuing the summer bailout talks as Greece faced the renewed danger of an exit from the euro currency.

Leftwing party rebels who opposed their government's compromise helped trigger the early election and formed a breakaway party that failed to gain any seats in parliament.

The new Tsipras government abandons attempts to streamline government with fewer ministerial positions, reintroducing senior posts for culture, merchant marine and several other portfolios.

Ioannis Mouzalas, a doctor and former aid group coordinator who was appointed migration minister under a four-week caretaker government, was kept on to help Greece deal with a refugee crisis that has rattled the EU."
---
NEWS ARCHIVE - September 2015
---



---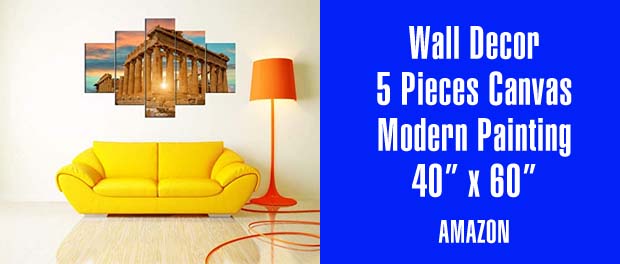 Parthenon Temple on the Acropolis of Athens Greece Artwork Wall Decor 5 Pieces Canvas Modern Painting Wall Art Home Decoration for Living Room Pictures HD Printed Framed Ready to hang(60''Wx40''H)
---