Greece and the economic crisis 2015
NEWS ARCHIVE - Sept 1 - Sept 5
---
Sept 5, 2015
Greece: A Perfect Storm - Truth Out
"The referendum itself is about European Union bailout conditions. But what it is really about is dignity: an opportunity for Greeks to have a say in their destiny. The "oxi" (no) voters want an end to unconditional austerity measures. The "né" (yes) camp believes that separation from the EU would cut Greece off from the resources enjoyed by the world's industrialized nations. Both sides believe they belong to the majority.

Some, however, realize they've lost control of the outcome. "I don't see a plan to save Greece, on either side," a waitress shrugs. "Why vote?"

Spirit prevails but only in isolated pockets. A 7-year-old boy with dreamy eyes scurries through a labyrinth of docile protesters, waving an "OXI" ("NO") flag.

"OXI, OXI, OXI," the boy shouts, his face lighting up. A crowd around him bursts into cheers. It's a 61 percent majority win for the "no" voters.

..."There is one big challenge, though." He raises his finger. "Do you know who the worst enemy of Greece is?"

"The Greek," he answers himself.

Sarantopoulos refers to the particularly Greek mentality known as zí̱lia (jealousy).

"The Greek [is] jealous if others are better off. By the time Greece was flooded with EU money, there was a rush to buy a Mercedes car or second house, simply because the other chap had one."

And after Greece entered the eurozone in 2001, it became extremely easy to get loans for practically anything - a vacation, a big car with a 72-month payment term and, of course, swimming pools.

"It was considered stupid not to borrow," Sarantopoulos says."
---
---
National Bank Of Greece (ADR): Recovery In Sight - Bidnessetc
"The debt crisis in Greece has left its banking sector devoid of liquidity. The country's banks have struggled to control the acute deposit flight, which has left reserves almost dry. The ECB, in a bid to recover some of the drained liquidity, had injected funds via a program called the Emergency Liquidity Assistance (ELA). With the help of the funding program, Greek banks could borrow from Greece's central bank: Bank of Greece.

....Importantly, the decline in funding is an indication of improvement in the banking sector of Greece. Specifically, it highlights that the acute deposit flights, which had threatened to push banks toward the brink of collapse, have reduced. Indeed, Bloomberg cites the source as saying that deposit withdrawals were reduced during the month of August to roughly 300 million euros. Furthermore, the data available from the Bank of Greece shows that during the month of July, deposit withdrawals dropped nearly 1.4 billion. Of course, a significant portion of this can be attributed to capital controls that came into place, when the crisis in Greece took a turn for the worse."
---
Sept 4, 2015
Tsipras hints at possible vote deal with socialists - Economic Times
"in an interview late Thursday with the TV channel Kontra, he hinted Syriza could work with Pasok if its new leader Fofi Gennimata "distances herself from the right". Pasok and New Democracy have previously governed together in coalition.

"Fofi Gennimata has adopted the position of the right and not that of European social democracy. If that does not change -- and I'd be happy if it did change -- there cannot be any prospect of cooperation," Tsipras said. "
---
Ahead of Greek election, Syriza's 'lost generation' deserts Tsipras - Euronews
So divided has Syriza's youth wing become over the direction of Greece's leftist party, that when its council planned to convene at the end of August, the meeting was abandoned. Too many of its 71 members were on the point of quitting.

The incident showed the disillusionment Syriza's twenty-somethings feel with leader Alexis Tsipras, the former Communist student activist they once celebrated as one of their own.

In just seven months as premier, Tsipras, under pressure from Greece's creditors, has backtracked on his pre-election promises to end austerity.

"Syriza's youth is almost over, very few people are staying behind," said one of those who walked out.

"...LOST GENERATION"

Having failed to muster the numbers for a formal meeting, the majority of Syriza's central youth council confined itself to issuing a statement on Tuesday, denouncing the party's "bankruptcy" and withdrawing its support for the election. The council was left with just 27 members at the last count.

It is a remarkable turnaround for a party that stormed to power in January promising voters more jobs and an end to years of wage and pension cuts.
---
Survey shows that the easing of Greece fears helping to shore up eurozone economy - Foxnews
"Waning concerns over a Greek exit from the euro appear to be shoring up the economic recovery across the 19-country eurozone despite renewed uncertainty over the global economy, according to a closely-watched survey.

Financial information company Markit says its monthly composite purchasing managers' index — a gauge of economic activity — rose to a four-year high of 54.3 points in August from 53.9 the previous month. The increase was also larger than the initial estimate for a more modest rise to 54.1. Anything above 50 indicates expansion."
---
Greece to the Rescue? - Tounhall
"Here's how bad it is in Europe: With economic growth projections being slashed as a result— some say— of a slow down in China, the European Central Bank (ECB) is getting ready to buy more government bonds.

From Greece.

"The big question," says the New York Times, "is whether, and how soon, the European Central Bank might see a need to step up the bond-buying stimulus program, known as quantitative easing, that it began in March as a way to pump money into the eurozone economy and force down market interest rates."
---
Classical Greece was incredibly politically innovative. Why did it rise — and then fall? - Wash Post [Book Review]
"Josiah Ober is the Mitsotakis Professor of Political Science and Classics at Stanford University. He is also the author of a new book from Princeton University Press, "The Rise and Fall of Classical Greece," which seeks to uncover the reasons Classical Greece was so extraordinary, creating ideas and ways of doing things that still influence our world today. I interviewed him about his book over e-mail.

HF: Historians used to think about the classical Greek world of city-states as relatively impoverished. In fact, it seems to have supported a far higher standard of living than the empires around it. Why were the city-states of Greece more prosperous than their competitors?

JO: The Greeks tended to describe themselves as "poor" in contrast to the opulent lives of ruling elites in neighboring kingdoms – Lydia, Egypt, and especially Persia. But even taking slaves into account, it appears the average Greek lived very well – consuming several times the minimum needed to survive, at roughly twice the level of consumption that appears to be typical of premodern societies.

...In the Bronze age of the mid-second millennium BCE, Greek societies were organized in ways that resembled the kingdoms of the ancient Middle East. Economy, society, and war-making were centered on royal palaces, controlled by a "god-like" king and a coalition of elites around him. These societies were very unequal; the elite lived much better than the common people (as has been demonstrated by skeletal analysis of diets).

In the Greek world this palace-centered world collapsed around 1100 BCE, in a "perfect storm" of climate change, volcano activity and migration. Greece lost perhaps half of its population; survivors lived in small, poor villages. The kings disappeared, along with the bureaucracies that had supported them. "
---
Sept 3, 2015
Over 230,000 migrants arrive in Greece this year - Yahoo
"More than 230,000 refugees and migrants have arrived in Greece by sea this year, a huge rise from 17,500 in the same period in 2014, deputy shipping minister Nikos Zois said Thursday.

More than 80 percent of the arrivals, recorded by the coastguard, are refugees eligible for political asylum, he added.

...The government of Alexis Tsipras, who resigned as prime minister last month triggering snap elections on September 20, said the scale of the crisis surpassed its ability to cope. "
---
Tsipras's Election Gambit Moves Greece Past Austerity Debate - WSJ
"...Before he triggered the political crisis that brought him to power in January, Greece was the second-fastest growing economy in the eurozone, the government was running a budget surplus before interest payments and the banks had just passed a European Central Bank stress test. Now the economy is back in recession, the government is running a deficit and the banks are estimated to need up to €25 billion ($28 billion) in fresh capital.

Mr. Tsipras's eight-month standoff delivered next to nothing that he couldn't have achieved on his first day. In agreeing to a new €86 billion bailout deal, he broke virtually every one if his January manifesto commitments, promising to implement the very tax increases, pension reforms and privatizations he had vowed to resist. In the process, he also broke his own party, with a third of his hard-left parliamentarians having defected to create their own new anti-euro party.

...But could Mr. Tsipras have miscalculated again? The latest polls suggest that Greek voters aren't judging his record as favorably as his new admirers in Brussels, Berlin and Paris. They suggest that support for Syriza has plummeted from 36% in January to around 25% now, with one poll published Wednesday showing its lead over its main rival, New Democracy, at less than one percentage point. Mr. Tsipras remains the most popular leader, but his approval rating is now 29.5%, compared with 70% in March. "
---
Greek Americans Continue Fight For Greece After Debt Deal - Huffington Post
"...organizations representing the nearly 1.3 million Americans of Greek descent have been at pains to leverage American influence on behalf of Greece in what is primarily a European affair. The Hellenic American Leadership Council, the American Hellenic Institute and veteran Greek-American power brokers like Andy Manatos have been limited to lobbying President Barack Obama and Congress to ask the International Monetary Fund and European leaders to provide debt relief for Greece. The IMF has said that the latest Greek bailout package will not succeed if the country does not receive significant debt relief -- a position many observers believe it has taken as a result of U.S. pressure.

Angelides acknowledged the limits of Greek Americans' power given the fundamental political realities of the eurozone, saying it was Greek Americans' job to "do our level best to help Greece recover in the construct in which they are operating."

...Angelides recommended that regardless of election results, Greek-Americans continue to lobby the Obama administration and Congress to "push hard on its European allies" to secure debt relief for Greece. He added that the community can press the U.S. government to "look at all U.S. programs on a cabinet level by cabinet level basis" to see how they can be harnessed to help the people of Greece."
---
Sept 2, 2015
Greece rolls over 6-month T-bills, yield steady - Business Recorder
"Greece sold 1.138 billion euros ($1.28 billion) of six-month T-bills on Wednesday to refinance a maturing issue, keeping its public finances afloat as it heads for elections on Sept. 20.

With 1.4 billion euros of six-month paper maturing on Sept. 4, debt agency PDMA sold the new paper at a yield of 2.97 percent, unchanged from a previous sale last month. "
---
Greece overwhelmed: 4,200 migrants enter Athens overnight as Hungary goes into lockdown - UK Expresss
"Hungary was last night preparing to draft in troops to protect its borders after hundreds of angry migrants laid siege to the capital's main railway station.

Budapest stood on the brink of civil disorder after police sealed off Keleti station when desperate would-be refugee tried to storm their way onto trains heading to the West.

The crisis continues to engulf the continent, as Greek islands become increasingly overwhelmed with fears 3,000 desperate people could arrive in the country every day."
---
Greece Finds Weapons Shipment Headed for Libya on Cargo Ship - Arutz Sheva
"A Greek coast guard special unit raided a Bolivian-flagged freighter off the southern island of Crete on Tuesday, and found a shipment of undeclared weapons apparently headed for Libya, The Associated Press (AP) reports.

The coast guard identified the cargo vessel as the Haddad 1, which sailed from the Turkish port of Iskenderun on August 29 and was headed for Libya's western harbor of Misrata.

The coast guard added that the ship "was carrying arms without legal documentation." It wasn't initially clear what kind of armaments the vessel had on board."
---
Sept 1, 2015
Syriza party lead shrinks further in election race - Reuters
"Greece's Syriza party is on course to win 26 percent of votes in a snap election in September, just one point ahead of the conservative New Democracy party, a poll published by the Pulse for Action 24 television channel said on Tuesday.

Former premier Alexis Tsipras of Syriza resigned in August to seek a new mandate for a bailout deal he clinched with the country's international creditors, but Syriza's slipping poll lead suggests the decision could backfire.

...The poll showed that Independent Greeks will not win enough votes to pass the 3 percent threshold to enter parliament, while the Popular Unity party, a hard-left splinter group that broke from Syriza last month, will get 4 percent.

A quarter of the people polled would like to see a coalition government made up of Syriza, New Democracy and other parties. "
---
Moscovici optimistic about Greece's future - euroactiv
European Commissioner for Economic and Financial Affairs Pierre Moscovici has said he has "no reason to doubt" the eurozone's economic growth prediction of 1.5% for 2015. EurActiv France reports.

...The Commissioner also spoke of Greece, and said he believed "sincerely that the UE had broken the deadlock", and insisted on the fact that the Commission had confidence in how the ongoing process was being handled. Elections are scheduled in Greece for 20 September, when Alexis Tsipras will attempt to form a more centrist, europhile majority government.
---
Tsipras still has the edge in pro-euro Greece, say analysts - Yahoo
"Opinion polls show Tsipras in first place for the September 20 vote, with his far-left Syriza party ahead of its main rivals, the New Democracy conservatives, by between 1 and 3.5 points.

...During the months of bitter bailout negotiations with its creditors -- the European Union, European Central Bank and International Monetary Fund -- Tsipras' government frequently wielded threats of a Greek exit from the eurozone, or "Grexit", if a deal could not be met.

No one knew what that would have looked like, but the chances are it would have been chaotic -- and Greeks, it seems, are still determined not to find out.

A poll by Metron Analysis published Saturday found 79 percent wanted to stay in the eurozone -- and a majority, 55 percent, thought Tsipras was right to accept the bailout deal. "
---
NEWS ARCHIVE - September 2015
---



---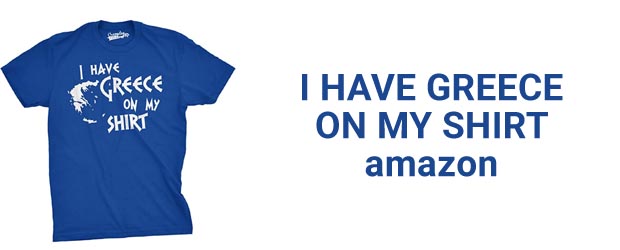 I Have Greece On My Shirt Funny Pun Geography Country Tee (Blue) - XL
---
Create Amazon Business Account - save time and money on business purchases with competitive B2B prices and discounts
---
Andros: The Little England of the Cyclades - AMAZON