Greece and the economic crisis 2015
NEWS ARCHIVE - Aug 7 - Aug 11
---
Aug 11, 2015
Greece Secures Bailout Deal After All-Night Talks in Athens - Bloomberg
"Greece reached an accord with creditors on the terms of a third bailout, paving the way for national parliaments to vote on the deal before an Aug. 20 payment falls due to the European Central Bank.

...The talks successfully wrapped up in the early hours of Tuesday, Finance Ministry spokesman Theodoros Mihopoulos said in a text message. Finance Minister Euclid Tsakalotos told reporters that just "one or two very small details" remain, in comments broadcast on Skai TV. An EU official confirmed a deal had been struck, asking not to be named because the talks are private and details have still to be announced.

Greece's parliament must now pass the reform or fiscal requirements before a meeting of euro-area finance ministers tentatively scheduled for Friday. A draft of the memorandum of understanding includes 35 so-called prior actions the country must pass immediately, with more measures to follow in October, before aid can be released, Kathimerini newspaper reported, citing a copy of the draft."
More Coverage:
Greece Says Bailout Terms Reached - Wall Steet Journal
Greece clinches third bailout: Officials- CNBC
---
---
Germany Isolated as Greece Near €86 Billion Deal With Creditors; Ambitious Yes, Feasible No - Townhall
"If by some miracle, Greece were to hit that fantasyland 3.5% surplus projection, Greece would be in very good position to tell the Troika to go to hell, declare the debts odious (as it did once before) and default.

As long as Greece can maintain a primary account surplus, no one could force it out of the eurozone.

Schäuble hopes to prevent such a default by requiring Greece to put up €50 Billion in assets as collateral for the loan. But realistically, Greece will have a hard time coming up with state assets worth that amount.

Also, agreeing to pledge assets and actually doing it are two different things.

Meanwhile, the cost of the bailout (and potential default) keeps going up, and up and up. A default five years ago may have cost banks €60 billion to €80 billion or so. Now, counting target2 imbalances Greece would default on over €400 billion."
---
Greece closes in on bailout deal possibly within the day - Miami Herald
"Greece only has a few details to iron out with international creditors before concluding a bailout agreement, officials said Tuesday, raising hopes that the cash-strapped country could be ready to finalize a deal within the day.

...many in the governing left-wing Syriza party are voicing their opposition to the deal, which would see the imposition of further spending cuts among a series of austerity measures.

Syriza lawmaker and dissenter Costas Lapavitsas reiterated his opposition and said he would not vote in favour of the new deal in Parliament.

"Left-wing governments must take left-wing actions," he said on private Mega television."
---
Greek deal shields weaker euro debt from China-driven flight to safety - eKathimerini
"Spanish and Italian yields fell on Tuesday as a bailout deal for Greece insulated lower-rated euro zone bonds from a flight to safe havens triggered by China's devaluation of its yuan currency.

...The yuan devaluation raised concerns about the extent of the economic slowdown in the world's second biggest economy and its knock-on impact on other regions.

"The Chinese devaluation was taken as 'things are not going that well in China' and this is a risk-off move," said Martin van Vliet, senior rate strategist at ING, adding that "with the Greek deal secured and the ECB continuously buying bonds, peripheral spreads would have been much tighter otherwise."
---
---
Aug 10, 2015
Still Waiting for Winners on Greece - WSJ
"The Greek crisis exposed two competing views of how the eurozone should be managed.

One school of thought says the stability of the currency union depends on respect for its rules, chief of which is that in the absence of any mechanism for permanent fiscal transfers between member states, each government must do what is necessary to secure its own financial independence. This viewpoint is most obviously associated with German Finance Minister Wolfgang Schäuble, but is widely shared in other governments.

...The new program may also sidestep overhauls of Greece's poorly performing education system, even though this is vital to its long-term competitiveness and ability to build and attract human capital. Education is one area where the scope for ideological clashes with Greece's ruling hard-left Syriza party is greatest: The party is already committed to rolling back moves by previous governments designed to improve university standards and make appointments on merit."
---
Greece aims to finish bailout talks, get approval this week - Journel Sentinel
"Hopes that a swift resolution will pave the way for the Greek parliament to ink the deal helped shore up Greek shares. The main index in Athens was up 1.6 percent in afternoon trading.

The Greek government needs the deal to be sorted out by Aug. 20 when the country has a debt repayment of a little more than 3 billion euros to make to the European Central Bank. Greece won't be able to make that payment without funds emerging from the country's third bailout in just over five years.

Annika Breidthardt, European Commission spokeswoman on economics and financial affairs, said experts are "working day and night" to finalize the text of the formal agreement and an additional list of prior actions which the Greek authorities could legislate shortly."
---
Aug 9, 2015
Greece Seeks Resolution to Aid Deal as Creditor Talks Progress - Bloomberg
"The Greek government is seeking to conclude talks on a rescue program by Tuesday, leaving enough time for national parliaments to assess the deal so funds can be disbursed for an Aug. 20 payment to the European Central Bank.

...Last week, Hans Michelbach, a Bavarian lawmaker who has argued against a deal with Greece, said he didn't believe a rescue program could be reached in time and other financing arrangements would be needed.

The Athens Stock Index, which reopened Aug. 3 after being shuttered for five weeks, fell 15.2 percent for the five days ended Aug. 7 to 676.33, just shy of its lowest closing level in three years. A measure of Greek banks fell 58 percent last week, reaching the lowest closing level since 1995 on Aug. 5."
---
Greece Bailout Draft Boosts Hopes For Deal Within Days - World Post
"The talks on Saturday focused on the so-called "prior actions" Greece must legislate to qualify for loans, and the two sides reached agreement on the issue, a senior government official said without giving details.

Talks will continue on Sunday to discuss more contentious issues, the official said.

"The agreement will be concluded comfortably before Aug.18," the official said.

Greece narrowly dodged a euro zone exit last month after months of acrimonious negotiations that culminated with Prime Minister Alexis Tsipras clinching a deal tied to stringent austerity and reform terms to avoid economic collapse."
---
Greece in a nutshell: What are its problems, and how can they be solved? - Augusta Chronicle
"Lately, Greece and the EU negotiated still a third tentative bailout of $93 billion to be paid out over the next three years toward the debt coming due. This action does not reduce its debt load. In exchange, Greece proposes still another austerity program to help reassure its creditors. All this, however, is yet to be negotiated, agreed to and implemented.

The media fuss about its debt boils down to something very simple: Greece's creditors, having bailed the nation out of a payments crisis twice during the past five years, has refused to aid it again unless much stronger assurances of debt repayment are forthcoming – a not unsurprising condition. The Greeks are stubbornly resisting. So we have witnessed a period of hard, tough negotiations, of bluff and counter bluff, and it still isn't resolved.

During the past five years, Greece has been running huge fiscal deficits relative to its gross domestic product, financing them with growing government borrowings with an emphasis on foreign sources. At the same time, it has plunged headlong into becoming a welfare state with one-third of its population receiving some form of government beneficence."
---
What Greece needs to prosper - Japen Times
"Another finding casts doubt on whether austerity actually was imposed on Greece. Government spending has certainly fallen — but only to where it used to be: €9.6 billion in the first quarter of this year is, in fact, higher than it was as recently as 2003. So the premise of austerity appears to be wrong. Greece has not departed from past fiscal norms; it has returned to them. Rather than describing current government spending as "austere," it would be more correct to view it as an end to years of fiscal profligacy, culminating in 2013, when the government's budget deficit reached 12.3 percent of GDP and public debt climbed to 175 percent of GDP.

The "demand school" might respond that, regardless of whether there is fiscal austerity now, increased government spending (financed, of course, by debt) would impart a permanent boost to employment. But Greece's recent experience suggests otherwise. The huge rise in government spending from 2006 to the 2009-2013 period did produce employment gains, but they were not sustained.

The real sticking point is that the government would have to issue bonds to finance its extra spending. Assuming a limit to foreign investors' willingness to buy these bonds, Greeks would have to buy them. In an economy unequipped for growth, household wealth relative to wages would soar, and the labor supply would shrink, causing employment to contract. "
---
Aug 8, 2015
Top 10 Seaside Campsites in Greece - Greek Reporter
Greek Reporter picks Greece's top 10 sites by the sea for pre-breakfast dives, crazy afternoons with your friends and unexpected sunset surprises.
---
Aug 7, 2015
Greece's banks are dying, and fast - Washington Post
"Greece is finding out that you can't have an economy without banks, but you can't have banks without an economy, either. Or at least one where businesses aren't allowed to buy the things they need to stay in business.

Now, Greece's banks have fallen victim to a classic blunder. The most famous of which is "never start a land war in Asia," but only slightly less well-known is this: "never set up shop in a country that's been forced into mega-austerity and capital controls as a result of the currency union it's a part of." In other words, they didn't lend money to people they shouldn't have or lose money on their own bad bets. Greece's banks just made the mistake of being banks in Greece.

....It's a reminder what a high economic cost Greece has paid for not even no gain, but actually a negative one. Greece's ruling party, Syriza, thought it could win better bailout terms by playing a game of chicken where it all but threatened to leave the euro despite the fact that it had no intention of doing so. It was wrong."
---
Greece says country cannot handle migrant inflows - Reuters
"Greece's infrastructure cannot handle the thousands of migrants landing on its shores from places like war-torn Syria and Afghanistan and needs European Union help, Prime Minister Alexis Tsipras said on Friday.

"Now is the time to see if the EU is the EU of solidarity or an EU that has everyone trying to protect their borders," he said after a meeting with ministers dealing with the influx.

...The European Union has sought to share the burden of the refugees across it countries, but the response has been mixed.

Britain has said it will not participate, but is currently struggling with its own crisis as thousands of migrants seek to enter via the Channel Tunnel."
---
Greece to auction 3-month T-bills on Aug 12 - Reuters
"Aug 7 Greece will sell 875 million euros ($955 million) of three-month Treasury bills on Aug. 12 to refinance a maturing issue, debt agency PDMA said on Friday, its second rollover this month.

Athens successfully refinanced six-month paper earlier this week, managing to keep its public finances afloat as the government negotiates a third bailout with its international creditors."
---
Privileges Threatened: Day's Numbered for 'Everyman' Farmers - Breitbart
"Farmers have been shielded by successive governments in a nod to supporting agriculture and keeping an important voter base on side. As a consequence, farmers largely escaped the worst of Greece's financial ruin. As the crisis bit, many Greeks who lost big-city jobs even returned to villages for the relative safety of farming.

But that is set to change at a stroke. Greece's creditors are demanding measures to end special treatment for farmers. These would involve doubling their income tax rate to 26 percent, making them pay tax upfront, full instead of partial taxation of EU farm funds and scrapping benefits such as a 40 percent discount on power and diesel subsidies, Greek officials say. Farmers are also expected to triple contributions to their pension fund.

...Only about 350,000 of the 850,000 Greeks involved in farming are full-time farmers, said an agriculture ministry official, adding that a third of agricultural output is sold or traded illegally without receipts.

Farming has also been beset with legal loopholes: until recently, the size of land held rather than output determined eligibility for farmers' benefits, allowing some Greeks cultivating small plots for their own use to enjoy the perks."
---
---



---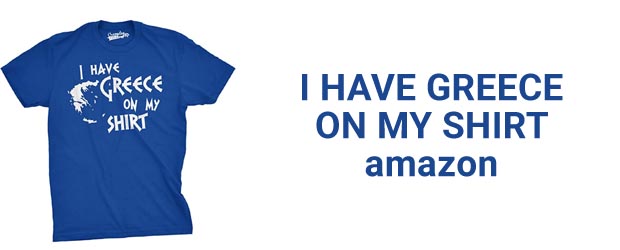 I Have Greece On My Shirt Funny Pun Geography Country Tee (Blue) - XL
---
Create Amazon Business Account - save time and money on business purchases with competitive B2B prices and discounts
---
Andros: The Little England of the Cyclades - AMAZON