Greece and the economic crisis 2015
NEWS ARCHIVE - Aug 1 - Aug 6
---
---
Aug 6, 2015
Greece bank stocks rebound as buyers emerge - Reuters
"The banking index had earlier dropped 3.6 percent. Alpha Bank (ACBr.AT) reversed a 26 percent early loss to trade 7 percent higher.

"The market seems to have found an equilibrium after its deep plunge. Buyers are having the upper hand despite the negative start, and this has helped sentiment across the board," said Takis Zamanis, chief trader at Beta Securities."
---
---
Crisis, what crisis? say tourists flocking to Greece - Reuters
Greece, despite all its economic and political strife, is heaving with foreign tourists.

"On TV they said we can come, there was no problem," said Thibault Larhant, a tourist from Normandy, in France, who was resting at an open air cafe in Athens' Syntagma Square, cooled by a fan spraying water vapor.

"We came to go to the islands, for the countryside," he said, adding that he and his companion had had no problems.

Nearby, another French tourist sat on the "Athens Happy Train", a road vehicle with carriages that swings visitors around the main sights in Greece's capital, such as the Acropolis.
---
Greece's Refugee Crisis and Europe's Failure - NY Times
"As if Greece didn't have enough on its hands after its European creditors forced it to accept a damaging bailout deal last month, it is also trying to cope with more refugees crossing the Mediterranean to its shores than to any other country in Europe. It is unconscionable for Europe to expect Greece to shoulder this burden, yet that is exactly what is happening.

More than 107,000 refugees and immigrants have landed in Greece this year, surpassing the 80,000 reaching Italy. More than half are Syrians fleeing the civil war.

The refugees, arriving in Greece at a rate of 1,000 a day, are exhausted, dehydrated and hungry. The few reception centers operated by the Greek government are overwhelmed and cannot offer this population enough food, much less shelter or medical care. But for those who risked their lives to reach Europe there is no turning back."
---
Dozens of brilliant bronze works on display at Getty Museum - ekathimerini
"Many of them, like the life-size figure of an exhausted boxer, his hands still bandaged from a match, brow cut and bruised, are stunning in their detail. So is the "The Medici Riccardi Horse," a horse's head complete with flaring nostrils and a detailed mane. "Sleeping Eros" shows an infant sprawled out sound asleep on a pedestal. One arm is draped across the child's chest, his tousled hair in gentle repose.

Perhaps even more stunning, however, is the fact that any of these things survived.

Thousands of such beautifully detailed bronzes were created during the Hellenistic Age. Larger works were assembled piece-by-piece and welded together by artisans working in almost assembly line fashion and displayed in both public places and the homes of the well to do."
---
---
Aug 5, 2015
Athens, Brussels hopeful August 20 deadline will be met - eKathimerini
"There was optimism in Athens and Brussels on Tuesday that the Greek government and its lenders could reach an agreement on the terms of the third bailout in the coming days, allowing it to be approved before August 20.

After a new round of talks with representatives of Greece's four lenders, Finance Minister Euclid Tsakalotos suggested that negotiations are progressing at a more than satisfactory pace.

...Tsakalotos said that there had been no discussion about Greece needing a bridge loan to cover the payment to the ECB in case the talks have not been completed in time for the Greek Parliament to approve the third bailout before other eurozone parliaments also vote on it. However, Kathimerini understands that the eurozone is working on such a scheme in case there is a delay in talks."
---
NIESR identifies the Greek economy as a key risk to global growth - BBC
"The think tank cut its 2015 forecast to 3.0% from the 3.2% it predicted in May.

It has cut growth forecasts for the US and many emerging market economies, although its forecast for the eurozone has only been cut slightly.

Its growth forecast for the UK economy was unchanged at 2.5%.

The full-year growth prediction for the UK remained unchanged despite the NIESR cutting its growth estimate for the three months to the end of September from 0.8% to 0.4%.

NIESR identifies the Greek economy as a key risk to global growth. Its forecast is based on the assumption that there will be "large-scale debt relief" for Greece, which is currently far from certain.

It says that the latest Greek crisis has revived doubts about whether the eurozone currency union can succeed without greater integration. The NIESR also says that the slowdown in China may threaten its forecast, with official figures predicting growth of 7%, while some analysis suggests growth of 3% is more likely."
---
Greece needs €95 billion in debt relief to avoid permanent depression - Business Insider
"Greece may have a bailout deal, but the debt relief that the country actually needs is bigger than any of the participants is admitting — and without it, the country will be stuck in a semi-permanent depression. That's according to the National Institute of Economic and Social Research (NIESR).

NIESR economists reckon that the 30% the International Monetary Fund (IMF) are pushing for simply isn't enough — debt equivalent to 55% of Greece's GDP, or €95 billion ($103.17 billion, £66.40 billion) needs writing off.

"If the 'troika' continue to insist on unrealistic fiscal targets, the Greek economy will remain in depression," according to NIESR's new paper.

Given the economic chaos of recent months and the austerity measures imposed under the new bailout deal, the report suggests that Greek GDP will fall to less than 70% of what it was at the pre-crisis peak."
---
Greece, Germany and the Euro - NY Times
"Re "Greece, the sacrificial lamb" (Opinion, July 27): Joseph E. Stiglitz is certainly right to argue that in the euro crisis there is plenty of blame to go around. But then he goes on to focus on one side of the issue, namely Greece as the victim of a misbegotten politics of austerity. This is not wrong, but one also has to recognize that European taxpayers, German taxpayers in particular, are very worried that Greece will not, or cannot, get its own house in order. This is grounded in the fact that Greece did not do so after the second bailout and that there is no real assurance they will make the necessary reforms this time around. Given the staggering amounts of money Greece has gotten, coupled with the new money that it will most likely get, this is no small concern and needs to be underscored when it comes to assigning blame. "
---
Aug 4, 2015
Greece's stunningly terrible economic numbers were great news for the rest of Europe - Yahoo News
"On Monday, manufacturing data from Markit Economics showed that economic activity in Greece was stunningly low in July.

Markit's purchasing managers index came in at a reading of 30.2. Any reading below 50 represents contraction in the sector, and readings near 40 represent a major crisis. Greece's manufacturing sector was then 10 below that.

Which, on some level, shouldn't have come as a complete surprise. After all, Greek banks were closed for much of the month, capital controls are in place, and the stock market was closed for the entire month of July.

...But Monday also saw the release of this data across the rest of Europe.

And the news on that front wasn't just not bad, but decidedly positive. "
---
Rebooting Greece: How to Get Its Economy Going Again - ABC News
"Have a steady government, simplify the rules of doing business, and rather than try to reinvent the economy, zoom in on sectors that can benefit from small investments: tourism and agriculture, for example.

In many cases, that's easier said than done.

Political instability, a hallmark of Greece's crisis, is highly toxic for investors, who need to know that the rules for business won't change unexpectedly.

Greece's current government offers a stark example of the risks. The country had just emerged from recession when the new government, led by the radical left leader Alexis Tsipras, came to power in January with plans to undo a series of reforms and challenge creditors."
---
Greece expects bailout deal with lenders in two weeks - Express Tribune
"The drafting of the accord would start on Wednesday, Gerovasili told Skai TV station.

European Economic Affairs Commissioner Pierre Moscovici has said that, while ambitious, a deal is possible in August. Past negotiations between Greece and its lenders have proved tortuous.

"If the terms of the (EU) summit are met, I think that we will have a deal by the 18th of this month," Gerovasili said.

Greece and its EU partners clinched a last-minute deal in July on a reform program including privatizations and pension reform and scrapping tax breaks for groups such as farmers. "
---
Aug 3, 2015
Greece to extend stock short-selling ban: Regulatory source - Economic Times India
"There will be an extension of the full ban on short-selling," the official said, declining to be named. " A decision will be announced later on Monday."

Trading on the Athens bourse was suspended in late June as part of capital controls imposed to stem a debilitating outflow of euros that threatened to collapse Greece's banks and hurl the indebted country out of the euro zone. "
---
Eurozone Crisis Nations Leave Greece Behind - WSJ
"It is perhaps not surprising that Ireland and Spain are ahead in their recoveries; both had relatively traditional, albeit spectacular, real estate busts. These are more straightforward to overcome than the deep-seated problems Greece faces.

Further, both nations had shown strong growth before the crisis. Ireland had little to do to fix its economy structurally; Spain has carried out reforms. Italy and Portugal have bigger challenges, with deeper structural issues, but are making progress. Cyprus has exited capital controls."
---
Aug 2, 2015
Greece's Market Reopens - NY Times
"... To prevent capital flight, a mass sell-off of holdings and a market crash, there will be a cap on stock fluctuations and restrictions on local traders, though foreign investors will face no constraints when stock trading resumes."
---
Greece -- Give It a Chance - Huffington World Post
"Hardly was the ink dry after the agreement July 17 between Greece and its creditors before columnists, commentators, economists and politicians jumped to far reaching conclusions: Greece would never make it.

Leaving the Euro (Grexit) is certain. This is the beginning of the end for the Eurozone. Germany is bullying the other members of the Eurozone and by throwing its weight around dooming the whole European edifice to collapse. The engine driving European integration since 1952 -- the Franco-German axis -- has come to an abrupt end primarily because of German policies.

....It is open for discussion how wisely creditors behaved. Certainly! And the Greek government, too! But this is irrelevant. We cannot go back to the future. The agreement - -good, bad, lousy, or promising -- is what Greece and the creditors have. No one with the slightest experience of being in office can seriously contemplate going back to the negotiating table. This is it or nothing."
---
Aug 1, 2015
Tsipras Called for Euro-Exit Contingency Plan - WSJ
"Mr. Tsipras said the government was obliged to prepare for the threat of an exit.

"Of course, obviously, I personally ordered [ex-Finance Minister Yanis] Varoufakis to put together a team to manage an emergency situation," the Greek premier told lawmakers in Parliament.

During the call, Mr. Varoufakis claimed he hired a friend and information-technology specialist months ago to hack into the Greek tax commissioner's data and get information needed to set up a parallel payment system.

Mr. Tsipras didn't comment specifically on that claim. Deputy Finance Minister Dimitris Mardas said on Monday that the government never planned such a step. Opposition figures are asking for judicial authorities to look into Mr. Varoufakis's claim."
---
---



---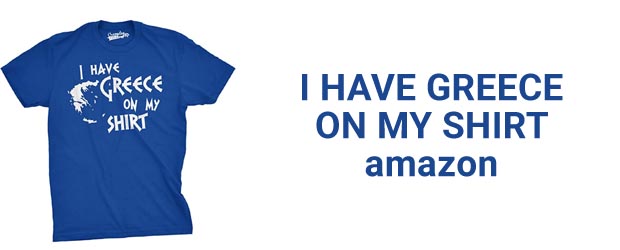 I Have Greece On My Shirt Funny Pun Geography Country Tee (Blue) - XL
---
Create Amazon Business Account - save time and money on business purchases with competitive B2B prices and discounts
---
Andros: The Little England of the Cyclades - AMAZON