Greece and the economic crisis 2015
NEWS ARCHIVE - Aug 17 - Aug 21
---
Aug 21, 2015
Greece's Necessary Election - New Yorker
"On the face of it, Tsipras's move seems premature. In the next few months, his government has much to do in order to meet the terms of the bailout and persuade its creditors to consider giving Greece some much needed debt relief. The election will complicate that timetable and will, inevitably, create more uncertainty about where the country is going. But, despite the risks it involves, Tsipras's gambit was necessary for broader democratic and political reasons.

When Tsipras did a U-turn last month and accepted the harsh bailout terms imposed by Germany, he created a big split in his Syriza party, which took office in January. About a third of Syriza's members of parliament voted against the deal or abstained. Since then, the government has been ruling with the support of its coalition partner, a right-wing populist party called Independent Greeks. But Tsipras was facing a likely parliamentary vote of no confidence, which he wasn't certain to survive, and a formal schism with anti-bailout members of Syriza, who have been talking about setting up their own party. Rather than engaging his internal opposition, the Prime Minister has chosen to try and outflank them by calling a snap election, which he hopes will bestow him with a new mandate.

That is probably a smart move, and it will also give the Greek public an opportunity to register their feelings, once again, about the bailout package and its attendant continuation of austerity policies. When last consulted, in the "Oxi" referendum, on July 5th, the voters overwhelmingly rejected the bailout terms being demanded by the E.U. and the International Monetary Fund, only for Tsipras and his colleagues to accept a similar deal a couple of weeks later, under threat of Greece being ejected from the eurozone. The upcoming election will effectively be a referendum on Tsipras's decision to accept more austerity and more international supervision of Greece's economy. "The political landscape must clear up," the energy minister Panos Skourletis, an ally of Tsipras, said on Thursday. "We need to know whether the government has or does not have a majority."
---
---
Rebels From Greece's Syriza Party Split Off After Tsipras Resigns - WSJ
"Greece's governing Syriza party split on Friday as rebels against Prime Minister Alexis Tsipras's bailout deal with Europe decided to form a new movement to fight elections expected in September.

The split, involving 25 out of Syriza's 149 members of parliament, completes a divorce that has been on the cards since July, when Mr. Tsipras agreed to the austerity-heavy terms of Greece's European creditors, despite his party's long-standing campaign to end austerity.

Mr. Tsipras resigned as premier late Thursday, in a bid to trigger snap elections in September and return to power with a new-look Syriza that is more likely to support him as he implements the bailout agreement. The dissident lawmakers, who have withheld support for Mr. Tsipras in recent votes on measures to secure the bailout deal, announced on Friday that they would form a new party called Popular Unity that will run against Syriza in next month's elections."
Coverage:
Greece heads for early elections after radical left government seeks renewed bailout mandate - Fox
---
Greece's Alexis Tsipras bets on early polls to boost reform mandate - Financial Express
"The opposition has little chance of uniting and forming a government so quickly, meaning that after more than five years of a worsening financial crisis, Greece is headed for its fifth national election in six years. Although Tsipras is widely tipped to win the election again, if he fails to secure an outright majority he would have to seek a complex coalition that could hamper his ability to govern.

Outgoing government officials say the likeliest election date is September 20, just eight months after Tsipras' election on promises to fight creditor-demanded spending cuts and tax hikes, terms he later agreed to in order to secure Greece a third bailout as its economy was on the brink of collapse.

President Prokopis Pavlopoulos was meeting the head of conservative New Democracy party Friday, Evangelos Meimarakis, and ask him to try to form a government. If Meimarakis fails within the three-day limit, the next in line to try would be the head of the Nazi-inspired Golden Dawn party, and potentially the centrist To Potami, who both have the same number of seats in the 300-member parliament.

None are believed to have enough allies to gain Parliament's support."
---
Greece PM Alexis Tsipras Announces Resignation, Calls Snap Polls - Tehelka
"I will meet with the Greece president shortly and present my resignation and that of my government," Tsipras said in a televised address.

"The Greek people know everything that I have done (since assuming office in January) so that they can decide once more," said Tsipras.

The move leaves Greece in the hands of a caretaker government.

Meanwhile, hours after Tsipras called snap polls, 25 members of his governing Syriza party announced a breakaway movement on 21 August, while the main opposition said it would try to avert polls by forming a government.

The initiatives were to thwart Tsipras' efforts, whose resignation was a calculated move to consolidate his grip on power and press ahead with overhauls required by Greece's third bailout, to hold elections as quickly as possible.

The election, proposed for September 20, may be extended to the end of that month or to early October if all Greece's major political players exploit their right, under the Greek Constitution, to try to form a government."
---
Perissa Beach, Santorini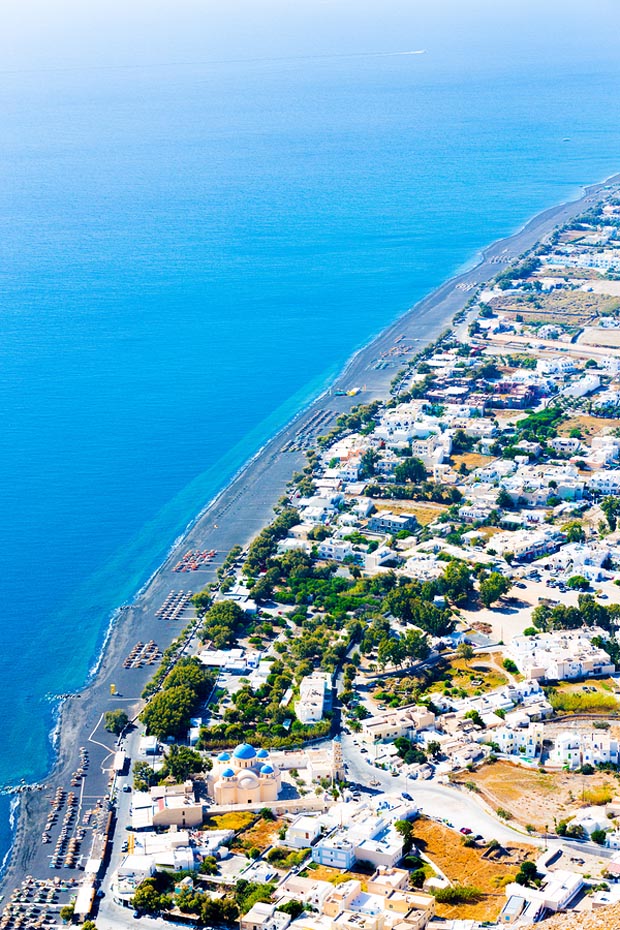 ---
---
Aug 20, 2015
German parliament approves Greek bailout - MSN-AP
"Germany's parliament overwhelmingly approved a third bailout for Greece on Wednesday, removing a key hurdle to providing new loans to the country and keeping it from defaulting on its debts in as little as 24 hours.

The vote's result also seemed to dispel any speculation that Chancellor Angela Merkel would have difficulty getting her conservative bloc to sign on. Lawmakers voted 454-113 in favor, with 18 abstentions.

The approval is among the last due from parliaments across Europe, with the Dutch scheduled to vote later Wednesday, after which Greece is expected to get the first installment of its new 86 billion euro ($95 billion) loans package.

The country needs the money within 24 hours to make a debt repayment on Thursday. The board of the European bailout fund that will disburse the money will hold a teleconference Wednesday night to discuss the matter."
---
Macedonia Blocks Migrants on Border With Greece- ABC
"Macedonia has stepped up security on its border with Greece, blocking thousands of migrants from entering.

The government said Thursday it is proclaiming a state of emergency on its borders and deploying additional troops as it tries to stem a recent migrant surge.

Thousands of migrants were stranded Thursday on no-man's land between Macedonia and Greece near the Macedonian town of Gevgelija, from where they planned to catch trains that would take them to the Serbian border on their way to EU-member Hungary. "
---
Aug 19, 2015
Dutch government faces test in 'junkie' Greece debate - Yahoo news
"Prime Minister Mark Rutte will face a no confidence motion on Wednesday, brought by his chief opposition rival over a broken campaign pledge not to provide additional emergency funding to Greece.

The parliament was due to debate the new Greek bailout. Although its approval is not formally required, opposition parties have pounced on the moment to air their objections and were expected to request a vote. "
---
German MPs approve third bailout for Greece - UK Guardian
"Greece is now tantalising close to the €86bn (£60bn) bailout it desperately needs to stave off bankruptcy, with German MPs expected to approve the plan today.

After months of brinkmanship that nearly broke up the eurozone, a third bailout for Greece is almost in the bank. On Tuesday the parliaments of Spain and Estonia approved the bailout, as did a special committee of MPs in Austria."
More Coverage:
German Parliament overwhelmingly approves 3rd bailout package for Greece - Fox News
German Parliament Approves Greek Bailout Deal - NY Times
---
Doubts over airport management deal - UK Guardian
"The ink is hardly dry, but doubts are already emerging about a deal to sell management rights to run 14 Greek regional airports to German company Fraport. According to Kathimerini, the consortium that won the 40-year concession for 14 Greek regional airports is asking for more guarantees and there are doubts whether the government will receive the €1.2 bn euros it was expecting from the project this year. "
---
Aug 18, 2015
Greece is almost there - Bloomberg
"Greece Countdown: How Europe Votes on the New Bailout

With a payment of about 3.2 billion euros ($3.6 billion) due to the European Central Bank on Aug. 20, Prime Minister Alexis Tsipras is waiting for approval from five euro-area parliaments before he can receive the first tranche from his country's third bailout package. "
---
Greece sells to German firm rights to run 14 airports - Wyoming News
"Greece has agreed to sell to a German company the rights to operate 14 regional airports. The deal is the first in a wave of privatizations the government had until recently opposed but needs to make to qualify for bailout loans.

The decision, which was published in the government gazette overnight Monday to Tuesday, would hand over the airports, including several on popular tourist island destinations, to Fraport AG, which runs Frankfurt Airport among others across the world.

The concession, worth 1.23 billion euros ($1.37 billion), is the first privatization decision taken by the government of Prime Minister Alexis Tsipras, who was elected in January on promises to repeal the conditions of Greece's previous two bailouts."
---
Rebuilding Bonds With Greece's New Bailout - WSJ
"...for Greek bonds, the more important factor may be that the Greek government has shown a commitment to stay in the euro. The biggest risk to private bondholders was an exit from the single currency and a subsequent disorderly default. The debate around debt restructuring that is being promoted by the International Monetary Fund is all about the debt Greece owes to its eurozone peers.

To impose fresh losses on private bondholders would be counterproductive as long as Greece remains in the euro; the ultimate aim of any bailout program should be to return a country to market financing, as has happened with Ireland and Portugal. Private bondholders hold only some 13% of Greece's outstanding debt; that share will shrink further as cash is disbursed under the third program."
---
Varoufakis trashes Greece's bailout agreement with a line-by-line takedown - Business Insider
"...The normal text of the agreement is unbolded, while Varoufakis' edits are bolded and in brackets:

A fairer society will require that Greece improves the design of its welfare system, so that there is a genuine social safety net which targets scarce resources at those who need it most [to be achieved without a single new euro again by some magic formula yet to be invented].

The authorities plan to benefit from available technical assistance from international organisations on measures to provide access to health care for all (including the uninsured) [i.e. using advice of well paid foreign "technocrats" as a substitute for funding, nurses, doctors and equipment] and to roll out a basic social safety net in the form of a Guaranteed Minimum Income (GMI) [which would be great, except that not one fresh euro will be made available for the GMI program whose funding will be siphoned off existing benefits provided by the Greek state, e.g. child benefit]."
---
Greece clears migrants' tent city in Athens park, but many are wary of resettlement move - 660News
"...Fire brigade buses moved the migrants, most from Afghanistan, to a settlement of 90 containers in the Athens district of Votanikos. Each can house six to eight people and has air conditioning, running water and a toilet.

The government has said it is not a detention centre and everyone is free to come and go. However, police estimated that about a third of the park's almost 300 tent residents, wary of such promises, packed their belongings and left earlier. Another 30 have refused to budge.

Police say a total of 171 were resettled Sunday, but many more live in other public spaces.

More than 130,000 migrants have reached Greece so far in 2015, straining the country's resources."
---
Weapons that backfired - eKathimerini
"It was widely held – among government and opposition officials, as well as pundits – that the prospects of a Grexit served as a major weapon in the hands of Greece. All the aforementioned believed that the weapon's mere existence would be enough to curb the European's intransigence. Perhaps that was true, if partly, in 2012 – but not in 2015. In the three years that passed, eurozone and European Union states (and some non-EU countries) prepared themselves for the consequences of a Grexit.

At the same time, Greece was chewing on the laurels of a victory that never came. And when the gun backfired and after we were informed (mainly thanks to a slate of contradictory statements by Greece's former Finance Minister Yanis Varoufakis) of one, and then two, and then three different contingency plans, then we switched back to immature partisan mode. And then, what would have been necessary (i.e. the preparation of several contingency plans so that the country would be protected in the eventuality of a euro exit) was denounced as treason."
---
Aug 17, 2015
Greece bailout deal: Angela Merkel expects IMF involvement - UK Guardian
"Angela Merkel has said that she expects the International Monetary Fund to take part in a new €86bn (£60bn) bailout for Greece, as the German chancellor prepares to face Bundestag opposition to the package in a vote on Wednesday. In an attempt to reassure sceptical MPs, Merkel said the head of the IMF, Christine Lagarde, would ensure the fund's participation if conditions on Greek pension reform and debt relief were met.

"Mrs Lagarde, the chief of the IMF, made very clear that if these conditions are met, then she will recommend to the IMF board that the IMF takes part in the programme from October," Merkel told the broadcaster ZDF. "I have no doubts that what Mrs Lagarde said will become reality."

Representatives from Merkel's Christian Democratic Union and its Bavarian sister party, the Christian Social Union, want the IMF involved because of its reputation for rigour."
---
Greece Goes to Elections if Tsipras Fails to Get Confidence Vote - Greek Reporter
"The Greek prime minister has two open fronts to face: the opposition parties and the hard leftist dissenters within SYRIZA. The party's "left platform" led by former energy minister Panagiotis Lafazanis, along with House Speaker Zoe Konstantopoulou and former finance minister Yanis Varoufakis, are openly against the deal Tsipras signed with creditors. They are also openly against Tsipras, accusing him of betraying the anti-austerity party agenda and the Greek people as well.

It is highly unlikely then that the 43 party "rebels" who voted against or abstained on Friday's parliamentary vote on the bailout deal will give Tsipras a vote of confidence."
---
Migrants forced to face realities of life in Greece - something - CNN Video Report
"For thousands of migrants, starting a new life in Greece was supposed to be a dream come true, but many are facing inhumane living conditions. "Doctors without Borders" gives CNN an inside look into their work on the island of Kos."
---
IMF involvement in Greece bailout indispensable: German Finance Minister - Yahoo Reuters
"The participation of the IMF remains indispensable," a Finance Ministry spokesman told a government news conference.

He said IMF Managing Director Christine Lagarde would only propose further financial involvement by the Fund in the bailout if Greece fulfils requirements on the implementation of reforms by October and a first review of the bailout is successful.
---
---



---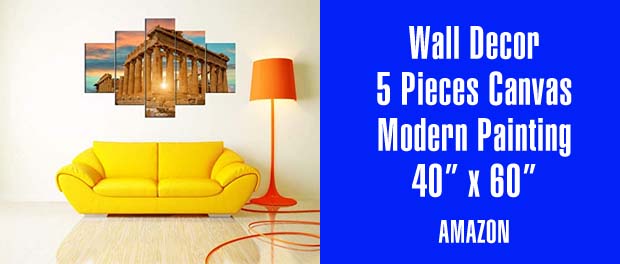 Parthenon Temple on the Acropolis of Athens Greece Artwork Wall Decor 5 Pieces Canvas Modern Painting Wall Art Home Decoration for Living Room Pictures HD Printed Framed Ready to hang(60''Wx40''H)
---
Create Amazon Business Account - save time and money on business purchases with competitive B2B prices and discounts