Greece and the economic crisis 2015
NEWS ARCHIVE - April 24 - April 27
---
April 27, 2015
Country shuffles bailout team involved in talks with international creditors - WSJ
"The move comes after eurozone finance ministers last week chastised Greek Finance Minister Yanis Varoufakis in Latvia over the lack of progress in Greece's bailout talks. Latest opinion polls show Greek voters are also growing impatient with their government, raising the pressure on Athens to break the deadlock in the negotiations.

Mr. Varoufakis remains finance minister and will continue to represent Greece in meetings of European finance chiefs. But the team of negotiators around Mr. Varoufakis, responsible for much of the policy detail, will now be led by Greek officials who are seen in some European capitals as more promising interlocutors. Some of Mr. Varoufakis's confidantes who were instead seen as obstructing progress in the talks have been sidelined.

... Unless Athens is able to win last-minute concessions, Greek Prime Minister Alexis Tsipras will likely soon have to choose between accepting economic policies that could split Syriza, or defaulting on Greek debt, which could lead to the country leaving the euro. Greece needs billions of euros in fresh financing at the latest by July and August, when it must repay bonds held by the European Central Bank.

Mr. Varoufakis's outspoken, often colorfully phrased criticisms of Europe's handling of its debt crisis have made him a global media celebrity but have alienated other European finance officials."
---
Uncertainty Over Impact of a Default by Greece - NY Times
"Over the weekend, Mr. Tsipras reaffirmed his support for his embattled finance minister in a phone call and email exchange with Jeroen Dijsselbloem, the Dutch finance minister who represents European creditors and who has clashed on several occasions with Mr. Varoufakis.

In a brief interview on Monday, Mr. Varoufakis said that while a new team was being formed in relation to creditor talks, he will oversee it and continue to represent Greece in these negotiations.

...Global investors have bought billions of euros worth of stocks and bonds in other debt-heavy nations like Italy, Spain and Portugal — driving their bond yields to record lows. They have done so in the belief that with Europe showing signs of recovery, and with Mario Draghi at the E.C.B. promising to buy European bonds in bulk, a default in Greece would not pose a broad threat. Greece, after all, represents just 2 percent of the eurozone economy."
---
As talks drag on, would calling early elections pave the way to a final agreement for Greece? - City AM London
"It was always clear that Prime Minister Tsipras could not satisfy his party's hardline left-wingers and international creditors at the same time. Greece needs a third bailout this summer to stay in the Eurozone in the long term. The Eurozone would offer that help, but with more conditions – many of which will run counter to Syriza's impossible pre-election promises. Since Tsipras cannot change the creditors, he could ditch his own radicals and call new elections. The election campaign may bring more damaging uncertainty, but pro-reform parties, potentially including a reformed Syriza, might win, form a coalition and put Greece back on the path of virtue."
---
April 26, 2015
Varoufakis hints at strained EU relations: 'I welcome their hatred' - UK Guardian
"The gulf between Greece and its creditors widened yet further on Sunday with the crisis-hit country's finance minister brazenly tweeting that he has become a target of hate.

The intervention appeared to confirm reports that Varoufakis had received an excoriating dressing-down from exasperated eurozone counterparts in Riga on Friday. One participant felt fit to describe the celebrity finance minister as "a time-waster, a gambler and an amateur".

The increasingly ugly game of brinkmanship intensified as the Greek prime minister, Alexis Tsipras's, radical-left Syriza coalition – elected on a pledge to end the painful cuts enforced on Athens in return for aid – warned of the risk of default if creditors continued to "asphyxiate" Greece by starving it of liquidity.

...While the vast majority of Greeks agree that austerity is self-defeating, there is a growing sense that the gridlock in talks is also counter-productive. Tensions with lenders have spurred a mini-run on Greek banks, with the real economy coming to a standstill. A Kapa research poll published in the Sunday Vima newspaper showed that 72 per cent wanted the country to strike a deal with creditors, versus 23 per cent who were in favour of a clash."
---
If Greece goes down, no one wants their prints on the murder weapon - Business Insider
"Euro zone governments are preparing the ground to blame the novice government of Prime Minister Alexis Tsipras for having blustered, obstructed, failed to meet commitments and evaded hard choices while Athens burned.

"We are doing everything we can to save Greece from itself, but in the end, it's up to them," is the message pouring out of Berlin, Brussels and IMF headquarters in Washington.

Tsipras and outspoken Finance Minister Yanis Varoufakis tried at first to mount a coalition against Berlin, touring France, Italy, Britain, Brussels and media studios after their election. They found no allies outside the media.

Tsipras revived demands for reparations for the Nazi German occupation of Greece in 1941-44, which his government put at 279 billion euros ($303.5 billion) — more than its 240 billion euro bailout from the euro zone and the International Monetary Fund.

Berlin responded that it had already compensated victims and a 1990 agreement with the four victorious World War Two powers on German unification had put an end to war claims."
---
Greece Boils Over - Investing
"The inevitable in Greece gets closer and closer. Looking back, I wonder how many rabbits in the hat there were. More importantly, how many still remain?

I believe the answer to the latter question is zero. "
---
April 25, 2015
Greece Urged to Present Overhaul Plans - WSJ
"At Friday's meeting, the last before a tentative, end-of-April deadline to agree on the planned overhauls, several finance ministers expressed frustration with the lack of progress.

"I am already quite annoyed with this issue," said Austrian Finance Minister Hans Jörg Schelling, when he arrived for Friday's meeting. "We're getting explanations on how the world works, but we like talking about figures and facts," he said after the discussion.

"The atmosphere was intense," Greek Finance Minister Yanis Varoufakis said, describing his meeting with the other ministers.

Greece's Mr. Varoufakis, who participated in Friday's meeting, rejected his colleagues' complaints. "We look at the last few weeks and what we see is convergence," he said, pointing to narrowing differences of opinion on privatizations and an independent commissioner to oversee tax collection.

Mr. Varoufakis also ruled out the possibility of not reaching a deal with Greece's creditors—a situation that could herald the country's exit from the eurozone. "We have no right not to achieve this agreement," he said, later adding that "it is clear that the cost of a nonsolution would be huge to everyone."
---
EU frustration over Greece boils over at eurogroup meeting - Financial Times
"The antagonism between Mr Varoufakis and other ministers became so severe during the eurogroup session that Slovenia's finance minister suggested if bailout talks did not progress more quickly the eurozone should prepare a "Plan B" to deal with a Greek default.

According to three eurozone officials, other ministers from smaller, vulnerable economies expressed similar sentiments. The comments prompted a sharp rebuke from Mr Varoufakis, who accused his Slovenian counterpart of being "undignified" for raising the scenario and suggested the remarks were "profoundly anti-European"."
---
April 24, 2015
Blame Germany for Greece's uphill euro zone struggle - UK Globe and Mail
" ...Given Greece's increasingly dire financial state, you would presume that the game has finally ended. It seems inevitable that Greece will default, crash out of the euro zone, reprint the drachma and, after a suitable period of economic mayhem, pull its act together, as Argentina did after it defaulted more than a decade ago.

Forget it. Greece will get a deal of some sort that will keep it within the euro zone, preserving the notion that the euro is "irreversible," to use the description beloved by European Central Bank president Mario Draghi. But would that be good news for Greece? On the contrary, it might well doom it to an eternity of misery and hard work that goes nowhere, like Sisyphus, rolling his boulder to the top of the hill, only to have it roll down again.

...Germany fears a Greek exit because Greece, on its own, would no doubt install tariffs and other barriers designed to shield its economy from ruthless exporters. Germany needs to protect its surplus model, which depends on European free trade. Never mind that guaranteeing the German success model means turning Greece into Sisyphus."
---
Euro zone warns Greece no cash till full reform deal - Reuters
"Euro zone finance ministers delivered a stark warning to Greece on Friday that its leftist government will get no more aid until it agrees a complete economic reform plan, as Athens lurches closer to bankruptcy.

After a tough morning of talks with Greek Finance Minister Yanis Varoufakis, the chairman of the Eurogroup of finance ministers, Jeroen Dijsselbloem, slammed the door on a request for early cash in return for partial reforms.

Before the tense meeting he had offered some concessions in an effort to secure new funding before Athens runs out of money, saying in a blog post he was open to some privatizations and to a commission to supervise tax collection that would be independent of the government.

But he rejected any more wage or pension cuts and said creditors must agree on a realistic target for the primary budget surplus before debt service."
---
At this point, only a miracle can save Greece from disaster - Fortune
"By the middle of May, Greece will need to refinance $3 billion of its Treasury bills. Typically, Greek banks buy most T-bills, but the European Central Bank has placed restrictions on these purchases. As a result, Greece is faced with the burden of covering $756 million worth of new T-bills, as well as repay $836 million to the International Monetary Fund (IMF) on May 11. That's a total of about $1.6 billion, which doesn't include paying salaries, pensions and other government expenses.

...By far, the best solution is for Greece to strike a reasonable deal with its European Union and IMF creditors. The creditors would provide new cheap financing (present EU/IMF financing is at 1.82% interest rate) and Greece would implement government cuts, restart privatizations, allow competition in closed sectors (such as trucking), and liberalize the labor market to make the economy more competitive. The present government, Syriza, was elected on a platform that promised exactly the opposite of what is required today. But a sharp U-turn is necessary for Greece not to go bankrupt."
---
Denialism - eKathimerini
"Every leader who has an idea of what direction he wants to go in ought to speak truthfully about where the country really stands and the compromises which are required in order to stay in the eurozone. We have already seen what Beijing, Moscow and Washington had to offer. We are faced with European leaders, the International Monetary Fund and Washington calling for a compromise that a section inside SYRIZA will find very hard to swallow. Sure, Noam Chomsky and Joseph Stiglitz may be on our side, but their contribution means nothing in terms of financial support.

Prime Minister Alexis Tsipras has a very clear idea of what is going on and what is at stake. Greek voters are starting to realize that this brief grace period is running out. The country is in for a rough landing in the coming weeks. The pilot must choose whether he will let the passengers remain ignorant or whether he will warn them about what is to come."
---
Dombrovskis - talks with Greece should be finished by 'May or so' - MSN
"European Commission Vice President Valdis Dombrovskis said on Thursday that he does not expect an agreement in technical talks with Greece in April, saying debt negotiations could last until next month and thus beyond an April 30 deadline for a deal.

"We've got to conduct the technical talks further and finish them perhaps in May or so," Dombrovskis told German TV network ARD. He said it is important that all sides, including Greece, stick to their obligations. He also said: "The talks are going on. Progress is not good."
---
Greece Debt and Who's on the Hook in a Default - Value Walk
The link shows a couple of charts visually explaiing default risks and how much of the coming payment schedule for Greek debt servicing is dominated by the second bailout.
"Who hurts the most if Greece defaults? Bloomberg's economist Maxime Sbaihi has a great breakdown that looks at exposure to Greek debt by its individual creditors as a percentage of GDP and in total euros."
Additional coverage:
Greece's Scary Calendar of Debt Payments Due - Bloomberg
---
The Armenian genocide and Hagia Sophia - eKathimerini
"Pope Francis's declaration that the slaughter of Armenians by Ottoman forces 100 years ago was "the first genocide of the 20th century" will hasten the conversion of the Hagia Sophia museum into a mosque, the top Muslim official in Ankara responded. The Turkish government has long wanted to turn the symbol of Orthodox Christianity into a mosque...

...Turkey is at the crossroads between East and West, between autocracy and democracy, between tolerance and bigotry. In next June's parliamentary elections, the AKP party which Erdogan founded and still controls, could triumph with about 50 percent of the vote, according to recent polls. After the election, Ergodan aims to strengthen the office of the presidency and will do all that is necessary to achieve this. Converting Hagia Sophia into a mosque will please the AKP's religious voters and also make clear that the secular regime founded by Ataturk is dead..."
---
NEWS ARCHIVE - April 2015
---



---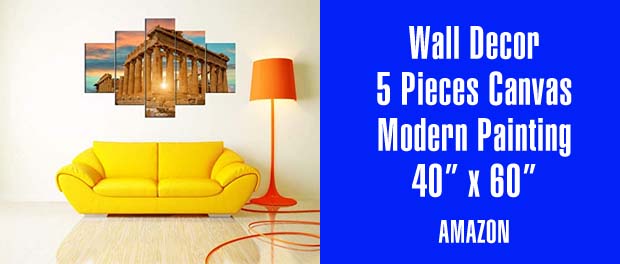 Parthenon Temple on the Acropolis of Athens Greece Artwork Wall Decor 5 Pieces Canvas Modern Painting Wall Art Home Decoration for Living Room Pictures HD Printed Framed Ready to hang(60''Wx40''H)
---
Create Amazon Business Account - save time and money on business purchases with competitive B2B prices and discounts