Greece and the economic crisis 2015
NEWS ARCHIVE - April 21 - April 23
---
April 23, 2015
Merkel - must prevent Greece running out of cash before deal - Reuters
"German Chancellor Angela Merkel said on Thursday everything must be done to prevent Greece running out of money before it reaches a cash-for-reform deal with its international creditors amid heightened concern that Athens is nearing the brink.

...Berlin has insisted that Athens must carry out commitments made by a previous conservative-led government to reform labour markets, pensions and sales tax to unlock urgently needed bailout funds, although it accepted in February some leeway to lower the primary budget surplus.

EU officials said earlier that Merkel would deliver a message that she wants to keep Greece in the single currency area and avoid a catastrophic default, but Tsipras' government must commit in technical talks to detailed, costed measures to make public finances sustainable."
---
Greece can still put together finance deal before money runs out, eurozone says - UK Guardian
"[Greece will] ...be forced to either capitulate to Brussels or quit the euro"

"There is still time for Greece to stitch together a deal with Brussels before it runs out of money, according to eurozone finance ministers speaking privately at last week's International Monetary Fund spring conference. And the betting must be that crisis-plagued Athens will eventually find a way to retain its membership of the eurozone with a messy compromise.

But the odds are getting slimmer with every passing week. On Friday, finance minister Yanis Varoufakis meets his counterparts in the Latvian capital Riga in what many analysts believe is the penultimate gathering to work out a deal before Athens's coffers run dry.

With only an outline sketch of an agreement on the table, many of Europe's most senior policymakers are of the opinion that a crisis point will be reached and Athens's radical left Syriza government will be forced to either capitulate to Brussels or quit the euro.
---
Greece threatened with international suspension by UEFA - Fox Sports
"UEFA's general secretary Gianni Infantino has warned that there will be no choice but to suspend Greece from international football unless the country's government rescinds proposed new laws.

The Greek government has put forward a bill which could see sporting events cancelled due to incidents of crowd violence and teams prohibited from playing in European competition.

UEFA and FIFA say that is direct government interference in football and have threatened to suspend Greece."
---
Long and Painful Odyssey of Greece - WSJ
"On April 23, 2010, George Papandreou stood in front of a camera on Kastelorizo, the tiny eastern-Aegean island farthest removed from the Greek mainland. With its idyllic harbor as an incongruous backdrop, he announced that Greece had requested a bailout from the European Union and the International Monetary Fund. It was the beginning of a long and painful odyssey...

A policy disaster of this magnitude was entirely avoidable. In the fateful days leading up to that first bailout, investment bankers from Lazard had prepared a plan for rescheduling Greek debt. But the Papandreou government abandoned that idea under pressure from the European Central Bank, Germany and France, which were afraid of the effects a restructuring would have on the banking system....

...It wasn't until 2011—as it became clear the privatization program wouldn't raise revenues as expected, and citizens occupied Constitution Square in Athens and violent demonstrations broke out—that talks began in earnest about the need to restructure Greece's debt. Mr. Papandreou nearly resigned in June of that year, as opposition from the center-right New Democracy party persisted. He finally removed himself from office that November.

By that point, the relatively easy paths were blocked."
---
April 22, 2015
On Greece, Europe Bluffs Itself - WSJ
"Greece's new leader and his ministers are behaving like fools in their debt showdown with the European union. So claims much of the punditry and you won't find an argument here.

They've taunted Germany about war reparations, threatened to open their borders to jihadists trying to enter Europe and cozied up to Vladimir Putin.

...they certainly have been acting as if they believe the European Union is bluffing and will ultimately write them a blank check to keep Greece in the eurozone.

Europe is not bluffing, the media tell us, because European leaders believe the eurozone would survive quite nicely a Greek departure. There would be no contagion. France and Spain might even welcome a Greek departure as a warning to their own emerging radical parties. A Greek meltdown might be a fillip to Europe's long-stalled competitive reforms.

But what if Europe is wrong? "
---
Why Greece's economy will get worse before it gets better - Fortune Mag
"The core problem of the negotiations is that the new Syriza Party government in Greece views the world very differently from the governments in the rest of Europe. "Syriza" is a Greek acronym for "The Party of the Radical Left" and those last two words should be taken very seriously. Long-term members of Syriza, such as most of the members of Parliament, are suspicious of, or even actively hostile to, capitalism and the European system of economic governance.

They do not see why Greece should follow a path of "reforms" that read to them like a right-wing wish list...

... Germany and much of the rest of Europe, believes that giving into what they see as unreasonable demands by a newly elected radical left government will guarantee that such governments arise in Spain (where Podemos is very much like Syriza) and eventually in other countries. This political contagion could be very damaging, leading to far worse risks than just Greece leaving the Euro.

...My fear, and best guess, is that negotiations will have to break down and trigger damaging economic consequences in Greece and the rest of Europe before the two sides have the incentives and political rationale to agree to what should already have been agreed."
---
April 21, 2015
Wary of brinkmanship, euro zone won't set more deadlines for Greece-official - Reuters
"Euro zone finance ministers will not be setting any deadlines for Greece because they lead to brinkmanship in negotiations on what reforms Athens needs to do in exchange for more funding, a senior euro zone official said on Tuesday.

Greece, which is quickly running out of cash, and the euro zone agreed in February that by the end of April Athens would agree with its euro zone creditors on a comprehensive list of reforms to get 7.2 billion euros remaining from its bailout."
---
EU crushes any hopes of Greek deal this week - Guardian UK
"Helena Smith reports that mayors attending an emergency meeting of the Central Union of Greek Municipalities (KEDE) hurled abuse at the deputy finance minister Dimitris Mardas when he announced that the "internal loan" would be enforced "for at least two months."

"Is this your democracy?" protestors were heard saying. Media outlets quoted several of the mayors as telling Mardas:

"the money is ours and we will do with it what we want."

Municipalities are demanding that the order be immediately revoked.

...EU officials have told reporters in Brussels that Friday's eurogroup meeting of finance ministers is extremely unlikely to deliver a deal over Greece."
---
Tsipra and Merkel meet Thursday - ethnos.gr
"With German Chancellor Angela Merkel will meet Alexis Tsipras Thursdayat the extraordinary Summit convened in Brussels on immigration."
---
Will ECB Push Greece off Euro By Closing Down Banks - Forbes
"The Greek financial markets have tumbled again today as news leaks that the European Central Bank is thinking of tightening the Greek banks' access to liquidity. The importance of this is that while it could be just a small tightening of conditions, one that could be justified purely on prudential grounds, it's also the way that Greece is most likely to have to leave the euro. Simply because the banks fall over, they've got to be recapitalised and the only way to do that would be outside the euro.

...the most likely path (most people are still saying that the cumulative probability of all paths to Grexit is still less than 50%, I'm not so sure myself, but this bank financing route is the most likely of those paths) to Greek exit from the euro is that financing for the banks does dry up. At which point, in order to have any semblance of a financial system, a sine qua non for having a functional economy, the Greek government needs to recapitalise the banks. Which it cannot do with euros as it doesn't have the power to create them (or have many of them). Thus, in order to recapitalise the banks Greece issues drachmas and thus the country is out."
---
White House adviser says 'Grexit' carries major risks - Reuters
"A Greek exit from the euro zone would carry significant risks for the global economy and no one should be under the impression that financial markets have fully priced in such an event, the chairman of the White House Council of Economic Advisers said.

The comments by Jason Furman in an interview with Reuters in Berlin are among the strongest by a senior U.S. official and are at odds with those of German Finance Minister Wolfgang Schaeuble, who told an audience in New York last week that contagion risks from a so-called "Grexit" were limited."
---
2 out of 3 employees have delayed wages - ethnos.gr
"...the average waiting time longer reaches five months. In two years increased from 17% to 45% the percentage of private sector workers who get less than 751 euros per month.

... in some cases the delay reaches two years.

A coming Labour Ministry bill would increase the minimum wage for over 25 employees from 586 to 650 euros in October. Increasing the minimum wage for young people from 510 to 650 euros in October."
[translation via google]
---
Gov't Orders Public Entities to Store Cash in Central Bank - WSJ
"Greece's government issued a decree Monday requiring public bodies such as state-owned companies and public pension funds to transfer their cash reserves to the central bank as the country's cash reserves continue to dry up.

The decree, published in the government gazette late Monday, came as no surprise, the government having telegraphed the move last week. But it still represents evidence of an escalating cash squeeze amid renewed concerns of Greek default.

... this decree makes the transfer of state bodies' cash reserves to the Bank of Greece compulsory, excluding the country's social-security funds.

...It remains unclear when Greece will actually run out of cash, but ratings agency Standard & Poor's last week predicted that Greece's cash reserves could run dry by mid-May.

In order to meet its obligations to the IMF and its European creditors, and to pay public-sector wages and pensions, Greece has been slipping deeper into arrears with suppliers of goods and services to the public sector."
Further coverage:
Greece asks public agencies to hand over reserve cash - BBC
---
NEWS ARCHIVE - April 2015
---



---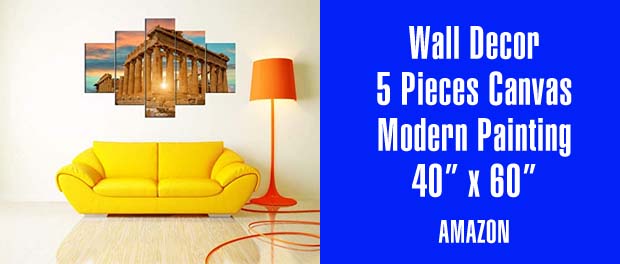 Parthenon Temple on the Acropolis of Athens Greece Artwork Wall Decor 5 Pieces Canvas Modern Painting Wall Art Home Decoration for Living Room Pictures HD Printed Framed Ready to hang(60''Wx40''H)
---
Create Amazon Business Account - save time and money on business purchases with competitive B2B prices and discounts