Greece and the economic crisis 2015
NEWS ARCHIVE - April 1 - April 16
---
---
The Trip to Greece - online streaming
The Trip to Greece - Steve Coogan and Rob Brydon reunite in Greece for the fourth installment of THE TRIP series in a delightful odyssey of gut-busting comedy.
---
Oxford Greek-English Learner's Dictionary - 1024 pages - Amazon
---
April 16, 2015
Greek Government Bonds Plunge - WSJ
"Yields on the country's two-year bonds soared by more than 4½ percentage points on the day to above 27%—their highest since being issued and a massive jump even for notoriously volatile Greek debt. Yields rise when prices fall.

On the country's 10-year debt, meanwhile, yields advanced more than one percentage point to a shade over 13%—their highest in more than two years.

An inverted yield curve, where shorter-term debt yields more than longer-dated bonds, is a classic signal that investors see a very high risk of default."
---
Why it's proving hard to save Greece - The Journal
"Greek Prime Minister Alexis Tsipras and his Syriza party came to power in January with one main promise: end austerity measures previous Greek governments had agreed to.

Tsipras argues the measures must be redrawn to stimulate growth, and not just cut debt. He blames them for causing a humanitarian crisis: the economy has shrunk by a quarter, leaving more than 25 percent of people without work, and even more without health insurance.

In drawing up the new proposed reforms, Tsipras is focusing mainly on trying to fight tax evasion by the rich. That will only get the government so much money, as much of its massive tax arrears comes from ordinary households and bankrupt businesses.

Tsipras' government has opposed other projects, such as further privatizations, and any talk of limiting job protection rights.

The new government's combative style has isolated Greece in the 19-member eurozone but is hugely popular at home, despite the financial risks involved. A weekend opinion poll suggests the Syriza party has a near 25-point lead over rival conservatives, more than double the advantage it had in January.

"It has become well-nigh politically impossible for any Greek government to implement the reform policies being demanded by eurozone leaders," said Joan Hoey, a senior analyst at the Economist Intelligence Unit."
---
Fears that Greece is on the brink of a default send bond yields soaring - Fox News
"The latest jitters were stoked by a report Thursday in the Financial Times that Greece made an "informal approach" to the International Monetary Fund to have its bailout repayments delayed.

Citing unnamed officials from both sides, the newspaper said Athens was persuaded not to make a request. For investors, the report was unsettling and the yield on Greece's 10-year bonds surged a whole percentage point to just under 13 percent."
---
---
April 15, 2015
Greece prepares for debt default if talks with creditors fail - Financial Times
"...The warning of an imminent default could be a negotiating tactic, reflecting the government's aim of extracting the easiest possible conditions from Greece's creditors, but it nevertheless underlined the reality of fast-emptying state coffers.

Greece is preparing to take the dramatic step of declaring a debt default unless it can reach a deal with its international creditors by the end of April, according to people briefed on the radical leftist government's thinking."
---
Greece appeals to EU for help in handling migrant influx - Reuters
"Greece's government appealed to the European Union on Wednesday for help handling undocumented migrants after the number of landing on its shores more than tripled in the first three months of the year.

...More than 10,000 landed in the first three months of the year, compared to 2,863 in the same period last year, the Greek coast guard said."
---
It's Time for the Eurozone to Let Greece and Tsipras Go - The Street
"While Greece is important and the welfare of its people is important, the success of the Eurozone is more important in the longer run because an economically strong trading bloc working with one currency and one political focus is what Europe has to have to compete in the new economic era the world is moving toward.

The people of the Eurozone have their currency union. Now, they are moving toward a political union that will allow them to compete more equally on a global basis with such giants as the United States and China. They have worked very hard for a long time to get where they are today and should not give in to an inexperienced, ideologically driven group in Greece which is unwilling to play by the rules.

...Enough said. Let's move on. Your decision, Greece. Are you in or out? Please make a decision soon. "
---
EU Says Talks With Greece Over Bailout are Nowhere Near Resolution - WSJ
"The Greek government has complained that it will soon run out of cash if no bailout money is disbursed, a development that would raise the prospect of a default on its debt and even an exit from the euro.

"Currently, there is some progress but unfortunately those negotiations were in for a slow start, time is short and there is a lot of ground to be covered," Valdis Dombrovskis, Vice-President of the European Commission in charge of euro and social dialogue said.

Mr. Dombrovskis travels to Washington this week for the International Monetary Fund's spring meetings and an informal gathering of the Group of Seven industrialized countries, where Greece is likely to feature prominently on the agenda. "
---
Schaeuble 'confident' Greece won't exit eurozone - Yahoo Finance
"German Finance Minister Wolfgang Schaeuble said Wednesday that he does not expect Greece to leave the eurozone, even if markets have already priced that into their calculations.

...Schaeuble said the Greek government had gone backwards, in terms of implementing reforms and rebuilding competitiveness, key goals of the IMF-EU bailout.

"The most important thing Greece achieved in the past years was reducing wages. That increased competitiveness," Schaueble said.

"In the last couple of months they have destroyed this development. It's a tragedy."
---
Will Economic Reforms Save National Bank of Greece? - bidnessetc
"National Bank of Greece (ADR) (NYSE:NBG) stock finished in the red at 3.20% as markets closed yesterday. The stock is likely to fall again today as it is down in pre-market trading by a whopping 9.09% at 6:57 AM EDT. The country's leftist Syriza government is soon due to present improved economic reforms in return for further liquidity assistance.

The hype surrounding Greek economic reforms makes one contemplate their magnitude on the country's crippled banking sector. Bidness Etc investigates what economic reforms will do for Greece's largest lender, National Bank of Greece. "
---
Why Reform Will Fail in Greece - Huffington Post
"This week, the new leftist Greek government is locked in heated negotiations to keep its economy solvent. On the other side of the bargaining table are the European Commission, the European Central Bank and the International Monetary Fund (a.k.a. the Troika). The clock is ticking as Greece's foreign reserves dwindle; last week, Athens barely made good on a €460 million loan payment it owed the IMF.

...Part of the reason Greeks have been consistently casting about for new governing parties is that the country's disappointing recent leaders have been unable to live up to campaign promises. In 2009, for instance, George Papandreou won the election with his populist phrase, "The money exists," suggesting that shrewd oversight and not painful cuts was needed to solve Greek financial problems.

Soon after his election, though, Papandreou reached an agreement with the Troika to rescue his financially broken country by implementing significant belt-tightening. Likewise, Antonis Samaras and Alexis Tsipras won the 2012 and the 2015 elections, respectively, by promising Greeks that there would be no new agreements and no more austerity measures. Shortly after these elections, however, new deals were reached with the Troika for additional aid in exchange for deeper austerity.

...Greek culture and deeply embedded ideas about the role of the state are also important factors. Every time the government attempts to limit tax evasion and increase revenues, Greeks demonstrate strong antipathy towards paying their fair share. Many resist the notion that they should pay more taxes than before or even that they should pay taxes at all. A long history of ineffectual government has reinforced cynicism about civic community obligations. And this cynicism, in turn, starves the public sector of resources needed to deliver services that could prove it worthy of public investment."
---
April 14, 2015
IMF warns Greek negotiations are 'not working' as Athens ramps up default threats - UK Telegraph
"Officials at the International Monetary Fund have voiced doubts about the viability of Greece's membership of the eurozone as Athens has repeated its threat to default on its obligations.

Greece avoided defaulting to the IMF last week, successfully paying back a €450m loan. However, the cash-strapped government faces another €200m payment on May 1 and another for €745m 11 days later."
---
Varoufakis to Washington DC - Guardian UK
"Greek finance minister Yanis Varoufakis will meet Barack Obama on Thursday, as the clock ticks towards Athens' next deadline."
---
Regling: "Greece has not yet submitted comprehensive reform list" - Tovima
"The chief of the European Stability Mechanism (ESM) Klaus Regling claimed that the Greek government has not yet submitted a coherent list of reform proposals, in an interview for Portuguese newspa

Mr. Regling also hinted towards further financial aid being made available to Greece, claiming that help towards addressing its debts in the short-term may be necessary, since access to the markets is not yet possible."
---
April 13, 2015
Greece casts shadow as ECB money printing buoys euro zone - Yahoo Finance
"With falling prices in the euro zone beginning to stabilise, ECB President Mario Draghi will be able to claim an early success for the quantitative easing scheme - money printing to buy chiefly government bonds - launched by the bank in March.

The ECB's borrowing rates are all but certain to be held at record lows, but continued wrangling between Greece and the euro zone over reforms and aid is casting a cloud of uncertainty over the 19-country currency bloc.

Athens has until the middle of this week to improve a package of reforms required for the release of euro zone loans that it needs to stay afloat."
---
Tempers rise in talks over bailout funds for Greece - Evening Standard
"German press reports said eurozone officials were shocked at Greece's stance in the talks over securing the €7.2 billion (£5.2 billion) funds needed to avert bankruptcy, simply "asking for money" in talks rather than setting out detailed reforms.

Syriza's finance minister, Yanis Varoufakis — elected on an anti-austerity ticket — is under pressure to deliver credible savings."
---
Greece dismisses speculation of early elections: government official - Reuters
"Once again election scenarios have surfaced. The best answer to those is the popular mandate the government enjoys," a Greek government official said. "We continue to seek a mutually beneficial solution (with our lenders), respecting the people's mandate."
---
Time running out on Greek debt talks, says top EU official - Reuters
"Greece is not moving fast enough to draw up and implement structural reforms and there is limited time to prevent it running out of cash, European Commission Vice President Valdis Dombrovskis said on Monday.

The mood between Greece's newly-elected leftist government and its euro zone partners has been tense during negotiations that will determine whether the cash-strapped country gets further, much-needed financial aid from its EU/IMF lenders."
---
April 12, 2015
Greece may have blown best hope of debt deal - Reuters
"Even if it survives the next three months teetering on the brink of bankruptcy, Greece may have blown its best chance of a long-term debt deal by alienating its euro zone partners when it most needed their support.

Prime Minister Alexis Tsipras' leftist-led government has so thoroughly shattered creditors' trust that solutions which might have been on offer a few weeks ago now seem out of reach.

With a public debt equivalent to 175 percent of economic output and an economy struggling to pull out of a six-year depression, Athens needs all the goodwill it can summon to ease the burden. It owes 80 percent of that debt to official lenders after private bondholders took a hefty writedown in 2012.

...A referendum asking Greeks if they want to stay in the euro at the price of painful economic reforms, or a quick coalition change to bring in pro-reform centrists, may be his best options, even if they split his Syriza party.

Greece's official creditors meanwhile are torn between wanting to keep it in the euro zone to avoid the precedent of a country exiting, and fearing that if Tsipras manages to roll back austerity and secure debt relief, he could embolden like-minded political forces in Ireland, Portugal and Spain."
---
April 10, 2015
Greece makes IMF payment, gets bank funds - Reuters
"After weeks of contradictory statements, Finance Minister Yanis Varoufakis announced that Athens was resuming the sale of state assets halted when a leftist-led government was elected in January, but would do so on different terms.

"We are restarting the privatization process as a program making rational use of existing public assets," Varoufakis told a conference in Paris. "What we are saying is the Greek state does not have the capacity to develop public assets."

"...From the Greek side there was a strong statement that liquidity is getting really bad and there was an appeal to release some type of liquidity support before the euro zone finance ministers' meeting on April 24," a euro zone aide said. "
---
Lagarde says EU would survive Grexit - Reuters
"I think it would be a terrible situation for the Greek people," IMF Managing Director Christine Lagarde said on CNBC in response to a question about a potential Greek exit from the currency bloc.

She added that the euro zone is now in a less vulnerable position due to its banking union and strengthened fiscal union."
---
April 9, 2015
Eurozone Gives Greece Six-Day Deadline to Revise Reforms - Newsweek
"Eurozone deputy finance ministers gave Athens a six working day deadline to come up with revised reform proposals to enable a deal to be reached at a Eurogroup meeting on April 24 to unlock bailout aid, Greek newspaper Kathimerini reported on Thursday.

On Thursday, Greece's minister of state Alekos Flabouraris expressed confidence that a deal would be reached by then.

"I believe it (that an agreement will be reached in Riga) 100 percent," he told Mega TV."
Further Coverage:
Six working days to present new reform proposals- eKathimerini
---
Greece Blinks in Game of Chicken With IMF - WSJ
"Greece remains a source of great drama for investors in the eurozone, even if that drama rarely materializes as real-world action. Thursday, the country made a 460-million-euro payment to the International Monetary Fund–a payment that its new leftist government had threatened not to make. This suggests the government, which in its ongoing battle with its European creditors tends to employ threats of destabilizing actions in a bid to secure debt relief, has few real cards to play. This was also seen Wednesday, when Prime Minister Alexis Tsipras, who is visiting Moscow, denounced the European Union's sanctions against Russia and yet was unable to secure Russian financial assistance–mostly because Russia is also hamstrung by crisis and by fears of triggering more sanctions. The threat of an IMF default had the same sense of theater without substance. An actual default would be troubling for the world, possibly provoking unprecedented write-downs of the fund's loans and stirring fears of a Greek exit from the eurozone. But in reality, Greece has more to lose than everyone else by turning itself into a pariah."
---
Preparations for Grexit a secret memorandum of the Finnish Finance Ministry - Ethnos.gr
"The document states that Greece will be forced to leave the eurozone if it fails to fulfill the terms agreed in the Eurogroup for further financial assistance.

In a memorandum dated March 27, Helsinki seems to be preparing for the possibility that Greece run out of cash before the end of June.

"We have to take very tough political decisions to Greece before that date", allegedly Notes document under Finnish newspaper. "These include whether Greece can remain a member of the eurozone. The country will be able to obtain additional financing and loans only if you complete the reform program as agreed, "he adds."
---
If Greece has received billions in bailouts, why is it still in crisis? - Economic Times
"The money was supposed to buy Greece time to stabilize its finances and quell market fears that the euro union itself could break up. While it has helped, Greece's economic problems haven't gone away. The economy has shrunk by a quarter in five years, and unemployment is above 25 percent. The bailout money mainly goes toward paying off Greece's international loans, rather than making its way into the economy. And the government still has a staggering debt load that it cannot begin to pay down..."
---
Greece's reparations demand could bring the euro crisis to a head - Financial Times
"This week Greece finally put a figure on its demand for war reparations from Germany – €278.7bn as compensation for the death and destruction visited by the Nazis during the war. Opinion polls suggest that this gambit is widely popular in Greece. But by bringing this issue up now, the Greek government may have made a serious miscalculation that could contribute to the country's disorderly exit from the euro.

Greece's reparations demand comes at a time when the government in Athens is running out of money and its creditors are running out of patience. The country is likely to need a new bailout package this summer. By putting the reparations issue on the table, the Greeks may feel they gain extra leverage – as well as the possibility that they will actually get debts written off, rather than simply extended. But they have also significantly raised the risk that the Germans will simply walk away from the table altogether – forcing Greece into a default and a disorderly exit from the euro.

...The reparations issue could well fester over the coming months. Some in Berlin note that the Greeks have sought access to the Russian war-time archives. There is a concern that at next month's celebrations in Moscow of the 70th anniversary of the end of the war, the Greeks may put up a special pavilion on German war-time atrocities."
---
UN envoy's comments rile Athens and Nicosia - eKathimerini
"Athens and Nicosia complained on Wednesday about the behavior of United Nations special adviser Espen Barth Eide after the mediator suggested in an interview that the Cypriot government should be consulting with Turkish Cypriots about the search for and use of the country's hydrocarbons – a position that is shared by officials on the Turkish-occupied part of the island.

...The comments by the Norwegian diplomat infuriated the Cypriot government. Spokesman Nicos Christodoulides described the comment as "unfortunate and unacceptable" and not in the spirit of United Nation Security Council resolutions and the Law of the Sea."
---
April 8, 2015
Putin: Greece did not seek financial aid from Russia - BBC News
"There was speculation ahead of Mr Tsipras' visit that he would seek money to alleviate Greece's debt crisis.

Mr Putin said that Russia would consider loans to Greece for joint infrastructure projects, including a natural gas pipeline. But analysts say Russia's own economic woes mean any help would be limited.

Greece's new government is embroiled in negotiations with the EU and IMF to unblock a bailout package and could run out of funds within weeks.

Russia was among Greece's leading trade partners before sanctions on its energy industry and Greece's own economic woes dropped trade between the two countries by 40%."
---
April 7, 2015
Could Greece Pivot To Russia And China? - Forbes
"The usual narrative goes that, Greece is considering turning to Russia for financial support if it cannot reach a deal with the EU/IMF/ECB. However, in reality, this is not really an option on the table. The simple reason is that, with economic sanctions and a low oil price, Russia has its own economic problems and cannot afford to aid a country the size of Greece to the level that it requires.

While Greece is only 2% of the Eurozone economy, it is equivalent of 12% of the Russian economy. It is likely that it will need €30bn to €50bn over the next few years, with much of this funding front loaded. Given that the EU/IMF/ECB own €246bn in Greek debt, a large amount of any funding given to Greece would flow to these Western Institutions. It would be a strange turn of events for Russia to actively funnel huge amounts of funding to the EU while the EU has sanctions against it."
---
Greece: Germany owes us 279 billion euros - Money CNN
"Germany owes Greece 279 billion euros in compensation for war damage. At least that's what the Greeks say. The Germans say the claim is nonsense. The issue of German war debt towards Greece has been raised many times before -- most recently in 2010 and 2012, when Greece was negotiating the terms of its 240 billion euros ($260 billion) international bailout package.

...Berlin says the issue of reparations was settled once and for all by the international treaties that cleared the way for German reunification in 1990. Greece did not lodge a protest against those agreements at the time.

...Athens also says those reparations did not cover an interest-free loan that occupied Greece was forced to make to the Nazis in 1942. The loan was never repaid."
---
Greece's Shoot-the-Messenger Coalition - WSJ
"It now appears likely that on Thursday Athens will make the debt payment it owes to the International Monetary Fund, but the hunt continues for a lasting solution to Greece's debt woes. At least, that's what Greece's creditors are after. Greece's governing coalition, it seems, has other priorities: finding scapegoats for the country's five-year bailout debacle. Witness this week's parliamentary vote to appoint a committee to investigate the origins of the crisis.

Such an inquiry might be useful if the governing parties, the hard-left Syriza and the populist right-wing Independent Greeks, were committed to understanding the fiscal mismanagement and clientelistic politics that left Greece unable to pay its debts in 2010. But that is not what the governing coalition has in mind. The two parties disagree on just about everything, but are united by an emotionally charged "shoot-the-messenger" nationalism premised on the idea that the country's travails are the fault of nefarious foreigners and the complicit quislings who have run Greece according to those foreigners' orders. "
---
April 6, 2015
Political unrest and deepening debt crisis fuel talk of snap election - UK Guardian
"Despite assertions over the weekend that Sunday's talks were part of the negotiation process, Athens is believed to harbour hopes that the IMF – which has proved to be a more conciliatory partner than either the EU or ECB in negotiations – will agree to cut the government some slack when Varoufakis discusses the reform programme with Lagarde.

On Friday, Syriza's parliamentary spokesman, Nikos Filis, also piled on the pressure saying Tsipras' leftist-led coalition would prefer to pay salaries and pensions than bondholders if forced to make a choice.

The surprise trip to Washington comes ahead of a looming 9 April deadline when Greece must pay €450m to the IMF.

Investors are increasingly nervous that Greece will default on the 9 April repayment, amid rumours that the Syriza-led government is running out of cash."
---
Anarchist protests put Greece's radical leaders in a bind - Yahoo News
"...anarchists stormed parliament on Thursday and even occupied Syriza's own Athens headquarters when the party's new spokeswoman was on air giving her first interview.

But despite the protesters throwing party officials out of the building in early March, they refused to call the police since Syriza had strongly criticised the "brutal" way riot police had handled anti-austerity protests while it was in opposition.

Anarchists also took control of Syriza's radio station, "Sto Kokkino" (In The Red), for nearly a week, before taking over Athens' law school for five days.

Since last Monday they have occupied the administration tower of Athens University, a prestigious building in the centre of the city.

The nationwide protests have now begun to follow a ritual, with buildings occupied for long enough to grab headlines before activists move on to new targets.

...faced with the rising challenge from the revolutionary left, the government appears to be increasingly divided."
---
April 5, 2015
In a time of crisis, modern Greece retains its character - USA Today
"...there is much more to Greece than its current politics and financial struggles.

In my experience, the Greek people are some of the friendliest, most welcoming people I have ever met, and their resilience and continued cultural pride in this difficult time is inspiring.

...Though the country is in the midst of an economic crisis, I have found that its people are more proud of their heritage and history than ever. The resilience and pride of the Greek people is as beautiful as the ancient Greek temples and the sunsets over the Mediterranean.

Even with the crisis, Greek restaurants and cafes have not abandoned their tradition of hospitality. It is not uncommon to sit down with a book in a Greek coffee shop, only to have your cappuccino served to you with a plate of free cookies. Go into a traditional Greek taverna (family-style restaurant), and chances are you will be offered either free wine, dessert or tsipouro, a strong distilled spirit iconic of Greece.

For the Greeks, going this extra mile shows that they care about their business in an important way, and it is also the manner in which to build personal relationships and loyal customers."
---
Getting By On The Brink Of A Financial Meltdown - NPR Org
"For many countries, the worst of the Great Recession is over. Things aren't perfect by any stretch, but economies are growing again, employment rates are up and consumers feel more optimistic, which is important.

But that is not the case in Greece.

In the last 48 hours, this battered country has once again averted the latest threat of bankruptcy: Somehow, Greece has found the money to pay back hundreds of millions of dollars to the IMF. But the Greek government says the coffers are now almost empty, making Europe seriously worried..."
---
April 4, 2015
Greece says ready to make IMF payment on April 9 - Reuters
Greece will repay a loan tranche to the IMF on time on April 9, its deputy finance minister said on Friday, seeking to quell fears of default after a flurry of contradictory statements on the issue in recent days.

Greece is fast running out of cash and its euro zone and International Monetary Fund lenders have frozen bailout aid until the new leftist-led government reaches agreement on a package of reforms. "
---
Greece-EU Negotiations to Continue Until Late April - Greek Reporter
"The latest data assessment that has been presented to the Greek Prime Minister Alexis Tsipras shows that the government will finally manage to extend its negotiating time until late April. This was the message that was passed yesterday by various ministers, among whom was the Deputy Finance Minister Dimitris Mardas. "We strive to be able to pay our obligations on time. We are ready to pay on April 9," he declared, explaining that the state revenue in March topped the targets. Moreover, the Deputy Finance Minister said that there has been significant progress in talks with the country's international creditors, regarding its revised reforms list. "
---
Varoufakis to meet Lagarde before IMF deadline - Business Insider
"Varoufakis and Lagarde will have "an unofficial discussion on the Greek government's reform programme", according to Greek Ministry of Finance statement on Saturday.

The meeting comes amid speculation that Athens might fail to meet the 460-million-euro ($501-million) instalment if forced to choose between the IMF and paying government workers.

Greece has not received the funds remaining in its 240-billion-euro EU-IMF rescue package as Brussels has demanded to first approve Greece's revised reform plan."
---
April 3, 2015
Greece Ready to Make IMF Payment - VOA
"Greece will pay a loan tranche due on April 9 to the International Monetary Fund on time, its deputy finance minister said on Friday, seeking to quell fears of default after a flurry of contradictory statements on the issue in recent days.

Greece is fast running out of cash and its eurozone and International Monetary Fund lenders have frozen bailout aid until the new leftist-led government reaches agreement on a package of reforms.

That prompted the interior minister to suggest this week that Athens would prioritize wages and pensions over the roughly 450 million euro ($489 million) payment to the IMF, though the government denied that was its stance."
---
April 2, 2015
'no-brainer' to choose between pensions and IMF - Business Insider
'We are a Left-wing government. If we have to choose between a default to the IMF or a default to our own people, it is a no-brainer,' says senior Greek official

Greece is drawing up drastic plans to nationalise the country's banking system and introduce a parallel currency to pay bills unless the eurozone takes steps to defuse the simmering crisis and soften its demands.

Sources close to the ruling Syriza party said the government is determined to keep public services running and pay pensions as funds run critically low. It may be forced to take the unprecedented step of missing a payment to the International Monetary Fund next week."

"...They want to put us through the ritual of humiliation and force us into sequestration. They are trying to put us in a position where we either have to default to our own people or sign up to a deal that is politically toxic for us. If that is their objective, they will have to do it without us," the source said.
---
NEWS ARCHIVE - April 2015
---



---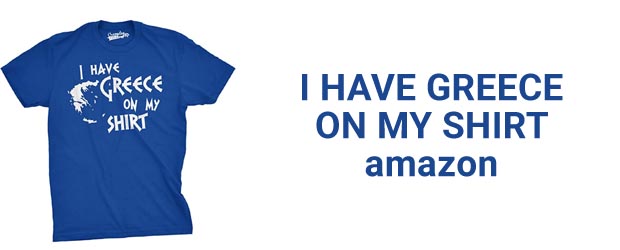 I Have Greece On My Shirt Funny Pun Geography Country Tee (Blue) - XL
---
Create Amazon Business Account - save time and money on business purchases with competitive B2B prices and discounts
---
Andros: The Little England of the Cyclades - AMAZON