NEWS ARCHIVE - APRIL 2013
---
April 30, 2013
Greek unemployment highest in Europe - eKathimerini
"The unemployment rate in Greece is the highest among European Union countries, according to data released by Eurostat on Tuesday, which showed that joblessness in the eurozone had reached record levels.

The Eurostat figures pointed to 27.2 percent of Greece's workforce being unemployed, with 59.1 percent of the under-25 age group seeking work."
---
April 29, 2013
Layoff Plan Passes Parliament - NY Times
"Euro zone officials meeting in Brussels on Monday are expected to approve the release of about 2.8 billion euros, or about $3.65 billion, in loans. The money had been due in March but was delayed after negotiations between Greece and the so-called troika of its foreign lenders stalled over the lenders' demands for civil service cuts.

... The latest measures passed into law in a vote held shortly before midnight on Sunday with 168 votes in the 300-seat House.

A last-minute amendment allowing local authorities to hire young Greeks for less than the minimum wage of 586 euros per month fueled protests during the debate. But the inclusion of measures aimed at easing the burden on Greeks, including a 15 percent reduction to a contentious property tax, clinched the support of lawmakers in the three-party ruling coalition."
Overhaul of dysfunctional bureaucracy still a work in progress - WSJ
"The law includes plans to dismiss 4,000 civil servants by the end of 2013, and 11,000 more by the end of next year, as part of a broader commitment by Athens to reduce the public-sector workforce by at least 150,000 workers by the end of 2015. Schoolteachers will be required to work two additional hours per week in an effort to cut the cost of hiring substitute teachers.

The law also introduces softer repayment terms for households with tax arrears or past due social security contributions, while it also cuts rates on a controversial property tax introduced in late 2011. The law was passed by a vote 168 to 123, with lawmakers from the three party coalition government backing the measure, and opposition deputies voting against.

Established in mid-2011 at the behest of the Greek government, the Commission's 60-member task force has been given the job of fixing Greece's hidebound bureaucracy. Drawing on experts from around Europe and international bodies like the International Monetary Fund, the team has dispensed advice on everything from tax reform to public-works projects.

Its work is parallel, but not directly linked, to Greece's troika of international creditors—from the Commission, the IMF and the European Central Bank—which decides on the loan tranches."
---
April 27, 2013
Euro zone set to approve 2.8 billion euros for Greece on Monday - Reuters
"Senior euro zone officials will meet on Monday to approve payment of another 2.8 billion euros in rescue loans for Greece, on condition that the country's lawmakers approve a reform law the day before, the country's finance minister said on Saturday.

Greece needs that money to pay wages, pensions and bonds held by the European Central Bank that mature on May 20, Stournaras said, urging lawmakers to approve the reform law they started debating on Saturday.

...Lawmakers will debate and vote on the draft law in a full session of parliament late on Sunday. It is expected to pass easily, with the backing of the three parties forming Greece's ruling coalition.

Athens has already obtained about 200 billion euros of EU/IMF rescue loans since mid-2010 and is set to get about 40 billion euros more by the end of 2014."
Greece starts firing civil servants for first time in a century - CS Monitor
"Following weeks of tough negotiations with its lenders – the "troika" of the International Monetary Fund, the European Union, and the European Central Bank – the Greek government started laying off public-sector workers in an effort to implement the austerity that the troika has demanded. The first two civil servants were let go on Wednesday under a new law that speeds up the process – one, a policeman, for stealing debit cards, and the other for 110 days of unexcused absence.

...Civil servants' jobs have been protected by a law that dates back to the 1880s, which became enshrined in the century-old Greek constitution.

"The logic [behind this law] was that the public administration has to be politically independent, feel secure, and ensure the state's continuity," said Dimitris Charalambis, professor of political science at the University of Athens.

Even though the 19th-century law was initially intended to fight nepotism, it caused its own problem: Each successive government hired its own people, adding to a continually expanding civil service without making the public sector any more effective. As a result, the Greek public sector became infamous for being dysfunctional and bureaucratic."
Shedding light on the role of Greece's Jews in the WWII Resistance - eKathimerini
"...the long symbiosis of Greek Orthodox Christians and Jews and how they joined forces at times of national crisis. Most Greeks, for example, know that thousands of the country's Jews fought on the Pindos mountains in World War I, but very few know how important their contribution was to the National Resistance in WWII, how hundreds of Greek Jews refused to pin the yellow star on their outer garments and instead took up arms against the Nazis.

The Jewish Museum is currently hosting an exhibition on this chapter of history. Titled "Synagonistis: Greek Jews in the National Resistance" and running through next April, the exhibition pays homage to the 650 men and women who decided to become outlaws not just in order to save their own lives but also in the service of freedom.

Jewish Museum of Greece, 39 Nikis, Syntagma, Athens, 210-322-5582. Open Monday-Friday 9 a.m. - 2.30 p.m. "
---
April 26, 2013
The politics of war reparations - WSJ
"Greece's claims to war damages from Germany's occupation of the country some 70 years ago aren't new and there is little sign that they could be successful this time. Earlier attempts by previous governments and individuals to raise the issue have resulted in lengthy legal battles, some of which are still pending at international courts.

But the country's fragile coalition government has been under pressure to push ahead with the case, by a vocal leftist opposition that is seeking to politically capitalize on public anger against Germany, and also by public opinion. Berlin is largely blamed domestically for harsh austerity measures that have slashed incomes and boosted unemployment to a record 27%.

"Most legal experts think Greece doesn't have much of a chance on this issue, given the passage of time and the fact that Germany has been among the most active donor nations contributing to European structural funds and funds to Greece since the 1980s," said Theodore Couloumbis, professor emeritus in international relations at the University of Athens. "In my view, a political game is being played and it is being exaggerated."
Greece is right to expose German loans hypocrisy - UK Guardian
"As the Athens-Berlin spat intensifies, both sides must approach the eurozone crisis with humility or face dire consequences

Greece forgets much of its history when it demands Germany repays loans made during the second world war.

The foreign minister, Dimitris Avramopoulos, told the parliament in Athens on Wednesday: "We will exhaust every means available to arrive at a settlement. One can't compare the times, but also one cannot erase the memories."

His speech, which was light on details, followed a leak this month of a finance ministry report showing that Greece wants Berlin to repay €162bn – consisting of €108bn for infrastructure damage during the occupation between 1941 and the end of the war, and €54bn as compensation for an interest-free loan Germany demanded to support its war effort.

Avramopoulos has launched the claim for damages in response to taunts by German policymakers that Athens must fork out such vast sums for the country's recklessness before and after the banking crash. Private sector debtors have forgiven some of Greece's debts, but loans from Berlin via Brussels must be repaid in full – and with interest – says the German chancellor, Angela Merkel. Loans to Brussels and the International Monetary Fund amount to €240bn."
Why Greece joined euro still valid: Papantoniou - Foreign Affairs
Essay at Foreign Affairs by Yannos Papantoniou, who was Greece Finance Minister from 1994-2001.
"Why did Greece seek to join the economic and monetary union? Greece's economic performance after the oil shock of the early 1970s was poor: it faced slow growth, high inflation and unemployment, huge fiscal deficits, increasing debt, a declining currency, and inadequate infrastructure. The government's lack of macroeconomic discipline and its tendency to succumb to populist demands and vested interests accounted for much of the country's economic weakness until the mid-1990s. The restoration of democracy in 1974 consolidated human and political rights and promoted social justice, but it failed to modernize the Greek economy.

Greece's woes are not an inevitable result of its joining the euro.

In the minds of the country's progressive elites, entering the economic and monetary union seemed the ideal solution to Greece's fiscal woes. The theory was that the common rulebook of the eurozone would create a system of carrots and sticks that would induce the political system to pursue longer-term goals such as productivity and employment growth and thus respond to the country's real needs.

At first, events played out according to plan. During the period of Greece's accession to euro, from 1994 to 2000, its economy was rapidly stabilized, as both inflation and the fiscal deficit decreased drastically. Businesses and consumers became more confident, investment picked up, and the government put in place a package of liberalizing reforms. Greece's GDP growth rate jumped from −1.6 percent in 1993 to close to 4 percent in 1997, and stayed at this level until 2007.

Around ten years ago, however, things took a turn for the worse. Athens' excessive borrowing created a credit bubble, which burst when the global financial crash reversed the positive trends in world economic performance."
---
New Elstat data: Clothing and Footware up 32.8%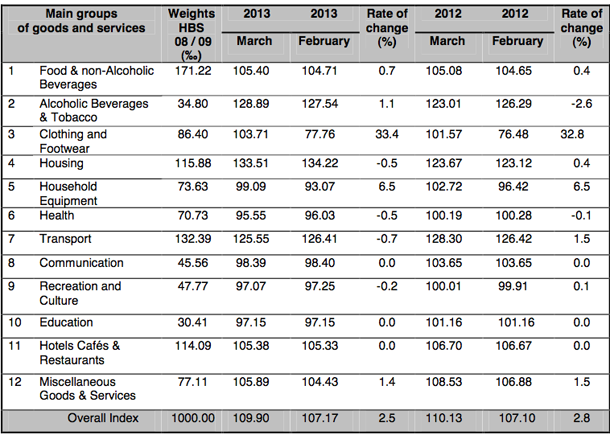 See this Elstat PDF Press Release for complete data
---
Recent Statistics [March 2013]
Improved conditions are in GREEN Declined conditions in BLACK
(Conditions are rated as compared to previous reporting period)
| | | |
| --- | --- | --- |
| Consumer price index | Mar 13/Mar 12 | -0.2 |
| Harmonized Index Consumer Prices | Mar 13/Mar 12 | -0.2 |
| Gross Domestic Product (GDP) | Q4 2012 | -5.7% |
| Unemployment rate* | Q4 2012 | 26.0% |
| Industrial Production (non-construction) | Feb 13 / Feb 12 | -3.9% |
| Turnover Retail Trade | Jan 13 / Jan 12 | -15.7 |
| Producer Price Index Industry | Feb 13/Feb 12 | 0.8 |
| Building (volume) | Jan 13 / Jan 12 | -32.6% |
| Population count 2001 | 10,815,197 | |
| (2008 Eurostat Estimate Population) | 11,262,000 | |
| Registered Population 2011 | 9.903.268 | |
| Resident Population 2011 | 10.815.197 | |
*Worst numbers are for youth, with 61.7% unemployment for those in the 15-24 age group.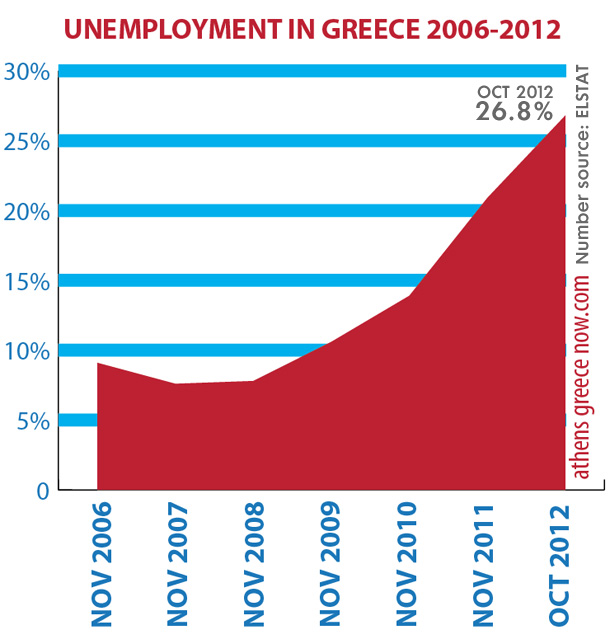 ---
April 25, 2013
Athens-Attica Hotels Association planning on 17 million visitors for 2013 tourist season - eKathimerini
"Tourists are being drawn back to Athens, the capital, after prices for accommodation dropped due to the crisis, Vassilikos said. In the last three years 40 hotels in the wider Attica region, which includes Athens and neighboring islands, have closed and hotel prices have dropped about 45 percent on average, he said.

The sector accounted for almost 16 percent of Greece's gross domestic product in 2011, according to the London-based World Travel and Tourism Council. Greece can attract as much as 11 billion euros ($14.3 billion) in direct revenue from the tourism sector this year, Anastasios Liaskos, the Culture and Tourism Ministry's general secretary, said in February."
---
April 24, 2013
The politics of the IMF and Greece - eKathimerini
"Even though the European Commission, the European Central Bank and the IMF make up the troika of lenders that have provided Greece with some 200 billion euros in bailout funding during the last 36 months, the Washington-based organization's role has grabbed the attention of most Greeks. Even now, April 23, 2010 is referred to by many as the day Papandreou "sent Greece to the IMF". Even though the Fund has provided only a fraction of the loans disbursed so far, its actions often come under the greatest scrutiny. Although there has been a growing realization that some of Greece's partners in the eurozone and the ECB have been behind some of the troika's toughest demands, the IMF continues to be a regular target for critics.

The problem is that these often indiscriminate attacks, dismissing the IMF as Trojan Horse for neoliberalism, mean that proper analysis of the troika's three elements is pushed aside. In this fog, it has become difficult to work out where there are grounds for genuine criticism of the IMF. In this respect, an op-ed by Mohamed El-Erian, the CEO of PIMCO investment firm, on the Fund's shortcomings is timely and extremely useful.

"The IMF is not one, but rather, two institutions: a highly respected analytical outfit anchored by superb technocrats and delivering world class insights; and an inconsistent operator that frequently falls hostage to pressure from its political masters in advanced economies and thus fails to deliver on its promises," he wrote last week."
---
Tourism to Greece down 5.5% in 2012 - Elstat
Arrivals from United States down -22.9%
Norway, Russia, Uk and Australia up.
This item has moved to the Tourism in Greece page
---
Government preps for state employee lay-offs - Greekreporter
"...The Troika of the European Union-International Monetary Fund-European Central Bank (EU-IMF-ECB) wants a reduction of the workforce by 150,000 over the next three years, but the government has been resisting, fearing political fallout from labor unions.

Finance Minister Yiannis Stournaras and other ministers said Greece could cut the number of civil servants through attrition and firing disciplinary cases, workers who have faked their resumes, don't show up to work, or have committed felonies – including murder – and are still being paid.

Administrative Reform Minister Antonis Manitakis, who had threatened to step down if the government went along with the Troika, changed his mind and said the first firings will be mainly from state organizations that are deemed defunct. "The initial numbers will be made up almost exclusively from the organizations operating under private law that will be closed down," he said without going into details of when the firings would take place.

Greece has agreed that it will fire 4,000 civil servants by the end of the year. The government had wanted as many of the sackings as possible to come from bureaucrats deemed to have breached their code of conduct, but individual hearings have to be held in every case, which could take years, including appeals. That means disciplinary problems will keep their jobs."
The 2011 "Troika Midterm Plan" had this requirement regarding staff reductions:
"Major hiring reduction, i.e., only 1 in 10 retiring workers will be replaced in 2011, and 1 in 5 in coming years under the plan"
---
April 23, 2013
The Gloom Around Greece Is Dissipating - NY Times
"Although the economy will have a terrible 2013, next year should be better. But the outlook is fragile: political crisis could yet again break out, tax evasion is rife, and there is the risk of external shocks.

Look first at the good news. Antonis Samaras's coalition government has held together surprisingly well since it gained power last June after a period of political chaos, despite pushing through extremely unpopular measures.

Mr. Samaras's center-right New Democracy party is neck and neck in the opinion polls with the radical left Syriza, the main opposition party. Samaras has not suffered from plunging support, as have Mariano Rajoy of Spain and François Hollande of France.

Largely as a result of Mr. Samaras's effective government, the troika — the European Commission, the International Monetary Fund and the European Central Bank — gave Greece a thumbs-up last week in its latest progress report. More bailout funds, which so far total about €200 billion, or about $260 billion, will be disbursed.

The trauma of last year, when it looked as if Greece might quit the euro, and the ongoing austerity will cause the economy to shrink another 5 percent or so this year, taking the cumulative decline to about 25 percent. Unemployment will probably rise to about 30 percent.

Those are grim figures. But Athens now seems on course to achieve "primary balance" this year. In other words, it will not have a budget deficit before interest payments. That means it probably will not have to implement another round of austerity next year, so the economy will not be struggling against that obstacle."
---
April 22, 2013
Five-year Residency Plan for Foreign Investors - Business Inquirer
"Greece will be offering residence to non-EU investors purchasing or renting property over 250,000 euros ($326,000), in a bid to revive its moribund real estate industry, officials said on Monday.

The initiative, voted into law by parliament last week, comes in response to strong demand from Arab, Chinese and Russian investors, the officials from the interior ministry and property groups told a news conference.

Valid for five years and open to renewal, the residence plan follows similar measures adopted by Hungary, Spain and Portugal in the past.

"Finally, the property market can move out of its paralysis a little," Stratos Paradias, head of the confederation of Greek home owners, told AFP."
---
April 21, 2013
New Democracy polling ahead of Syriza again - Reuters
"In a previous Metron Analysis poll in March, New Democracy trailed Syriza by 0.3 percentage points.

New Democracy has been behind Syriza for months following the June 17 vote but managed to grab a poll lead in January after securing international bailout funds to avert bankruptcy and allay doubts over Greece's future in the euro."
Startling polling results over Junta image and history - Eleftherotypia
Usually the image of the Colonels is extremely negative (at least in International news stories) but in Greece the matter isn't so simple. The Junta ruled Greece under 'invisible dictator' George Papadopoulos from April 21, 1967 until November 25, 1973. At that time Dimitrios Ioannidis used a countercoup to remove his previous boss (Papadopoulos) and assume control until the military crisis with Turkey over Cyprus forced his resignation in 1974. This was quickly followed by the swearing in of ex-Premier Constantine Karamalis on July 23, 1974, who returned from exile in Paris to lead a regeneration of democracy in Greece.
The poll question from Eleftherotypia shows that a large number of Greeks have different memories of that time period:
"The poll shows a significant percentage of voters answering positively to the question "In a few days we will have April 21. Some say that the dictatorship was better than today's government. Do you personally agree or disagree with this view?"

The majority (59%) believes that in the security situation on the Junta was better, 46% thought it had a better life and 24% believe that the country had a better international image."
Greece's great fire sale - UK Telegraph
"On Monday Antonis Samaras, the prime minister, scraped through another round of negotiations with the Troika – the EU, IMF and European Central Bank – and managed to secure payment of the next EU 8.8 billion instalment of the bailout. But privatisation is a prerequisite for receiving the bailout funds.

On Rhodes, a mountainous island 50 miles long that was the mythical home of the sun god Apollo, huge chunks of prime real estate are now up for grabs. Beside the 1,850-hectare Afandou estate there is the peninsula of Prasonisi, a paradise for windsurfers, and the Mandraki marina in Rhodes Town, where the famous Colossus, a 100 foot high statue that was one of the seven wonders of the ancient world, once stood guard over the port entrance.

Rhodes is unique in having nearly a third of its land owned by the government, a legacy of being occupied during the Italian invasion in 1912 and later having ownership of that land passed over to Athens when it became part of the modern Greek state.
---
April 20, 2013
Greece's new role in the Mediterranean region - RFI
Radio news program interview. Audio at the link.
"RFI's Colette Davidson spoke to Greece's Deputy Minister of Foreign Affairs - at a Forum on mediterranean issues in the southern French city of Marseille - about what Greece is doing to reinvent itself post-economic crisis."
---
April 19, 2013
Hellenic Petroleum to Meet Investors for Debut Bond - Bloomberg
"The unrated company is arranging investor meetings in Zurich, Geneva, London and Athens starting April 23, according to a person familiar with the deal who asked not to be identified because the details are private. The Athens-based refiner would be the first Greek company to issue bonds since Hellenic Telecommunications Organization SA (HTO) sold 700 million euros ($916 million) of five-year bonds in January.

Greece's government reached an agreement this week with its so-called troika of creditors over conditions related to the country's next bailout payment. It includes the privatization of assets such as Athens International Airport, which may be bought by Shenzhen Airport Co. and Friedmann Pacific Asset Management, according to a statement yesterday."
Government pledges fast punishment for strawberry farm shootings - ABC News
"Greek officials on Thursday promised "swift and exemplary" punishment for three strawberry plantation foremen who allegedly shot and injured 29 Bangladeshi laborers protesting late pay.

Police are seeking the three suspects who disappeared after Wednesday's shootings, which occurred during a confrontation with some 200 Bangladeshi farm workers in the country's rural south who say they have not been paid for half a year.

Seven Bangladeshi workers were still receiving treatment in local hospitals, but none have life-threatening injuries."
---
April 18, 2013
Papantoniou granted bail - Foxnews
"...has been granted bail of €50,000 ($66,000) after testifying before a public prosecutor investigating allegations that he submitted false income declarations to tax authorities.

Court officials said Wednesday that Yannos Papantoniou's wife, Stavroula Kourakou, was also granted bail of €20,000 ($26,000).

Papantoniou served as Socialist minister of finance and national economy between 1994 and 2003. He is facing a maximum sentence of five years in prison after authorities said he failed to declare money under his wife's name in an overseas bank account."
Halkidiki gold mining project moving ahead - Global Post
"Greece on Wednesday gave a controversial Canadian gold mining project the final go-ahead, despite local protests saying it will cause irreversible damage to the environment.

Greece's highest administrative court ruled that the 29 complaints lodged by villagers against the project in the northeastern region of Halkidiki were "unfounded".
---
April 17, 2013
"...Our tax system... essentially collapsed in a frenzy of unprecedented tax evasion" Samaras - Boston Globe
"Greece promised Tuesday to stick with tough austerity measures, holding out hope for a debt relief deal with emergency creditors, but the country's prime minister conceded that the tax collection system was in need of major reform after it had ''essentially collapsed.''

''No, we have not overcome the crisis yet, but light is beginning to appear at the end of the tunnel,'' Prime Minister Antonis Samaras told a business conference late Tuesday. ''No one is betting on a Greek exit from the euro anymore.''

He spoke the day after Greece struck a deal with rescue creditors expected to secure it $11.55 billion in further loan payouts. The agreement followed weeks of tough negotiations and will include a taboo-breaking 15,000 layoffs in the public sector.

Greece, in its sixth year of recession, is struggling to achieve a primary budget surplus — which excludes the cost of servicing the huge public debt — in 2013, with hopes of winning further debt relief from its creditors. Samaras also promised to bring down taxes after balancing the budget, but acknowledged difficulties in repairing the government revenue mechanism, which had failed to hold large numbers of Greeks accountable for paying their taxes.

''It is necessary to change our tax system because it had essentially collapsed in a frenzy of unprecedented tax evasion,'' he said."
Samaras see's "light at the end of the tunnel" for economy - Greek Reporter
"Greek Prime Minister Antonis Samaras says happy days will be back in Greece again with new bailout loans coming to help the economy turn around and said his coalition government will turn now to imposing more reforms demanded by international lenders.

Next up is completing the recapitalization of Greek banks and speeding the pace of privatization, said Samaras, who added that he can "see light at the end of the tunnel."
---
April 16, 2013
4,000 public sector jobs to be cut for next tranche - UK Guardian
"Athens agrees to shed 4,000 public sector jobs in return for latest EU/IMF/ECB aid package worth €8.8bn

The IMF's visiting mission chief, Pol Thomsen, applauded the country's fiscal progress. "Greece has indeed come a long way. The fiscal adjustment has been exceptional by any standard," he said. Thomsen, once a caustic critic of the nation's economic performance, predicted that Greece would meet budget targets without further pay and pension cuts and would "gradually" return to growth in 2014.

The aid will be used to help recapitalise Greek banks.

...Under the deal, the government endorsed mass lay-offs in the civil service. Samaras said some 15,000 employees would be fired by 2015 with 4,000 redundancies by the end of the year.

Constitutionally, public sector posts are guaranteed as jobs for life – a perk initially aimed at protecting workers from unfair dismissal for political affiliations but widely blamed for the profligacy at the root of Athens' monumental debt pile."
Greece on Track to Receive Next Aid Tranche - Wall Street Journal
"Greece has identified some 15,000 public-sector workers to be let go over two years as part of a tentative agreement sealed Monday with its international lenders to unlock the next payments from its €173 billion ($226 billion) bailout.

After weeks of negotiations, representatives of the European Commission, the International Monetary Fund and the European Central Bank that the review had been completed and a "staff-level agreement" reached with the Greek government.

That paves the way for Greece to receive a promised €2.8 billion ($3.67 billion) installment from its creditors this month, pending approval from euro-zone finance ministry officials."
Cyprus expects Russian money to flee - eKathimerini
"Russian investors were shocked by having to contribute heavily to the international bailout of Cyprus, the east Mediterranean island which now faces a tall order in restoring its allure.

...Russians have billions of euros in deposits parked in Cyprus, with estimates ranging from 5-31 billion euros.

Some will take a hit of as much as 60 percent or more on bank deposits above the 100,000-euro mark.

Cypriot officials at the conference admitted there would be a large cash outflow as a consequence of the bailout terms. "
---
April 15, 2013
Deal decided with Troika - NY Times
"...After nearly two weeks of tense negotiations, Greece and its troika of foreign creditors said Monday that they had clinched an agreement on economic measures it must enforce to secure the release of further crucial rescue money, including thousands of layoffs in the civil service.


"We wrapped it up; we have a deal with the troika," Finance Minister Yannis Stournaras told reporters.

Greece has been offered two bailouts worth €240 billion, or $310 billion, over the past three years, through a memorandum of understanding with the troika, consisting of the European Commission, the European Central Bank and the International Monetary Fund.

...The International Monetary Fund's envoy to Athens, Poul Thomsen, said at a conference organized by The Economist that the €2.8 billion, as well as another €7.2 billion for the recapitalization of Greek banks, could be released as early as next week

The troika's statement said an agreement had been reached on streamlining the Greek civil service and emphasized the importance of recapitalizing Greek banks without delay. It said Greece would probably return to growth next year.

Mr. Stournaras was even more upbeat, saying Greece aimed to achieve a primary surplus this year, which would allow it to seek more debt relief, according to an agreement with creditors. "
---
April 14, 2013
'Sleep Out' protesters warn entire families will be homeless in Greece
"A sombre protest snakes its way through the Greek capital. The Sleep Out day is aiming to wake up politicians to the plight of the homeless.

Greece is five years into a recession which has led to a 25 per cent increase in homelessness since 2009.

Placards read "No slogans just requests" as protesters asked for basic rights to be respected.

"At one time even the homeless, before they ended up on the street, they were paying taxes, paying bills. The government must show a bit more sensitivity," said one protester."
---
April 12, 2013
Unemployment rises to 27.2% for Jan 2013 - Elstat
From the new stats released from lstat for April 12, 2013:
"Unemployment rate in January 2013 was 27.2% compared to 21.5% in January 2012 and 25.7% in December 2012. The number of employed amounted to 3,617,771 persons. Τhe number of unemployed amounted to 1,348,742 while the number of inactive to 3,346,423."
The Elstat report shows unemployment broken down into areas. Aegean is lower with approx 19%, and Attica the highest with 28.4%.
Jeroen Dijsellbloem warns Greece to hurry - eKathimerini
"Dijsellbloem said at a Eurogroup meeting in Dublin that only when the troika has completed a satisfactory review, the Euro Working Group will meet to approve the disbursal of the next tranche.

The head of the European Stability Mechanism, Klaus Regling, said that Greece is due to receive 2.8 billion euros from its March tranche and another 7.2 billion euros for the recapitalization program."
Sixth consecutive year of economic recession - Zee News India
"The level of unemployment in Greece hit a record 27.2 percent in January, up 5.7 percentage points year on year, the Greek national statistics service Elstat said Thursday.

The soaring unemployment comes amid austerity measures that the Greek government introduced in exchange for financial aid from international lenders.

The country has entered its sixth consecutive year of economic recession.

Average unemployment in the eurozone is about 12 percent, while the EU average is 10.9 percent, according to Eurostat's February figures."
"Brain Drain" in Greece - truthdig
"More than 100,000 unemployed professionals have left Greece amid a shrinking economy and a lack of jobs to seek better opportunities abroad in a trend that will dramatically impact the nation for generations.

A recent study by the University of Thessaloniki found that more than 120,000 doctors, engineers, IT professionals and scientists have departed from Greece since the start of the country's financial crisis in 2010."
---
April 11, 2013
Germany and Greece finance ministers argue over reparations - Yahoo AP
"A long-standing debate over whether Germany still owes Greece war reparations stemming from the Nazi occupation erupted anew Thursday in a spat between Greece's foreign minister and Germany's finance minister.

German Finance Minister Wolfgang Schaeuble was quoted by German media as suggesting that Greece should focus on reforming its economy and that the issue of war reparations was definitively closed years ago.

...The issue of war reparations has been a contentious and legally complicated one for decades. Nazi Germany, which occupied Greece from 1941-44, forced Athens to extend it loans and give up gold reserves. There was also the question of the destruction of infrastructure and compensation claims filed by individuals who survived Nazi atrocities.

In 1960, Germany paid Greece 115 million German marks (about $330 million at today's value) and soundly rejects any further calls for reparations, insisting that payment definitively settled all claims."
---
April 10, 2013
First time in 45 years Greece slides into deflation - UK Telegraph
"Greek consumer prices fell year-on-year in March, taking the battered economy into deflationary territory for the first time since 1968.

The fall was widely expected as a consequence of five years of unrelenting economic contraction in Greece, where GDP is 16pc smaller than it was in 2008, but could mark the beginning of a dangerous deflationary spiral for the fragile economy.

"Given the still dire economic environment, we expect consumer price inflation to remain negative during the rest of the year," said Diego Iscaro, Europe economist at IHS Global Insight."
Tsipras urges PM to stop negotiating with troika - eKathimerini
"Tsipras called on Prime Minister Antonis Samaras to stop negotiations with the troika – as representantives of the European Union, the European Central Banks and the International Monetary Fund are collectively known – and begin visiting his counterparts in southern Europe "tomorrow morning."

The SYRIZA chief argued that in the last three years Germany has led the eurozone to a "death race", adding that the German blackmail could backfire given that an eurozone collapse was not in Germany's best interest. He admitted, however, that such a strategy posed a risk for Greece's continued eurozone membership."
Cypriot bank deposits actually increased during March crisis - Fox News
"Greek bank deposits rose by more than 1.5 billion euros in March despite a banking crisis in Cyprus that triggered fears of deposit outflows in other indebted southern European economies, the country's central bank chief said on Wednesday."
Onassis' Skorpios island sells for €117+ - UK Telgraph
"The Greek shipping magnate's granddaughter, 28-year-old Athina Onassis Roussel, has agreed to sell the island of Skorpios, a jewel in the Ionian Sea, according to Greek media.

The identity of the Russian businessman has not been disclosed.

The forested island, off the western coast of Greece, was bought by Aristotle Onassis in 1962 for just 3.5 million drachmas, the equivalent of about £10,000."
---
April 9, 2013
Greece's National Bank and Eurobank face nationalisation - Euronews
"Shares in Greek lenders National Bank and Eurobank have plunged as they put a full merger on hold and said they cannot raise enough money to rebuild their capital.

As a result both now face nationalisation.

Together, the two banks need 15.6 billion euros in fresh capital following losses from Greece's sovereign debt writedown last year, as well as loans that won't be paid back.

They have told the country's central bank they're unlikely to sell enough new shares to get 10 percent of their capital needs. "
Merger Talks stall for Greek Banks - NY Times
"Shares in National Bank of Greece and Eurobank plummeted 30 percent Monday after the two banks suspended merger talks because they were unable to raise the required capital."
Does Germany owe Greece Billions from WW2 Loans? - Euronews
"Greek newspaper To Vima claims a secret report details huge amounts of money owed to Athens by Germany for World War Two reparations and unpaid loans.

The story has been picked up by the online edition of German newspaper Der Spiegel, who quote Greek organisations calculating the value of loans from Athens to Berlin taken by the Nazis between 1942 and 1944 at 54 billion euros.

Der Spiegel also puts the figure owed to Greece for reconstruction after the Second World War at 108 billion euros."
---
April 7, 2013
Greece: The Unfolding Drama - CBC Books
Article asks "How much is the crisis home-made and to what extent is Greece again the victim of external powers? "
"Last month, Writers & Company host Eleanor Wachtel travelled to Greece to meet with some of the country's most prominent thinkers and authors as part of a special series about the complex and challenging situation there. In this post, she shares some of her experiences and offers a preview of what's to come on the show. The series airs April 7 to 28.

...In a curious way, this seems to be how many Greeks themselves are coping with the crisis. Cafes and tavernas are crowded with people -- often just nursing a cup of coffee -- and talking. As Petros Markaris, the country's most famous mystery writer, told me, Athens is a city where people like to socialize, to sit together at cafes and restaurants; it's not a city of walkers. Since the crisis, bicycles have made something of a come-back. As Urban Bike Workshops boldly advertises: "THE ECONOMY SUCKS YOUR BIKE SHOULDN'T"

Endless discussion is apt for a situation that elicits such a wide range of opinion and political interpretation, much of it revolving around who is responsible. Where to assign blame? How much is the crisis home-made and to what extent is Greece again the victim of external powers?

It's more than thirty years since Greece joined Europe -- the European Economic Commission, as it was then called -- and started to receive a continuous influx of money. The idea or ideal of a European Community, erasing borders across a land that had endured the most violent century in its history, was based -- in a significant way -- on finance.

Last fall, the European Union was awarded the Nobel Peace Prize for "advancing the causes of peace, reconciliation, democracy and human rights in Europe." At the same time, some people in Greece invoke World War III, feeling invaded by a powerful Germany all over again."
"It seems they don't have any other choice ... the country desperately needs to grow." - The National
"International students gathered in the Greek capital this spring to take part in field trips organised by their respective universities in New York and Paris.

"...My sentiment is that the leaders we met are very optimistic" regarding the future and economic growth in Greece, a country facing a sixth year of continuous recession, Dyanna said.

"It seems they don't have any other choice ... the country desperately needs to grow."

Sheila, who was as charmed by the orange trees in full bloom as she was distressed by the Greek capital's dilapidated buildings and streets, said she felt "privileged" to be in Athens during the continuing Cyprus crisis. In Greece, she believed there were "encouraging signs" for growth in the tourism industry and infrastructure.

"The question now is to know how much longer the country can take the recession," said Dyanna.

"Nobody wants to think about what would happen" if Greece cannot fulfil its commitments and has to leave the euro zone, she added."
---
April 5, 2013
Troika Inspectors return - Economic Times
"Greece's conservative prime minister said the country is showing its first signs of recovery, as international debt inspectors returned to Athens seeking tougher implementation of their bailout austerity program.

Antonis Samaras said the debt-crippled country's economy remains in ``critical'' condition. But he quoted new figures which show that more people were hired than fired in the private sector in March _ the first time that has happened since the economy started to implode three years ago.

Greece has the highest unemployment rate among the European countries that use the euro currency, at more than 26 per cent, with nearly 1,000 jobs lost every day since 2010."
How PASOK destroyed itself - BBC
"The endless empty rows said it all. For a political party struggling to survive, the choice of a huge Athens stadium for its annual congress was probably a bad one.

A few thousand loyal supporters gathered, but the tens of thousands of vacant seats spoke of a party nearing oblivion.

The Panhellenic Socialist Movement (Pasok) has dominated the Greek political scene for more than three decades. It soared to power in 1981. The dictatorship had just ended here; Pasok created a welfare state, transforming Greece into a modern, European country.

The dream was not realised as we expected. We have a country bankrupt, corrupt and not functioning as it should"

But today it languishes at around 6% in the polls, widely reviled for corruption and for accepting hated austerity while in power in 2009."
---
April 4, 2013
Talks with creditors resuming - NY Times
"The talks, part of the process by which Greece must satisfy the lenders' conditions in order to receive additional installments of bailout money, are the sort of painstaking discussions that Cyprus will soon be undertaking as part of the Cypriot government's newly arranged €10 billion, or $13 billion, rescue. The Athens discussions are a reminder that working through a euro zone bailout can be a long march, requiring many politically unpopular steps by recipient governments."
---
April 3, 2013
Strike halts sea, train travel in Greece - Reuters
'Sailors and railway employees have staged a 24-hour strike across Greece in protest against the government's austerity measures.

Tens of thousands of people were stranded on Wednesday after the employees began the strike to express opposition to the spending cuts that include the elimination of collective labor contracts, which preserve income levels and other benefits.

Dock workers also called on the Greek government to put an end to a plan to regulate the minimum number of dock workers required in each crew, as they say the move would lead to job losses. They also asked for back-pay from ship owners and rejected employing undocumented and uninsured workers."
---
April 2, 2013
Greece Jobless Figure: Youth Employment At 58% - Sky News
"Youth unemployment has nearly hit 60% in Greece, new figures on EU unemployment have revealed.

According to statistical agency Eurostat's latest available figures, the jobless rate for young Greeks hit 58.4% in December.

The figure is expected to worsen before the start of the traditional summer tourist season.

Meanwhile, Eurostat said February unemployment for the under-25s topped 55.7% in Spain, 38.2% in Portugal and 37.8% in Italy."
Greece's neo-Nazi Golden Dawn goes global with political ambitions -Guardian UK
"The group – whose logo resembles the swastika and whose members are prone to give Nazi salutes – has gone from strength to strength, promoting itself as the only force willing to take on the "rotten establishment". Amid rumours of backing from wealthy shipowners, it has succeeded in opening party offices across Greece.

It is also concentrating on spreading internationally, with news last month that it had opened an office in Germany and planned to set up branches in Australia. The party's spokesman, Ilias Kasidiaris, said it had decided to establish cells "wherever there are Greeks".

"People have understood that Chrysi Avgi [Golden Dawn] tells the truth," he told a Greek-language paper in Melbourne. "In our immediate sights and aims is the creation of an office and local organisation in Melbourne. In fact, very soon a visit of MPs to Australia is planned."
---
April 1, 2013
Greeks grim on economy, brighter on outlook - eKathimerini
"In its "economic barometer" for March, Public Issue highlighted "cautious optimism among Greeks for the long-term future of the economy" compared to a much grimmer overall outlook in January.

The consumer confidence index nudged up 3.3 units in March to reach 60.5, the firm said in its survey."
Troika Nixes National Bank-Eurobank Merger - GreekReporter
"After not opposing a merger of Greece's National Bank with Eurobank, the country's internatonal lenders now have asked for it to be stopped, fearing the combined entity would have too much financial power and be too big for the government to handle.

Reuters reported that the Troika of the European Union-International Monetary Fund-European Central Bank (EU-IMF-ECB) said the merger would create a bank whose assets would be too large relative to the country's Gross Domestic Product( GDP) as had happened on Cyprus, bringing down that country's banking system. "
Thessaloniki Jews feeling pressure of Golden-Dawn - Ynet
"The community of Thessaloniki, one of the oldest and most opulent in the history of European Jewry, lived here quietly. It had been this way from the time of the Hellenists until the Holocaust, which decimated the vibrant community.

Today, Thessaloniki finds itself in the middle of a new storm, brought on by the rise of the Pro-Nazi party 'Golden Dawn.'

...One thousand members of the community, most of them white haired and stoop-backed, decided to get the government behind their cause.

Their battle began with legislation introduced by the Greek Ministry of Justice, against members of Golden Dawn. It reached its height last week, with the historic visit of Prime Minister Antonis Samaras to a local Salonika synagogue. There, in front of an audience of Holocaust survivors, the country's leader promised, "never again."
---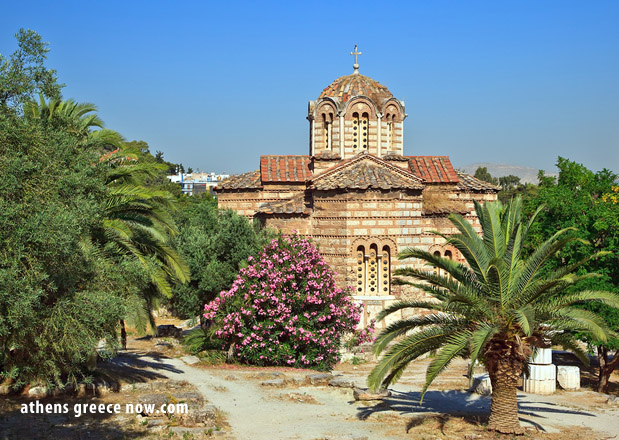 Byzantine Church of the Holy Apostles
---
---
---
LIVE CAM VIEWS
---