Greece and the economic crisis 2019
NEWS ARCHIVE - Sept 17 - Sept 21
---
---
September 21, 2019
Mitsotakis in New York
Story at Naftemporiki [Greek]
Cyprus claims exclusive use of block 7 in EEZ
Story at Protothema [English]
Yogurt scandal in Japan
Greek ambassador involved - story at Skai [Greek]
Migrant rescues in Mediterranean increase
Story at Sydney Morning Herald [English]
1985 TWA hijacker arrested on Mykonos
He was trying to make it to Turkey - story at Protothema [English]
Varoufakis vs. Germany
Something UK Express [English]
---
Streetwise Athens & The Greek Islands Map - Laminated City Center Street Map of Athens, Greece (Michelin Streetwise Maps) - AMAZON
---
September 20, 2019
Drought on Koroneia Lake killing fish
Story at MSN News [English]
Elliniko project to move forward after important legal ruling
Story at eKathimerini [English] and at Naftemporiki [Greek]
Erdogan issues new statements on Turkey's claims on Cyprus
Story at Skai [Greek]
Bulgaria and Greece working together on immigration issues
Story at Protothema [English]
Thomas Cook travel agency in dire financial situation
Story at MSN News [English]
---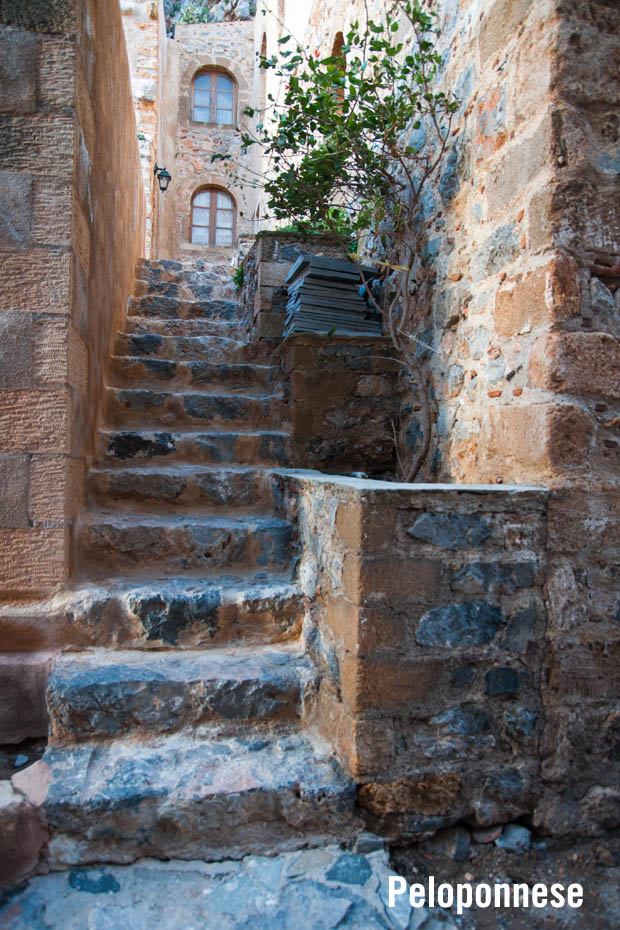 ---
September 19, 2019
The outlook on Greece is bright
Story at Financial Times [English]
The long process of de-escalation of the Greek crisis
Story at Naftemporiki [Greek]
Police enforcing long-delayed evictions near Vathis Square
Story at Skai [Greek
Koroneia lake level drops dramatically
Story at eKathimerini [English]
Olympiacos match Tottenham
Story at Protothema [English]
Exploration leases proceed in parliament
Story at Ethnos [Greek]
Fire at Mari
Story at Phileleftheros [Greek]
---
September 18, 2019
Capitol increase call for Hellinikon project
Story at Reuters [English]
18-month plan to reduce bad debt load at banks
Story at Bloomberg [English]
The drone threat on Greece
Story at Liberal [Greek]
Is the KINAL party doomed?
Analysis at eKathimerini [English]
Greek airports ranking in European top ten for devlays
Story at Protothema [Greek]
Novartis scandal case continues
Story at Skai [Greek]
---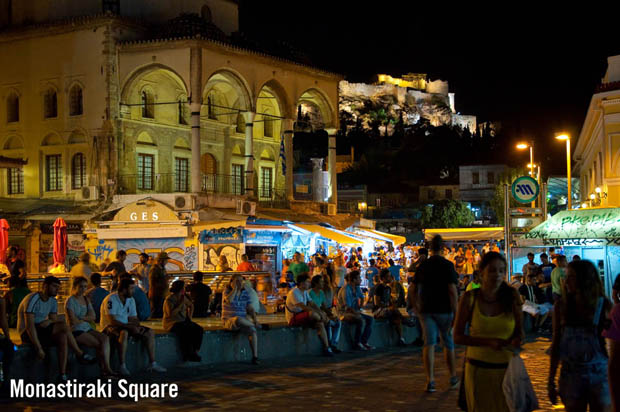 ---
September 17, 2019
Ferry boat sailor strikes coming
Story at the Star Tribune [English]
Greek tourism reaped €125 billion over past decade
Story at Naftemporiki [Greek]
Refugee surge increasing pressure in Aegean
Story at Protothema [English]
Anastasiades: Turkey is undercutting peace efforts
Story at Houston Chronicle [English]
EU membership talks for N. Macedonia to begin
Story at Star Tribune [English]
Mitsotakis-Trump meeting set for Sept
Story details at eKathimerini [English]
EU creditors must approve early IMF payment deal
Story at Washington Post [English]
Winter heating allowance changes
Story at Iefimerida [Greek]
Turkey's nuclear ambition
Story at Phileleftheros [Greek]
US Ambassador to Greece Geoffrey Pyatt laments foreign influence on Greece
Story at Greek Reporter [English]
---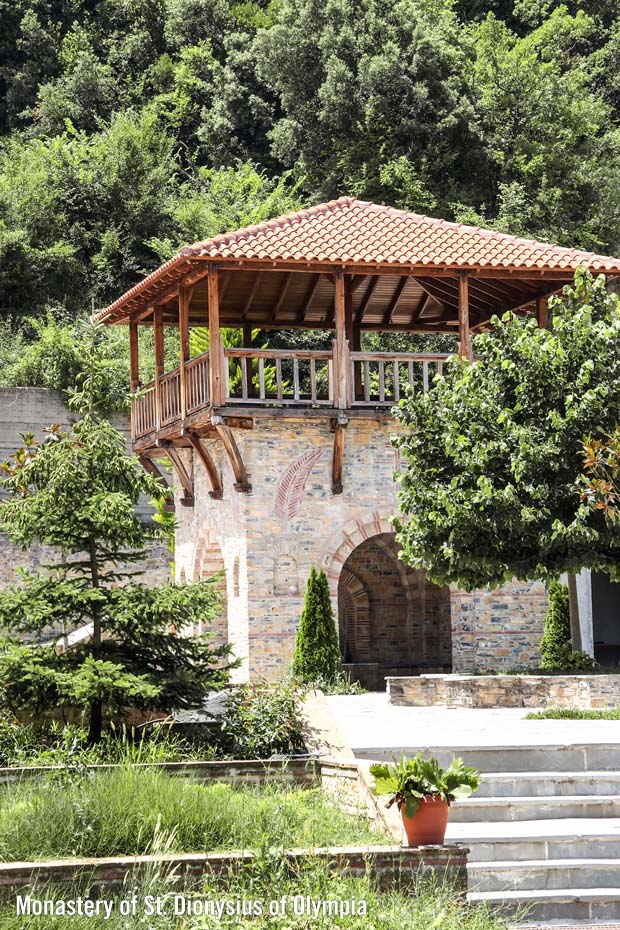 Tower at the monastery of St. Dionysius, Olympia
---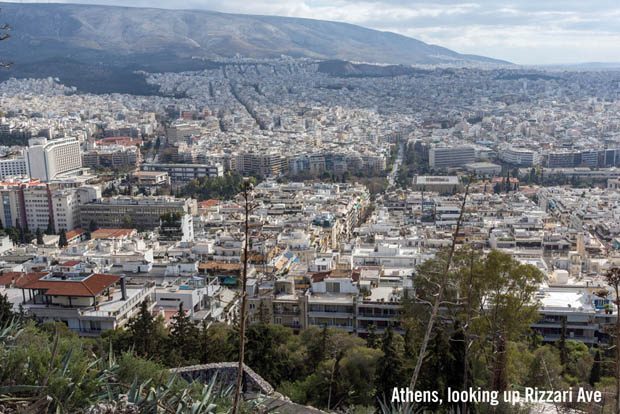 Rizari Ave in Athens seen from Lycabettus Hill. The Hilton Hotel is on the far left and the square building off center on the right of Rizari is the War Museum. In the distance is Ymittos mountain.
---
Fodor's Essential Greece: with the Best Islands (Full-color Travel Guide)
---
NEWS ARCHIVE - September 2019
---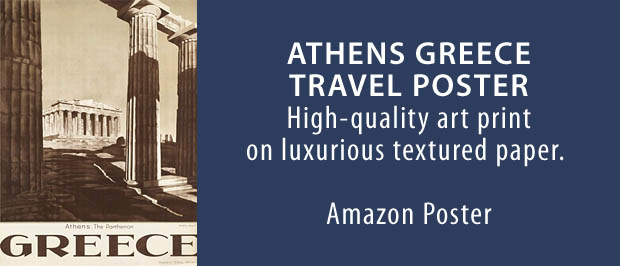 ATHENS GREECE PARTHENON ACROPOLIS ANCIENT COLUMN ART PRINT POSTER - Amazon
---



---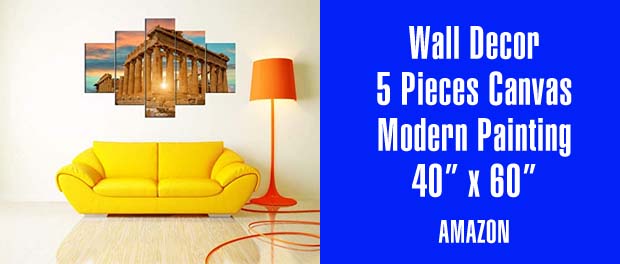 Parthenon Temple on the Acropolis of Athens Greece Artwork Wall Decor 5 Pieces Canvas Modern Painting Wall Art Home Decoration for Living Room Pictures HD Printed Framed Ready to hang(60''Wx40''H)
---
Create Amazon Business Account - save time and money on business purchases with competitive B2B prices and discounts