Greece and the economic crisis 2018
NEWS ARCHIVE - Nov 7 - Nov 13
---
---
November 13, 2018
Bank of Greece to cut red loans by €40 billion
An alternative plan to cut 'red loans' by €15-20billion based on the "Italian Model" has also been submitted to the EU - story at TANEA [in Greek]
Rubicon anarchist group and "licensed anarchy"
Is the Citizens Protection Agency running cover for Rubicon so that they operate unpunished? Story at Tovima
Pension cut deal coming
The 2019 draft budget has been hung up with the EU Commission, but Greek Reporter says a deal may be at hand.
Bids on Hellenic Petroleum moved to 2019
Story at Reuters
More airspace violations on Monday
Protothema reports a large number of airspace penetrations by Turkish aircraft on Nov 12.
Turkey puts a second drilling ship to sea
The continuing cold war of the drill ships - story at Liberal GR [in Greek]
5000+ Turkish asylum seekers
Since the failed coup event - story at Protothema
---
Symi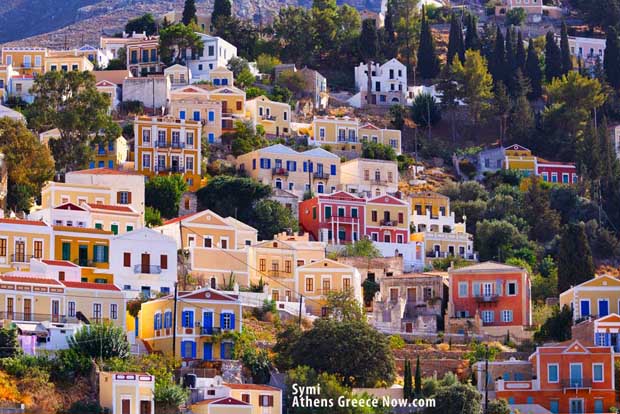 ---
November 12, 2018
Greece trying to grab Libya continental shelf, claims Turkey
Story at Protothema on visit by Turkish Defense Minister Hulusi Akar to Libya. Mr Akar also included in his talk the claim that Greece basically has no right to territorial waters in regard to the Greek islands, such as Crete and Cyprus, where exploration and drilling for the Greek energy industry (and the various partners including USA companies, Israeli companies, etc.) has begun to gel.
Is ExxonMobil facing a naval battle off Crete?
A Forbes Magazine story at Capital GR
EU parliament wants 75% of public buses to be electric by 2030
Story at Naftemporiki (in Greek).
Election season handouts grieve Brussels
Called "backtracking" by EU observers, Tsipras' gov't has been adding new public sector jobs and money distributions to a list of persuasive measures that presumably could help change SYRIZA's second place position in polling to ND. Not that eKathimerini emphasizes this at all, only barely mentioning the political aspect of the slate of "handouts," and the negative responses from across Europe. More on "massive wave of refunds" on past pension cuts at Liberal GR.
Protest against the changes in church-state relations
Article at Iefimerida describing the argument by Vassilis Leventis that the actions by the prime minster to move Greece toward a secular state doesn't reflect the massive demographic support for the Greek Orthodox Church.
Greek retirees moving to Bulgaria to reduce cost of living
Story at Protothema
---
November 11, 2018
Van load of traffickers crash outside of Thessaloniki
A 4-year old boy was also killed as the van, driven by an Iraqi man, crashed with a truck while fleeing a police checkpoint - story at Time Magazine
ExxonMobil drill ship due in Cyprus on Monday
Drill ship Stena IceMax on way to Limassol - story at eKathimerini
Eleni Chatziliadou wins Karate world Championship in Madrid
Story at Greek Reporter
Tolstoy grandson buried in Peloponnese
Alexander Tolstoy, 87, grandson of the famous writer, was buried in Messinia - story at Greek Reporter
Stefanos Tsitsipas wins Next Gen ATP
Story at France 24
Two Pakistani migrant traffickers arrested at Evros
Story at Live 5 News
Viking Cruise line announces new Greece tours
Story at MSN News
---
Thissio nieghborhood, Athens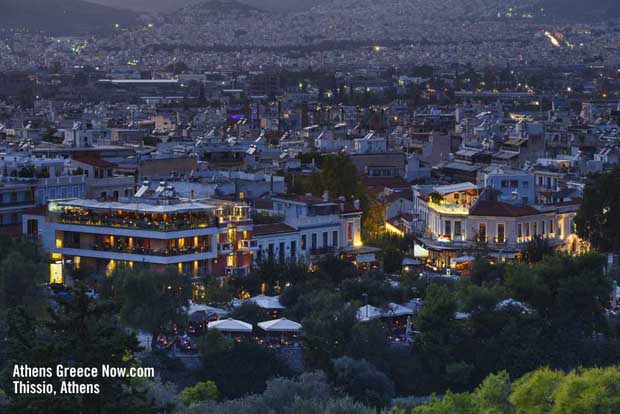 ---
November 10, 2018
5,633 arrested at airports using fake Identities
The largest increase was at Iraklion on Crete with 1,500 caught using forged identity papers  - Story at ABC News. Increased security is catching more of this throughout Europe - story at eKathimerini.
EU Commission approves gas link between Bulgaria and Greece
Story at Protothema
18,750 running in Athens Marathon
The 36th Athens Authentic Marathon is a trek from Marathon to the Panathenaic stadium - coverage at eKathimerini
---
November 9, 2018
Over 3,000 attend the Konstantinos Katsifas funeral
Photos and story at Iefimerida [in Greek] and more info at Protothema [in English]. Meanwhile, Albania has banned 52 Greek nationals and Athens wants clarification on this move which is "fueling tensions in bilateral relations" - eKathimerini
Deposits at banks drops €600 million in November
Story at Protothema attributes the decline to tax liabilities.
Border crossing numbers jump
Brief ABC News story on the increase in numbers, also mentions increase in arrests for illegal activity related to crossings.
Vodaphone bringing PameOdeon's VoD to users
Story at Telecompaper
Czechs can hike pensions "without becoming Greece"
Greece has somehow become the standard by which to curse or bless foreign countries as used by American and British press - story at Bloomberg
Report on the numbers of migrant arrivals in Greece by sea
Brief analysis of the numbers at Reliefwweb
Restructuring of the private health sector with CVC
Story at Liberal GR [in Greek] says the "first phase" of the restructuring in completed. CVC is an investment firm with $80 billion in holdings.
Study made of foreign tourist profiles them as upper class income bracket
Story at Naftemporiki on the study by the Institute of the Association of Greek Tourist Enterprises (INSETE) and IPK International. Only 4% of touirsts were for the purpose of visiting relatives or friends, the vast majority being "destination tourists." Origina countries were mainly European tourists with the USA following behind. Of the groups visiting Greece, only Russians showed a decrease.
Lament for damage in Lamia to Diakou Square
Story at Tanea [in Greek] about vandalism at the square and paint splashed on the statue of Ethnarchy Athanasios Diakos.
---
Stoa of Attalos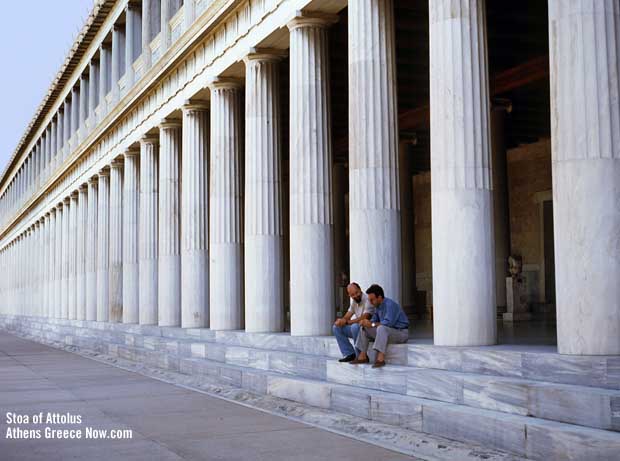 More on the Stoa of Attalos
---
November 8, 2018
Saffron trade is blooming / booming
Story at Reuters on the lucrative spice trade.
Priests moving from public payroll to subsidy
American NPR is interested in this phenomenon of the beginning of a split between Church and State in Greece. BBC says this is important to Greece becoming a truly "secular society." As they mention in their article: ...despite the archbishop's concessions on constitutional reform, the preamble to the Greek constitution will continue to read "In the name of the Holy and Con-substantial and Indivisible Trinity" - a reference to the fact Greece is not simply Christian, but Christian Orthodox. "
Tourism 2018 may top €2 billion
Article at Reuters on new estimates from the Greek Tourism Minister Elena Kountoura.
Taxi driver 12 hour strike
eKathimerini on the strike meant to bring attention to the effect illegal ride sharing and unlicensed taxi driving is having on their trade.
---
November 7, 2018
Orthodox priests to exit civil servant rolls
A "landmark decision" says the BBC as funding for 10,000 priests moves from payroll to subsidy status. This change is part of the negotiations between Tsipras and the Greek church as part of a move toward separating the two institutions (church and state) - more at Tovima [in Greek].
The "Year of Greece" in 2019 tourism
Story at Greek Reporter on Germans tourist agency DER Touristik, the largest of the German speaking agencies, declaration of 2019's possibilities.
Greek Air Force drills with 11 F16 Israeli fighter jets
Story at Jpost on creating cooperation between Greece and Israeli military and interoperability in combat situations.
Making the pension system sustainable
Story at Naftemporiki [in Greek] on an alternative way to rebuilding the Greek pension system, according to the Association of Actuaries of Greece (EAE).
Funeral on Thursday for
Story at Tanea [in Greek], on the planned burial of the man who was shot in Albania after raising a Greek flag on OXI Day.
Greek cultural superiority touted in new Pew Research poll
Protothema on the results of a new international poll by Pew Research ("Greek attitudes toward religion, minorities align more with Central and Eastern Europe than West")
---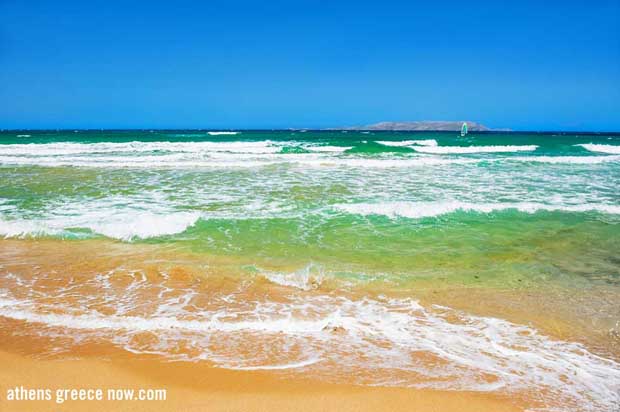 ---
You will see Amazon links on this web site because I am an Amazon affiliate. I earn from qualifying purchases.
---
International Real Estate
Buying Real Estate Overseas For Cash Flow (And A Better Life): Get Started With As Little As $50,000

Published by Wiley, 1st edition August 11, 2020, 240 pages
---
Try Prime Discounted Monthly Offering
---
Greece: Biography of a Modern Nation - AMAZON - Published March 2020 - 600 Pages
---
NEWS ARCHIVE - November 2018
---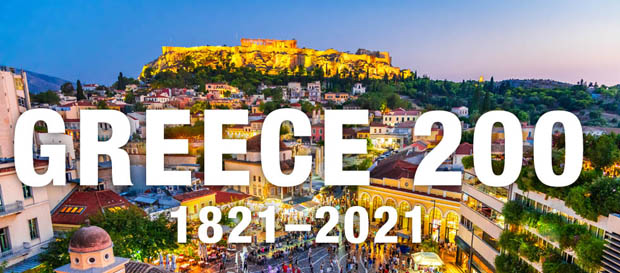 ---
You will see Amazon links on this web site because I am an Amazon affiliate. I earn from qualifying purchases.

Fodor's Essential Greece: with the Best Islands (Full-color Travel Guide)
---

---