Greece and the economic crisis 2018
NEWS ARCHIVE - October 20 - October 24
---
---
October 24, 2018
Account surplus dropped in August
Story from Hellenic Shipping News on the surplus going from 1.8 billion to 1.5 billion in August 2017. More on this at Protothema.
Regling: Not enough financial space for altering pension cuts
Story from Greek Reporter on Regling's remarks indicating the pension cuts agreed upon must go forward.
Argument over territorial waters continues
Reuters story on the continued remarks going back and forth between Athens and Ankara about the recent change in claimed territorial waters from 6 nautical miles to 12 nautical miles in the Ionian Sea and near Crete.
Greece and Portugal agree on need for European plan on refugees
Story at Latin America Herald Tribune on the comments from Portuguese deputy prime minister Eduardo Cabrita who is in Athens and has visited the camps.
Papantoniou now in custody
eKathimerini - former defense minister Yiannos Papantoniou and wife Stavroula Kourakou now in custody , facing money laundering charges regarding naval expenditures.
---
---
Athens Greece from Strefi Hill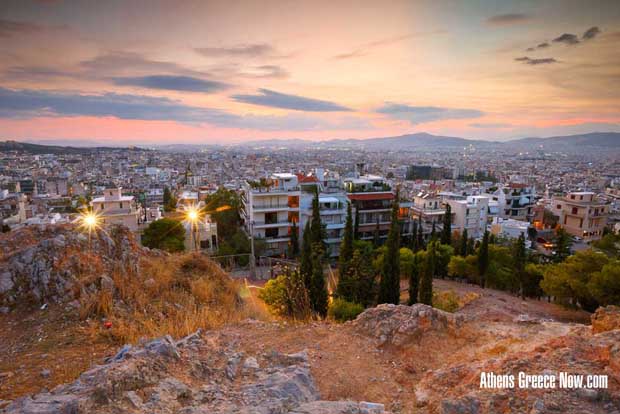 ---
October 23, 2018
Waiting for yields to fall before issuing more debt
Story at Reuters on comments by Klaus Regling.
Greece defends expansion of territorial sea area
And Turkey objects. Story at Reuters based on written comment by an unnamed "foreign ministry spokesman" stating Greece is within it's legal rights in the expansion of territorial sea waters claimed last week for the Ionian Sea and space near Crete. Meanwhile NY Times notes Turkey is objecting to an expansion of sea area in the Aegean, which has not actually taken place, demanding such a move requires agreement between Greece and Turkey. Some have thought that getting Greece and Turkey into the same room negotiating (or arguing) over Aegean rights is what Turkey has been seeking all along. Last weeks story on outgoing minister Kotzias move to change territorial sea space from 6 nautical miles to 12 at Kathimerini and this is today's story about the "spat" at Kathimerini.
Ancient ship wreck found which is type only seen on old Greek pottery
Story at Kathimerini on the finding by the Black Sea Maritime Archaeology project of a largely intact ancient trading vessel of a type only "seen on ancient pottery." The shipwreck was found off the Bulgarian coast.
Border correction for Kosovo/Serbia?
Story at Protothema on US "suggested" effort to reach border compromise.
EU rejects Italian budget
Naftemporiki [in Greek] on how this move by the overseeing European Commission was expected since the draft budget was already in violation of commitments on spending (Italy has maintained the increased spending is needed to move the economy forward from it's low growth numbers). The EU Commission has the power to reject national budgets because of 2013 agreements between member states. Italy is at 130% debt load on GDP, which puts it right behind Greece, and both are clearly in violation since 60% is the allowed top limit according to EU rules. More about the budget debacle between Italy and the EU at ABC News.
Only USA operators applying for gambling at Elliniko
The Hellenic Gaming Commission (HGC) is now only speaking with American applicants - story at Calvinayre
Director of Greece copyright offices quits
Story at Music Business WW - the Hellenic Society for Protection of Intellectual Property (AEPI), which ran the copyright office in Greece, was found to be €42 million behind in royalty payments, among other scandals, and so the agency was replaced by EYED in 2017, but now Irini Stamatoudi, the head of the the Greek Copyright Office (OPI) has quit, citing dishonesty and lack of transparency at EYED and lingering issues with AEPI.
Yiannos Papantoniou facing corruption charges
The former defense minister is facing charges of money laundering in connection to kickback money from work on six naval frigates - story at eKathimerini.
Tsipras in France for anniversary of end of World War II
Story at Protothema.
---
---
Plaka in Athens Greece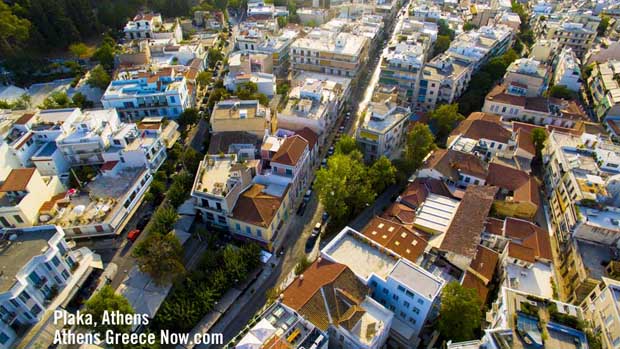 ---
October 22, 2018
Canadian Embassy remains closed
Following the attack (claimed by anarchist group Rouvikonas) on Sunday, the embassy is closed Monday - story at eKathimerini. Athens foreign ministry has condemned the attack - story at Athens News Agency.
Erdogan speaks of a "Larger Turkey"
Tovima on an Erdogan speech to Turkish Youth Foundation.
Greece, Israel and Cyprus playing "dirty tricks" on Turkey
Erdogan's economic advisor Yigit Bulut claims that Cyprus, Israel and Greece are playing "dirty tricks" on Turkey, and if there is a naval confrontation, Greece will be "destroyed"- story at KTG.
Russia claims FYROM vote in Skopje was "rigged"
Story at Reuters about the claim made by the Russian foreign minstry.
Dijsselbloem: not proceeding with pension reform will reset the problem
Story at Kathimerini concerning pensions, more at Athens News Agency on the full interview.
Italy's Salvini asks why Russia is sanctioned over Ukraine, but Turkey isn't over Northern Cyprus
Story at Protothema.
Piraeus Port Authority (PPA) wants approval on investment
Story at Shipping Herald - The PPA is owned 51% by China's COSCO Shipping company and is seeking the Greek shipping minstry to hurry up investment approvals, and if this is not done soon then legal means will be turned to says PPA CEO Captain Fu Chengqiu.
---
The Dimitrios shipwreck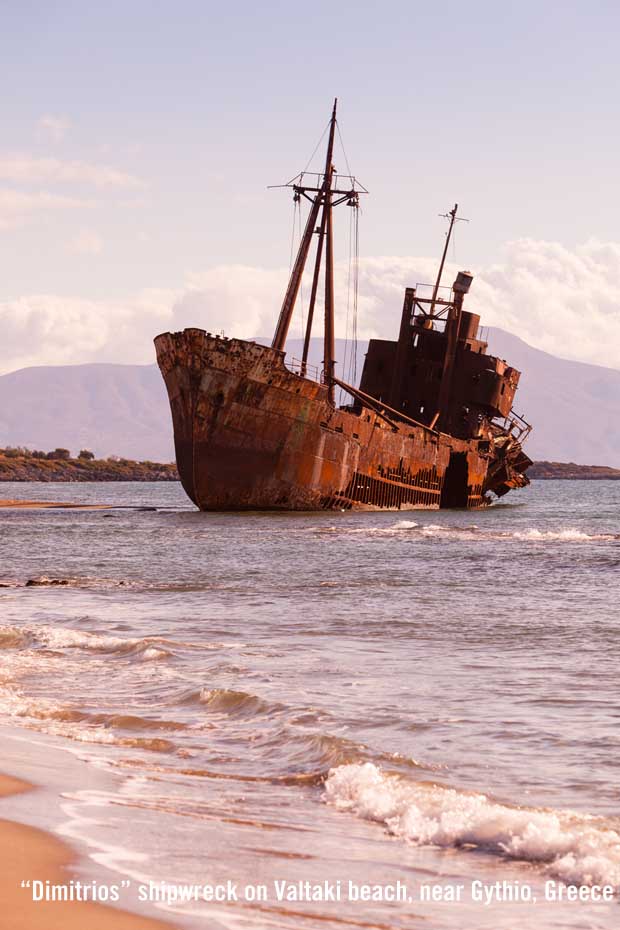 The "Dimitrios" shipwreck on Valtaki Beach, near Gythio, Greece.
---
October 21, 2018
Video shows officer at migrant facility using abusive language; gets suspended
Reuters story about the incident at the Moria camp at Lesvos.
Egypt's Shoukry suggests Greece to join the Suez Canal Economic Zone (SCZone)
Article about meeting between Egypt's Foreign Minister, Sameh Shoukry, who met Greek Deputy Foreign Minister Terence Quick on Sunday - story at Egypt Daily News.
Greece has highest indirect taxes in Europe
eKathimerini on this dubious honor, with France and Cyprus following. Consumption and VAT is the principal cause of pushing Greece to the head of the list.
---
Poros, Greece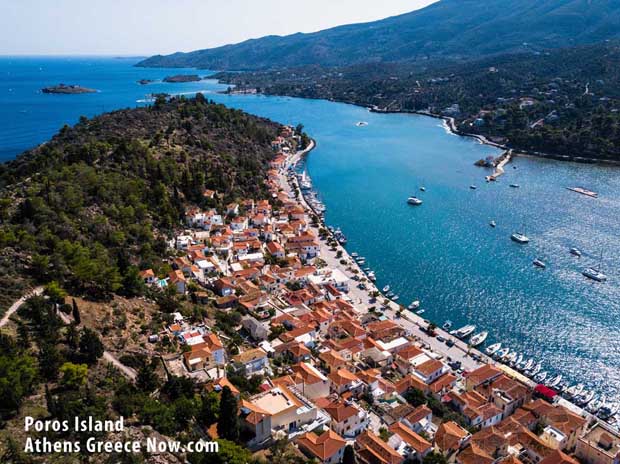 ---
October 20, 2018
Kotzias last action in office was to extend Greek waters from 6 to 12 nautical miles on Western side
Story at eKathimerini on the significant alteration of Greece's claims on it's territorial waters which effects the Diapontia Islands in the Ionian Sea, and Antikythera.
US government welcomes FYROM advances on Prespa Agreement
Story at Naftemporiki [in Greek].
Jailed AID workers in Greece
CNN on the plight of aid volunteers from non-profit Emergency Response Centre International who are in jail for trafficking undocumented migrants in Northern Greece. The CNN article (which also addresses similar situations in Italy) is firmly on the side of the aid workers and blames the Greek response as based on the idea that by persecuting aid workers, this will discourage other aid groups from coming to Greece, and this is needed because aid group volunteers encourage cross-border migration, creating even larger flows of migrations. This cause-and-effect narrative is not based on any actual quote from Greek officials in the article.
US Embassy responds to possible Zavvas Xriros release
Protothema on the negative response from the US Embassy concerning the imprisoned Nov 17 terrorist.
---
You will see Amazon links on this web site because I am an Amazon affiliate. I earn from qualifying purchases.
---
International Real Estate
Buying Real Estate Overseas For Cash Flow (And A Better Life): Get Started With As Little As $50,000
Published by Wiley, 1st edition August 11, 2020, 240 pages
---
Try Prime Discounted Monthly Offering
---
Greece: Biography of a Modern Nation - AMAZON - Published March 2020 - 600 Pages
---
NEWS ARCHIVE - October 2018
---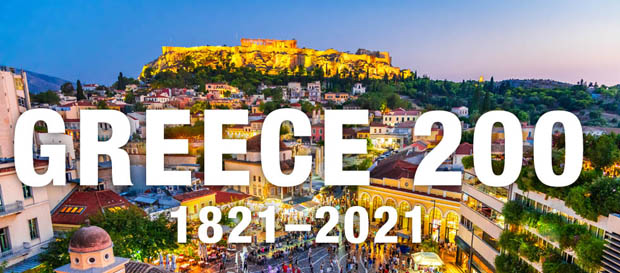 ---
You will see Amazon links on this web site because I am an Amazon affiliate. I earn from qualifying purchases.
Fodor's Essential Greece: with the Best Islands (Full-color Travel Guide)
---

---