Greece and the economic crisis 2018
NEWS ARCHIVE - May 1 - May 8
---
---
May 8, 2018
Breaking News! Counter-terrorist unit arrests 14 people - Protothema
According to initial reports, the suspects are allegedly involved in the so-called "revolutionary" fund of the terrorist groups.
---
The government will also ask for the cancellation of asylum for the second Turkish officer - Liberal GR
Cyprus, Israel, Greece push for gas pipeline to Europe - ABC News
Volunteers Who Rescued Migrants Are Cleared of Criminal Charges in Greece - NY Times
Turkish hackers strike Greek auto-company site - Protothema
Greek participation in Agritech of Israel - Naftemporiki
---
Germany strengthens Turkish aggression - efsyn.gr
"German-exported weapons of war, assembled in Turkey in the form of stalking submarines, are perfectly suited to Turkish aggression policy in the Mediterranean," said Diego Dagdemén, deputy parliamentary spokesman for the Die Linke party. It is also associated with "significant technology transfer to Turkey". "It is clear that Turkey plans to use this aggressive weapon in violation of international law against Greece and / or Cyprus," he added, pointing out that "it can not be understood how while the equipment of armored vehicles was temporarily suspended, of scuba diving submarines proceeds normally ".
---
Eight Years on, Eight Big Questions Still Looming for Greece - MSN News
While Greece has made clear it wants a clean exit when its bailout expires in August, its huge debt load means it's bound to be under close surveillance for a while. This will be tighter than what's in place for countries like Portugal and Ireland and will include regular audits, though it's not yet clear how it will be linked to discipline from Greece's end. Still, a strong framework that keeps Greece on its toes is key for its return to the markets, ECB Executive Board Member Benoit Coeure said last month.
---
May 7, 2018
Gov't vows to complete four-year term amid calls for snap polls, blows to clean exit narrative - eKathimerini
Rising tensions in Aegean raise spectre of war between Greece and Turkey - UK Telegraph
Spaniards, Danes face Greece trafficking charges - France 24
Prince Charles and the Duchess of Cornwall touch down in a drizzly Nice as they kick off their five-day tour of France and Greece - UK Daily Mail
Greece has room for growth as shackles of austerity come off - Time UK
---
May 5, 2018
Greece's four biggest banks would lose 15.5bn euros of capital in stress scenario: ECB - The National AE
Greece says Syrian property law will impede refugees' return - Washington Post
Turkish municipal worker arrested at Greek border deported - eKathimerini
---
Greece busts cancer drug gang, arrests doctors and nurses - Sydney Morning Herald
"Twenty-one people aged between 22 and 70 have been arrested, among them doctors and nurses, according to the police. They are suspected of using forged prescriptions to get hold of the drugs which they then sent to warehouses in Italy, Germany and Switzerland where they were sold at a big mark-up."
---
DEPA to take part in a market test for LNG terminal - Hellenic Shipping News
New electronic auction allows growers to leave out the middle man - Horti Daily
Greece's National Bank CEO Fragiadakis steps down - MSN News
Greece, Macedonia to keep on working on name dispute - ABC News
New crisis would hammer Greek banks - Updated News
Greece's Tsitsipas clinches semi-final spot in Estoril - Gulf News
Greek PM attacks the press for trying to cancel his speech at Lesvos - Protothema
Unpaid taxes are building up again as taxpayers are unable to meet obligations - eKathimerini
Greece expels Turkish man who crossed illegally into Greece - Fox News
---
Two-Sided Surplus - Naftemporiki
"Primary surpluses without high growth rates can not be maintained for a long time. Especially if they are "produced" by high taxes and continuous income reductions, as is the case with Greece."
---
May 4, 2018
Council of State to rule on fate of Turkish '8' - eKathimerini
"The ruling by the Council of State judges is being closely watched, as it will also determine whether Greece will grant protection to another seven Turkish officers wanted by Ankara to stand trial for the overthrow attempt."
---
State's 'First Task' is to Defend Greece's Territory, Says PM - Greek Reporter
European support at the land borders between Greece and Turkey - Naftemporiki
Father Of Sailor Jailed In Greece Pleads For His Son's Return - mid-day.com
Over 75% of TAP pipes backfilled in Greece, Albania - Menafn
Greece stocks lower at close of trade; Athens General Composite down 2.18% - Investing.com
Turkish trading vessel collides with Greek navy patrol boat - eKathimerini
Greek economy staggers to its feet - Moneyweek
---
May 3, 2018
Greece's new startup culture: technology and seagrass sunglasses - Reuters
"Venture capital in the sector is growing... A European Investment Fund (EIF) initiative, supported by private investors, is expected to pump about 400 million euros ($479.48 million) into Greek startups and other small businesses over the next five years. In 2008, when George Tziralis, a partner at Marathon VC, launched a networking event for startups, about 12 people turned up. Now, between 200-300 people attend each month and three to five new startups are presented."
---
Greece's debt deadlock is taking long to resolve because it's unique, Luxembourg minister says - CNBC
Macedonian Defense Chief: Name Dispute with Greece Sole NATO Impediment - VOA
Greece's Sisyphean drama: From Grexit to exit to the markets? - Brookings
Concern about the intense odor in areas of Piraeus - EFSYN
"Anonymous Greece" responded to the Turkish hackers with a 12-hour cyber-attack! - Protothema
---
May 2, 2018
Movement for Change leader calls for snap polls, debate on measures - eKathimerini
Amid protests, Greece vows to reduce migrants on islands - ABC News
Chinese Tourists Visiting Greece to Rise 10-Fold - Hotel News
Athens warned must tackle high unemployment and low investment - UK Express
Greece prepares for first wind auction - Wind Power Monthly
Evros: Arrest of Turks in Kastanies - Naftemporiki
Greece's composure during Imia incident prevented worse developments, says Kotzias - Protothema
---
Parliament approves foster care bill in principle - eKathimerini
The bill, submitted by the labor ministry, was voted by the ruling coalition of SYRIZA and ANEL, and Potami. New Democracy, the Democratic Coalition and the Centrists' Union expressed reservations, the Communists voted "present" and Golden Dawn voted it down.
---
May 1, 2018
Greece reinforces land border with Turkey to stem flow of migrants - MSN News
Albania, Greece resume maritime border delimitation talks - ABC News
OECD: Greece Deserves Debt Relief After 'Enormous' Reform Push - VOA News
Greece aims to keep primary surplus at 3.5 pct/GDP until 2022 - Reuters
DW: Another look at the Greek-FYROM conflict - Naftemporiki
---
Greece getting its first English undergrad program
"The program will be dedicated to the study of the country's greatest assets – archaeology, history, the Greek language and literature – and the aim is to attract students from beyond the European Union."
---
You will see Amazon links on this web site because I am an Amazon affiliate. I earn from qualifying purchases.
---
International Real Estate
Buying Real Estate Overseas For Cash Flow (And A Better Life): Get Started With As Little As $50,000
Published by Wiley, 1st edition August 11, 2020, 240 pages
---
Try Prime Discounted Monthly Offering
---
Greece: Biography of a Modern Nation - AMAZON - Published March 2020 - 600 Pages
---
NEWS ARCHIVE - May 2018
---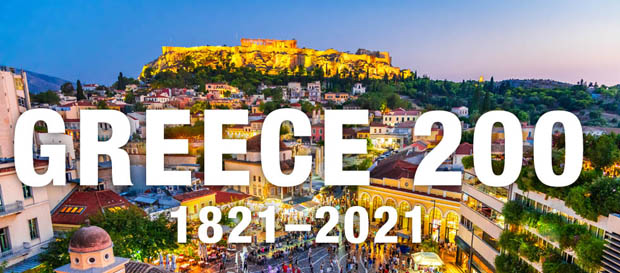 ---
Advertisement: I am an Amazon affiliate
Fodor's Essential Greece: with the Best Islands (Full-color Travel Guide)
---