Greece and the economic crisis 2018
NEWS ARCHIVE - May 1 - May 8
---
---
May 8, 2018
According to initial reports, the suspects are allegedly involved in the so-called "revolutionary" fund of the terrorist groups.
---
---
"German-exported weapons of war, assembled in Turkey in the form of stalking submarines, are perfectly suited to Turkish aggression policy in the Mediterranean," said Diego Dagdemén, deputy parliamentary spokesman for the Die Linke party. It is also associated with "significant technology transfer to Turkey". "It is clear that Turkey plans to use this aggressive weapon in violation of international law against Greece and / or Cyprus," he added, pointing out that "it can not be understood how while the equipment of armored vehicles was temporarily suspended, of scuba diving submarines proceeds normally ".
---
While Greece has made clear it wants a clean exit when its bailout expires in August, its huge debt load means it's bound to be under close surveillance for a while. This will be tighter than what's in place for countries like Portugal and Ireland and will include regular audits, though it's not yet clear how it will be linked to discipline from Greece's end. Still, a strong framework that keeps Greece on its toes is key for its return to the markets, ECB Executive Board Member Benoit Coeure said last month.
---
May 7, 2018
---
May 5, 2018
---
"Twenty-one people aged between 22 and 70 have been arrested, among them doctors and nurses, according to the police. They are suspected of using forged prescriptions to get hold of the drugs which they then sent to warehouses in Italy, Germany and Switzerland where they were sold at a big mark-up."
---
---
"Primary surpluses without high growth rates can not be maintained for a long time. Especially if they are "produced" by high taxes and continuous income reductions, as is the case with Greece."
---
May 4, 2018
"The ruling by the Council of State judges is being closely watched, as it will also determine whether Greece will grant protection to another seven Turkish officers wanted by Ankara to stand trial for the overthrow attempt."
---
---
May 3, 2018
"Venture capital in the sector is growing... A European Investment Fund (EIF) initiative, supported by private investors, is expected to pump about 400 million euros ($479.48 million) into Greek startups and other small businesses over the next five years. In 2008, when George Tziralis, a partner at Marathon VC, launched a networking event for startups, about 12 people turned up. Now, between 200-300 people attend each month and three to five new startups are presented."
---
---
May 2, 2018
---
The bill, submitted by the labor ministry, was voted by the ruling coalition of SYRIZA and ANEL, and Potami. New Democracy, the Democratic Coalition and the Centrists' Union expressed reservations, the Communists voted "present" and Golden Dawn voted it down.
---
May 1, 2018
---
Greece getting its first English undergrad program
"The program will be dedicated to the study of the country's greatest assets – archaeology, history, the Greek language and literature – and the aim is to attract students from beyond the European Union."
---
---
NEWS ARCHIVE - May 2018
---
---



---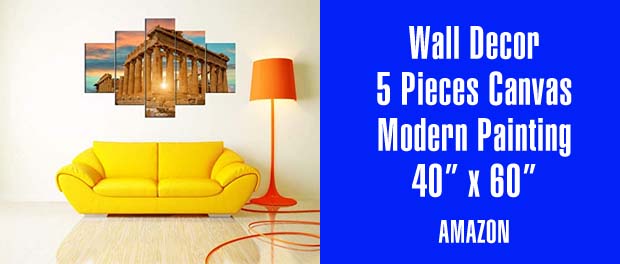 Parthenon Temple on the Acropolis of Athens Greece Artwork Wall Decor 5 Pieces Canvas Modern Painting Wall Art Home Decoration for Living Room Pictures HD Printed Framed Ready to hang(60''Wx40''H)
---