Greece and the economic crisis 2017
NEWS ARCHIVE - Sept 23 - Sept 30
---
---
September 30, 2017
US Naval Base at Souda Prominent in Trump-Tsipras October Meeting - Greek Reporter
"The Americans are eager to close the deal, because of the problems that Turkey's president, Tayyip Erdogan, is creating in eastern Mediterranean, mignatiou.com says."
From June 2017: Cementing a long-term deal with Greece - Souda Bay gives the U.S. a singulary valuable port in the Eastern Mediterranean - washingtontimes.com
---
How a foreign company buys property in Greece - Neos Kosmos
"The most common transaction we see is an overseas buyer purchasing real estate in Greece. However, sometimes a foreign company, without prior business activity in Greece looks to purchase property. Without prior dealings with Greek tax authorities, and no AFM, which is the Greek tax number, no progress can be made.

One of the preconditions, therefore, for a foreign company to purchase property in Greece is to apply for and obtain an AFM: required for every person and legal entity to do business and earn income in Greece."
---
Commission moves from mandatory refugee relocations to voluntary resettlement - protothema
"The countries who decide to take part in the resettlement scheme will benefit from financial incentives. Half a billion euros have been set aside for EU members to take at least 50,000 refugees directly from Africa, the Middle East and Turkey to discourage migrant boats from making the risky Mediterranean crossing."
---
Central Archaeological Councilis responsible for judging whether a site is of archaeological interest - efsyn.gr
"In the event that ancient artifactrs is found in Hellinikon, the cost of the excavations is borne by the investors. This is also envisaged in the "Memorandum of Understanding and Cooperation" (signed on August 24, 2017) between the Ministry of Culture and Hellenic SA.
More Coverage:
State law and Hellinikon - liberal.gr
---
Major EFKA debtors to be named and shamed - eKathimerini
"The Social Security Debt Collection Center (KEAO) will publish the names of 18,146 debtors with dues that exceed 15,000 euros each to the Single Social Security Entity (EFKA) this winter unless they pay up or make arrangements to settle their debts by November 30."
---
September 29, 2017
Greece raises €3bn in first bond sale for three years - Financial Times
"The ambivalent messages sent by investors is symbolic of the Tsipras government's mixed success in shaking off the damage done by its 2015 bailout brinkmanship that spooked investors and eurozone officials, ultimately forcing the closure of Greek banks for three weeks."
---
Greece opens Russian cybercrime suspect's extradition case - abcnews
"Complicating matters, Russia is also seeking his extradition on separate fraud charges. A panel of judges is expected to examine that request next week, which Vinnik's lawyer has said he will not challenge. In Greece, extradition disputes involving two or more countries are typically resolved by the justice minister."
---
September 28, 2017
25 migrants rescued, 1 child dies in boat accident - Foxnews
"Greece's coast guard said Thursday a vessel from the European border agency Frontex initially picked up six people found in the sea northwest of Kastellorizo, and a search was begun to find other potential survivors."
---
Why Germany's Shakeup Won't Help Greece - Bloomberg
"...That Merkel is willing to move Schaeuble out of the finance minister's job shows the seriousness of her intention to build a stable coalition with the FDP and the Greens. But the finance ministry will likely go to the FDP, which won more votes in the election than the Greens, and made clear its ambition to secure the finance post even before the election campaign was over. Unfortunately for Greece and other southern European nations seeking financial help, the party's potential candidates are likely to be as tight-fisted as Schaeuble. The FDP is not ordoliberal -- it's unabashedly neoliberal. It is firmly opposed to fiscal stimulus, debt write-offs, transfers of German money to neighboring countries, and budget deficits, and its opposition has less to do with continuity than Schaeuble's was: It's a matter of principle."
---
September 27, 2017
Greek central bank dismisses Anonymous hacking claim - Reuters
"Greece's central bank dismissed claims by hacking group Anonymous that it had accessed confidential internal files, saying on Wednesday the material was already in the public domain."
---
EU closes Excessive Deficit Procedure for Greece as finances stabilized - keeptalkinggreece
"From a deficit of 15.1% of GDP reached in 2009, Greece's fiscal balance has steadily improved, turning into a 0.7% of GDP surplus in 2016. Although a small deficit is projected for 2017, the fiscal outlook is expected to improve again thereafter. Greece's debt-to-GDP ratio peaked at 179.0% in 2016 and is expected to decrease over the coming years."
---
Schaeuble to Leave German FinMin: Not Necessarily Good News for Greece - Greek Reporter.com
"Germany's pro-austerity Finance Minister Wolfgang Schaeuble is ready to quit his job and become head of the lower house of parliament, the Bundestag, a senior member of Chancellor Angela Merkel's conservatives said on Wednesday, following Sunday's election."
---
Greece uses Spurs game to call for return of Elgin Marbles - UK Express
"Tottenham Hotspur fans were greeted at last night's away match against APOEL FC in Nicosia, Cyprus, by massive banners calling for the 2,500-year-old Parthenon statues and stone artefacts to be sent back to Greece."
---
Archaeological council meets on Elliniko investment - eKathimerini
"The Culture Ministry's Central Archaeological Council (KAS) was meeting on Wednesday to determine whether any parts of the capital's old international airport at Elliniko, southern Athens, should be declared of archaeological interest... "
---
Schauble to quit finance ministry - Protothema
"...Bild reported that Schaeuble, the longest-serving member of parliament, had been urged by Chancellor Angela Merkel to take the post of president of the Bundestag parliament, and that Schaeuble had agreed to do so."
---
Wolfgang Schäuble to step down as German finance minister - Financial Times
"A conservative foil to the more liberal Ms Merkel, he was a crucial ally in her struggle to save the single currency...

That was never more obvious than during the Greek crisis, when Mr Schäuble made it clear he was prepared to let Greece leave the eurozone. Ms Merkel, meanwhile, was persuaded to let it remain."
---
September 26, 2017
British woman 'may have been attacked by wolves' in Greece - bbc.com
"Coroner Nikolaos Kifinidis suggested she may have been attacked by other wild animals such as wolves or jackals."
---
Media workers go on 24-hour strike in Greece over health care fund - presstv.com
"Greece was under a news blackout on Tuesday after the country's biggest press union called a 24-hour strike to protest the feared closure of a special health care fund for media employees."
---
Endurance tests of Greek banks before August 2018 - Naftemporiki
"The stress tests of the European banks were scheduled for October 2018, when the Greek banks would also participate. However, with IMF pressure, European partners have been persuaded to move ahead earlier due to the prospect of [Athens] leaving the memorandum. According to a report by Reuters, resistance tests are likely to be completed in early May."
---
September 25, 2017
Greece Must Wrap Up Review by Year-End to Start Talks on Bailout Exit-Dijsselbloem - nytimes.com
"The review is now the next step. It can and should be done before the end of the year," Dijsselbloem told Greek President Prokopis Pavlopoulos during his visit to Athens.

"Opening up the talks on how to do the exit of the programme is the next step and I would agree with anyone who expresses the deep wish that Greece becomes financially independent again."
More Coverage:
Greece Must Wrap up Review by Year-End to Start Talks on Bailout Exit - usnews.com
---
Greek police expose audacity of £3,000-a-day pickpocketing gang - UK Guardian
"Foreign visitor numbers are expected to top 5 million, more than the Athens urban area population, by December. Profiting from the drop in the number of tourists heading to Egypt and Turkey, Greece is expecting an unprecedented 30 million tourists in 2017.

...Police believe 18 gang members are still at large. Most of those arrested, including a woman thought to be the gang's leader, were from Albania. A former Greek police officer, who played a key role providing protection, was also among those arrested."
---
Refugee arrivals double this month on Lesvos - eKathimerini
"Nearly 2,000 refugees and migrants arrived on the island of Lesvos so far this month, nearly double the number that arrived on the island by boat from Turkey in August...."
---
EU ends action forcing Greece to reduce its deficit - Fox News
"EU headquarters said Monday that Greece's "deficit is now below 3 percent of GDP," the ceiling for European government deficits."
---
Missing British woman reportedly killed by stray dogs - MSN
"She was reported missing on Thursday after walking back to her accommodation in Maroneia in the northern part of the country following a visit to a nearby archaeological site. Reports in Greece suggested the woman had tried to contact her relatives in London after being attacked by the wild animals but had lost signal on her phone."
---
Woman dies in northern Greece after deep dive - businessinsider.com
"His 45-year-old wife, who was with him, became unresponsive and was pulled to the surface from 60 meters (200 feet) down. Despite efforts to revive her, she was pronounced dead."
---
Santorini (Fira)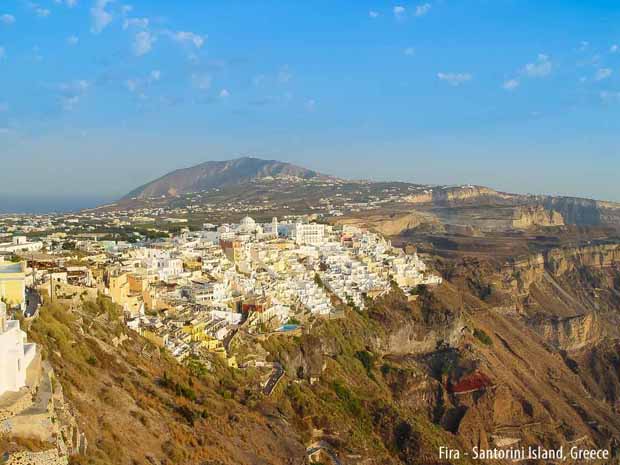 ---
September 24, 2017
Weather to take turn for the worse in Greece from Sunday - tornosnews.gr
"The weather in Greece is expected to deteriorate from Sunday night, with rain and storms beginning in the west and northwestern parts of the country, possibly accompanied by hail and strong winds."
---
September 23, 2017
Long-Lost temple of Artemis revealed after 100-year search - Newsweek
"The Swiss-led team discovered the site at the foot of the a hill near the fishing town of Amarynthos, which lies on the western shore of the island, just off the Greek mainland. The temple was finally uncovered six miles from the site where experts had originally believed the sanctuary to be located."
---
Greece: Court decisions pave way for first forcible returns of asylum-seekers under EU-Turkey deal - pressreleasepoint
"If the applicants, 'Noori', a 21-year-old nursing student, and 'Afaaz', are deported it will be the first formal return of an asylum-seeker from Greece to Turkey on the basis that Turkey is a safe country since the EU-Turkey deal came into force."
---
NEWS ARCHIVE - September 2017
---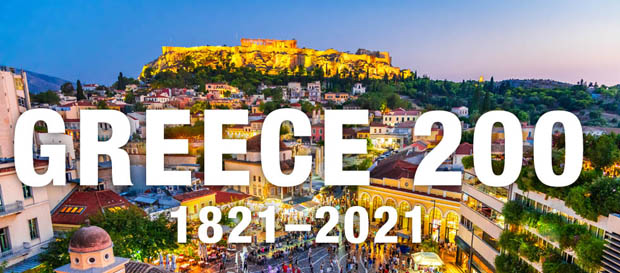 ---
You will see Amazon links on this web site because I am an Amazon affiliate. I earn from qualifying purchases.
Fodor's Essential Greece: with the Best Islands (Full-color Travel Guide)
---

---