Greece and the economic crisis 2017
NEWS ARCHIVE - Sept 1 - Sept 7
---
---
September 7, 2017
Macron, in Greece - ABC News
"Speaking in Athens Thursday, Macron said he decided not to call off his two-day visit to Greece because prevailing weather conditions would have prevented a flight to the French territories, and an emergency government meeting in Paris was concluded before he left."
---
Macron, in Greece, pushes vision of deeper euro zone integration - Reuters
"Macron praised Greece's austerity reforms but said ordinary Greeks had paid a heavy price and reiterated his call for an easing of the country's debt burden."
---
Speaking to Kathimerini, French president appears optimistic about Greece's prospects - eKathimerini
"...positive signs are multiplying: Growth is returning, investments are growing, unemployment is dropping. In Greece we still find the great ills that plague Europe, such as youth unemployment. But Greece can once again plan its future with confidence. And, just as France stood at its side during the crisis, France will support Greece in this new beginning."
---
Dozens of migrants found on crippled yacht off Greece - Fox News
"The coast guard says that between 50 and 70 people are believed to be on the vessel, which is expected to reach the port of Iraklion on Crete later Thursday."
---
TAP: Roughly 2,500 tie-ins completed in Greece, Albania - Azer News
"Once built, the onshore pipeline itself will be buried at least one meter beneath the ground and therefore not visible for the entire route. Only facilities such as the pipeline receiving terminal, compressor and block valve stations will be above ground and they will be designed, constructed and screened to have minimum environmental impact."
---
Tsipras: Greek-Bulgarian railway link a strategic project - Protothema
"...Mr. Tsipras stressed the significance of the project dubbing it crucial for the cooperation between the two countries. "The collaboration between Greece and Bulgaria is of crucial significance for the Balkans", Mr. Tsipras underlined."
---
September 6, 2017
Workers in Greece's asylum service launch 2-day strike - Washington Post
"Greece's asylum service faces a huge workload due to the increase in applications from refugees and migrants over the past year.

Although arrival numbers have decreased, last year's agreement between the European Union and Turkey to limit illegal immigration has led most refugees and migrants coming from Turkey to seek asylum in Greece."
---
Avramopoulos: EU-Turkey deal cut migrant arrivals 97 percent - eKathimerini
"EU Migration Commissioner Dimitris Avramopoulos said Wednesday that "the EU-Turkey statement continues to work and deliver results."
---
Greece, Bulgaria sign off on €5B rail deal - worldbulletin.net
"The line will link the ports of Kavala and Alexandroupoli in northern Greece on the Aegean Sea with Bulgaria's Burgas, Varna and Port Ruse on the Danube River."
---
Drone captures tropical paradise of Petalioi, Greece - msn.com
Video footage from the air, runs appox 1:16 minutes.
---
ECJ ruling on refugees: no more excuses to delay transfers from Italy and Greece - pressreleasepoint.com
"Against the background of severe migration and refugee crises in the summer of 2015, the EU adopted two emergency decisions to relocate thousands of refugees. 160 000 asylum seekers with a high chance of being granted refugee status from Italy and Greece were to be relocated by September 2017 to other member states where their applications would be processed."
---
---
September 5, 2017
French President to convey message of confidence towards Greece during visit - Tornos
"Macron will meet on Thursday with Greek President Prokopis Pavlopoulos and Prime Minister Alexis Tsipras, with whom he will discuss issues of bilateral and European issues. In the evening he will speak on the hill of Pnyx, in central Athens. The French president wants to express his confidence for the new chapter opening for Greece and for Europe, the official said. By choosing to speak before youngsters, students and teachers of the French language at the Pnyx, Macron selects it as a symbol of the new page Europe has turned after the economic crisis and the crisis of confidence that swept through it. He is keen to show that Europe must be rebuilt democratically."
---
Markkanen With Another Very Good Performance as Finland holds off Greece - msn.com
"Although Markkanen didn't play as spectacularly as he had in his previous three EuroBasket games, his 17 points on 5-for-9 from the field and six rebounds were key in Finland's 89-77 win against Greece."
---
Educational Buildings (Construction) in Greece: Market Analytics by Category & Cost Type to 2021 - PR Inside
Report Scope
A top level overview of the educational buildings construction category in Greece.

Historic data provided from 2012 through 2016 and forecast from 2017 through 2021.

A detailed breakdown of the data by construction activity (new construction, repair and maintenance, refurbishment and demolition) and by cost type (construction materials, construction equipment & construction services) across the educational buildings market.
September 4, 2017
Ernst & Young: M&A activity on the rise in Greece - Tornos News
"...estimates that the local M&A market is improving have risen to 43%, from 21% in October and 8% in April 2016. In particular, a 60% (from 35% in October last year) said the quality of takeover opportunities was improving."
---
UK: Cyprus talks not over - eKathimerini
"...British high commissioner in Nicosia, Matthew Kidd, said Monday he does not think there is a deadlock with regard to the Cyprus problem, despite the acrimonious breakdown in talks in July. In remarks to Cyprus's CYBC radio Monday, Kidd insisted that a way must be found to take advantage of the progress that had been made in the talks."
---
Belgium qualifies for World Cup after beating Greece - businessinsider
"Victory leaves the Belgians top with an unassailable eight-point lead over second-place Bosnia and Herzegovina. That makes Belgium the first European team confirmed for the World Cup besides host nation Russia."
---
TAP's construction in Greece's Kastoria to start in coming months - azernews
"The construction of the Trans Adriatic Pipeline (TAP) in Greece's Kastoria region is expected to start in coming months...

..Reportedly, during the two-year period of construction of the pipeline in Kastoria region, the TAP company will gradually employ a significant number of employees, technicians and executives."
---
---
September 3, 2017
Greece vs. Belgium: World Cup 2018 Qualifying Live Stream, Preview - bleacherreport
"Belgium can secure their place at FIFA World Cup 2018 with victory over Greece on Sunday, September 3, at the Stadio Georgios Karaiskakis in Athens."
---
Greece hopes for debt relief as bailout program enters final 12 months - cnbc.com
"Tsipras's objective is to re-gain full market access to international bond markets and to leave institutional help behind, so the subject of long-term debt is one that will continue to dominate discussions as it draws closer to September 2018. In July, Greece dipped into bond markets after a 3-year hiatus, issuing 5-year debt at an average yield of 4.66 percent. Greece is expected to return to the market again in the next 12 months."
Is Greece starting to get close to the exit door on the managed supervision of the economy? Tsipras is facing an election year [scheduled for 2019] and by either getting further from the grip of Greece's creditors or by just looking like it will be a inevitable step that's near at hand, can use either instance as leverage for a positive presentation about the Greek economy and the future of Greece. Overcoming New Democracy's polling lead may depend upon a lot of good news coming out of not just Athens, but from the EU (or, that is, Berlin).
Beyond just talking about the Greek future as good and getting better, by breaking free from creditor controls, a number of moves become possible: SYRIZA can get into the business of public sector hiring (which will help erode those bad unemployment numbers, and also grow the block of SYRIZA voters) and by raising money through new debt creation on the international bond markets can then (possibly) start reversing austerity policies that had the effect of making it look like SYRIZA was taking away things from Greeks (pension levels, for example) and instead make it look like SYRIZA is bestowing gifts (raising or padding pensions, for example).
Will this be a return to business-as-usual pre-crisis? Doubtful, there are still so many issues within the economy that are still to be untangled, and with many previously 'nationalized' businesses now under long-term contract with non-Greek partners, the room to 'massage' numbers and to make decisions without compromise with outside agency is now more limited.
If the program ends in 2018, and SYRIZA has room to start fulfilling the deeper desires of it's political heart, will it make choices that meet the approval of the general populace, or execute ideological choices that alienates and smooths the way for New Democracy?
---
Athens prepares for Macron visit - eKathimerini
"... expectations over the visit are high in Athens, as Tsipras seeks to strengthen relations with Paris as a counterbalance to the austerity emanating from Berlin.

French officials say that the purpose of the visit on Thursday and Friday is to send the message that the eurozone needs deep reforms, as demonstrated by the financial carnage in Greece in recent years."
---
September 2, 2017
Greece's largest wine producing region celebrates harvest - xinhuanet.com
"Nemea, Greece's largest wine producing zone, located in the Peloponnese peninsula, some 120 kilometers northeast of Athens, welcomes harvest this autumn with a major feast. A month long festival which included theater, music and dance shows, as well as wine tasting tours and a race within the beautiful vineyards, ended on Sunday, as locals are getting prepared for one of the most significant stages in wine making."
---
September 1, 2017
Residential property price fall eases - eKathimerini
"The decline of residential property prices continued in the second quarter of the year, according to figures released on Thursday by the Bank of Greece, at a time when many were hoping the market would bottom out and start to stabilize."
Numbers are still declining but the rate of drop has decreased. Rural properties are showing the slowest rate of decrease, and city properties, especially apartments over 5 years old, the highest (a better and more detailed analysis is in the article).
Regarding properties, there are expectations (not mentioned in this article, but elsewhere) that once Greece has got a pattern of positive ELSTAT numbers behind it, the property situation in Athens and the top tourist locations will boom, and there is the expectation that there are maneuvers already happening to be in a position to take advantage of these low pricings, that is, if the economic numbers keep coming out as at least grudging positives and the political situation doesn't shake-up badly in 2018. A problem for bargain hunters will be identifying properties that have had the least amount of physical decay after the long years of austerity when maintenance was often spotty or abandoned.
---
A Greek Drama, London Actors, and a European Stage - Bloomberg
"People familiar with how the Brexit talks are progressing in Brussels say the U.K. plan may be to intentionally string things out until a summit of EU heads of government in October, where British Prime Minister Theresa May will seek a grand bargain with her continental counterparts. Veterans of the Greek crisis's "political negotiations" would advise May to be careful what she wishes for."
The UK has the intimidating process of negotiating "brexit" and participants have been studying the book by Yanis Varoufakis Adults in the Room: My Battle with the European and American Deep Establishment
as if it is a "how to" volume.
---
Greece's Economy Grows Some More - Wall Street Journal
Article is behind paywall:
"Gross domestic product increased by 0.5% in the April-to-June period from the previous quarter"
---
Greece hopes for debt relief as bailout program enters final 12 months - cnbc.com
"There is now light at the end of the tunnel," Greek Finance Minister Euclid Tsakalotos said hopefully in June. After months of wrangling, the European Union and International Monetary Fund had just agreed to release more rescue funds to the perennially troubled nation, bringing the total from its third bailout alone to 40.2 billion euros ($47.75 billion).
Whether the next Greek government is led by Tsipras or by New Democracy, the looming problem is to keep Greece from gliding into another bail-out program which would make reentering the debt-bond markets problematic, keep Greek bonds from going into the Public Sector Purchase Program from the EU Central Bank, and keep the powers in Athens boxed in by the requirements from the EU bailout mechanisms.
---
Even Greece's economy is now growing faster than the UK - Business Insider
Growth came in at 0.5%, ahead of the 0.4% growth in the first quarter, and well up on the 0.2% expansion that had been forecast prior to the release.
This is an "apples and oranges" article that contrasts things that are not really related, as the article itself says: "...to be clear, Britain and Greece's economies are not hugely comparable." But the main point given is to highlight a certain fact, which is that the UK had very high growth until the Brexit vote, and has ever since been "stuttering" with uncetainty.
---
Greece's GDP rises 0.8% on year in second quarter - marketwatch
"Compared with the second quarter of 2016, Greek GDP grew by a 0.8%"
---
Official figures show Greece's economy grew for a second straight quarter
"Figures from the Hellenic Statistical Authority showed that the Greek economy, battered by years of crisis, expanded by a quarterly rate of 0.5 percent in the April to June quarter. As a result, the economy is 0.8 percent bigger than the same quarter last year. "
---
---
NEWS ARCHIVE - September 2017
---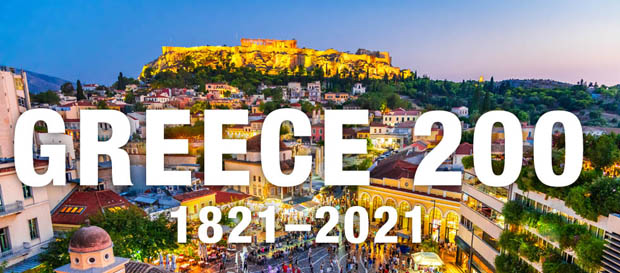 ---
Advertisement: I am an Amazon affiliate
Fodor's Essential Greece: with the Best Islands (Full-color Travel Guide)
---

---