Greece and the economic crisis 2016
NEWS ARCHIVE - June 24 - June 30
---
June 30, 2016
Greece Retail Sales Fall Further In April - RTT News
"Greece's retail sales continued to decline in April, preliminary figures from the Hellenic Statistical Authority showed Thursday.

Retail sales slipped 3.9 percent year-over-year in April, following a 4.0 percent decrease in the previous month. Sales have been falling since June last year."
---
Greece on track with reforms - DW com
That headline is the whole story
---
House session on Cosco deal delayed - eKathimerini
....On Wednesday, Cosco accused the Greek government of overturning fundamental parts of the 368.5-million-euro deal signed in April.

Addressing Parliament on Thursday, Shipping Minister Thodoris Dritsas (photo) said the administration was examining legal improvements to the legislation which would be presented to the House later on Thursday.
---
Bulgaria, Greece expand gas interaction - Trend Oz
"The agreement is the first step in giving access to other market players – for north- or southbound deliveries – along and beyond the important Trans-Balkan gas corridor between Greece, Turkey, FYROM and Ukraine, the report said.

The achievement is part of the broader Central and South Eastern Europe Gas Connectivity (CESEC) initiative launched in 2015 by 15 of the EU, the Energy Community, and the European Commission with the objective of diversifying gas supplies and increasing security of supply in the region."
---
Public Power Corp workers force delayed meeting on sale - Reuters
"Thursday's incident is symptomatic of fierce workers' resistance to privatisations in Greece, which have frequently been put on the back burner because of staff objections or government reluctance.

They are however a key element of a third international bailout Greece signed up to last summer, worth up to 86 billion euros."
---
Multilateral meeting between Iran, Armenia, Georgia, Bulgaria and Greece to be - Panorama held in Sofia
"To remind, during a meeting with Armenian Foreign Minister, Edward Nalbandian, President of Iran, Hassan Rouhani said that Iran could connect the Black Sea to Persian Gulf via Armenia."
---
June 29, 2016
Greece's depression is forcing dis-saving on an epic scale - Financial Times
"The combination of mass joblessness, wage cuts, and higher taxes means disposable household incomes have fallen even further. To make up the difference, Greeks have been eating into their savings. In 2006-2009, the personal savings rate averaged about 6 per cent. In 2015, the rate was -6 per cent.

The total amount of dis-saving since mid-2011 implies Greek households have eaten into €19bn worth of savings even as their living standards have cratered.

...the sky-high cost of capital relative to the rest of Europe, which suggests there is real demand for worthwhile projects but insufficient resources to fund them. Difficulty raising money to invest in additional capacity may explain the unusually poor performance of the Greek export sector despite massive wage cuts. The European Central Bank's recent decision to lower Greek banks' funding costs should therefore be helpful — if ever a country needed easier monetary policy, it's Greece today."
---
June 28, 2016
Greece's Fragile Economy Faces New Tests After Brexit - HuffingtonPost
"Greece's already-fragile economy faces new challenges in an increasingly unpredictable post-Brexit world. Especially worrisome are the potential effects Britain's decision could have on two of the country's essential industries: shipping and tourism.

"...Although the result shocked me, I think we should remain calm. The EU doesn't end today — we must take this opportunity to correct the mistakes it has made, which have turned many Europeans against it. Because of these mistakes, we often forget the good things that it still has to offer. The EU is our home. This is certainly not good news for Greece. Our effort to exit the crisis becomes more complicated because this decision disrupts our economy. Also, the EU's reaction will be a much stricter implementation of rules."

— Adonis Georgiadis, vice president of the New Democracy Party, Greek MP"
---
Struggling with Austerity, Greece Gets a Cultural Center to Cheer About - Blouinart
"Greece is now home to a new €596 million complex that will house the Greek National Opera and the National Library of Greece. Unveiled to the public this past weekend in Athens, the 226,000-square-foot Stavros Niarchos Foundation Cultural Center, designed by architect Renzo Piano and boasting the highest LEED certification, Platinum, includes a solar canopy that will provide energy to the buildings, a 1,300-foot canal, and a 560,000-square-foot park landscaped with indigenous plants.

It all seems almost obscenely lavish, given the austerity measures imposed on the country in recent years. But the state applied nearly 10 years ago for the funding. And the Stavros Niarchos Foundation, a private grant-making organization established by the Greek shipping tycoon in 1996, awarded the contract just before the crisis struck.

...The new building will house the region's first public library, with community work areas, recording studios, and book borrowing privileges. It will also contain climate-controlled conservation centers to better preserve the library's 5,000 ancient manuscripts, the oldest dating back to the 10th century."
---
Why Britain is the New Greece - WSJ
"This time last year, Greece voted against a new bailout from Europe and other lenders after being told by the "No" campaign that they could reject austerity policies while staying firmly in the Eurozone.

Many Brexit supporters now think they can keep unfettered access to Europe's single market, while ending contributions to the EU budget and shutting the door on free movement of labor. But both are key conditions to access the single market. That won't change."
---
June 27, 2016
Brexit impact on Greece seen limited: Bank of Greece - Investing.com
Britain's vote to exit the European Union will have a limited impact on the Greek economy, central bank officials said on Friday.

"The impact of Brexit on Greece will be small, limited," one of the officials told Reuters. "Capital controls will shield us from the fallout."
---
EU official to Athens: Forget Brexit, quickly implement Greek program
"...speculation claiming creditors will press for an elimination of the so-called "13th" and "14th" salaries in the private sector, reminding that the problem in Greece is not the level of remuneration but non-wage costs burdening employers.

In terms of the thorny issue of Greek debt relief, the official said the IMF's continued participation in the Greek program was unclear, as the latter is insisting on the immediate quantification of measures for such relief, even if applied after 2018, when the program is due to conclude."
---
The EU will treat Brexit Britain like Greece - UK Telegraph
".... Alexis Tsipras snubbed Brussels, and called a referendum on the third bailout that was designed to save the Eurozone from collapse.

The terms he was later given - €50bn of assets sold and a de facto control of economic policy surrendered - were so harsh they were later denounced as a "coup".

It taught me two things: that in the cause of its salvation the European Union can be profoundly flexible and exceptionally brutal, and that events can swiftly take a momentum that is hard to control."
The UK Telegraph aso has an easy to understand map of the discontents in Europe, at present, in regards to the EU- online map
---
Straight out of a dream: Now's the best time to visit Greece's Cyclades
"The geopolitical turmoil that Greece is currently facing should not deter you visit this haven of tranquillity in Southern Europe. In fact, there is no time more opportune than now as a fall in bookings has led many hotels to cut prices already."
---
June 25, 2016
Athens braces for Brexit impact - eKathimerini
"Among the fears expressed by Tsipras's aides is that some member-states might prefer to work toward a two-speed Europe, leaving countries like Greece lagging behind. This might also involve the member-states trying to take on greater authority in the decision-making process and sidelining the European Commission to some extent. Athens sees this as a negative development because it would complicate efforts to reach an agreement on restructuring Greek debt.

...There are hopes in Athens that the economic instability Brexit is expected to create might encourage the European Central Bank to bring forward its decision to grant Greece eligibility for its quantitative easing program. The ECB said last week it would issue such a verdict once it has conducted its own debt sustainability analysis. This is not expected to be completed before November."
---
A year after Grexit scare, Greece faces Brexit fallout - DW.com
"....On news channels, bleary-eyed analysts discussed the European Union's health and how Greece might re-evaluate its business relationship with the UK in light of the result - especially in relation to the vital shipping and tourism sectors. Silence took over at various points, with presenters unable to hide their surprise as more results came in in favor of Brexit.

"We need to fully respect the democratic decision of the British people," Dimitris Papadimoulis, who leads the ruling Syriza party's delegation to the European Parliament and had taken a staunchly anti Brexit stance, told DW. "Nonetheless, we should admit that it takes strong efforts and hard work from progressive and democratic forces to shift the decline of the EU's common values and rise of far-right parties."
---
From party animals to families, Greece's Cyclades have something for everyone - Euronews
"A top destination for summer vacations, Greece is suffering from the geopolitical situation this year. But holidaymakers would be wrong to shun this haven of tranquility in Southern Europe as a fall in bookings has led many hotels to cut prices already. Anyone keen to snap up a bargain break can head to the Aegean Sea where Greece's Cyclades islands have something in store for all kinds of"
---
Greece Condemns State-Sanctioned Quran Readings at Hagia Sophia - Breitbart
"Greece has been angered by the recent broadcast of Quran recitations at the secular facility in Muslim-majority Turkey, a move that has been sanctioned and allegedly encouraged by the ruling Justice and Development Party (AKP) of Islamic President Recep Tayyip Erdogan.

"The recitation, broadcast live on Diyanet TV, aroused a furious reaction from Greece, which for years has warily eyed what Athens sees a creeping Islamization of the building," reports AFP.

"This kind of obsession — bordering on bigotry — for holding Muslim ceremonies in a monument that belongs to the patrimony of humanity is incomprehensible and shows a lack of respect and contact with reality," Greece's Ministry of Foreign Affairs reportedly declared in a statement."
---
June 24, 2016
Countries in the Mediterranean Sea captured by the Sentinel-3A satellite - phys.org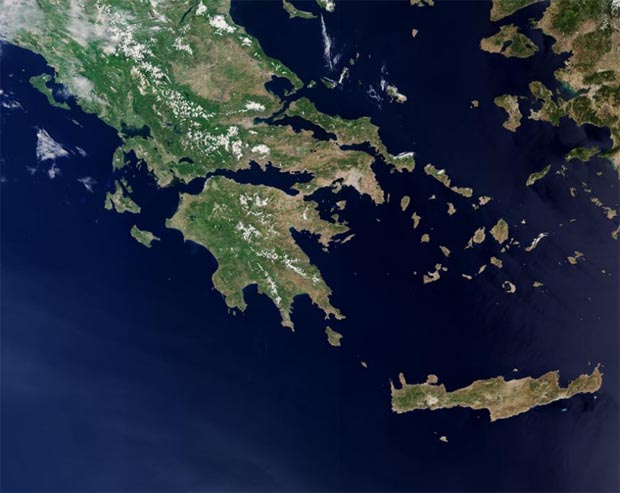 European Space Agency Photo
"Launched last 16 February, Sentinel-3A carries four instruments working together, making it the most complex of all the Sentinel missions. Its Ocean and Land Colour Instrument offers a new eye on Earth, monitoring ocean ecosystems, supporting crop management and agriculture, and providing estimates of atmospheric aerosol and clouds – all of which will bring significant benefits to society."
---
Voters in Sweden, Denmark and Greece demand their say on 'broken' Europe - UK Daily Mail
"In Greece, there were calls to follow Britain and walk away from the EU.

Florist Eleni Papadakis, 33, and a mother of one, said: 'I support Britain's decision just like I supported Greece's exit last year. The European Union is not a union anymore.

'It is just a couple of rich countries trying to get everything they can from the poorer ones. I don't believe that any Greek government will ever take the leap and leave the EU; they are terrified. However, I strongly believe that some serious internal conflicts will definitely come up in Britain.'
---
NEWS ARCHIVE - June 2016
---
---



---