Greece and the economic crisis 2016
NEWS ARCHIVE - April 11 - April 18
---
April 18, 2016
Key Draft Laws readied on Creditor-mandated Reforms - Newsmax
"The draft bills on pension and income tax reform are among measures under negotiation between Athens and its bailout creditors — European countries and the International Monetary Fund.

The talks, expected to be resumed this week, were initially meant to have concluded in October. A deal would open the way to negotiations on lessening Greece's crippling debt burden."
---
Greece considers proposal to unblock bailout review talks - Business Recorder
"Greece is considering adopting measures proposed by EU institutions now and agreeing to implement additional reforms if it misses its 2018 bailout targets, in an effort to unlock new bailout loans, a government official said on Sunday.

...The European Commission, the European Central Bank and the European Stability Mechanism believe Athens can achieve a 3.5 percent of gross domestic product target for its primary surplus in 2018, if it takes measures to plug a 3 percent fiscal gap."
---
Greek gov't will implement July's agreement; nothing more, nothing less, says Gerovassil - Athens News Agency

"All macroeconomic and fiscal figures reflect the progress of the Greek economy since July 2015, much better than all predictions. The economic figures are expected to be confirmed by EUROSTAT in the following days. We expect the conclusion of the agreement at technical level before the Eurogroup based on the Greek side's proposals," she said and announced that "in the following days two very important reforms will be tabled in the Greek parliament's committees that bear the stamp of the government's policy on insurance and taxation."
---
Greece, creditors in new bid to strike deal in bailout talks - News Today
"The institutions (creditors) will come back on Monday so that we can reach an agreement by April 22", Greek Finance Minister Euclid Tsakalotos told journalists.

The IMF has worked with the European Union on two previous bailouts for Greece since 2010, but said it would not participate in the latest rescue plan without credible reforms and an European Union agreement to ease Greece's debt burden. The sides continue to disagree over taxation, as well as pension and social security reforms."
---
Migrants return to railway line at Idomeni hours after being removed - eKathimerini
"The police operation on Monday morning led to dozens of refugees and migrants packing up their tents and vacating the area. The railway connection had been blocked for a month by refugees who were protesting FYROM's decision not to let them through."
---
Greece readies key draft laws on creditor-mandated reforms - Reflector
"The draft bills on pension and income tax reform are among measures under negotiation between Athens and its bailout creditors — European countries and the International Monetary Fund.

The talks, expected to be resumed this week, were initially meant to have concluded in October. A deal would open the way to negotiations on lessening Greece's crippling debt burden."
---
April 17, 2016
Greece to expel more migrants under EU-Turkey deal Friday - Tri-County Sun Times
"A second group of migrants arrived in Turkey from Greece on Friday morning under the EU-Turkey deal to return failed asylum seekers, a security source said.

...Migrants who have not been deported from Greece are being held in detention facilities while their individual cases are evaluated."
---
April 16, 2016
Big shortfall in March tax revenues - eKathimerini
...official figures from the Finance Ministry showed on Friday, as they posted a shortfall of more than 1 billion euros. However, on a quarterly level the revenue gap was contained at just 69 million euros as the state cashed in the Bank of Greece dividend of 775 million euros in February.

The big shortfall is seen in tax takings, which is what keeps leading the country's creditors to demand further measures, as tax collectibility has been dramatically reduced. This means that for each euro the state needs to collect, the government must impose a tax of more than 1.2 euros."
---
Pope Francis makes controversial visit to Greece to welcome migrants - Fox News
"Pope Francis made an emotional visit to Greece on Saturday to thank its people for welcoming migrants and meet with refugees as the European Union implements a controversial plan to deport them back to Turkey.

Greek state television ERT reported that Francis had offered to take 10 refugees — eight Syrians and two Afghans — back with him when he leaves.

...Greek Prime Minister Alexis Tsipras met him on the tarmac, along with the spiritual leader of the world's Orthodox Christians and the archbishop of Athens, who is the head of the Church of Greece.

Francis and the two Orthodox leaders, officially divided from Catholics over a 1,000-year schism, then traveled to the main detention center on Lesbos to greet some 250 refugees stuck there."
More Coverage:
Refugees in Greece overwhelmed by pope's visit to Lesbos - SF Gate
---
Pope Francis Takes 12 Refugees Back to Vatican After Trip to Greece - NYT
"At the migrants camp, Ecumenical Patriarch Bartholomew, the spiritual leader of the world's Eastern Orthodox Christians, reminded Europeans and their leaders that Christians and others are judged on how they treat the powerless. "The world will be judged by the way it has treated you," Bartholomew told the refugees. "And we will all be accountable for the way we respond to the crisis and conflict in the regions that you come from. The Mediterranean Sea should not be a tomb."

...Francis and the other religious leaders offered special praise on Saturday for ordinary Greeks who have welcomed refugees, taken some into their homes or provided food and clothing, even as they endure hardship amid the country's long-running financial crisis. Mr. Tsipras and other Greek leaders have called on the European Union to provide more help to the country as it has borne the brunt of the migrant crisis."
---
April 15, 2016
Greece ETF Jumps as ECB Hands Banks a Boon - ETF Trends
"Despite lingering concerns over a third bailout plan, Greek markets and country-specific exchange traded fund surged Friday, with banks leading the charge, on speculation that lenders will capitalize on the European Central Bank's updated quantitative easing program.

The Global X FTSE Greece 20 ETF (NYSEArca: GREK) increased 5.6% Friday. Nevertheless, GREK was still down 9.8% year-to-date."
---
Lagarde Skeptical Greece Can Meet Budget Targets - WSJ
"The head of the International Monetary Fund questioned Greece's ability to meet its budget targets, a salvo against Europe's insistence that Athens stick to its existing goals as part of a long-stalled emergency bailout deal.

...Speaking on Thursday on the sidelines of the IMF meeting, a top eurozone official said Greece's near term budget target isn't flexible. Jeroen Dijsselbloem, the Dutch finance minister who presides over the group of eurozone finance ministers, said the 2018 target wasn't going to change because it was one of the anchors of the agreement last summer."
More Coverage:
IMF: Current Greece Finance Plans Not Realistic - Business Recorder
---
Greek teams avoid 'soccer Grexit' - Neo Kosmos
"Last Tuesday Greece and FIFA reached an agreement to restart the Greek Cup, as announced by the president of the Cyprus Football Association (CFA), Costakis Koutsokoumnis. "We have reached an agreement, there is a commitment to begin the Greek Cup again," he stated after his meeting with Greek Deputy Sports Minister Stavros Kontonis and Greek FA president Giorgos Girtzikis."
---
Between inertia and panic - eKathimerini
"In the refugee and migrant crisis, this government was not the first to turn a blind eye while the flood of people did not stop here. It is unique, though, in that when our northern neighbors closed their borders it continued to pretend that nothing had happened. It had two aims: First, like our EU partners, the government hoped that refugees and migrants would stop coming to Greece when they learned that they would be trapped here; second, by leaving thousands of people to their fate in Idomeni on the border, the government could underline its argument that it is good and tolerant while our Balkan neighbors are not."
---
April 14, 2016
Greece conducts military drills along northern borders - Fox
"Greece's military is carrying out unscheduled exercises along the country's northern borders, with fighter jets flying over an informal tent city of 11,000 migrants next to the border with Macedonia.

Greek military officials say the drills, which foresee activation of rapid-response ground units and aircraft, as well as air defense units in parts of the eastern Aegean Sea, were ordered early Thursday."
More Coverage:
Military drills along northern borders - eKathimerini
---
In the midst of chaos - eKathimerini
"For six years and increasingly since January 2015, different governments have clashed with the creditors and then signed short-term agreements – extremely painful ones at that – simply to maintain the illusion that we will return to normality and much-touted growth. What's different now is the disharmony between the European Union and the IMF, with the latter declaring that the Greek debt is unsustainable and German Finance Minister Wolfgang Schaeuble arguing the opposite."
---
New VAT hike brings big price increase on products - Protothema
"The preannouncement of VAT hike from 23% to 24% will lead to new big price increase on products and services and many instances of speculation which will bring Greek people to their knees, who are struggling to survive."
---
Tsipras demonizes IMF to rally SYRIZA: Reuters - Protothema
"The leaking of a conference call of International Monetary Fund officials on Greece's latest bailout review has undermined the trust in debt talks, embarrassed the European Commission and infuriated the IMF and Germany, says Reuters.

...Greek Prime Minister Alexis Tsipras exploited the leak to demonize the IMF and rally Syriza members ahead of more painful sacrifices to secure the next tranche of European loans, and try to put his conservative opponents in a corner."
---
Greeks in Panama Papers to be investigated - eKathimerini
"Greek financial prosecutors were expected to forward mutual assistance requests to judicial authorities in Panama in the wake of revelations in the Panama Papers regarding Greek administrators of offshore companies in that country.

The requests were expected to be issued in the upcoming days, following an order by chief financial prosecutor Panayiotis Athanasiou."
---
Piraeus port decongestion well on track; Greece-Italy-Albania meeting on refugees on Thursday - Atens News Agency
"The port of Piraeus port will have been decongested by Easter," Alternate Defence Minister Dimitris Vitsas said in statements to ANT1 on Thursday adding that the decongestion procedure is well on track.

Another priority of the government is to decongest the facilities at Helliniko, he added."
---
April 13, 2016
With Migrant Mission to Greece, Pope Cements Orthodox Ties - ABC News
"Christianity's two most important leaders, still officially divided by a thousand-year schism, will be speaking with an increasingly unified voice that has gone beyond the realm of religion to confronting pressing issues such as climate change and humanitarian crises around the globe.

The visit, which comes on the heels of Francis' historic meeting with the head of the Russian Orthodox Church, is evidence of an increasingly important Catholic-Orthodox partnership that has been strengthened by shared concern for Christians being exterminated by Islamic extremists in the lands of Jesus' birth."
---
Turkey expects more Syrians to return from Greece under EU deal - Reuters
"Turkey has begun taking back Syrians from Greece under an agreement with the European Union aimed at stemming the flow of migrants into the continent, and it expects the number of Syrians returning to rise soon, it said on Wednesday.

Two Syrians were brought back to Turkey in the two first rounds of returns by ferry carried out under the deal, which took effect last week, Turkey's European Union Affairs Minister Volkan Bozkir told Reuters."
---
Greece: Major Reforms Ready, Despite Pause in Bailout Talks - NYT
"Finance Minister Euclid Tsakalotos said the meetings in Athens would resume Monday, with an aim to reaching an agreement by April 25-26 when he is due to meet with his peers from the 19-country eurozone.

...Greece has depended on rescue loans since 2010, and signed up to a third bailout last summer — worth up to 86 billion euros ($98 billion) — after the government ditched its anti-bailout policies to prevent a messy Greek exit from the eurozone. In return for the money due from the bailout fund, Greece has to implement an agreed set of reforms."
---
---
April 12, 2016
Hundreds hurt in police clashes at Greece-Macedonia border - Uk Guardian
"Dozens of migrants and refugees were wounded on Sunday when Macedonian police fired teargas and rubber bullets at crowds on the Greek side of the border, aid workers said, in an act condemned by Greece as "dangerous and deplorable".

More than 10,000 migrants and refugees have been stranded at the Greek border outpost of Idomeni since February after a cascade of border shutdowns across the Balkans closed off their route to central and western Europe. An earlier attempt by a large group of migrants to cross the border fence had resulted in the confrontation, a Macedonian official said.

Greece said police on the Macedonian side of the frontier had used teargas, rubber bullets and stun grenades to push back the migrants. Macedonian authorities would only confirm that they had used teargas."
---
Greece ferries migrants to Turkey under European Union pact - CBSport
"Merkel insists that the deal with Turkey, which hosts some 2.7 million Syrians, is the key to reducing the flow of migrants to Europe.

A small group of activists leapt into the water, clutching onto the anchor of the first ferry in an unsuccessful bid to stop a deportation effort which rights groups have harshly criticized. "In their desperation to seal their borders, European Union leaders have willfully ignored the simplest of facts: Turkey is not a safe country for Syrian refugees and is getting less safe by the day", said John Dalhuisen, Amnesty's director for Europe and Central Asia in a statement. The group said migrants, automatically detained by Greek authorities, are packed into tight quarters in containers, with not enough blankets to go around."
---
Negotiation talks between gov't and lenders break off - Protothema
"The negotiations between the Greek government and the representatives of lenders broke off at around 2:00 am after a 7-hour round of talks without reaching any agreement.

The new round of talks will resume on April 18 after the Spring Meetings of the International Monetary Fund (IMF) and the World Bank, Finance Minister Euclid Tsakalotos said."
---
April 11, 2016
Greek talks with IMF/EU lenders drag on, compromise seen - eKathimerini
"Just over ten hours of overnight negotiations between Athens and its lenders – the European Commission, the European Central Bank, European Stability Mechanism and the International Monetary Fund – broke off shortly before 7 a.m. They were scheduled to resume later Monday.

"There are some small details to settle on the fiscal side of things... We are very close," a government source said. Divergence remained over pension reforms and regulating non-performing loans, the source added."
---
Greece 'postpones' next batch of migrant deportations to Turkey - Media Juss
"The new Greek law allows as little as nine days for the whole procedure in which a person who arrives on an island would claim asylum, be rejected, appeal against the decision and get a final ruling.

...The first group of 202 migrants, most from Pakistan, were returned to Turkey yesterday from Lesbos and the Aegean island of Chios."
More Coverage:
Greece suspends refugee deportations to Turkey - Bilbaoya
---
Greece: 2 weeks or more to fix deportations - NewsTimes
"Greece says it will take at least two weeks to fix the process of deporting migrants from the eastern Aegean islands to Turkey.

The country's deputy foreign minister for European affairs, Nikos Xydakis, admitted as much at a press conference attended also by his colleagues from France, Italy, Malta and Portugal, as well as the foreign ministers of the Netherlands and Slovakia.

Deportations from Greece to Turkey have been temporarily halted as most of the 6,750 migrants in the Greek islands are applying for asylum and there is a lack of qualified officials such as translators to process the applications. Most of the experts promised by the EU have not yet arrived."
---
Lagarde admits to IMF mistakes, urges Greek gov't to do more - ekathimerini
"We have acknowledged one mistake, which had to do with the fiscal multipliers," Lagarde told Bloomberg Markets in an interview made public Monday, adding that the IMF and the Europeans had both underestimated the contracting impact of some of the recommended measures.

"We overestimated the ability of Greece to actually endorse and take ownership of measures that were needed, because we moved from one government to another to another to another, and it was always, 'It's not really our program, it's not really our reforms, it's not really our measures. It's imposed by the Troika putting all members in the same bag.' So I think that was overestimated," Lagarde said."
---
FYROM: We did what Greek police should have done - Protothema
"A new rise in tensions between Greece and FYROM after the violent incidents occurred in Idomeni, with the neighboring country claiming that its police officers did what Greek police should have done.

..."We are truly surprised by the Greek reaction in a situation in which Greek police forces just stood there and did nothing to help establish law and order and prevent these people from attacking our border," a source of interior ministry said on condition of anonymity, as balkaninsight reports."
---
April 10, 2016
Schaeuble: Solution on Greece will be found soon but without debt relief - Financial Times
"Schaeuble said given that the maturities on Greek debt were already up to 35 years and interest repayments had been deferred for 10 years, people who were talking about debt relief simply "don't want to talk about what Greece needs to do" and Athens needed to meet the conditions that had been set.

"We're helping Greece - we're buying it time," he said, adding that the lenders always fulfilled their agreements but it was difficult to get Athens to do the same."
---
April 8, 2016
Greece Hopes for Draft Agreement With Creditors But IMF, EU Rift Remains - WSJ
"Creditors are seeking a Greek commitment to budget savings, centered on overhauls of pensions and income taxes, worth about €5.4 billion, or 3% of Greece's gross domestic product.

Some Greek officials are hoping that a preliminary agreement could lead the European Central Bank to restore normal liquidity provisions for Greek banks. The ECB withdrew such liquidity in early 2015, when Greece's government, led by the left-wing Syriza party, threatened to reject the international bailout program. Since then, Greek banks have had to use a more expensive credit facility, called emergency liquidity assistance. A return to normal ECB funding for Greek banks could give a much needed boost to the country's credit-starved economy."
---
Embattled Greek statistics chief gets crowdfunding help from colleagues - eKathimerini
"Colleagues of Greece's former statistics chief, who faces accusations of falsifying fiscal data, have launched a crowdfunding initiative to help cover defence costs as his legal troubles look set to continue.

.Andreas Georgiou, a veteran International Monetary Fund statistician, was appointed head of statistics service ELSTAT in 2010 ...

...Georgiou left his job as head of Greece's statistics service in August 2015 when his five-year term ended."
---
Greece resumes migrant deportations from islands amid protests - Fox
"Amid protests, Greece on Friday resumed deportations of refugees and migrants from its islands to Turkey after a four-day pause, sending back 124 people on two boats from Lesbos to a nearby port on the Turkish coast.

...Some 4,000 migrants and refugees who reached Greek islands from nearby Turkey after March 20 are being held in detention camps to be screened for deportation."
---
Half of Greece's adults economically inactive, says ELSTAT - Protothema
"According to the Hellenic Statistical Authority (ELSTAT), the unemployed in Greece rose to 1,169,119 in January 2016 . More specifically, the seasonally adjusted rate was 24.4 in 2016, a marginal 0.1 percent rise compared to December 2015, and a slight 0.1 percent drop in comparison to January 2015. The aggregate of those employed in January 2016 is estimated to stand at over 3.5 million, while the economic active people were nearly 3.3 million."
---
NEWS ARCHIVE - April 2016
---
---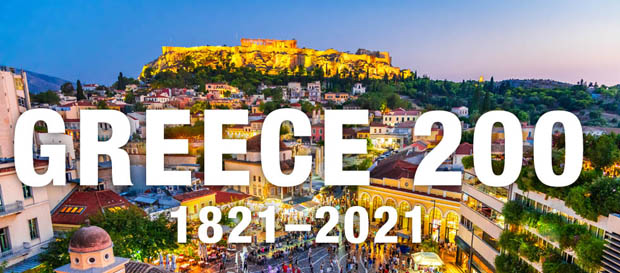 ---
You will see Amazon links on this web site because I am an Amazon affiliate. I earn from qualifying purchases.
Fodor's Essential Greece: with the Best Islands (Full-color Travel Guide)
---

---