Greece and the economic crisis 2016
NEWS ARCHIVE - April 1 - April 7
---
April 7, 2016
Greece prepares to expel more 'irregular migrants' under EU-Turkey pact - Japan Times
"Greece is preparing to expel more migrants on Friday under a controversial EU-Turkey agreement, four days after a first batch was shipped over, officials said Thursday.

...Under the terms of the EU-Turkey deal, all "irregular migrants" arriving on the Greek islands from Turkey since March 20 face being sent back, although the accord calls for each case to be examined individually."
---
Greece is giving refugees a two-week ultimatum to move to migrant camps - Business Insider
"Authorities in Greece say thousands of migrants and refugees camped out at the country's largest port near Athens have been given two weeks to move to army-built camps voluntarily or be expelled by force.

The warning issued Thursday came as nearly a third of the 52,000 migrants stranded in Greece by European border closures are refusing to move to organized shelters and remain camped out at the port of Piraeus and at the northern border with Macedonia."
More Coverage:
Pressure mounts at Piraeus port between officials, volunteers - eKathimerini
---
Greece suspends deportations to Turkey - NYSE Post
"Giorgos Kyritsis, a spokesman for a Greek government refugee committee, said 136 migrants were deported from Lesbos and 66 from the nearby island of Chios, where riot police clashed with residents hours earlier during a protest against the expulsions. Kakissis said that when talking to refugees, they tell relatives in their home countries not to come."
---
April 6, 2016
Merkel: Write-down of debt for Greece not legally possible - Tri-County Sun Times
"International Monetary Fund chief Christine Lagarde says Athens must implement "significant reforms" to ensure IMF aid for the nation as German Chancellor Angela Merkel calls on the Washington-based group to remain part of Greek bailout efforts. Bailout institutions interrupted talks for an Easter break, without reaching an agreement on the type and scale of budget cuts and economic overhauls that Athens must undertake to meet the targets set out in its rescue program."
---
Major increase in mergers and acquisitions in Greece last year - Protothema
"There were 28 mergers and acquisitions in Greece last year, representing a 27 percent rise in the number of deals and 33 percent annual growth in value, which added up to $1.77 billion in total, according to Ernst & Young's M&A Barometer."
---
April 5, 2016
EU Begins Shipping Migrants in Greece Back to Turkey - ABC News
"A controversial European Union plan to stem the flow of refugees began Monday with the deportation of more than 200 people from Greek islands to Turkey, despite concerns over human rights and criticism that Europe was turning its back on refugees.

...European officials insist the EU-Turkey agreement is the only way to deter people from heading to Greece from the nearby Turkish coast — a brief but perilous trip that has cost many lives — and to stop what was an almost uncontrolled flow of hundreds of thousands of people heading into Europe's prosperous heartland."
---
Authorities in Greece pause deportations, asylum claims mounting - Tri-County Sun Times
"As part of the other half of the plan, 32 Syrian refugees from Turkey were flying into Germany to be resettled, while another 11 arrived in Finland. The agency relies on the EU's 28 member states to provide translators and other officials to process asylum seekers, but these have not been forthcoming, even as the continent faces its worst refugee crisis since World War II. The closure of borders along the Western Balkan route has resulted in thousands of refugees being stranded in Greece, particularly along its border with Macedonia. "But it was only the first group of returning migrants, mainly Pakistanis, who are seeing their dreams of reaching the European Union ended, for now at least".
April 4, 2016
Greek Asylum Service overwhelmed by applications - eKathimerini
"The Greek Asylum Service is being overwhelmed by thousands of applications every day, it said on Tuesday, admitting that it is unable to handle the volume and is considering emergency measures to speed up the process.

The service said that just 30 EU migration officers have arrived in Greece of the 400 that were pledged to help with the inflow of applicants."
---
April 3, 2016
Uncertainty reigns a day before migrants are to be returned to Turkey - eKathimerini
"...little sign of preparation is evident on Lesbos, the island through which hundreds of thousands of people have poured into Europe since last year.

The returns are a key part of an agreement between the European Union and Turkey aimed at ending the influx into Europe of migrants and refugees fleeing poverty and war in the Middle East, Asia and Africa. "
---
After WikiLeaks Revelation, Greece Asks I.M.F. to Clarify Bailout Plan - NYT
"... An I.M.F. exit would put the bailout in jeopardy and raise the risk of a Greek default in July, when Athens must repay a large loan. But the European creditors, especially Germany, have resisted, and are pushing the fund instead to soften the austerity terms it is trying to wrench from Greece.

In the transcript, Mr. Thomsen suggests that only a precipitous event might push the Europeans to give in on debt relief and keep the I.M.F. from leaving the bailout."
---
Greece is predicting an imminent descent into violent chaos over new refugee rules - Businesss Insider
"...European Union members are all trying to thrash out the best way to accommodate the one million migrants arriving in the 28 nation bloc per year, some countries like Greece are struggling to cope with the influx due to its own battered economy.

On April 4, Greece will be allowed to sent back Syrian refugees to Turkey, if they entered the country illegally from Turkey. The deal also means that for every Syrian migrant arriving in Greece, one will be sent back to Turkey while one Syrian in Turkey will be resettled in the EU.

In order to enforce the deal, the EU are sending 2,300 officials to help enforce the new agreement. That includes security officials and translators."
April 2, 2016
Greece on brink of chaos as refugees riot over forced return to Turkey - UK Guardian
"On Saturday overstretched resources were evident in the chaos on Chios where detainees, fearing imminent deportation, had not only run amok, breaking through razorwire enclosing a holding centre on the island, but in despair had marched on the town's port. In the stampede three refugees were stabbed as riot police tried to control the crowds with stun guns and teargas. The camp, a former recycling factory, had been ransacked, with cabins and even fingerprint equipment smashed."
---
Migrant protests erupt in Greece as authorities prepare for deportation of hundreds back to Turkey - UK Daily Mail
"Police sources on Lesbos on Sunday said there had been a flurry of last-minute asylum applications by refugees and migrants seeking to avoid expulsion.

Under the EU deal, all 'new irregular migrants' who arrived in Greece after March 20 face being sent back to Turkey - although the deal calls for each case to be examined individually.

In addition, for every Syrian refugee being returned to Turkey from the Greek islands, another Syrian refugee will be will be resettled from Turkey to the EU, with numbers capped at 72,000.

The idea of this is to reduce the incentive for Syrian refugees to board dangerous smugglers' boats to Europe, as they will have hope of being resettled directly from refugee camps in Turkey."
---
Wikileaks Reveals IMF Plan To "Cause A Credit Event In Greece And Destabilize Europe" - ZeroHedge
"More to the point, the IMF officials say that a threat of an imminent financial catastrophe as the Guardian puts it, is needed to force other players into accepting its measures such as cutting Greek pensions and working conditions, or as Bloomberg puts it, "considering a plan to cause a credit event in Greece and destabilize Europe."

According to the leaked conversation, the IMF - which has been pushing for a debt haircut for Greece ever since last August's 3rd Greek bailout - believes a credit event as only thing that could trigger a Greek deal; the "event" is hinted as taking place some time around the June 23 Brexit referendum. "
---
April 1, 2016
EU prepares to expel thousands of refugees from Greece - Financial Times
"The EU is moving forward with plans to begin expelling thousands of refugees from Greece from Monday despite objections that the scheme violates international law.

...European Commission officials insisted they were addressing UN concerns, saying they were working to send an additional 2,500 judicial, policing and migration personnel to help Greek authorities and transform the camps and processing centres to levels that meet international standards."
---
Amnesty: Turkey 'forcing refugees en masse' back to Syria - Times of Israel
"Amnesty International accused Turkey on Friday of illegally forcing groups of Syrians to return to their conflict-torn country, saying the alleged expulsions showed the "fatal flaws" in a migrant deal agreed with the European Union.

..."In their desperation to seal their borders, EU leaders have willfully ignored the simplest of facts: Turkey is not a safe country for Syrian refugees and is getting less safe by the day," said John Dalhuisen, Amnesty International's Director for Europe and Central Asia."
More Coverage:
UNHCR Looking Into Reports Turkish Border Guards Shot Syrian Refugees - Tri-County Sun Times
---
Greece Asks Citizens to Bring Home Foreign Cash - Bloomberg
"Greece is asking its citizens to bring home funds stashed away in Swiss and other overseas accounts with promises of a partial amnesty.

...Greece has imposed fines totaling over 200 million euros to date on alleged tax evaders on the so-called Lagarde list, a spreadsheet containing holders of bank accounts at an HSBC branch in Geneva. The list was named after former French Finance Minister and the current head of the International Monetary Fund Christine Lagarde, who handed it over to the Greek government in 2010. Alexiadis said that authorities are currently investigating 1.3 million tax registers."
---
Chountis: The government increases taxes on fuel and does nothing about smuggling - ethnos
"Nikos Chountis, MEP of Popular Unity, condemned the Environment and Energy minister for raising taxes on mineral oils while tolerating inaction on tax evasion and smuggling as indicative of complete confusion and incompetence in the government's implementation of the 3rd Memorandum..."
---
More police sent to Idomeni, islands as Greek authorities prepare to return refugees - eKathimerini
"The police presence on Greece's Aegean islands and at Idomeni on its northern border is to be strengthened after clashes between refugees and migrants, as well as authorities, and fears that tensions will rise as the return of people to Turkey gets under way next week.

Police chiefs held an emergency meeting Thursday after clashes at the refugee center at the port of Piraeus involving dozens of refugees and migrants and incidents at island hot spots. A decision was taken to send 150 officers to Lesvos, Samos and Chios. Another 105 policemen will be assigned to the Kilkis police directorate, which is responsible for maintaining law and order at the Idomeni camp."
---
Greek island stabbings raise UN fears over EU migrant deportation deal - UK Telegraph
"...A total of around 51,000 refugees and migrants are now stuck in Greece following this month's closure of the so-called Balkan route, with arrivals more than doubling on Tuesday to 766 from previous days, according to UNHCR figures.

The first wave of deportations under the EU-Turkey deal are due to begin on Monday, with the EU border agency Frontex in charge of chartering transport to return the first wave of Syrians, Afghans and Pakistanis back to Turkey."
---
NEWS ARCHIVE - April 2016
---
---



---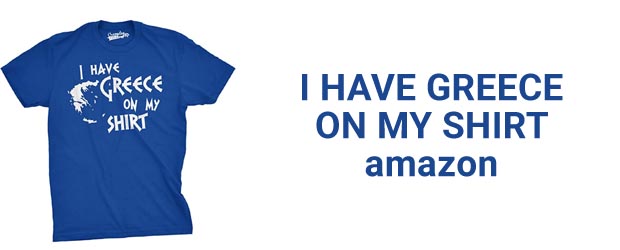 I Have Greece On My Shirt Funny Pun Geography Country Tee (Blue) - XL
---
Create Amazon Business Account - save time and money on business purchases with competitive B2B prices and discounts
---
Andros: The Little England of the Cyclades - AMAZON