Greece and the economic crisis 2015
NEWS ARCHIVE - Jan 14 - Jan 25
---
Jan 25, 2016
Belgian considers sanctions against Greece - US News World Report
"The Belgian government says that because Greece is too weak to guard its own borders, it should face an EU "sanction mechanism" under which the rising number of refugees entering the country would effectively be forced to stay there."
---
Greece Hits Back at `Lies' as Europe's Refugee Crisis Simmers - Bloomberg
"As the first stopping-off point in the 28-nation EU, Greece painted itself as a victim of geography. Some 900,000 refugees have swamped Greece since the start of 2015, with the average daily count of 1,910 in January so far, according to the United Nations.

...With some Greek islands within swimming distance of the Turkish shore, the Greek contingent said the scale of the challenge is beyond the comprehension of officials from landlocked countries in western Europe. Nikos Toskas, a deputy interior minister, said it's hard to stop some refugee-laden boats "except via sinking or shooting."
---
Jan 23, 2016
Iran Makes First Post-Sanctions Sale of Oil to Europe - WSJ
"Greece's largest refinery Hellenic Petroleum has agreed to buy oil from the National Iranian Oil Co., marking the first sale of Iranian crude to a European country since the lifting of trade sanctions against the Middle Eastern nation."
---
PM Tsipras: 'It might be the last opportunity for Greece. Let's not lose it' - HuffingtonPost Greece (in Greek)
"Everything indicates that Greece is ready to recover. Suffice to avoid repeating the same mistakes of the past, "said Greek Prime Minister to the director of The Huffington Post, adding that" evaluation should be closed as quickly as possible."
More Coverage:
PM Tsipras: 'It might be the last opportunity for Greece. Let's not lose it'- amna.gr
---
Greece 'facing exclusion' from Schengen passport-free zone - Egypt Independent
"It is a myth that the Greco-Turkish border cannot be controlled," Mikl-Leitner insisted.

"When a Schengen signatory does not permanently fulfil its obligations and only hesitatingly accepts aid then we should not rule out that possibility," she added.

"The patience of many Europeans has reached its limit ... We have talked a lot, now we must act. It is about protecting stability, order and security in Europe," she insisted.
---
Jan 22, 2016
45 migrants drown as 2 smuggling boats sink off Greece - SF Gate
"At least 45 people, including 17 children, drowned Friday in the Aegean Sea as two smuggling boats sunk off different Greek islands. A search-and-rescue operation was underway for others feared trapped in the wreckage.

The Greek coast guard and other boats saved more than 70 people from the sunken vessels."
---
Jan 21, 2016
Greece demands that migrants declare final EU destination - Yahoo
"Migrants and refugees arriving in Greece must state their final destination to travel further into the European Union, a Greek police source told Reuters on Thursday, following moves by neighbouring states to quell migrant flows.

...Greece, a main gateway to Europe for migrants crossing the Aegean sea, has faced criticism from other EU governments who say it has done little to manage the flow of hundreds of thousands of people arriving from Turkey on its shores."
---
IMF demands EU debt relief for Greece before new bailout - UK Guardian
"The European Union will need to provide significant debt relief for Greece if it is to persuade the International Monetary Fund to put its financial clout behind the country's third bailout package, the Washington-based organisation has said.

...The IMF said of the talks: "The managing director reiterated that the IMF stands ready to continue to support Greece in achieving robust economic growth and sustainable public finances through a credible and comprehensive medium-term economic programme."
---
Jan 20, 2016
Greece Must Improve Pension Bid to Win Debt Ease, Moscovici Says - Bloomberg
"Greece must improve its pension proposals in order to move ahead with its bailout program and start discussions on easing its debt burden, European Union Economic Affairs Commissioner Pierre Moscovici said.

...Pension reform has become the most contentious issue in Greece's effort to show creditors its finances can move to a sustainable footing. Greece's "absolute red line" is no further cuts in primary pensions, Labor and Social Security Minister George Katrougalos said on Jan. 12 ..."
---
How the New Left Governs Greece - National Review
"SYRIZA has increased taxes on all sorts of things and is planning to double the taxation of farmers. It has increased business taxes and also demanded the pre-payment of business taxes. It has increased the VAT on almost all goods, and it is defining affluence down so as to increase income taxes for a greater number of taxpayers. And although Greece has probably the highest social-security contributions in Europe, SYRIZA is planning to increase these contributions even more, despite the fact that pensioners now outnumber those who are still employed in the private sector.

Behind this policy madness is a very cynical ploy by SYRIZA, which aims to preserve a large voting block of public-sector employees and pensioners on its side. In the fragmented political landscape of post-crisis Greece, that ploy almost guarantees SYRIZA first place in the polls."
---
Jan 18, 2016
Snowfall and huge temperature drop across Greece - ANAMPA
"Snow has started to fall in most parts of Greece from early Monday causing a series of problems mostly to traffic.

In the northern Greek city of Thessaloniki, snow has fallen in the surrounding mountainous and semi-mountainous areas with the temperatures ranging between 0C-04C.

The snowfall is intense in central Greece without problems in the traffic in the cities of Larissa, Lamia and Volos. However, snow chains are necessary for vehicles moving on the regional and mountainous roads across the country."
---
Decades on, remains of 6 Greek soldiers returned to families - ekathimerini
"Relatives attended a brief military ceremony Monday at Cyprus National Guard headquarters where they received the remains in six small, flag-draped coffins which will be flown to Greece aboard a military transport aircraft."
---
Technical teams begin first review of Greece's third bailout program - tovima
"It appears that their arrival has been delays in relation to the objections they have raised over the Greek government's ambitious pension system reform plans, as well as a fiscal shortfall."
---
Greece Cracks Down On Volunteers Aiding Migrants - NPR
"The Greek coast guard has arrested 5 foreign members of volunteer rescue teams trying to help migrants crossing between Turkey and the Greek islands. They may be charged with aiding human trafficking."
Additional Coverage: Greece frees migrant rescuers detained for 'trafficking' - Yahoo News
---
Greece Seeks German Know-how to Tackle Tax Evasion - Newsmax
"Greek tax officials, initially numbering about 50, will be trained by the tax authorities of North Rhine-Westphalia, a state noted for its success in persuading German citizens to repatriate capital they had whisked abroad to avoid taxation. Their efforts have resulted in 1 billion euros ($1.09 billion) in extra revenue since 2010."
---
Jan 17, 2016
---
IMF resists a return to still-struggling Greece - Free Malay
"The IMF does not appear now so willing to join the Europeans, who agreed last summer on a new 86-billion-euro plan to support Greece. Yet, under pressure from the Germans, the European institutions have made the IMF's involvement a primary condition of their deal."
---
Jan 15, 2016
Next Up for Greece: How to Shrink the Debt - WSJ
"Greece already sliced its debts to private lenders through a bond swap in 2012. But that wasn't enough. Now, most of its debt is owed to other eurozone governments, which have conceded Athens needs more relief.

The debt talks won't begin until after still-difficult negotiations over steps Greece must take, including pension changes and budget cuts, to complete the first review of its latest bailout package for up to €86 billion ($93.4 billion) agreed to last year."
---
Greek budget revenue surpassed targets in 2015 - Athens News Agency
"The Greek government surpassed a medium-term programme target for a primary deficit of 0.25 pct in 2015 and was very close to recording a primary surplus for the year, after revenues surpassed targets by around 2.0 billion euros in the last few months of 2015, ANA-MPA sources said on Friday."
---
Jan 14, 2016
EU warns Greece not to 'play games' with IMF - CNBC MoneyControl
"The EU's economic affairs commissioner has called on Athens "not to play games" with the International Monetary Fund as the body decides whether to participate in Greece's latest bailout. Pierre Moscovici insisted the IMF must play a role in the three-year, 86-billion-euro (USD 93-billion) rescue package agreed in July, but Greek Prime Minister Alexis Tsipras has said funds from the institution are not necessary."
---
Greece says Eldorado must resume mining operations before talks on investment can continue - Reuters
"The Vancouver-based miner has been in a dispute with the Greek government after Energy Minister Panos Skourletis in August revoked the company's permit to further develop its Skouries mine in a forested area of northern Greece on environmental concerns.

The case is widely seen as a test of the leftist government's approach to foreign investment."
---
Brussels Briefing: Grappling with Greece…again - FT
"In a memo the Syriza-led government has circulated in Brussels, officials note last year's agreement talks of €1.8bn in "savings" not "cuts", and they are proposing to close the gap by increasing employer payments into the system rather than slashing benefits. The European Commission appears willing to work with that, but the IMF remains sceptical – increased payments will raise labour costs and hit competitiveness. There are also concerns that Syriza is protecting middle-class pensioners, giving them incentives to retire early, rather than just the working poor."
---
Inflation Returns to Greece After Three Years of Falling Prices - Bloomberg
"Greek inflation returned in December, ending almost three years of non-stop price declines during the country's economic and political crisis.

...The return of inflation in Greece moves the country above the average for the euro area, where consumer prices rose an annual 0.2 percent in December."
---
NEWS ARCHIVE - January 2016
---
---



---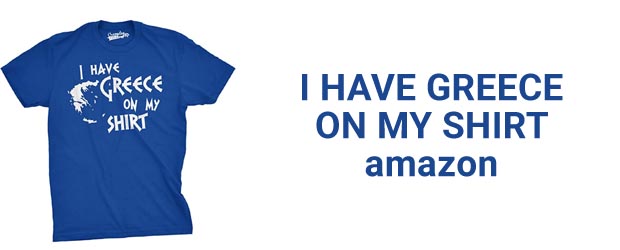 I Have Greece On My Shirt Funny Pun Geography Country Tee (Blue) - XL
---
Create Amazon Business Account - save time and money on business purchases with competitive B2B prices and discounts
---
Andros: The Little England of the Cyclades - AMAZON