Greece and the economic crisis 2015
NEWS ARCHIVE - Jan 1 - Jan 12
---
Jan 12, 2016
Canada's Eldorado Gold Loses Patience With Greece - WSJ
"Canada's Eldorado Gold Corp. said Tuesday it will suspend one of its mining operations in northern Greece, accusing the left-wing government in Athens of treating the project as a "political toy" that has resulted in licensing delays.

...The company says that in 2015 the Energy Ministry revoked some government permits that it had previously issued, forcing Eldorado to seek legal redress. Since then, some of the issues have been settled while others are still outstanding."
More Coverage:

Eldorado CEO says mining halt in Greece will cost 600 jobs - Reuters
---
Migrants stuck in broke Greece as borders shut - NWAOnline
"As twilight falls outside the Hellenikon shelter — a former Olympic field hockey venue currently housing about 280 people — Iranian men play volleyball, a red line on the ground serving in place of a net. Inside, migrants are coming to terms with their bleak future.

"I can't go back to Somalia," said English teacher Ali Heydar Aki, who hoped to settle in Europe and then bring his family. "I have sold half my house" to fund the trip.

While it's unclear exactly how many are stuck in Greece, a comparison of arrivals there and in Macedonia since late November leaves about 38,000 people unaccounted for."
---
Smugglers change tactics as refugee flow to Greece holds steady - Sofia
"It is Friday night, and Kitromilidi, a coordinator for the FEOX Rescue Team, is standing on the southeastern shore of Chios, a Greek island where asylum-seekers have been arriving under the cover of darkness ever since the Turkish Coast Guard increased its presence. Only a few refugees made the crossing in recent days, but Kitromilidi credits bad weather over the authorities, who she says "pretend to work during the week and take weekends off."

... Now the seas are calm again and Kitromilidi's expecting a long night out. She radios back and forth with team members spread out over the area on ATVs and Vespa scooters. Everyone is waiting as Kitromilidi shines a light into the dark water below."
---
Jan 11, 2016
France 'convinced Greece will live up to economic reform promises' - UK Reuters
"Greece found an ally in France's finance minister on Sunday as Athens seeks support from its European creditors for its efforts at economic reforms that are crucial to opening talks on easing its debt burden."
---
Jan 9, 2016
A money manager advises Greece on how to emerge from the abyss - Chicago Business
"Greece is squeezed by a debt bill of some $350 billion and a depression. Unemployment was nearly 25 percent last month. The country came close to exiting the European Union last year before ultimately accepting a variety of austerity measures in return for more international loans.

Calamos and other board members of the Hellenic Initiative have talked to the Greek prime minister and others about removing red tape that prevents the private sector from growing. "That would create jobs," he says. Greek officials are receptive, though it remains "a slow and complicated process."
---
Jan 8, 2016
Refugees Turn Life Vests Into Handbags - ABC News
"A group of volunteers at a refugee shelter on the island has launched a project to make handbags, totes, and messenger bags out of the brightly colored vests, hoping to raise money for charity efforts on the island.

At a tiny makeshift workshop, Afghan tailor Yasin Samadi works with a sewing machine to make a small orange dispatch bag, as children and other curious onlookers wander in and out, drawn by the bursts of noise from the machine."
---
Glimmer of New Year Hope - WSJ
"...one positive surprise could occur this weekend when Greece's main opposition party, New Democracy, votes to choose its new leader.

...In many respects, Mr. Mitsotakis is an unlikely standard-bearer for uncompromising reform of Greece's corrupt political and economic system. He is the son of a former prime minister, albeit one of the few precrisis prime ministers to attempt to grapple with Greece's deep problems, and his elder sister is a former deputy party leader, leaving him vulnerable to the charge that he is just another dynastic politician.

...Mr. Mitsotakis was widely regarded as one of the most effective ministers in the previous government, winning respect from Greece's creditors for his efforts to streamline the dysfunctional public administration and introduce new concepts such as promotion on merit."
---
Greece's Two Currencies - Project Syndicate
"On August 18, 2015, a few weeks after pulling the plug from Greece's banks (thus making capital controls inevitable), the European Central Bank and its Greek branch, the Bank of Greece, actually formalized a dual-currency currency regime. A government decree stated that "Transfer of the early, partial, or total prepayment of a loan in a credit institution is prohibited, excluding repayment by cash or remittance from abroad."

The eurozone authorities thus permitted Greek banks to deny their customers the right to repay loans or mortgages in BE, thereby boosting the effective BE-FE exchange rate."
---
Jan 7, 2016
Greece Deserves a Break on Pension Reform - Bloomberg
"Given its wafer-thin majority of three in parliament, none of these reforms was easily accomplished. But it is overhauling the pension system that remains the trickiest task facing the country.

..I still think Greece would be better off with the flexibility to revalue its own currency, set its own monetary policy and plot its own fiscal future. The government, though, seems willing to accept the economic straitjacket that comes with the currency union.

So after all the progress that's been made since Tsipras effectively abandoned his anti-austerity rhetoric and faced up to the obligations accompanying the bailout, it would be a real shame if intransigence over pension reform put Grexit back on the agenda."
---
Greece's fledgling oil sector steps up production - Reuters
"Greece's sole oil producer, Energean Oil & Gas, has increased daily production by 60 percent since last year, it said on Thursday, as the debt-laden country seeks to exploit its limited oil reserves to boost its public finances."
---
Jan 6, 2016
Varoufakis Is Starting A New Political Movement In Berlin - Huffington
"Ceremonies were held across the country, with divers jumping from piers, bridges and tug boats and including school children and members of the country's navy special forces.

The main ceremony was held at the country's largest port of Piraeus, near Athens, but left-wing Prime Minister Alexis Tsipras attended a smaller ceremony in the Greek capital following a spat with traditionalists in the Orthodox Church who vehemently opposed a recent law sanctioning same sex-civil partnerships.

Bishop Serapheim of Piraeus described the law an "insult to human identity" and "psychiatric deviation from healthy sexuality.""
---
Orthodox Christians celebrate Epiphany - SF Gate
"Wednesday is Epiphany, a major holiday in much of Orthodox Christianity celebrating the birth and baptism of Jesus. Religious services are held as well as Blessing of Water ceremonies at lakes, rivers and seafronts.

But in Russia, Serbia, Ukraine and other Orthodox countries which observe a different religious calendar, it is Christmas Eve. Roman Catholics and Protestants, meanwhile, celebrate the story of the Wise Men who followed a star to Jesus' cradle."
---
Jan 5, 2016
Greece's economic crisis goes on, like an odyssey without end - UK Guardian
"Last year was tumultuous, punctuated by two elections, a referendum, the imposition of capital controls, negotiations to reach a bailout deal, cliffhanger parliamentary votes and Athens' closest brush yet with bankruptcy and euro exit. But 2016 could be more unpredictable still. The hardest, many agree, is yet to come, even if Greeks have stared into the abyss and accepted there is no alternative to the constraints of membership of the eurozone.

"Just when a lot of people thought it couldn't get worse, it seems it can," says Toula Thanopoulou, the director of the Union of Borrowers and Consumers. "We are seeing people in really bad shape psychologically. They are incredibly scared that the next step will be banks taking away their homes. The government says all will be well, but the problem is no one believes it."
---
Collision course with creditors after vowing not to slash pensions - UK Telegraph
"...pensions spending has proven to be the main sticking point for Greece and its Troika of creditors - the European Commision, the European Central Bank, and the International Monetary Fund - during nearly a year of tortuous negotiations.

...Syriza argues that its social security system is one of the last safety nets in a country where unemployment stands at over 20pc."
---
Proposed pension reforms get no backing from opposition - Business Recorder
"...tough pension reforms will be a test for Tsipras' ruling coalition, which has a majority of just three seats in parliament, and his resolve to carry out measures demanded by international creditors, who must sign off on the plan.

...The plan calls for merging all six main pension funds into one and foresees cuts in future main pensions that could reach up to 30 percent. It sets a lower limit at 384 euros per month."
---
Jan 4, 2016
Over 200 Refugees And Migrants Rescued Off Greece Amid Rough Seas - Huffington
"A cost guard spokeswoman said conditions in the eastern Aegean Sea were "very unfavorable" with high winds prevailing.

The first casualty of the year, a boy, died on Saturday when an inflatable dinghy carrying 40 people was thrown into rocks off the Greek island of Agathonisi. The others were rescued, including a woman who had been thrown at sea during the crash. "
---
Defiant Greece Tells Global Creditors: We Will NOT Cut Government Pensions - Breitbart
"Greece's prime minister on Sunday said his government will not give in to "unreasonable" demands as the debt-ridden country braces for critical negotiations with international creditors on the thorny issue of pension reform.

"If we don't face the problem of the social security system today, in a year we won't be able to pay pensions," the labour ministry's seniormost official, Andreas Nefeloudis, told Mega channel TV on Sunday."
---
Jan 2, 2016
Savers in Greece still wary of Tsipras after 2015 financial tumult - Gulf Times
"Deposits held by households and businesses in Greek banks fell close to a 12-year-low of €120.9bn ($131.3bn) in November, bringing total losses to a record of more than €43bn, or 26.4% of total savings, in the last 12 months. Savers' distrust may derail the government's goal of lifting capital controls by the end of June. Reluctance to return deposits held abroad or under mattresses back to banks hinders the ability of lenders to provide credit to the economy, as the government struggles to lead Greece out of recession in 2016 after a turbulent year which pushed the country to the verge of leaving the euro area.

... Greek lenders cleared the hurdle of a pan-European review in 2014 thanks to capital increases of more than €8bn and restructuring plans approved by the European Commission, only to see their solvency put to the test in 2015 when Tsipras's government revolted against the terms attached to the country's bailout lifeline. A stress test by the European Central Bank uncovered a €14.4bn-hole in their books, amid increases in bad loans, subdued economic activity, expensive emergency funding requirements and strict limits on capital transfers."
---
1.2 Billion Euro Auction of 6-Month T-Bills coming January 5 - Business Recorder
"The settlement date of the new T-bills will be January 8. Only primary dealers will be allowed to participate and no commission is to be paid."
---
In Greece, eat, drink, dance and be merry - SF Gate
"Just as important as food is religion. Ninety-five percent of all Greeks consider themselves Orthodox, even if they rarely go to church. Orthodox elements appear everywhere. Icon shrines dot the highways. Orthodox priests — with their Old Testament beards, black robes, necklaces, cake-shaped hats and families in tow — mingle with parishioners on street corners. During the course of the day, Greeks routinely pop into churches to light a candle, asking for favors. Even local teens who seem far from religious make the sign of the cross when passing a church.

... When celebrating special events, especially at weddings and baptisms, Greeks love to dance. Popular dances include the graceful kalamatianos circle dance and the syrtaki, done with arms outstretched or thrown across one another's shoulders as immortalized by Anthony Quinn in the film "Zorba the Greek." A few dancers might get carried away, "applaud" by throwing plates or flowers, and then dance on the tables into the wee hours."
---
NEWS ARCHIVE - January 2016
---
---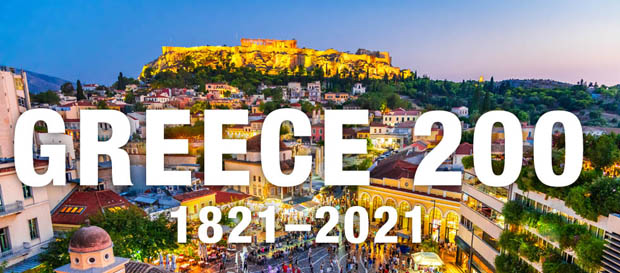 ---
You will see Amazon links on this web site because I am an Amazon affiliate. I earn from qualifying purchases.
Fodor's Essential Greece: with the Best Islands (Full-color Travel Guide)
---

---