Greece and the economic crisis 2015
NEWS ARCHIVE - Dec 15 - Dec 31
---
Dec 30, 2015
Greece Chases Turkey Out Of Its Airspace After Repeated Violations - Daily Caller
"A formation of six Turkish jets, with a CN-235 transport plane on each side, entered Greece's national airspace a total of nine times without permission, according to Greek daily newspaper Ekathimerini.

The Turkish jets, two of which were armed, had to be chased out by a Greek aircraft."
---
It's not all quiet on the construction front in crisis-hit Athens - eKathimerini
"As construction continues to slump, the prevalent impression is that all building activity has come grinding to a halt. Yet this is only one side of the coin and mainly concerns private projects. According to data from the Hellenic Statistical Authority (ELSTAT), construction activity (measured by the number of permits issued) throughout the country dropped by 63.47 percent in the period from 2011 to 2014. Attica has been hit hardest by the economic crisis, with construction nosediving 73.10 percent, while the greatest losses have been seen in the residential property market.

...What most Athenians know as the Interamerican insurance company complex on Kifissias Avenue in the northern suburb of Maroussi has been covered in green tarpaulin over the past few months, but in the first quarter of 2016, the Greek capital's first true "green" building will be unveiled. The project is a strategic investment by Grivalia Properties, a leading global property investment firm and owner of the building, and the first of 86 properties selected to be revamped and submitted for Leadership in Energy & Environmental Design (LEED) certification, which is awarded to architectural projects that employ the tenets of sustainable design and construction."
---
Greece's Attica Bank covers 91 pct of share issue to plug shortfall - Reuters
"...In October, the Bank of Greece carried out a comprehensive assessment of Attica, in line with the European Central Bank's health check of Greece's four big banks - National Bank, Piraeus, Eurobank and Alpha .

The assessment showed the lender had a 1.02 billion euro capital hole under an adverse scenario in the stress test and a shortfall of 857 million euros under a baseline scenario."
---
Komboloi comeback as stressed Greeks rediscover worry beads - UK Guardian
"What was once regarded as an outdated habit practised by the elderly with plenty of time on their hands, komboloi are now enjoying a comeback.

At her desk in the world's only komboloi museum, owner and co-founder Rallou Gromitsari is surrounded by strings of glistening multi-coloured beads.

"People are looking for something simpler," she says, passing a string of 10 hand-cut pieces of amber strung on silk from one hand to the other."
---
Dec 29, 2015
Prosecutors to get support for tax evasion crackdown - eKathimineri
"...additional staff is aimed at bolstering prosecutors' attempts to investigate thousands of potential tax-dodgers from a series of lists. The latest list was given to Greek authorities last month by Germany's western state of North Rhine-Westphalia. It includes more than 10,000 data sets on Swiss bank accounts held by Greeks. ....

According to sources, the finance minister for North Rhine-Westphalia, Norbert Walter-Borjans, is due in Athens on January 16, when he and his Greek counterpart Euclid Tsakalotos are expected to sign a memorandum of understanding."
---
How the EU could collapse in 2016 - UK Telegraph
"2016 could be the year that the EU falls apart, making the British referendum an irrelevance. Economics are certain to play a central part in any process of collapse. Despite endless optimistic propaganda from Brussels and ever greater fiscal control from the centre, the euro's difficulties have not disappeared. Growth remains anaemic, just 0.3 per cent in the third quarter of the year, while dole queues are as long as ever. Unemployment in Spain, sometimes held up to as a eurozone "miracle", stands at 23 per cent. In Greece, the figure is above 25 per cent.

But the EU cannot resolve this relentless economic crisis because it is a part of the problem. The single currency was never a really an economic initiative. On the contrary, it was a political instrument to further the federalist agenda. Forcing together economies as disparate as Germany and Greece was always doomed to result in debt and paralysis."
---
Dec 27, 2015
Schaeuble slam Greece over handling of refugee crisis - Reuters
"Schaeuble, who has clashed repeatedly with Greek officials this year over economic policy, told Bild am Sonntag that Athens has for years ignored the rules that oblige migrants to file for asylum in the European Union country they arrive in first.

He said German courts had decided some time ago that refugees were not being treated humanely in Greece and could therefore not be sent back there.

.....Joachim Herrmann, the interior minister of the southern state of Bavaria, that has taken the brunt of the refugee influx to Germany, criticized the way Greece is securing its external borders.

"What Greece is doing is a farce," Herrmann said in an interview with Die Welt am Sonntag newspaper, adding any that any country that does not meet its obligations to secure its external borders should leave the Schengen zone, where internal border controls have been abolished."
More Coverage:
Schaeuble accuses Greece of treating refugees inhumanely - Sigmalive
---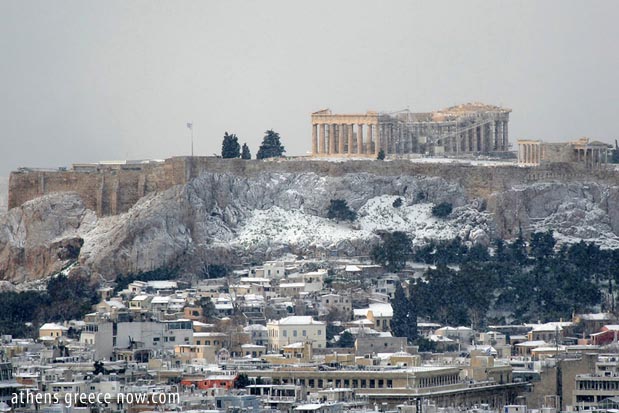 ---
Fears of extended recession in 2016 - eKathimerini
"This year was supposed to be the year that Greece would exit or at least prepare to exit years of austerity, but it turned out to be the opposite...

...we think the chances of meeting next year's primary budget surplus at 0.5 percent of GDP are greater than not meeting them. This is because we think the state will be able to cover any revenue shortfall from one-off revenues from combating tax evasion. It may also be able to collect more taxes from value-added tax since people will have to make payments via debit and credit cards and bank transfers up to some percentage of their income to be eligible for income tax deductions.

On the other hand, one must take seriously the charges that executives with party links appointed to important posts lack the competence to carry out their duties."
---
Rhodes reconstruction project will be a colossal gamble for Greece – but it might well pay off - UK Guardian
"The giant iron and bronze tribute to Helios, god of the sun, managed just over 50 years before an earthquake in 226BC snapped it at the knees. The inhabitants of Rhodes decided against rebuilding, since the Oracle at Delphi suggested that its destruction meant they had angered Helios by building it in the first place.

Now Helios must be over his hump, since a company of architects have plans to rebuild it – but this time five times higher, at 150 metres, taller than the Statue of Liberty, which the original once inspired. The new Colossus will be a tourist attraction, with shops, cafes, a museum and a library, and will also act as a lighthouse. Helios's skin will be made of solar panels and state of the art computer technology will ensure it never falls again."
Dec 24, 2015
At Greece's Borders, a Test for Europe - NYT
"Compared with the total European Union population of about 500 million, the number of migrants and refugees entering Europe is small — some one million this year. Yet the refugee crisis, a growing fear of terrorism and a surge of nationalism have shaken the union's foundations, an edifice already damaged by the euro crisis. Harsh words exchanged then have left a legacy in the way member states see one another.

As in that crisis, Greece is at the center of the debate — part of the problem and, necessarily, part of the solution. "Europe must understand that Greece is guarding the European Union's borders," Prime Minister Alexis Tsipras said in November. "Neither fences nor transferring the problem from one country to another will stop the human flood caused by war and poverty." At the time, Greece was being criticized for not stopping the thousands passing through each day."
---
The Colossus of Rhodes is to be rebuilt, costing more than £180m - IB Times
"The planned structure will be around 135 metres tall; more than four times taller than the original 32m statue. The original was built to celebrate the islands' defence against Cypriot invaders, but the reconstruction will have more economic reasoning.

...It said that the new Colossus will be visible from up to 35 miles away.

The Colossus of Rhodes was destroyed in 226 BC following an earthquake. Standing for just 54 years, the statue was made using iron and metal sheets. Following its destruction, only one of the seven wonders of the ancient world remains standing; The Great Pyramid of Giza"
More coverage: Rebuilding the Colossus - UK Times
---
Dec 22, 2015
Greece's Eurobank sells insurance unit for 316mn Euros - Business Recorder
"This is the type of opportunistic acquisitions Fairfax has done repeatedly over the years - acquiring a good franchise that wouldn't normally even come to market, at a fair price by being able to be a fast, fair and friendly acquiring partner," said Dwelle, in a note to clients on Tuesday, adding that Fairfax's familiarity with the acquired company's management team is a bonus.

The cash deal is in line with Eurobank's strategy of slowly exiting from non-banking operations to focus on core banking."
---
Disney Removes Greece and Turkey from Summer 2016 Itinerary - Cruise Critic
"The original itinerary was due to depart from Barcelona on August 1 and call at Olbia, Sardinia; Civitavecchia (for Rome); Naples (for Pompeii); Palermo, Sicily; Piraeus, Greece; Mykonos, Greece; Kusadasi, Turkey; Valletta, Malta; Cannes, France and Palma, Mallorca.

Disney has confirmed that a revised itinerary, now called 'Mediterranean Cruise' will replace the Greek, Turkish and Maltese ports with Livorno (for Florence) and Villefranche (for Monte Carlo and Nice)."
---
Tighter Borders in Europe Create Migrant Bottleneck in Greece - WSJ
"Greece has so far largely been a conveyor belt in the migration crisis: Syrian refugees and other migrants set off from Turkey and landed on Greece's Aegean islands. They quickly made their way to the mainland, then headed north into the Balkans en route to Germany and other wealthier countries in northern Europe.

That is changing as a result of a growing political backlash against uncontrolled migration around Europe. Germany and European Union authorities are trying to cajole countries along the migration route, from Turkey to the Balkans, to significantly slow the largest movement of people Europe has witnessed since the aftermath of World War II."
---
EC Warns Greece on Tonnage Tax - Marinetime Professional
"The Commission has therefore asked Greece to review which vessels are eligible under its system and exclude fishing vessels, port tugboats, as well as yachts rented out to tourists without a crew from the preferential regime. Operators of such vessels should in future be subject to the standard income tax.

Preferential tax treatment should also be removed for insurance intermediaries, maritime brokers and other maritime intermediaries as well as the shareholders of shipping companies – none of which conduct genuine maritime transport activities."
---
Greece Passes Law Recognizing Same-Sex Unions - WSJ
"The legislation caused the first rift between the two parties forming the coalition government, left wing Syriza and the small right-wing group Independent Greeks, since September's elections.

Independent Greeks voted down the law that was passed with a majority in Greece's 300 seat parliament. Along with Syriza, the bill was backed by three opposition parties: the socialist Pasok, centrist To Potami and the Union of Centrists parties.

Greece was one of the last countries in Europe not to recognize civil unions among gay couples."
---
Dec 20, 2015
Palestinian President in Greece for Official Visit - NYT
"Abbas, who arrived in the Greek capital on Sunday, will meet with President Prokopis Pavlopoulos and Prime Minister Alexis Tsipras on Monday, and will speak at Greece's Parliament on Tuesday.

Parliament's Foreign Affairs and Defense Committee has unanimously called on the Greek government to recognize Palestinian statehood."
---
Greece votes to recognise the state of Palestine - Daily Mail
"Abbas is expected in Athens on Sunday ahead of the vote and will meet President Prokopis Pavlopoulos and Prime Minister Alexis Tsipras.

Last week, the Greek parliament's foreign affairs committee unanimously approved a motion to recognise Palestine.

Tsipras travelled to Israel last month when he met with both Abbas and Israeli Prime Minister Benjamin Netanyahu.

Palestine's flag was hoisted for the first time at UN headquarters in New York on September 30 in a symbolic gesture."
---
EU border agency to ramp up operations in Greece - Investment Underground
"Defending Frontex's new powers to send border guards to a country even without invitation, he said Frontex would not decide on such action by itself but have to get the green light from the European Commission Highlighting difficulties in receiving resources from the 28 EU countries, Frenchman Leggeri said that out of the 775 additional border guards he called for in early October, he had so far got around 450."
---
New Democracy extends deadline for leadership ballot amid strong turnout - eKathimerini
"...Sources told Kathimerini journalist Giorgos Terzis that some 375,000 people had cast ballots. At one stage it had been expected that the party might struggle to attract around 300,000 voters.

The delay in the voting process means that the results were also expected later on Sunday than initially expected. For one of the four candidates taking part – former interim leader Evangelos Meimarakis, Central Macedonia Governor Apostolos Tzitzicostas and ex-ministers Kyriakos Mitsotakis and Adonis Georgiadis- to be declared an outright winner, he would have to take more than 50 percent of the vote in the first round."
---
Dec 17, 2015
Greece Suspends Legislative Package After Concerns From Creditors - WSJ
"The bill, which the Greek government refers to as its "parallel program," was submitted on Monday and was expected to be voted on by lawmakers next week.

...The draft bill included health care to uninsured citizens and migrants with legal papers, welfare work for unemployed people and free school meals.

It also extended a humanitarian crisis program that offered free electricity, food and housing to about 300,000 Greek citizens in 2015. "
---
Euro zone backs 1 billion euro payout for Greece after disputed bill shelved - Reuters
"Euro zone deputy finance ministers provisionally approved the payout of a 1 billion euro aid tranche for Greece on Thursday, an EU official said, after Athens withdrew a disputed package of social justice measures from parliament.

...Greek lawmakers approved on Tuesday a bill required by the creditors to deal with non-performing business loans, partially privatize the national electricity grid operator and reform the public sector wage grid to link pay to performance."
---
Dec 16, 2015
Macedonia may change its name to settle a decades-long dispute with Greece - Business Insider
"At its founding in 1991, when it declared independence from Yugoslavia, the country formally referred to itself as the Republic of Macedonia — to the fury of many Greeks, who feel that their northern neighbours stole the name from the eponymous Greek province that lies directly to the south of the Macedonian-Greek border.

...Ahead of a visit to Athens on Thursday, Skopje's foreign minister, Nikola Poposki, expressed optimism, telling the leading Greek daily, Kathimerini, that "conditions are more than ripe" for the name row to be resolved."
---
Dec 15, 2015
Greece: EU gives $88 million for housing stranded migrants - SF Gate
"The European Union pledged Monday to spend 80 million euros ($88 million) to house migrants in Greece even as it seeks tougher procedures for asylum-seekers traveling to the continent.

Kristalina Georgieva, the EU Commissioner for Budget and Human resources, signed an agreement for a rent subsidy program for up to 20,000 people next year. "
---
Has Europe Reached the Breaking Point? - NYT
"Hungary's southern fence was erected along its external borders with Serbia and Croatia, which are not Schengen countries. But it caused a chain reaction that shook European politics to the core, as the distinctions between internal and external borders blurred. First, it led to more fences. Neither Slovenia (which is a Schengen country) nor Croatia was fully prepared for the surge of frantic migrants and refugees suddenly diverted toward them. Slovenia quickly constructed its own fence on the Croatian border. Austria later began building a fence on its boundary with Slovenia and established other border controls, as did other countries. Prime Minister Viktor Orban of Hungary said he was defending the Schengen area, while other leaders said these new barriers were intended to provide an orderly route north for refugees, not to block them. Nonetheless, the rapid proliferation of fences across a region defined by free movement was an unmistakable sign that the external Schengen borders had broken down and the founding values of the system were under terrible strain."
---
NEWS ARCHIVE - December 2015
---
---



---
You will see Amazon links on this web site because I am an Amazon affiliate. I earn from qualifying purchases.
Fodor's Essential Greece: with the Best Islands (Full-color Travel Guide)
---