Greece and the economic crisis 2015
NEWS ARCHIVE - Dec 1 - Dec 14
---
Dec 14, 2015
14 Airports in Greece to Be Privatized in $1.3 Billion Deal - NYT
"The contract, worth 1.2 billion euros, or $1.3 billion, is part of an effort to privatize state assets and adopt economic changes demanded by international creditors under Greece's €86 billion bailout program. Some other measures are under debate in the Greek Parliament and are scheduled for a vote on Tuesday night.

...The government will face a much tougher test next month when it tries to overhaul Greece's costly and dysfunctional pension system."
More coverage:
Greece Sells 14 Airports in Privatization Drive - Naharnet
---
Migrant center to open at site of old airport - eKathimerini
"The government is planning to open a new center for refugees on the site of the Greek capital's old international airport at Elliniko, in southeastern Athens, Alternate Immigration Policy Minister Yiannis Mouzalas told mayors from the broader area Monday as authorities scramble to deal with a burgeoning migration crisis."
---
Does Greece want its marbles back? - Neo Kosmos
"The culture minister was asked about the state of affairs in relation to the campaign for return of the Ελγίνεια (although they are now known as the Parthenon Sculptures). Baltas simply responded that the trend is not to proceed with litigation because Greece risks losing in the courts and "if we lose things will get tough".
---
EU backs housing scheme for stranded migrants - Inside Halton
The European Union has pledged to spend 80 million euros ($88 million) on a housing scheme for migrants and asylum speakers stranded in Greece."
---
Greece expected to push through remaining reforms on Tuesday - Reuters
"Seven out of the 13 are completed now," said the official, who is familiar with the discussions of the deputy ministers on Friday but who spoke on condition of anonymity.

"All the rest and everything else related is due to be adopted in the Greek parliament on Tuesday night. A compliance report by the institutions representing the creditors is to follow on Wednesday," the official said."
---
Dec 11, 2015
Greece is looking fragile at the worst possible time - Business Insider
"Greek Prime Minister Alexis Tsipras' governing majority is looking fragile as crunch time approaches for a pension reform...

...Trade unions have staged two 24-hour general strikes against further pension cuts...

Tsipras says most of the savings will be achieved by ending early retirement under a law enacted last month, leaving about 600 million euros more to be saved."
---
Brewer's Woes Reflect Struggle of Greek Business Owners - NYT
"...Just like that, the microbrewery he started 17 years ago would go under, as his new tax bill of 1.6 million euros would wipe out his expected 1.45 million euros in profit for the year.

...The tax bill was quickly shelved and a number of Parliament members called for an investigation into why the competition commission was taking so long to render a decision.

Last week, the commission did give its opinion, saying that Heineken would be fined 31 million euros for unfair business practices."
---
EU threatens to sue Greece - NeoKosmos
"The European Union has started legal action against Greece, Italy and Croatia for failing to correctly register migrants. "
---
AP PHOTOS: In Greece's shut factories, lost jobs and wealth - SF Gate
A 21 photo series showing desolate factories and industrial installations, along with the empty old International Airport.
---
Dec 10, 2015
EU starts legal action against Greece, Italy and Croatia for failing to fingerprint migrants - Daily Mail UK
"Greece has only fingerprinted around 121,000 of the almost 500,000 people who arrived there between July 20 and November 30 this year, according to the European Commission.

It comes as Turkey's coastguard last night picked up more than 150 migrants seeking to cross to Greece in three flimsy dinghies during a night time swoop on their routes across the Aegean Sea."
---
Greece Braces for New Year Drama - WSJ
"...The stage therefore looks set for a difficult start to the new year: The European Commission is braced for delays, drama and arguments. Whether this triggers a fresh standoff or political crisis depends primarily on whether Prime Minister Alexis Tsipras can keep his party and coalition together. His majority has already fallen from five to three since the election...

As things stand, both sides say they are confident that compromises will be found to avoid any repeat of this summer's drama...... If Greece can indeed navigate the difficult weeks ahead, the expectation is that calmer waters await: The rest of the three-year program is much less onerous and the government's financing needs will be minimal, potentially paving the way for a period of stability. "
---
Greece A Gateway And Scapegoat In EU's Refugee Crisis - Corner
"...the Greek government argues that its failings are less grave than the EU's shortcomings. Alternate Minister for Migration Policy Yiannis Mouzalas claims that Greece has repeatedly asked for more help from Frontex but has not received what it asked wanted.

...Frontex also said that it had increased its presence in Greece to 477 officers during November, up from 220 in October. This seems to run contrary to the complaints from other European capitals that Athens had been resisting help from the EU border agency, which has been involved in Aegean patrols and other work in Greece regarding the refugee crisis for a number of months. "
---
EU Warns Italy, Greece and Eight Other Members on New Bank Rules - WSJ
"The European Union has warned Italy, Greece and eight other member countries they could face legal proceedings if they fail to adopt new rules for national deposit guarantees across the banking sector.

...The commission's move comes less than a month after it made legal proposals for a common bank-deposit guarantee system for the 19-country eurozone, after the creation of a joint banking supervisor and resolution authority in recent years."
---
Greece says to deport migrants not granted asylum - Asiaone
"Athens on Wednesday mounted a police operation to remove some 2,300 mainly African migrants from its border with Macedonia, where they had been blocked for days following the neighbouring country's refusal to allow economic migrants to continue their journey to Europe.

The migrants will be temporarily housed in a former Olympic taekwondo hall in southern Athens until December 17, Mouzalas said."
---
Dec 8, 2015
Greece to sign airport privatization with Germany's Fraport - SF Gate
"Greece will complete nine key privatizations in the first half of 2016, including the sale of more than a dozen regional airports for which a deal is to be signed imminently, the head of the country's privatization fund said Tuesday."
---
Why Greece was almost kicked out of Schengen - Economist
"The first sign of a bust-up came on November 27th... Greeks reacted to the possibility of being pushed out of Schengen with consternation. Riots between migrants and refugees trapped at Greece's northern border with Macedonia added to the pressure. By December 4th Greece had agreed to let Frontex, the EU's border agency, carry out patrols and to accept EU humanitarian aid for people stranded on islands and other land-border areas.

Suspending Greece from the Schengen zone would not do much to limit the number of migrants crossing into the rest of Europe. Greece has no borders with other Schengen-zone states, so for refugees travelling by land it would be no easier or more difficult to make the journey than before. The only consequence would be to deprive Greek citizens of the right to travel freely within Schengen and, perhaps more importantly, to force overseas visitors to obtain a visa to enter Greece—a blow to Greece's tourism-reliant economy."
---
Greece woos Egyptian leader for expanded cooperation after huge gas discovery - US News
"Greece's political and business leaders promised to expand trade deals with Egypt during meetings Tuesday with the country's leader, President Abdel-Fattah el-Sissi, following a massive offshore natural gas discovery in the southern Mediterranean.

"There are enormous opportunities for cooperation between the two countries — opportunities that did not previously exist," Greek Prime Minister Alexis Tsipras told a gathering of Greek and Egyptian business people."
---
Dec 7, 2015
Shortage of trust threatens Greece's comeback - CNBC
"After a tumultuous year of two elections, a referendum, a default, a bank shutdown, capital controls and a tidal wave of migrants, it's amazing that Greece is still standing, like the Parthenon towering over Athens.

...The paradox is that the situation is worse than it looks.

...The Greeks feel they have borne the brunt of arrivals with scant EU financial or practical support. Other governments accuse Athens of failing to control the EU's external border or register migrants before waving them through to northern Europe."
---
Greece's Five Ticking Time Bombs - Bloomberg
"Several days in Athens spent talking with investors, business leaders and government officials last week made it clear to me that the chances of a fatal misstep remain high. While Prime Minister Alexis Tsipras got approval for his 2016 budget -- narrowly, after 153 lawmakers backed the budget, with 145 parliamentarians voting against and two abstentions -- the challenges ahead make his previous Houdini acts (especially ignoring the result of his own referendum) look easy.

The budget calls for selling state-owned assets, reforming public-sector wages, dealing with bad loans at the nation's banks and fixing a broken pensions system. Any one of these could prove unpalatable to the Greek parliament and trigger a renewed crisis."
---
Greece will not follow EU labels on Israeli products from Judea and Samaria - JNS
"Greek Foreign Minister Nikos Kotzias informed Israeli Prime Minister Benjamin Netanyahu that Greece will not follow recently implemented European Union guidelines to label Israeli products from Judea and Samaria, the Golan Heights, and eastern Jerusalem."
---
How Much Money Do You Need to Retire in Greece? - Investopedia
"The country's political instability, strikes and unemployment are causing property values to fall, so in some ways this is a good time to invest. (But putting your hard-earned retirement savings in a Greek bank isn't advised; better to use a large international bank instead.)

Retirees can get a residence permit for Greece by providing proof that they have an independent income of at least 2,000 euros per month. (In late November 2015, the exchange rate was one euro to US$1.06, so that's approximately $2,120.) The average monthly U.S. Social Security benefit in 2015 was $1,335. While that alone probably wouldn't be enough to live in Greece, you can survive comfortably by adding $700 or so from your retirement savings. And if you're married, chances are your spouse will also be getting a Social Security check."
---
Greece to ease capital controls for domestic share investors - Reuters
"Greece will ease restrictions to allow domestic investors who want to buy shares through the Athens Stock Exchange to use money blocked in domestic bank accounts, the country's securities regulator said on Monday.

...Domestic investors were barred from withdrawing money from a deposit account to buy securities as part of capital controls imposed in June to stem deposit flight from Greek banks."
---
Dec 4, 2015
Greece Agrees to More EU Help With Migrants - WSJ
"The EU's executive body said Athens also agreed to a plan with the EU border agency Frontex to deploy border guards from other EU countries at its northern frontier with Macedonia to help register migrants seeking to head toward Northern Europe.

In a major concession, Athens also made a formal request to Frontex to help it deal with the situation on Greek islands, where a majority of migrants into the EU now land. The commission said more than 50,000 people have arrived in Greece since Nov. 1, most by sea from Turkey."
---
2,000 refugees cross Greek-Macedonian border - Yahoo
Greece appeals for guards and aid

"Greece's European affairs minister says his country has repeatedly asked for European Union help to deal with the massive influx of refugees this year, but the response so far has been far less than what was needed.

...More than 3,000 people remain stuck on the Greek side of the border, as Macedonia and other Balkan countries refuse to let them through, considering them economic migrants seeking jobs, not refugees fleeing war."
---
Kerry: USA wants to help Greece emerge from crisis - euronews
"We can not only resolve the problem of refugees but frankly do the most to encourage the prosperity and the stability of this region and to be able to bring in a greater security to the citizens of this country and others," said Kerry at a joint news conference. "We are going to do everything in our power to push that over the course of the next several weeks."
---
Dec 3, 2015
EU Set To Pressure Greece on Border Controls - WSJ
"The pressure, which would include a veiled suggestion that Greece could be temporarily suspended from the EU's cornerstone Schengen passport-free zone, reflects growing frustration among other EU governments led by Berlin that Athens is a weak link in their efforts to control migrant flows.

... The attention on Greece comes after EU leaders sealed a deal with neighboring Turkey late last month on cracking down on people smugglers and stemming the migrant influx. Greece is the first Schengen zone country that migrants reach by boat or land from Turkey.

...Officials acknowledge that the suspension threat is more a means of pressure than a realistic prospect. Greece has no land border with the rest of the Schengen zone so the only concrete implication would be that flights from Greece would have to use separate airport terminals, like flights from non-Schengen countries such as the U.K., Ireland, Romania or Bulgaria."
---
Pakistan refuses to allow migrants deported from Greece to disembark from plane in Islamabad - Tribune
"Pakistan refused on Thursday to allow 30 migrants deported from Greece to disembark from a plane at the Benazir International Airport, Islamabad, the interior ministry said, a week after high-level talks with the European Union to settle a dispute over forced repatriations.

...Earlier, the government instructed its diplomatic missions in European capitals to demand evidence of a potential crime when host countries sought to deport illegal immigrants being held on terror charges to Pakistan."
---
Kicking Greece out of Schengen won't stop the refugee crisis - Guardian UK
"Blaming Greece for its ineffectiveness in relocating refugees is also much easier than admitting that the entire relocation system has collapsed before really finding its feet – something the European commission president, Jean-Claude Juncker, implicitly admitted when he estimated that at the current rate the relocation of 160,000 people from Greece and Italy would be completed in around 2101. Greece has so far relocated 30 people to Luxembourg, Italy another 130 to other EU countries. Last week only one single person was relocated from Italy to Sweden. Another 150 in Greece are documented and waiting to go.

Greece may be dragging its feet, but part of the problem is that northern and eastern EU partners have failed to offer places. Politically motivated special requests – for "non-Muslim refugees" or complete sets of families – have further complicated the process."
---
Dec 2, 2015
Tsipras appeals for unity amid political upheaval - eKathimerini
"SYRIZA is today the only and indisputable pillar of stability in the country's political life," Tsipras told a session of his party's parliamentary group.

He dismissed speculation about a possible broadening of SYRIZA's coalition with Independent Greeks. But State Minister Alekos Flambouraris hinted at a possible cooperation with the Union of Centrists, which is led by Vassilis Leventis."
---
Greece under EU pressure on Schengen future - BBC
"Migration minister Ioannis Mouzalas was reacting to reports of an EU ultimatum to improve migrant conditions.

More than 740,000 people have arrived on the shores of Greece this year."
More coverage:
Greece warned EU will reimpose border controls - CNBC
Greece is back at the heart of EU's existential crisis with threatened expulsion from Schengen - UK Telegraph
Greece seeks EU help with refugees and migrants - euronews
Stranded migrants clash with police on Greek-Macedonian border - Reuters
---
Dec 1, 2015
Stathakis: First review will finish in December - Reuters
"A conclusion of the review means that a set of reforms agreed under the program has to be implemented. They include politically difficult changes to the pension system, income tax, electricity markets and setting up of an independent tax office.

But euro zone creditors have promised that once the first review is completed, they will start talks with Athens on further debt relief for the country."
Related coverage: Greece aims for debt relief deal in Feb 2016 after reforms done - Reuters
---
Tsipras: We spend billions on weapons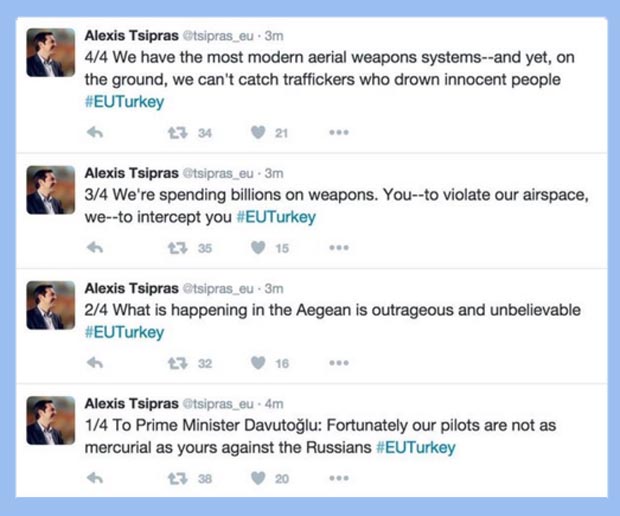 These "tweets" were later deleted. Article about this at UK Telegraph
---
Greece Still In Trouble -SeekingAlpha
"Although financial market volatility surrounding the Greece situation has died down in recent months, Greece's economy is still in trouble. The new measures to appease its creditors has given Greece a lifeline, but its underlying economy remains weak.

...Greece's economy has been struggling for a variety of reasons. First, high unemployment and weak wage growth is weighing on consumption. Furthermore, even as the euro currency weakens in global markets, exports have fallen considerably due to a lack of global demand...."
---
NEWS ARCHIVE - December 2015
---
---



---
You will see Amazon links on this web site because I am an Amazon affiliate. I earn from qualifying purchases.
Fodor's Essential Greece: with the Best Islands (Full-color Travel Guide)
---