Greece and the economic crisis 2015
NEWS ARCHIVE - Nov 1 - Nov 12
---
Nov 12, 2015
Greece Disrupted by First General Strike Under Syriza-Led Government - NY Times
"The 24-hour walkout shut down public services, forced the cancellation of flights and disrupted public transportation across the country. Ferries remained moored in ports, hospitals were operating with reduced staff, and museums and archaeological sites were closed.

...The country's two main labor unions, which called the walkout, object to a recent barrage of economic overhauls, including further cuts to pensions and tax increases, and further budget-cutting measures that are in the works."
---
Perissa Beach, Santorini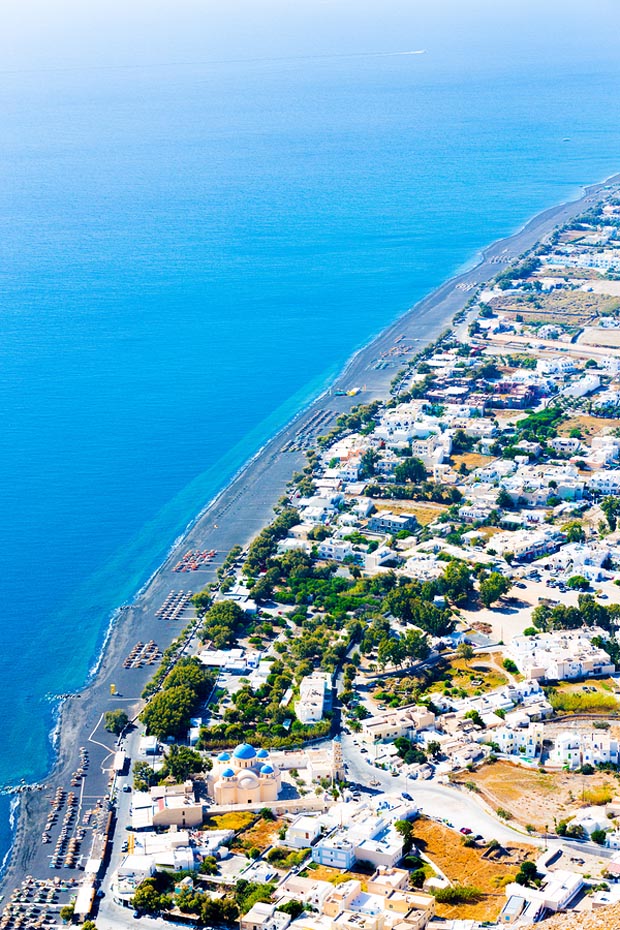 ---
Nov 10, 2015
Greece given new deadline to hit bailout milestones - UK Guardian
"The eurozone's finance ministers have now issued a statement following today's meeting.

It confirms that the Eurogroup called on the Greek authorities to finalise the financial sector measures, as well as the legislation agreed under the first set of milestones, in the course of the week.

Once that is done, Greece can unlock €2bn of aid funds, plus up to€10bn for the recapitalisation of the Greek banking sector."
---
Number of refugees escaping to Greece expands dramatically - FoxNews
"More than 540,000 migrants escaping terror and poverty arrived on the Greek islands in the first 10 months of the year, 13 times more than in the same period of 2014, according to the European Union border control agency Frontex.

The Warsaw-based agency said Tuesday that more than 150,000 people made the journey from Turkey to Greece in October alone despite worsening weather conditions. That compares to 8,500 in October 2014."
---
Hopes expressed that Greece can secure deal with European creditors - US News
"Greece failed to convince European creditors Monday to release vital bailout funds to shore up the country's public coffers and its crippled banks but hopes are high that a deal will be concluded within a week.

Though the Greek government has met many of the conditions attached to the country's third international bailout, it still needs to push through some financial reforms, notably how to deal with those in arrears on their mortgages and the bad loans held by banks."
---
---
Nov 9, 2015
Creditors Withhold 2 Billion Euro Bailout Payment From Greece - NY Times
The ministers decided to delay the release of the payout, a sum of €2 billion, but indicated it might be dispensed soon.

Jeroen Dijsselbloem, the head of the eurozone finance ministers, used his Twitter account after the meeting to reinforce pressure on Athens to meet its targets, saying there had been a "commitment of the Greek authorities to fulfill the required measures in the course of the week."
---
Nov 6, 2015
There will be no tranche disbursement at Euroworking group, EU sources say - themanews
"...any agreement between Greece and its creditors in Euroworking group meeting, which could lead to the tranche disbursement, seems rather impossible.

Furthermore, the Euroworking group teleconference scheduled to be held today was cancelled, since according to sources, there was no reason to perform the teleconference given the fact that there is not enough clarity concerning the prior actions of the Greek program."
---
EU countries relocated 116 refugees out of 160,000 they committed to take in from Italy and Greece- National Post
"On Wednesday, the European Commission released data breaking down the various temporary relocation commitments made by countries for the next two years to alleviate some of the pressures facing Greece and Italy. In late September, the International Organization for Migration reported half a million refugees came into Europe via the Mediterranean in 2015, with 388,000 landing in Greece and nearly 131,000 arriving in Italy.

Finland took 48 refugees and Sweden relocated 38 refugees from Eritrea and Syria, all of whom entered Europe through Italy. Some 30 refugees from Syria and Iraq arrived in Luxembourg via Greece on Wednesday."
---
Greece approves reform bill, eyes bailout tranche - Reuters
"Greece's parliament approved early Friday a bill with reforms prescribed by the country's international lenders, ahead of a euro zone finance ministers meeting in three days which will decide if Athens qualifies for fresh bailout funds.

...Athens and its lenders are still at odds over an effective mechanism for Greece's troubled banks - which will be receiving bailout aid - to address non-performing loans affecting businesses, but also thousands of mortgage holders."
---
Tolerance and resignation - eKathimerini
"Repeated protests that disrupt lives without achieving much else are not the greatest problem that the Greeks face but highlight the dead end of our politics, our economy and our society. The myth that every arbitrary action could be justified with the self-serving proclamation that it was for the public good should have been swept away in the years of our economic crash-landing.

But it appears that in our politics, in our education system, in our streets, there has been no adjustment; small groups can still impose their will on the whole without caring for the cost."
---
Nov 5, 2015
Resistance to Authority in Greece as Pessimism Takes Hold - NY Times
"We have a crisis of the government system in the eyes of the people," he said. Alexis Tsipras, the prime minister who led the left-wing Syriza party into government on a vow to reject austerity, won re-election on a pledge to enforce a new bailout as painlessly as possible.

"Tsipras would never have been re-elected if we had a credible opposition," Mr. Kaminis said. "A vote for him was a vote against the old political establishment, and people decided to give him a second chance."
---
The latest sign of Greece's decay - children's teeth - Fox
"In few places are the wounds of Greece's economic depression more evident than in the mouths of the nation's children. By most indicators of dental health, Greece is one of the unhealthiest places in Europe. The number of Greeks 16 years or older reporting unmet dental care needs was 10.6 percent in 2013, according to Europe's statistical agency Eurostat. That compares to a European Union average of 7.9 percent.

Dental problems are particularly acute among children, according to a recent survey by the Hellenic Dental Federation, a supervisory body. And the financial crisis has made things worse. In the decade up to 2014, 60 percent of all dental problems in 15-year-olds were left untreated for at least a year, up from 44 percent in the previous decade. Almost all the five-year-olds surveyed - 86.8 percent - suffered dental problems that had not been treated, the survey found. "
---
Nov 4, 2015
EU Says Greece Could Return to Growth in 2016 - Newsmax
"Greece has promised to implement a series of reforms, including tax hikes, spending cuts and pension reforms, in return for the bailout, without which it would default on its debts and likely end up having to leave Europe's joint currency, the euro.

[Prime Minister Alexis Tsipras] said Wednesday that Greece should be given some lee-way as it is bearing the brunt of a massive refugee crisis, with hundreds of thousands of people streaming into the country from nearby Turkey."
---
Greece May Win 2 Billion-Euro Payout by Monday, EU Official Says - Bloomberg
"The scheduled 2 billion-euro payment for the government in Athens is part of an initial 26 billion-euro segment under the latest rescue program for Greece, as is a follow-on disbursement of 1 billion euros for which the country has yet to qualify. The first segment also includes about 13 billion euros that Greece used to repay debt and 10 billion euros earmarked to recapitalize Greek banks."
---
1st refugees to be relocated from Greece head to Luxembourg - Miami Herald
"The six families from Syria and Iraq mark the start of a program seeking to relocate refugees who have arrived in Greece from nearby Turkey to other European Union countries without them having to make the arduous and often dangerous overland journey across the Balkans on foot.

The number is minuscule compared to the flood of people who risk their lives to reach Greek islands from the nearby Turkish coast. Dozens of dinghies, wooden boats and other vessels reach the islands daily, carrying from 40 to hundreds of people each."
---
Greece rolls over 6-month T-bills, yield steady - Brecorder
"Greece sold 1.137,5 billion euros ($1.24 billion) of six-month T-bills on Wednesday to refinance a maturing issue, keeping its public finances afloat."
---
Commissioner says Greece, creditors can reach deal in days - JSonline
"Financial and economic affairs commissioner Pierre Moscovici said that while significant progress has been made so far, "three or four" issues remain unresolved.

These include measures to protect Greek-mortgage holders from foreclosures, as well as whether sales tax will be imposed on private education - from kindergartens and schools to music, language and dancing lessons."
---
Nov 3, 2015
Brain Drain Hits Greece As Young Professionals Seek Financial Security - HuffPost
"Greece's years-long financial crisis has led to surging unemployment numbers. Twenty-five percent of the Greek population is out of work, and the youth unemployment rate is above 50 percent. Salaries have decreased over time, while prices of food and services have skyrocketed because of heavy taxation.

...Because Greece is part of the European Union, Greek citizens can live and work in other EU countries without having to apply for residency visas or work permits. They are also entitled to health care and social security benefits."
---
Nov 2, 2015
Greece Sets Terms for Aiding $15.9 Billion Bank Recap - Bloomberg
"The ECB expects the banks to raise at least 4.4 billion euros from shareholders and bondholders, sufficient to meet the shortfall identified under baseline macroeconomic assumptions in its Asset Quality Review, the Frankfurt-based supervisor said Saturday. The state-owned Hellenic Financial Stability Fund is ready to inject the 10 billion euros identified in the ECB's adverse scenario, offering 25 percent through common shares with full voting rights in the lenders, and the rest via contingent convertible securities, according to a government statement released late on Sunday night, in Athens."
---
Greece raises death toll to 43 from boat sinking - Statesville
"Greek authorities have increased to 43 the number of deaths from last week's sinking of an overloaded wooden boat carrying more than 300 refugees and economic migrants from Turkey to the Greek island of Lesbos.

The coast guard said Monday that rescuers have so far recovered the bodies of 20 children, 17 men and six women who drowned after the battered vessel capsized off the eastern Aegean Sea island in rough seas Oct. 28."
---
Germany wants Greece 'hotspots' ready this month - Daily Sentinel
"Germany says it expects the so-called hotspots for migrants in Greece to begin functioning by the end of the month.

The European Union agreed to set up the processing centers in those countries where the biggest numbers of migrants arrive. Those deemed likely to get asylum or some other form of protection are then meant to be redistributed across the EU."
---
500 urge Greece to rip out border fence - Arkansas Online
"The demonstrators are demanding that Greece tear down the fence and allow refugees to cross by land instead of risking their lives on the sea crossing to Europe. The youths, many wearing hoods, hurled rocks at police, who responded with tear gas and stun grenades.

No arrests or injuries were reported.

The government says it cannot remove the fence for "practical reasons" and has called on other European Union countries to speed up additional support promised for search-and-rescue operations in the east Aegean Sea."
---
Oxi Day remembrance video - eKathimerini
"An online video shows a survey of world leaders and famous personalities describing the meaning of the Greek Oxi Day these decades after 1940.
---
Nov 1, 2015
Greece: Protesters target border fence after spate of refugee deaths in sea crossings - Fox News
"About 500 anti-government protesters, who traveled from Athens and several towns in northern Greece were involved in the clashes near the border with Turkey after challenging a police cordon blocking access to the fence that spans more than 10 kilometers (6.2 miles).

The demonstrators are demanding that Greece tear down the fence and allow refugees to cross by land instead of risking their lives on the sea crossing to Europe. The youths, many wearing hoods and balaclavas, hurled rocks at police who responded with tear gas and stun grenades."
---
Greece is the word for budget travelers - Detroit Free Press
"The usual tourist herds have thinned, traditional Greek hospitality is in overdrive and prices are down for hotels and meals.

With tourism accounting for about 18% of the country's gross domestic product, Greeks are eager to maintain that revenue flow, and no host wants to risk a bad TripAdvisor review."
---
Banks need €14.4bn buffer in case of economic turndown - Ifamagazine
"Greece's four biggest banks need to plug a 14.4bn (£10.2bn) hole if the country is to get through another economic downturn, the European Central Bank (ECB) said over the weekend.

The ECB, which conducted months of stress tests on the lenders before announcing its findings, have given Alpha, Piraeus, National Bank of Greece and Eurobank until Friday to tell it how they intend to come up with the money.

Of the four banks, Piraeus was the most vulnerable, needing to raise 5bn."
---
There's a $16 billion hole in Greece's banks and unpaid loans are soaring - Business Insider
"The capital hole has emerged chiefly due to the rising number of Greeks unable or unwilling to repay their debt, after a dispute over reforms between the leftist government and international lenders almost saw Greece leave the euro.

As controls on cash withdrawals have squeezed the economy, loans at risk of non-payment have increased by 7 billion euros to 107 billion euros."
---
NEWS ARCHIVE - November 2015
---
---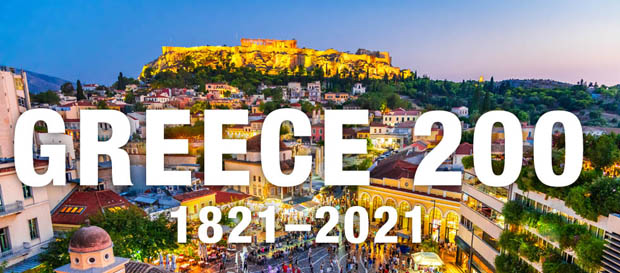 ---
You will see Amazon links on this web site because I am an Amazon affiliate. I earn from qualifying purchases.
Fodor's Essential Greece: with the Best Islands (Full-color Travel Guide)
---

---