February 21, 2012
New debt deal: Permanent EU economic monitoring mission
The latest deal to stave of bankruptcy of the Greek state features a €107 billion write-off of existing Greek debt, and €130 billion in new funds. The "Troika" (IMF, European Central Bank and European Commission) is creating a management monitoring team that will supervise Greek state finances. Considering the number of missed targets on state payroll cuts, selling state properties, etc., this appears to be the juncture of where Greece and the EU either succeed (by being under the supervision of the EU apparatus) or debt default occurs. Implementation of agreed upon debt-reduction efforts has been the bane of recent negotiations, despite Greek parliament voting through approval of treaty terms. Questions of credibility of whether Greece will follow through with treaty obligations has prompted the demands for some method of supervision (and presumably, enforcement). The most recent treaty terms from the negotiations in Brussels are:
Greece will reduce debt to 120.5% of GDP by 2020 (it is currently at 160%)

Private investors holding Greek debt take losses of 53.5% on the value of bonds

Eurozone will bring experts into Greece to supervise implementation of the austerity program

Greece must amend its constitution making debt repayment priority over government functions

Greece is required to have a standing special account which holds money for debt repayment, solvent for three month intervals

Cuts must be made to pensions, reduction in the national minimum wage, reductions in health-care and defense spending, requirements to complete agreed upon layoffs of state employees and follow-through on state asset sales.
All of this is happening while Greece deals with 20% unemployment, a fifth year of recession and economic contraction, and continued strikes and various expressions of social unrest. On top of that is an April vote in which the temporary leadership of Interim Greek prime minister Lucas Papademos will come to an end, and the new government could cast off all agreements, immediately shunting Greece into bankruptcy and a eurozone exit.
More about the Troika in Greece:



---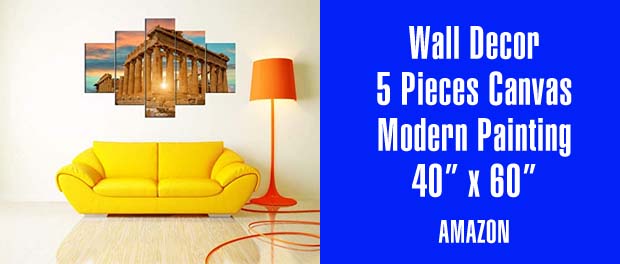 Parthenon Temple on the Acropolis of Athens Greece Artwork Wall Decor 5 Pieces Canvas Modern Painting Wall Art Home Decoration for Living Room Pictures HD Printed Framed Ready to hang(60''Wx40''H)
---
Create Amazon Business Account - save time and money on business purchases with competitive B2B prices and discounts