Greece and the economic crisis 2017
NEWS ARCHIVE - Oct 17 - Oct 23
---
---
The Trip to Greece - online streaming
The Trip to Greece - Steve Coogan and Rob Brydon reunite in Greece for the fourth installment of THE TRIP series in a delightful odyssey of gut-busting comedy.
---
Oxford Greek-English Learner's Dictionary - 1024 pages - Amazon
---
October 23, 2017
Greece Aims for Quick Austerity Review as Bailout End Nears - US News
"Bailout reviews are normally delayed for months as governments push back against demands for austerity. Prime Minister Alexis Tsipras is keen to conclude the current round of negotiations swiftly to help a smooth return to bond markets."
---
Greece's Eurobank to sell debt eligible for purchase by ECB - Financial Times
"The bank has hired a consortium of investment banks to sell a three-year covered bond as early as next week..."
---
Rights groups urge Greece to ease migrant 'containment' - Fox
"In an open letter to Prime Minister Alexis Tsipras on Monday, the 19 international and Greek organizations said thousands or refugees and migrants face "abysmal conditions" on Greek islands but are not allowed to travel on to the mainland."
---
October 22, 2017
No Reactions in Schools for Picking Flag Bearer by Draw - Greek Reporter
"The controversial decision of the Education Ministry that the parade flag bearer for each class will be decided by draw proved to be acceptable, as there were no reactions for the students selected for the October 28 parade in about 6,000 classes across Greece."
---
First crematorium in Greece set to be built in the inner city of Athens - Tornos
"Past opposition by the dominant Orthodox Church and a lack of interest by lawmakers and successive governments over the years to permit the operation of crematoria rendered Greece as one of the few western countries where the practise of cremating bodies was not available."
---
Greece's great unanswered question - Neo Kosmos
"...The first thing I'm waiting to hear is an admission of collapse, an honest acknowledgement that the country has defaulted. I know that, today, we're in a stage that this is completely redundant. Everybody knows the state that Greece is in, particularly those who feel the effect of default on their livelihood and survival: the jobless, the homeless, the underemployed, the underpaid, the pensioners, the cancer patients who can't even get treatment. And yet, it is not insignificant. As any first-year psychology student knows, admission is the first step of solving a problem."
---
October 21, 2017
Long-term jobless figure grows - eKathimerini
"Almost three in every five jobless Greeks have been out of work for a year or more, even though the overall number of people registered as unemployed at the Manpower Organization (OAED) posted a decline in September."
---
Greece to face Croatia in World Cup qualifying play-offs - Neos Kosmos
"...Greece faces a formidable opponent in Croatia who are ranked significantly higher than Greece in the FIFA World Rankings; currently sitting in 18th place, well ahead of the Greeks who are ranked 47th.

On paper, Croatia will be favoured to progress to Russia ahead of Greece, as their team is blessed with an array of world class talent who have big game experience..."
---
Bank of Greece governor urges banks to accelerate NPL clean up - Capital.gr
"According to Reuters, NBG, Alpha and Piraeus are working on NPL transactions (due by next March) totalling some EUR5.5bn in face-value terms, mostly for unsecured consumer exposures: Eurobank sold a EUR1.5bn consumer NPL portfolio (EUR0.6bn net of write-offs) in the past month."
---
ERT asking for music submissions with "Greek Sound" - Wiwi Blogs
"Greece may have won the Eurovision Song Contest 2005, but in recent years it has struggled to match its earlier table-topping results.

But now the land of Eurovision legends — Helena Paparizou, Kalomira and Sakis Rouvas to name a few — is on the hunt for its 2018 entry, with ERT launching a submission process for the country's top record labels."
---
October 20, 2017
Gov't defends controversial F-16 deal, says upgrade work to be carried out in Athens - Keep Talking Greece
"The upgrade was not expected to cost more than 1.1 billion euros ($1.3 billion), a sum which would be paid in annual installments of about 110 million euros over a decade."
---
Greece's Eurobank to sell debt eligible for purchase by ECB - Washington Post
"The man, who hasn't been named, traveled to a Greek island from Turkey last year and lives in the northern city of Thessaloniki with his wife and two children."
---
Macedonian nationals arrested in Greece over wiretap scandal: police source - Reuters
"...The two Macedonians, aged 51 and 35, are accused of destroying machines used in wiretapping, a police official said on condition of anonymity. "
---
May: We want all Greeks living in Britain to stay - Naftemporiki
"Britain's prime minister makes special mention of Greece's "strong trade relationship" with Greece... "
---
Greece's Eurobank to sell debt eligible for purchase by ECB - Financial Times
"While Greek government bonds are not eligible for the ECB's sovereign debt purchases, the country's covered bonds could benefit from central bank demand, according to bankers."
---
October 19, 2017
Greece's Eurobank to sell debt eligible for purchase by ECB - Financial Times
"The deal follows robust demand for the sale of €750m of covered bonds by National Bank of Greece (NBG) last week — the first bank debt sold by a Greek lender since 2014. Covered bonds are secured against a pool of loans, typically mortgages, to provide investors with additional security in the case of default."
---
Greece defends F-16 warplane upgrade amid cost criticism - Francs 24
"Prime Minister Alexis Tsipras, who rubber-stamped the upgrade during an official visit to Washington this week, has said the planes risked being rendered inoperable without the upgrade.

Speaking at the Brookings Institute, Tsipras -- who took a surprise flight aboard an F-16 just before the Washington visit -- said Greece is obliged to keep up defence spending because of its geographic proximity to volatile areas."
More Coverage:
Ministry responds to controversy over F-16 upgrade - eKathimerini
---
Greece's Tax Fraud Problem - MSN
MSN Camera crew follows tax inspectors as they move through the Plaka and then the islands, looking for fraud. Story includes small business owners complaining about the VAT and the general tax burden.
"Since the financial crisis, Greece has been beefing up its tax collection system: widespread evasion and fraud means its tax yield is way too low."
---
Totem Poles at the White House - eKathimerini
"...At the White House yesterday, Prime Minister Alexis Tsipras tore down yet another totem pole, that representing anti-American sentiment.

If someone were to tell the average Greek 20 years ago that a left-wing prime minister would speak as Tsipras did about Greek-American ties, he or she would have said they were mad.

Yet Tsipras said that Greek-American ties are at the best they have been since World War II – an important statement given how much history there is in this relationship."
---
---
October 18, 2017
Greece, lenders to start talks again, as countdown starts - Reuters
"Athens hopes to wrap up the review by January to start discussions with its lenders right after on the terms of exiting its current, 86-billion euro bailout in August 2018, and on further debt relief - a long-standing Greek demand."
---
Trump heralds $2.4bn sale of F16 fighter jets to debt-laden Greece - Guardian UK
Trump, with prime minister Alexis Tsipras, said Greece had "gone through a lot" during its extended period of economic hardships but vowed that the US would remain steadfast as the country executes its debt-relief plan.

"The American people stand with the Greek people as they recover from the economic crisis that recently afflicted their nation," Trump said alongside Tsipras in the rose garden. He added: "A strong and flourishing Greece provides immense opportunity for American trade, investment and job creation."
---
Fresh case of a privatization project stuck in logjam - eKathimerini
"...The 253,000 square meter plot was sold to the Mentekidis family in 2015, but no construction license has been issued."
---
Intense investment interest in Greece - Toxwni
"...The meeting was attended by Marathon AssetManagement executives, with a portfolio value of over $ 15 billion, ABS managing $ 5 billion of Silver Point Capital, worth close to 10 billion, and Greylock Capital , worth more than 1 billion. "
---
October 17, 2017
Greece's Tsipras says Turkey must remain in NATO - Reuters
VIDEO REPORT

"Greek Prime Minister Alexis Tsipras says he continues to support Turkish course toward Europe and NATO."
---
President Trump Reiterates Support for 'Responsible Debt Relief' for Greece - WSJ
"President Donald Trump on Tuesday reiterated U.S. support for "responsible debt relief" for Greece after meeting the Greek Prime Minister Alexis Tsipras at the White House."
---
Trump Praises Greece as 'Most Stable Country in the Region' - VOA
"Greece today is the most significant pillar in security and cooperation in one of the most important but at the same time unstable, sensitive areas of the planet," Tsipras told reporters Tuesday.

Tsipras added that Greece not only fulfills its financial obligations to NATO but "maintains the dialogue with Turkey despite the difficulties that we face."
More Coverage:
Trump hails Greece's economic revival at White House meeting - ABC News
Greece prime minister says U.S. relationship at its best since WWII - CBS News
Trump hails Greece's economic revival at White House meeting with once-critical Athens leader - Japan Times
---
Can the E.U.'s Weakest Link Hold? - NY Times
"Greece's economic problems triggered the European Union's first major crisis. Chancellor Angela Merkel of Germany was in favor of Greece remaining in the eurozone but made a point of not making things easy for Athens. This was ostensibly to avoid moral hazard, but perhaps more to appease critics at home. Now, with her conservative party having won the elections by a reduced majority, she is likely to be under pressure to make things even harder for Greece."
---
Greece, in recession again last year, eyes recovery in 2017-18 - Reuters
"The country's leading economic think tank, meanwhile, said there would be growth this year - but not as much as the government expects.

The economy contracted by 0.2 percent in 2016, statistics service ELSTAT said on Tuesday, releasing its revised estimate of full-year gross domestic product."
More Coverage:
Greek economy in recession in 2016, statistics agency says - eKathimerini
---
Work on Israel-Cyprus-Greece electricity link to start 2018 - Washington Post
"...The 1,520-kilometer (945-mile) undersea electric cable with a 2,000-megawatt capacity will be able to both receive and transmit electricity."
---
NEWS ARCHIVE - October 2017
---



---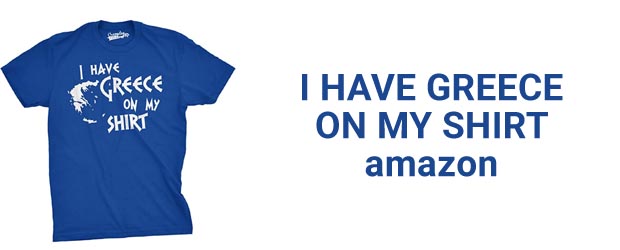 I Have Greece On My Shirt Funny Pun Geography Country Tee (Blue) - XL
---
Create Amazon Business Account - save time and money on business purchases with competitive B2B prices and discounts
---
Andros: The Little England of the Cyclades - AMAZON