Greece and the economic crisis 2016
NEWS ARCHIVE - Sept 1 - Sept 6
---
September 6, 2016
Handelsblatt: Greece faces standoff over bailout funds - Capital GR
"The gridlock report came after the head of the ESM said at the weekend that Greece should be able to secure at least short-term debt relief measures but only if it began implementing the remaining reforms."
---
Greece won't get EU rescue loans after breaking reform promise - Panarmenian
"The European Union will not release a new bailout tranche to Greece in September, EU diplomats said, RT reports citing the German daily Handelsblatt Global.

Athens has reportedly managed to implement only two out of 15 reforms previously agreed with its international creditors. Moreover, the country has slowed down the privatization process of its public assets."
---
Revenue hole appears in August - Ta Nea
"The overall total net revenues in August amounted to 3.804 mil. Euro, against a target of 3.869 mil... Compared with August 2015 (net income of 3,829 million. Euro) is a 25 mil. Euro.

...The shortfall of 95 mil. Euro and 2.3% against the target because the target included the first installment of ENFIA 2016, estimated at EUR 738 million"
---
Greece stocks lower at close of trade; Athens General-Composite down 0.04% - Investing
"The best performers of the session on the Athens General-Composite were Flexopack SA (AT:FLXr), which rose 8.33% or 0.2000 points to trade at 2.6000 at the close. Meanwhile, Select Textile (AT:EPIr) added 7.75% or 0.010 points to end at 0.139 and Papoutsanis (AT:PSALr) was up 7.34% or 0.008 points to 0.117 in late trade. "
---
Tolerance levels are diminishing- eKathimerini
"The success of the xenophobic and far-right Alliance for Democracy party in Sunday's election for the state legislature in Mecklenburg-Western Pomerania in east Germany is hardly good news to German Chancellor Angela Merkel and the Christian Democrats, nor to Europe and the Greek government. Merkel suffered a mighty defeat in her own constituency, as a reaction, primarily, to her migration policy; Europe is witnessing yet another Le Pen-style party making its presence felt within Germany; while Athens ought to be feeling even greater insecurity now, following clear indications that the tolerance levels of its creditors are dropping considerably.

...There are those estimating that a bailout subtranche of 2.8 billion euros, which is still pending following the first review of the Greek program, will not be dispersed if the Greek side does not implement a series of much-delayed prior actions. "
---
Greece confirms rise in UK visitors - Miniplanet
"Greece saw a 13% jump in the number of UK visitors in the first six months of this year.

In total, 928,000 travelled from the UK to Greece from January to June, according to latest figures from the Bank of Greece. "
---
'Prisoners of Europe': the everyday humiliation of refugees stuck in Greece - UK Guardian
"Softex sits in an industrial wasteland on the northern fringes of Thessaloniki, Greece's second city. Refugees have been here since the border shut in May, forcing the cash-strapped Greek authorities to hastily house people in whatever spaces they could find. Several hundred have now smuggled their way north, but about a thousand are still left. Most of them live in tents inside the gloomy warehouse. The rest sleep outside, a few hundred metres from a grim row of burnt-out trains and factory chimneys. "
---
There's no light at the end of the tunnel for Greece - The Duran
"A year later and all talk of a haircut has gone. The economic situation, which looked grim in August 2015, in August 2016 if possible looked even grimmer. In the part of Athens where I stayed – the wealthy suburb of Kolonaki – more shops and businesses had closed, more shop and business premises were empty, none of the shop and business premises that I saw empty a year before appeared to have been relet or sold and all of them were still empty, and there were visibly even more beggars around.

Alarmingly many of these beggars seemed to be either high or low on various drugs, with a drugs scene proliferating and becoming increasingly and publicly visible.

The cause of the economic distress was not difficult to see. The country is being strangled by taxes...

...The result has been to increase exponentially the "under-the-counter" cash economy beyond anything which had existed before – which is saying something – with honest hardworking middle class people now forced against their will to engage in a practice they abhor."
---
September 5, 2016
EU will not release more bailout money for Greece this month - Reuters
"The euro zone will not release additional bailout money for Greece at a meeting in Bratislava this month, Germany's Handelsblatt Global reported on Sunday, citing European Union diplomats.

The online edition of the German business daily quoted the diplomats as saying that Athens had only implemented two of 15 political reforms that are conditions for the bailout money. Above all, they said, Greece had been slow to privatize state assets.

...Handelsblatt Global said the Eurogroup had approved a tranche of 10.3 billion euros for Greece in May from the overall package. An initial 7.5 billion euros of that sum had been transferred to Athens with the rest scheduled to arrive in the fall."
---
September 4, 2016
Greece's refugee crisis through a different lens - CNET
"While many locals were happy to talk to us about the refugee crisis, others wanted us to leave. We were even, quite literally, chased out of a neighborhood in Athens by anarchists who don't like reporters. Another time, two Greece police officers temporarily took our identification cards and ushered us away from the Macedonian border, where we went to see the shuttered Idomeni refugee camp.

Yet, the memories that stick with me are those of the refugees we met throughout Greece, who were welcoming and eager to tell their stories. They wanted me to know the dangers that forced them to flee their homes and the difficulties they face in Greece."
---
Germany considering sending migrants back to Greece as Berlin can't handle burden alone - RT
"Germany has not sent migrants back to Greece since 2011 due to deficiencies in the Greek asylum processing system and the fact that the country is struggling to cope with the number of refugees already in Greece. There are currently 50,000 migrants in Greece who are waiting to be sent on to other EU countries.

More than one million refugees moved to Germany in 2015 under Chancellor Angela Merkel's open doors policy. The number of migrants reaching Germany in 2016 has been stemmed, largely due to a number of countries in the south of Europe sealing their borders."
---
The Fourth Great Crisis: Greece Summer of 2016- Hellenic News
"The first crisis was the Smyrna catastrophe of 1922...

The second crisis was that of World War II and the civil war that was its aftermath...

The third crisis was that of the Junta...

For forty years, Greece enjoyed relative stability under a restored democracy.

To understand the Fourth Crisis, one must look at the next handoff of Great Power interest, which occurred with fall of the Soviet Union. With no Superpower in Eastern Europe to contend with, a strategic void appeared in the Balkans and the Eastern Mediterranean. That void was entered, if not filled, by two hitherto cautious powers, Germany and the Vatican.

It suffices only to say what the general result has been for those affected by Germany's hegemony over the Continent. Acting as its Scrooge-like creditor instead of us as a major culpable participant in the financial collapse, it has ensured its own solvency at the cost of basic living standards for tens of millions...

Alexis Tsipras isn't Greece's problem, however. The problem is the lack of an alternative. While presumably some of them might be less clownish, none of the current political leaders on offer represents anything other than a continuation of the present disaster."
---
Increase in attacks by anti-establishment groups a growing concern - eKathimerini
"The almost daily attacks launched by self-styled anarchists against law enforcement units stationed outside the National Technical University of Athens and in the Exarchia district have placed the Greek police on full alert, bracing for the possibility of an incident-filled fall – starting with demonstrations being planned in Thessaloniki on the occasion of the International Trade Fair of Thessaloniki.

...critics describe as the Citizens' Protection Ministry's soft-handed approach to anti-establishment groups, which has essentially sapped the will of law enforcement decision-makers who appear reluctant to address the issue head-on."
---
Plan to replace ENFIA with unified VAT property tax in the pipelines - Protothema
"According to a report by newspaper 'Imerisia', the Greek government plans to replace the common property tax (ENFIA) with a hiked VAT property tax. The newspaper reveals that the Finance Ministry is considering scrapping the current ENFIA property tax and introducing a unified propriety tax imposed on all properties both registered and unregistered."
---
Greece named best travel destination 2016: Conde Nast Traveller UK - MSN
"Readers of Condé Nast Traveller UK magazine have voted and named Greece the best country in the world in the 2016 edition of the Readers' Travel Awards.

The ongoing migrant and economic crises in Greece have done little to deter visitors from descending on the Mediterranean paradise, with tourists still enamored by the promise of sun-soaked islands and postcard-perfect settings."
---
September 2, 2016
Greece Sees Slight Uptick In Refugee Arrivals In August - Huffington Post
"New figures released this week by the International Organization for Migration show a slight uptick in the number of migrants and refugees arriving on Greek shores in August, after a steep overall decline in the wake of an agreement between Turkey and the European Union aimed at containing migrant and refugee flow."
More Coverage:
Refugees trying to reach Greece via Aegean on the rise - World Bulletin
---
SKAI, Kalogritsas, Ant1 TV and Marinakis' "Alter Ego" won the four nationwide TV licences - Capital GR
"Skai TV won the first license, allowing it to stay on air. "We were not contesting a license, we came to negotiate ransom," Costas Kimbouropoulos, Skai΄s representative, said.

Antenna TV and two new entrants also won a license. The bidders were on lockdown at the Press Ministry for more than three days, mobiles phones were banned to ensure no leaks.

The starting price of the licenses was set at 3 million euros ..."
---
Greece cuts TV channels from eight to four in controversial licence auction - UK Guardian
"The Greek government has netted almost €250m (£210m) from a controversial broadcast licence auction that will see the number of national channels in the country cut from eight to four.

Prime minister Alexis Tsipras's left-led government claimed the auction would crack down on corruption in the media sector and enable better regulation.

But critics say the move is merely a ploy to replace established TV barons – who have opposed Tspiras's Syriza party in the past – with others more to his liking."
More Coverage:
Greece Raises Around $275 Million From TV License Auction - WSJ
---
Greece to auction 1BN Euro of 3-month T-bills on Sept 7 - Business Recorder
"In a rollover, T-bill holders renew their positions instead of getting paid on the maturing paper they hold. "
---
New stamp series honors prominent diaspora Greeks - eKathimerini
"The Greek postal service, ELTA, on Thursday unveiled a new series of stamps depicting the portraits of prominent diaspora Greeks during an event at the Acropolis Museum. "
---
September 1, 2016
Gov't mulls cutting pensions of self-employed to make up for debt - eKathimerini
"The government is considering freezing the outstanding social security contributions of those with debts to the fund of the self-employed (OAEE) that they are unable to pay and, when they retire, reducing their pensions in proportion to the amount of their debt. The aim is to boost revenues and save the fund, which is on the brink of collapse.

The state of OAEE is worrying the government more than anything else in social security, as of the fund's 701,148 insured workers, 538,087 are facing problems making their payments: A total of 296,720 workers have debts to the fund and another 241,367 have temporarily stopped their membership as a result of no longer being self-employed; but the latter group still owe contributions to OAEE. Expired debts total almost 12 billion euros."
---
Stranded migrants stage protests outside camps - beaumontenterprise
"Around 500 migrants chanting "open the borders" gathered Thursday in Greece's second largest city, Thessaloniki.

"I've been here for six months and we are still trapped here. People reaching Italy can cross borders. But we are not allowed to, I don't understand why," said Abdo Rjab, a 21-year-old Syrian from the Islamic State-held city of Raqqa."
---
NEWS ARCHIVE - Sept 2016
---
---



---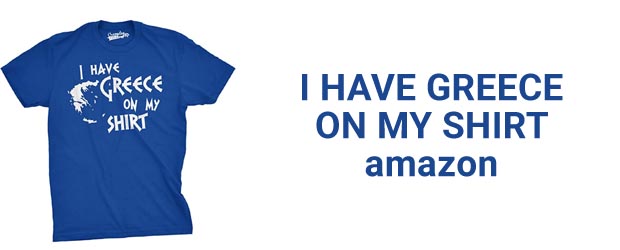 I Have Greece On My Shirt Funny Pun Geography Country Tee (Blue) - XL
---
Create Amazon Business Account - save time and money on business purchases with competitive B2B prices and discounts
---
Andros: The Little England of the Cyclades - AMAZON