Greece and the economic crisis 2016
NEWS ARCHIVE - May 1 - May 12
---
May 12, 2016
International Monetary Fund Faces Pressure From Germany Over Greece - WSJ
"The EU currently faces multiple challenges that threaten to unravel the 60-year-old project of European integration, including the U.K.'s referendum on leaving the bloc, the migration crisis, and the rise of EU-skeptic populist parties. Germany and other European governments have no appetite for another round of brinkmanship over Greece like in 2015, and want a deal in coming weeks that settles Greece's future—at least for now.

...The main source of this year's re-escalation of the Greek debt saga is Germany's insistence that it cannot release any further bailout funds unless the IMF agrees to resume its own lending to Athens. IMF lending has been in limbo since last July, when IMF staff stated that "Greece's public debt has become highly unsustainable."
---
In Greece, Some Jewelers Trust in the Future but Others Despair - NYT
"How does a country in financial turmoil become a hotbed of cutting-edge fine jewelry?

"There were always exciting talents in Greece, but no one ever bothered to export before, because there was a lot of money in the country," said Yannis Sergakis, who spent 10 years designing for other brands before introducing his own line in Athens in 2014. "With the crisis, everyone in Greece has had to look abroad for markets, but at least it's giving firepower to designers to go international."

He now belongs to Hellenic Wave, a collective that represents Greek designers like Ileana Makri, Venyx and Michael Pelamidis internationally. Its first effort presented the jewelers' work together at the 2015 Baselworld trade fair."
---
Why Greece Still Needs Debt Relief - Fortune
"...There are only two solutions. One is fundamental rather than cosmetic debt relief: writing down the value of the country's debt once and for all through a proper restructuring. Cutting the principal—and thereby eliminating the debt overhang ...

...The other option is still higher taxes.

...as the issue of debt relief comes to the fore, Tsipras must pivot from demonizing the IMF to praising it."
---
Greek unemployment drops to 24.2 percent in February - eKathimerini
"The number of officially unemployed reached 1.158 million people. Hardest hit were young people aged 15 to 24 years though their jobless rate dropped to 51.4 percent from 51.8 percent in the same month a year earlier."
---
May 11, 2016
Greece's entry did not make it into Eurovision final - Protothema
"Greece represented by Argo, who performed their song Utopian Land and competed 17 more countries for 10 places in the Grand Final.

...The ten qualifiers are: Azerbaijan, Russia, The Netherlands, Hungary, Croatia, Austria, Armenia, Czech Republic, Cyprus and Malta."
---
Greece - The Road Less Traveled - Huffington Post
"I recently discovered a secret Greece has been hiding from the world. It's called Meteora. The town is a hidden gem, a few hours from Athens. Fully prepared to be swept off my feet by the island of Santorini, I fell in love instead with this magical place, now a UNESCO World Heritage Site.

...After a few days in Athens, we set off on a road trip my mom had arranged to some town called Meteora. The countryside during the drive was non-descript and we arrived within a few hours. Driving into town, we were immediately greeted by a rocky terrain. As we turned a corner along the windy road, I gasped at the sight that came into view. Soaring to the sky were these imposing rocks, and clinging to the edge were beautiful buildings. We turned another corner and I spotted another stunning structure perched on top. I was looking at several monasteries built on what was natural sandstone rock pillars. From afar, the monasteries appeared tiny as they clung for dear life to the rocks, and the whole area felt mystical and fairy-tale like."
---
May 10, 2016
Greece Approves Further Austerity Measures NYSE Post - NYSE
The contingency measures are to amount to savings of 2 percent of gross domestic product - the difference between the IMF's and European forecasts for the 2018 primary surplus under current reforms, including those approved on Monday.

A positive sign-off on the review will unlock more than 5 billion euros ($5.7 billion) to ease Greece's squeezed finances and cover debt repayments maturing in June and July.
---
'Everyone's outraged': angry Greeks foresee Grexit and drachma's revival - UK Guardian
"A mild man in milder times, Nakos finds himself becoming increasingly angry. So, too, do the vast majority of Greeks who walked through his door on Monday. "Everyone's outraged, they've been swearing, insulting the government, calling [prime minister] Alexis Tsipras a liar," he exclaims after parliament's decision on Sunday night to pass yet more austerity measures. "And they're right. Everything he said, everything he promised, was a fairy tale."

Until the debt-stricken country's financial collapse, shops like this were the lifeblood of Greece. For small-time merchants, the pain has been especially vivid because, like everyone Nakos knows, he voted for Tsipras and his leftist Syriza party."
---
Euro zone looks to help Greece on debt from 2018 upon reform completion - Reuters
"The offer, to be worked out in detail by deputy finance ministers by May 24, appears to be a compromise between Germany, which does not believe Greece needs additional debt relief, and the International Monetary Fund, which insists it is necessary.

"This agreement on debt... by the European partners is expected to allow the IMF to participate in the program," the ministers said in a statement."
---
Greece says deal with lenders paves way for debt relief - Bills Insider
"The proposal put on the table by Eurogroup president Jeroen Dijsselbloem was endorsed by all ministers including Germany's Wolfgang Schaeuble, who had been opposed to offering relief before Greece completes the bailout programme agreed past year. But he conceded that without relief, Athens would likely never be able to repay its debt, the highest in the eurozone by far."
---
Greek prosecutors seek assistance from Panama in leaks probe - eKathimerini
"The move comes after a database of documents relating to more than 200,000 offshore accounts was posted online on Monday the International Consortium of Investigative Journalists (ICIJ). The documents list more than 200,000 shell companies, foundations and trusts set up in more than 20 tax havens around the world.

Apart from the request for cooperation from Panama, prosecutors Panagiotis Athanasiou and Galinos Bris have also ordered authorities to search the homes and workplaces of Greeks named in the leaked documents."
---
Tsipras: We proposed automatic salary-pension cuts - Protothema
"Prime Minister Alexis Tsipras admitted at the cabinet meeting held on Tuesday that it was the Greek side that proposed automatic cuts in salaries and pensions, if there is objective evidence of a failure to meet the annual primary surplus targets in the program."
May 7, 2016
Lagarde to Eurozone: IMF Won't Budge on Greece - WSJ
"A lower primary-surplus target would allow for lower doses of austerity, but it would also entail deeper debt restructuring. And that's anathema to Germany.

The Lagarde letter also stresses that, if Europe insists on the 3.5% target, then Greece's current proposals for meeting it aren't good enough. The IMF is thus maintaining a hard line vis-à-vis both Berlin and Athens."
---
Social security, tax bill approved at committee level ahead of Sunday vote - eKathimerini
"The legislation, which has prompted widespread strikes across the country through the weekend, is expected to be presented to the House on Saturday, with the vote on the bill scheduled for Sunday night.

Tsipras's government has a majority of just three seats in the 300-member House, and has lost its lead to opposition conservatives in opinion polls amid mounting voter disillusionment.

"Everything the unions are doing now is to justify their existence. Absolutely nothing will change," Athens resident pensioner Constantine Andreopoulos told The Associated Press. "And those who came to power after 50 years will not risk their seats. They're not stupid. They will do anything, even sell their souls to the devil."
---
May 6, 2016
Lagarde Says IMF Won't Join Greece Bailout Until Budget Gap Shut - Bloomberg
"..."Program discussions between Greece and the institutions have made progress in recent weeks, but significant gaps remain to be bridged before an agreement can be reached that would include the IMF under one of our program facilities," Lagarde said in a letter to euro-area finance ministers. An IMF spokesman confirmed the authenticity of the letter, which was first reported by the Financial Times.

Euro-area governments are reviewing whether to release the second installment of an 86-billion-euro ($98 billion) bailout for Greece. The IMF has said it would be open to offering Greece a new loan, which would be separate from the European bailout."
---
Workers in Greece Strike as Debt Talks, and More Austerity, Loom - NY Times
"Greece's two biggest labor unions, which together represent about 2.5 million workers, object to a new round of austerity measures that Greece must adopt to receive fresh bailout funding.

The measures include an overhaul of the Greek social security system, involving cuts to the pensions of new retirees and higher social security contributions. They also require increased rates of income tax, a rise in the top level of the country's sales tax, and higher levies on alcohol and cigarettes.

The unions have denounced the measures as a "guillotine" for Greek society, which has suffered six years of austerity measures that have cut household incomes by a third and left a quarter of Greeks unemployed."
More Coverage:
Greece grinds to near halt in 48-hour general strike - Euronews
Services in Greece grind to halt in 3-day strike - Perrysound
---
Pension, tax legislation face vote on Sunday as Greek gov't aims to impress creditors - eKathimerini
"The country's two main labor unions reacted immediately, calling a 48-hour general strike for Friday and Saturday which, coupled with a 24-hour strike already scheduled for Sunday, will result in three days of action. Apart from disrupting public transport, the strike will close schools and public services offices and leave hospitals on skeleton staff.

Originally, the government's plan had been to hold the vote on Wednesday night but officials decided to bring the vote forward so Tsakalotos goes to Monday's Eurogroup with two laws to present to Greece's creditors."
---
What It's Like to Volunteer with Refugees in Greece - HuffPost
"I moved to the mainland - Idomeni area, north of Thessaloniki, near the Macedonian border - because that's where the approximately 45,000 refugees are living as they wait for something to happen. What are they waiting for? Borders to open? Greece to suddenly become a place of opportunity? Allah to deliver a miracle? They are the group that is sandwiched in the centre of two other refugee groups - the first was the large mass that were offered passage and asylum in western Europe, and the other is everyone who arrives from now on and will be deported to Turkey or their home countries."
---
Leaked: The annotated Lagarde letter on Greece - Financial Times
"Last night, Christine Lagarde, the International Monetary Fund chief, sent a letter to all 19 finance ministers ahead of the Monday meeting with her demands: drop all the talk about new austerity measures and quickly agree a plan for debt relief so that a deal can be met before a possible Greek default in July.

...Lagarde is getting a bit more political. Alexis Tsipras, the Greek prime minister, has been using the IMF as a punching bag for much of the last year – and tensions became even worse when his government seized on a transcript of a private IMF teleconference published by Wikileaks to argue the IMF was negotiating in bad faith..."
---
Foreign arrivals shrink marginally at the Athens Airport - eKathimerini
"Passenger traffic from abroad at Athens International Airport recorded an annual decline in April for the first time in several years, amounting to 0.5 percent."
---
May 5, 2016
Greek parliament to vote on tax, pension reforms before Eurogroup meeting - Channel News Asia
"Greek labour unions declared a 48-hour national walkout on Thursday as lawmakers debated unpopular tax and pension reforms Greece hopes will help persuade creditors to approve release of badly-needed bailout cash.

Greece needs the bailout funds to pay IMF loans, ECB bonds maturing in July and growing state arrears, but these are subject to it passing a review that includes required changes to its tax and pension laws.

...Parliament was due to vote on the bill before euro zone finance ministers meet on Monday to try to unblock the review which has stalled mainly due to a rift among its international creditors on Greece's fiscal progress."
---
Greece rules out "what if" austerity measures sought by IMF - AP
"Greece will not approve contingency savings measures that the International Monetary Fund is demanding in case the country does not meet budget targets set out by bailout lenders, an official said Wednesday.

Deputy Defense Minister Dimitris Vitsas said the contingency spending cuts could not be approved under Greek law, and argued the action would undermine international confidence in Athens.

"We have made clear that for procedural and substantive reasons this cannot be done," Vitsas told private Antenna television."
---
Morgan Stanley Upgrade Bounces Greece ETFs - ETF Trends
"Greek markets and country-specific exchange traded funds (ETFs) advanced Wednesday on bets that banks could surge if Greece and creditors can come to an accord on new bailouts and debt relief.

Greek equities were bucking the broader down trend Wednesday, with the Global X FTSE Greece 20 ETF (NYSEArca: GREK) up 3.0%. Nevertheless, GREK is still down 4.9% year-to-date."
---
May 4, 2016
Greece rules out "what if" austerity measures sought by IMF - SF Gate
"Greece will not approve contingency savings measures that the International Monetary Fund is demanding in case the country does not meet budget targets set out by bailout lenders, an official said Wednesday.

...Deputy Defense Minister Dimitris Vitsas said the contingency spending cuts could not be approved under Greek law, and argued the action would undermine international confidence in Athens."
---
Greece's sole oil producer boosts output by 30 pct - Reuters
"Energean Oil & Gas, has stepped up daily production by about 30 percent since early January, it said on Wednesday, as the debt-ridden country seeks to tap into its limited oil reserves.

...Energean, 45 percent owned by hedge fund Third Point , said it had increased production to more than 4,000 barrels per day from its two oil fields off the northern Greek island of Thassos."
---
Greece's OTE net profit falls 16% in Q1 - Customs Today
"...OTE, which is 40 percent owned and managed by Germany's Deutsche Telekom, has seen smaller rivals grab market share in fixed-line services in recent years amid tough economic conditions.

A new high-speed VDSL broadband service and a fast-growing pay-TV business helped OTE win back customers and partly offset weaker revenue from its domestic mobile operations and from Romania, its biggest market outside Greece."
---
May 3, 2016
European Report Card: Worries Over Eurozone Growth, Greece and 'Brexit' - NYT
"With growth slowing and the region facing a wide array of challenges — from the long-running Greek debt crisis to the possibility of a British exit from the European Union — the European Commission, the 28-nation bloc's executive arm, warned on Tuesday of "high risks" and "substantial uncertainty" in the economy.

...There have been signs that the Greek economy has bottomed out, and the commission's assessment is comparatively rosier for the country. In February, the commission forecast that Greece's economy would shrink 0.7 percent this year and grow 2.7 percent in 2017. On Tuesday, it predicted the decline this year would be a less-severe 0.3 percent, and it held firm to its forecast for 2017."
---
Get set for 'diminishing returns' - CNBC
"There is the 'Brexit' risk, the Greek situation again (Greece and its lenders have fallen out of bailout terms). The difficulties at the European level to come down to policy coordination and policy solution (and that) is a major concern and apart from that we don't really see systemic risks on the euro area though -- it's pretty much in a country-specific mode at the moment, that's why we have all these stable outlooks at different rating levels in the euro area."
---
Higher taxes expected to bring in 1.35 bln euros of 1.8 bln shortfall - eKathimerini
"According to deal reached by the Greek government and international lenders, the hikes will include raising the top rate of value-added tax from 23 percent to 24 percent on many basic commodities, expected to bring 450 million euros into state coffers. Raises, however, are not expected on public utilities like water and electricity."
---
May 2, 2016
Next Eurogroup meeting on Greece to take place May 9 - Abruzzo
"Eurozone finance ministers will meet May 9 with Greek officials to try to complete a bailout deal for Greece's government, a spokesman for Dutch Finance Minister Jeroen Dijsselbloem said late Thursday. But Tusk did not publicly endorse the idea, following talks with the Greek premier on Wednesday morning. Crucially for Greece, those terms included plans for some easing of repayments of its colossal debt, which is equivalent to about 177 percent of its gross domestic product."
---
Gov't, creditors seek to thrash out compromise on measures before Eurogroup - eKathimerini
"Government officials and representatives of Greece's international creditors are continuing negotiations on the terms of the country's third bailout this week, from afar, with the aim of covering as much ground as possible ahead of an extraordinary meeting of eurozone finance ministers to take place in Brussels on May 9.

...The key sticking point in the talks are the contingency measures, worth some 3.6 billion euros, that the International Monetary Fund wants Greece to commit to taking in 2018 if it misses budget targets. Government sources insist that Athens will not legislate a list of specific contingency measures from now, as the IMF wants."
---
NEWS ARCHIVE - May 2016
---
---



---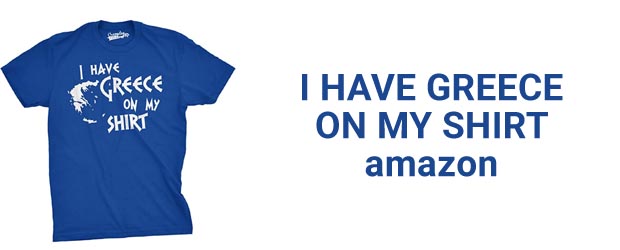 I Have Greece On My Shirt Funny Pun Geography Country Tee (Blue) - XL
---
Create Amazon Business Account - save time and money on business purchases with competitive B2B prices and discounts
---
Andros: The Little England of the Cyclades - AMAZON