Greece and the economic crisis 2016
NEWS ARCHIVE - Feb 11 - Feb 19
---
Feb 19, 2016
Tsipras, Merkel, Hollande agree on open borders until March 6 - eKathimerini
"According to a close Tsipras aide, the Greek premier reiterated that Greece would not accept any action against its interests. The three leaders agreed that the key with regard to decreasing the migration flow was Turkey and that NATO's involvement was a positive development."
---
Greece will not be expelled from Schengen zone, say Merkel, Hollande - Amna Gr
"German Chancellor Angela Merkel and French President Francois Hollande on Friday reassured Greek Prime Minister Alexis Tsipras that the status quo on the borders of Europe will not change at least until the March 6 EU summit, according to government sources."
---
Austria migrant cap angers Greece amid domino effect fears - Yahoo
"Austria on Friday introduced a daily cap on asylum-seekers, sparking EU fears of a domino effect along the Balkan migrant trail and a threat from Greece to veto an accord keeping Britain in the bloc.

...Under the Germany-backed EU proposal to be discussed in March, Turkey would close its borders and then fly refugees to Europe for resettlement in exchange for three billion euros.

...However, central European countries are opposing the resettlement scheme and are instead pushing to seal Greece off from the passport-free Schengen zone."
---
Greece threatens to veto Britain-EU deal if states close borders to refugees
"The discussion surrounding the UK's future in the European Union has collided dramatically with the migration crisis after Greece threatened to veto a new deal for Britain if other member states closed their borders to refugees.

The two problems became entangled at a summit in Brussels where EU leaders are grappling not only with David Cameron's negotiations but also with how to deal with the biggest influx of refugees since the second world war."
More Coverage:
---
Turkey and the gates of chaos - eKathimerini
"...In its single-minded effort to prevent the establishment of an autonomous Kurdish region on its border, Turkey is taking decisions that cancel each other out and cause grave danger.

...Fearing Russia's sophisticated air defenses in Syria, Turkey on Thursday launched air force attacks on PKK forces in northern Iraq. PKK fighters, meanwhile, are waiting for spring to come down from the mountains and join the fight in Turkey. At every turn, Turkey seems to be acting spasmodically, without strategy, alienating friends and making new enemies."
---
Lagarde reelected head of IMF for another 5-year Term - Ethnos
"The 60 year old Lagarde was the only candidate and was elected "by consensus," the IMF statement.

The Lagarde, who took the position in 2011, stressed that the IMF is committed to the goal of helping to ensure global economic and financial stability and international cooperation."
---
Feb 18, 2016
Only 2 Bulgaria-Greece Border Crossings Open as of Thursday Noon -noinvite
"With four of the crossings sealed off, Zlatograd-Xanthi and Ivaylovgrad-Kyprinos (not far from Bulgaria and Greece's borders with Turkey) are the only border crossing points open to all movement between Bulgaria and Greece as of Thursday noontime, Bulgarian border police authorities have reported."
---
Greece pushes back deadline for Kasteli airport bids to May 6 - Reuters
"Greece is one of Europe's top tourist destinations and Kasteli, a 850-million-euro ($947 million) build and operate project, will become its fourth-biggest airport in terms of traffic, replacing Crete's outdated Heraklion airport, which is struggling to handle nearly 2.6 million tourists a year.

"There has been a lot of interest by investors who have asked for an extension in the consultations to have more data available and get better-prepared for their final bids," the official told Reuters, declining to be named."
---
Many of UK's EU reform demands are necessary, says Angela Merkel - UK Telegraph
"She told MPs she would oppose moves by several countries to close Greece's northern borders and continue to press for a deal with Turkey to stop migrants entering Europe. In an unexpected boost for Mrs Merkel ahead of the summit, an opinion poll found an overwhelming majority of Europeans support one of her key demands over refugees. The poll across all 28 EU nations found that 79 per cent of the public support Mrs Merkel's key demand ahead of this week's Brussels summit."
---
"This sharp uptick of diplomatic activity is not taking place in a vacuum. Each participant has his own aims and calculations in mind, and in the background loom their countries' respective relationships with Turkey.

Yaalon's visit to Greece serves to illustrate the intensive security and military relationship between Israel and Greece that began several years ago. This involves frequent joint air force exercises (with other countries occasionally participating), as well as joint maneuvers of the two navies. Israeli military planes have been forbidden from flying over Turkey ever since the 2010 Mavi Marmara incident, so they use Greek airspace on their flights to Europe and the United States instead. An Israeli military attaché has been stationed in Athens since the summer of 2014, and he is also accredited to Cyprus."
---
Greece has made progress in the implementation of the program, Eurogroup president Dijsselbloem says - Capitol GR
"Greece has made progress in the implementation of the program, Eurogroup president Jeroen Dijsselbloem on Thursday said speaking to the Economic and Monetary Affairs Committee of the European Parliament, noting, however, that the challenges remain.

According to AMNA, regarding the first program review, Dijsselbloem said that the discussions are rather constructive and underlined that the main concern of the institutions is to ensure the quality of the reforms to be implemented."
---
Greece and Italy share the same views on the refugee issue, President Pavlopoulos says - Amna
"Greece and Italy share the same views on the refugee issue, President of Republic Prokopis Pavlopoulos said on Thursday in a meeting with Italian Minister of Foreign Affairs Paolo Gentiloni. "Europe finally understands that the main focus of the European project and the European integration is not the currency, but the human being," he noted."
---
Why Greece Must Ditch the Euro - TruthOut
"Michael Nevradakis: Let's discuss the recent recapitalization of the four major Greek banks. What will be the consequences of this latest recapitalization?

Dimitris Karousos: The consequences of the recapitalization are nightmarish. The government amended the law, which regulated bank recapitalizations, which stated that the cutoff price of a bank's stocks was set as the price that would be determined from the bids that each financial institution would receive. The option was given to accept [these bids], and the Hellenic Financial Stability Fund had the right to reject those bids. The current [Syriza] government came in, however, and introduced a new law, which required the Hellenic Financial Stability Fund to accept any bid from the book building process. Indeed, when the book building process was completed, the bids that emerged were, for the National Bank of Greece, 0.02 cents; for Piraeus Bank, 0.03 cents; for Eurobank, 0.01 cent; and for Alpha Bank, 0.04 cents. The prices were as close as possible to zero."
---
Most promised refugee facilities now functional, Athens says - eKathimerini
"Greece hit back at EU criticism of its handling of the massive migrant influx, saying the time for blaming Athens was "over" as it prepared to open new centers to register refugees, including four on frontline islands. "
---
Who wants Greek border with Europe sealed - Protothema
"Athens considers that Turkey's participation is essential in addressing the refugee crisis and will ask Brussels to urge Ankara to stem the refugee flow and honor its commitments included in the agreement signed with the EU. At the same time, the Greek government will seek to put an end to any discussions on borders closing and Greece's expulsion from Schengen area arguing that Greece has met the latest requirements set by Europeans for the construction of the hotspots.

Moreover, Mr. Tsipras will meet with his Czech counterpart Bohuslav Sobotka on Thursday noon, since Czech Republic is included in the countries which seek borders closing."
---
Feb 17, 2016
"Pensions in Greece have been cut several times in recent years and the latest proposal has sparked massive protests over the last few weeks.

HuffPost Greece spoke with eight retired Greeks across the country -- their stories show that for many Greeks, pensions constitute a fundamental element that keeps their lives from falling apart.

These senior citizens represent a wide range of professions and pensions, still, they all share a common frustration: the successive cuts to their basic income. While they are emotional and even angry they are also critical of the social security policies of Greece's governments in the past years."
---
Feb 16, 2016
"The Greek government drafted in the army last month to ensure the five registration centers and two relocation camps on the mainland were completed on time.

The registration centers are set up on the "hotspot" islands of Samos, Lesbos, Chios, Kos and Leros near the Turkish coast, where migrants leaving Turkey tend to arrive. All but the center on Kos is now ready, and that one will be ready in five days, after opposition from island residents."
---
Excluding Greece from Schengen won't solve migrant crisis - EU's Tusk - Reuters
"The migration crisis is testing our union to its limits," Tusk said. "For all those talking of excluding Greece from Schengen, thinking this is a solution to the migration crisis, I say no, it is not."

...The leaders of Hungary, Poland, the Czech Republic and Slovakia said on Monday there should be tighter controls on the borders of Balkan countries neighbouring Greece if attempts to limit the numbers from Turkey to Greece failed.
---
Feb 15, 2016
Greece hits out at EU migrant criticism - eKathimerini
"Greece has honored its commitments – we expect that others do the same," junior defence minister Dimitris Vitsas told reporters.

"We must see if Europe wants to keep its sense of solidarity, or become a space where everyone wants to shut themselves in their own little castles."

Visiting EU President Donald Tusk admitted that shutting Greece out of Schengen would solve "none of our problems."

Each of the facilities will have enough prefab housing to accommodate 1,000 migrants, who will spend three days being registered, having their fingerprints taken and being sorted between those eligible for asylum in the EU and economic migrants facing eventual deportation."
---
Feb 13, 2016
The European Union warned Greece on Friday to do a better job of stemming the flood of migrants crossing through to other European nations or face a suspension of the EU's passport-free travel rights.

The European Council gave Greece a list of changes it wants met, including overhauling its "registration procedures, sea border surveillance, border check procedures, risk analyses, human resources and training, infrastructure and equipment and international cooperation."
---
Greece handed three-month ultimatum to control migrant influx - UK Telegraoh
Greece came closer to an effective suspension from the Schengen zone on Friday after it was handed a three-month ultimatum to control the influx of migrants.

In a tempestuous meeting in Brussels, ministers increased pressure on the country by ordering it to remedy "deficiencies" in its border controls or face an unprecedented exclusion from the free-travel zone.

....Greece voted against the move, while Bulgaria and Cyprus abstained. Greece denied it was "seriously neglecting its obligations" to contain refugees, and said the massive influx would put any country "under severe pressure."
---
Europe just placed Greece at the center of its refugee crisis - Business Insider
"The financially struggling nation has been criticized by the EU for "not managing the flows [of migrants] properly." Most recently, the AFP stated that a report adopted 10 days earlier by the European Commission found that Greece had not been properly registering and fingerprinting migrants during inspections at the Turkish border, as well as in several islands in the Aegean Sea last November.

And now, basically, the EU is giving Greece one month to "establish an action plan to remedy the deficiencies" and, after an additional two months, it must report back on how the plan is being implemented."
---
Greece Sinks Back Into Recession as Year of Turmoil Takes Toll - Newsmax
"Gross domestic product contracted 0.6 percent in the three months through December after shrinking a revised 1.4 percent in the previous quarter, the Hellenic Statistical Authority said in an e-mailed statement on Friday. The median estimate in a Bloomberg survey was for a 0.8 percent drop.

Greece began one of the most traumatic periods in its modern economic history with the election a little more than a year ago of an anti-austerity government committed to tearing up the country's bailout agreements. That ended with a dramatic U- turn by Prime Minister Alexis Tsipras and a third bailout in August.
---
Feb 12, 2016
Farmers Riot In Greece As Recession Returns - Sky News
"The protests take place alongside official statistics which show that the Greek economy shrank 0.6% in the fourth quarter of 2015.

...Greece also has the unwanted accolade of having the worst performing stock market in the world so far this year. In less than seven week the Greek Stock Exchange has fallen nearly 30% - outpacing the falls witnessed in China and Italy."
---
Feb 11, 2016
NATO warships ordered to patrol the Aegean Sea 'without delay' after Turkey, Germany and Greece ask for help in stopping illegal migration - UK Daily Mail
"NATO is sending warships to the Aegean Sea to help Turkey and Greece crack down on criminal networks smuggling migrants and refugees into Europe.

...Although the plan is still to be detailed by NATO generals, member states are likely to use ships to work with Turkish and Greek coastguards and the European Union border agency Frontex."
More Coverage:
---
"Hours after NATO defense ministers agreed to use their maritime force in the eastern Mediterranean to help combat traffickers, Supreme Allied Commander Gen. Philip Breedlove said he was working quickly to design the mission.

"We are sailing the ships in the appropriate direction," Breedlove told a news conference, and the mission plan would be refined during the time they were en route. "That's about 24 hours," he said. "
---
European stock markets close sharply lower - Bluefield
"European stocks have closed sharply lower amid the turmoil that is engulfing financial markets."
---
NEWS ARCHIVE - February 2016
---
---



---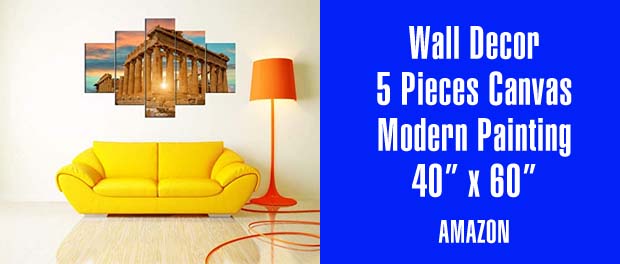 Parthenon Temple on the Acropolis of Athens Greece Artwork Wall Decor 5 Pieces Canvas Modern Painting Wall Art Home Decoration for Living Room Pictures HD Printed Framed Ready to hang(60''Wx40''H)
---