Greece and the economic crisis 2015
NEWS ARCHIVE - July 1 - July 6
---
---
July 6, 2015
Greece given hours to save its place in the euro - Bloomberg
"Greek Prime Minister Alexis Tsipras was given hours to come up with a plan to keep his country in the euro and stave off economic disaster as citizens suffer under a second week of capital controls.

German Chancellor Angela Merkel said "time is running out," as she and French President Francois Hollande responded to Sunday's referendum. Euro-region finance ministers gather for an emergency meeting on Tuesday, and their position "will depend on Greek proposals," Hollande said.

Tsipras is running out of chances to reach a deal with creditors, who have insisted on tax hikes and spending cuts as the price for a new bailout of Europe's most indebted nation. Greece's economy is grinding to a halt, with bank closures extended through Wednesday to stem deposit withdrawals."
---
Omonoia Street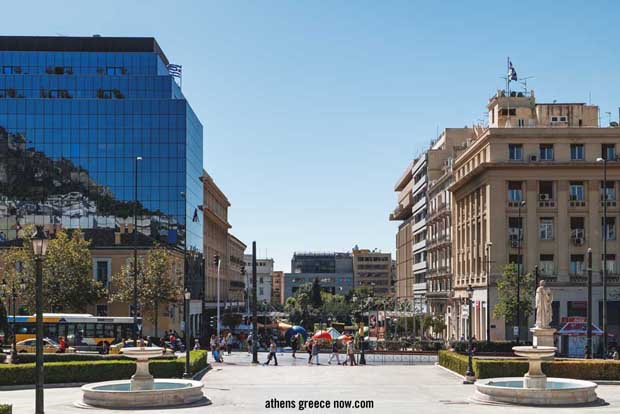 ---
Tsipras secures domestic backing for last-gasp effort at deal - eKathimerini
Varoufakis out as eurozone weighs cost of 'No' vote - MSN
Greece Says "No" To The Eurozone - Forbes
Why Greece can be your cheapest foreign holiday ever - Daily Bhasker
Greece has been taken hostage by a government disguising its incompetence as heroism - UK Telegraph
---
---
Oxford Greek-English Learner's Dictionary - 1024 pages - Amazon
---
July 5, 2015
Jubilation in Syntagma tinged with fear - Financial Times
Why the Yes campaign failed in Greece - Financial Times
Greek conservative opposition chief Antonis Samaras resigns - Economic Times
Emerging 'No' Vote in Greece Poses Merkel's Biggest Challenge - WSJ
Outlook for Greece Will Be Uncertain Even After Referendum - WSJ
As Greece starts to vote there's a sense of dread about what's coming next - SF Gate
Greece should vote yes and Europe should be ashamed - eKathimerini
Greece votes in referendum with future in euro in doubt - Yahoo
The eurozone has become a murder-suicide pact - The Week
Crying Greek pensioner: the story behind the poignant photo - Yahoo
---
July 4, 2015
Greek banks prepare plan to raid deposits to avert collapse - Financial Times
Ministry of Finance denies FT Report for plan to 'haircut' deposits - ethnos.gr
Fearing return to drachma, some Greeks use Bitcoin to dodge capital controls - ekathimerini
Germany suggests Greece could exit eurozone 'temporarily - UK Telegraph
50,000 tourists cancel holidays each DAY as food RUNS OUT and cash is GONE - UK Express
Greeks deeply divided heading into crucial vote - eKathimerini
Poll shows 2 sides neck and neck before referendum - MSN
Mendicant Greeks will try to blackmail Europe - AFR Australia
9 photos show the chaos in Greece right now - Dodge City Daily Globe
---
July 3, 2015
New opinion poll shows Yes vote slightly ahead in Greece - Yahoo
Voters perplexed, rival campaigns rush to deliver message - FoxBusiness
The Lessons Greece Didn't Learn - WSJ
Greece's self-inflicted tragedy and the catharsis to come - Reuters
Greece's hideous choice: More austerity or collapse - CNN Money
---
July 2, 2015
Greek banks down to €500m in cash reserves as economy crashes - UK Telegraph
This Is the Method in the Greece Madness - Time Magazine
'Please - we need holidaymakers to come to Kos' - UK Telegraph
Greece: IMF report justifies Greek debt stance - SF Gate
Tsipras May Be About to Do Exactly What He Said He Wouldn't - WSJ
Greece's hideous choice: More austerity or collapse - WBALTV
---
July 1, 2015
Greece's Tsipras digs in against bailout - Reuters
Europe just wants to punish Greece - Neo Kosmos
Tsipras insists on referendum after offering concessions - eKathimerini
Greece Wanted to Reframe Europe's Austerity Debate. It Failed. - NY Times
Tsipras defiant as bank controls bite - BBC
Compromise Bid Faces Resistance After Trust Eroded - Bloomberg
Conditions of Greek referendum fall short of international standards - eKathimerini
How Greece went bust - Economic Times
TRUMP: The US shouldn't worry about Greece because if Germany doesn't save it, Russia will - Business Insider
---
NEWS ARCHIVE - July 2015
---



---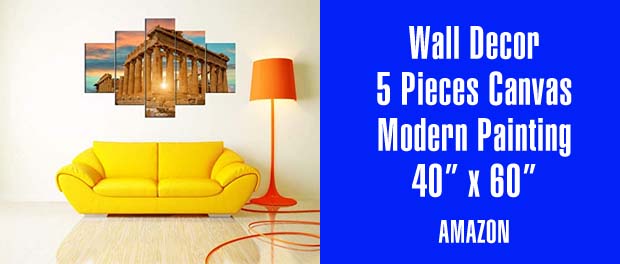 Parthenon Temple on the Acropolis of Athens Greece Artwork Wall Decor 5 Pieces Canvas Modern Painting Wall Art Home Decoration for Living Room Pictures HD Printed Framed Ready to hang(60''Wx40''H)
---
Create Amazon Business Account - save time and money on business purchases with competitive B2B prices and discounts