Greece and the economic crisis 2015
NEWS ARCHIVE - June 13 - June 19
June 19, 2015
Tusk tells Greece it is heading for default if it does not reach deal on Monday - eKathimerini
"The situation of Greece is getting critical," Tusk said in a video message on Friday. "We are close to the point where the Greek government will have to choose between accepting what I believe is a good offer of continued support or to head towards default."

Tusk suggested that euro-area leaders would not be in a position to negotiate the details of a deal. "The purpose of the summit is to make sure that we all understand each other's positions and the consequences of our decisions," he said. "We need to get rid of any illusions that there will be a magic solution at the leaders' level. The summit will not be the final step. There will be no detailed technical negotiations. That remains the job of the finance ministers."
---
EU calls crisis summit after failure of Greece bailout talks - Financial Times
"The eurozone's leaders have been summoned to an emergency meeting in Brussels on Monday in a last-ditch effort to prevent Greece from defaulting on its debts and potentially crashing out of the EU's common currency.

...Donald Tusk, the European Council president who convened the summit of eurozone heads of government, said the failure of finance ministers on Thursday evening to agree a deal to release desperately needed bailout aid meant it was now time to "urgently discuss" the Greek crisis "at the highest political level".

Alexis Tsipras, Greek prime minister, has long sought to negotiate a deal with his fellow leaders, and some eurozone officials said they remained hopeful that Mr Tsipras — who has privately told EU leaders he wants to reach a deal — will agree to creditors' terms on Monday despite four months of resistance."

...Mr Varoufakis blamed fearmongering by the previous government, unreasonable demands from creditors, and inappropriate warnings from the Greek central bank for causing the increase in withdrawals, which have sparked fears of a full-scale bank run. He rejected the idea of imposing capital controls to slow the deposit flight.
---
European Central Bank Increases Emergency Lending to Greece as Deposit Flight Mounts - WSJ
"Greeks are pulling money out of their accounts at a dramatically quicker pace as the standoff between Athens and its creditors drags on, prodding the European Central Bank on Friday to raise emergency lending to the country's banks or the second time in three days.

The lending level was extended another €1.8 billion ($2.04 billion), a Greek official said, on top of Wednesday's upward adjustment of €1.1 billion. Steady withdrawals from banks all year have accelerated in the past week, according to Greek bank officials, rising from an estimated €400 million on Monday to an estimated €1 billion on Thursday. One Greek bank official said the trend continued on Friday with an estimated outflow of a little more than €1.2 billion.

...Bank officials didn't independently confirm the size of Friday's increase in emergency liquidity assistance. Only on Wednesday, the ECB raised the amount available to €84.1 billion from €83 billion. Before Friday, the ECB was reviewing the amount of its ELA provision only a weekly basis.

Greek banks need the ELA program run by the country's central bank, the Bank of Greece, to cover the cost of the large outflows. The ECB must approve increases in the ELA program's size."
---
Emergency Eurozone Meeting Monday; ECB Ponders Shutting of ELA as Cash Withdrawals Accelerate - Townhall Finance
"The ECB requires collateral in exchange for loans, but pray tell, how good is that collateral?

Capital controls actually violate EU rules, but that will not stop eurozone leaders from telling Greece to impose them.

My suggestion to Greece, and one that I already think is being acted on, is to wait until the ECB halts the ELA. At that point, Greece can and will blame the ECB for the controls."
---
The cost of a Greek bankruptcy for Germany is 85.2 billion - ethnos.gr
"A cost of 85.2 billion euro to Germany would be the damage in case of bankruptcy of Greece, according to the German economic survey "Wirtschaftswoche", which relies on calculations of the Institute for Economic Research in Munich.

...Overall, the eurozone would suffer losses of 305 billion."
---
Syriza as Diogenes the Cynic - Greek Reporter
"In many ways the Greece's Syriza government is behaving like a modern version of the ancient Greek philosopher Diogenes the Cynic – not least because the recent image of Yanis Varoufakis (the unconventional finance minister) resting on the floor of the Greek parliament resembles that of Diogenes resting on the steps of the Agora of Athens in Raphael's famous "School of Athens" fresco.

Diogenes, like Varoufakis and his party, was a "controversial" figure. He used to criticise the social values and institutions of what he believed to be either a corrupt or a confused (economic) society. When Alexander the Great visited Diogenes and asked him if there was any favour he might do for him, Diogenes famously and fearlessly replied: "Yes, stand out of my sunlight."

This reflects a major problem with current Greek policymakers. They haven't quite understood that denial of economic reality brings Greek default a step closer, in which case, there will be very little (if any) sunlight left for them to enjoy."
---
ECB not sure if Greek banks would open on Monday- officials -Reuters
"The European Central Bank told a meeting of euro zone finance ministers on Thursday that it was not sure if Greek banks, which have been suffering large daily deposit outflows, would be able to open on Monday, officials with knowledge of the talks said. "
---
Greece's Banks Teeter as Brinkmanship Prevails - WSJ
"Greek banks are running out of money—that is becoming an increasingly unavoidable fact.

Leaks from a Eurogroup finance ministers' meeting on Thursday night revealed their fears that the banks may be unable to open Monday after heavy deposit flight this week. A special European Central Bank meeting on Friday then gave a green light to more emergency funding, after support was increased just two days earlier. No amount was specified, but it indicated hopes for a deal to end the crisis on Monday.

What is alarming is that the Greek banks have already taken as much emergency funding and other support as a percentage of their assets as they had at the peak of the last crisis in 2012, according to Citigroup.

...If Greece exits the euro, the emergency funding and collateral that backs it stays with the Bank of Greece. The country will have liabilities to the ECB in the payments system and from printing cash.

...However, if Greece stays in the euro, that could present more of a risk. If Greece's economy fails to improve, banks might struggle to repay emergency funding. The risk then is that Greece's central bank may be unable to bear the related losses from that emergency funding, which would wash back into the rest of the eurozone. "
---
EU To Hold Emergency Summit About Greece - CFO
"On Friday, a Greek bank official said that the European Central Bank had agreed to increase emergency lending to Greek banks, as deposit outflows continue to plague the country's financial institutions.

Greek Finance Minister Yanis Varoufakis said that je had made a new and credible offer to its creditors at the Luxembourg meeting.

But after listening to Varoufakis's comments, IMF Managing Director Christine Lagarde said: "The key emergency is to secure a dialogue with adults in the room. What we lack is a dialogue."

Meanwhile, thousands of Greeks protested against the Leftist government's stance that could lead to Greece being kicked out of the eurozone, Bloomberg said.

"'Hellas, Europe, Democracy,' the protesters shouted, swarming past the presidential guards to wave Greek and EU flags on the steps of the parliament building," Bloomberg wrote."
---
June 18, 2015
Top eurozone official not sure of deal - Miami Herald
"The eurozone's top official has his doubts about the prospects of any progress in bailout negotiations with Greece.

Arriving for a meeting of the eurozone's 19 finance ministers, Jeroen Dijsselbloem says he isn't sure there'd be any progress during the talks later: "We will not have a deal if it's not a credible deal."

Dijsselbloem says the eurozone wants "further steps from the Greek side because we need to have a solid deal. It needs to hold up in the coming years to be credible."

Greek Finance Minister Yanis Varoufakis, meanwhile, said he was hoping his government's plans will win backing from other eurozone states.

"The purpose is to replace costly discord with effective consensus," he said. "
---
Greece's future in EU in doubt if talks fail, central bank warns - Reuters
"Despite urgent pleas, including from the White House, there has been little sign of movement since talks between officials from Greece, the European Union, European Central Bank and International Monetary Fund collapsed on Sunday.

Hopes of a breakthrough on Thursday at a meeting of European finance ministers, once seen as the last opportunity for an agreement, looked increasingly remote. Athens must find a way out of the impasse by the end of June, when it faces a 1.6 billion euro ($1.8 billion) repayment due to the International Monetary Fund, potentially leaving it bankrupt and on the verge of exiting the euro zone."
---
Will leaving the euro break Greece or make it? - AU Sydney Morning Herald
"...Mr Spencer, chief economist for Deutsche Bank Asia Pacific, is not saying Grexit will happen. They are "still of the view that a deal will get done in the next few days", making this all just hypothetical.

"The Greeks dislike austerity but they want to stay in the euro . . . If they put in place capital controls and people in Greece are trading IOUs or tax refund receipts or whatever people come up with . . . that's a scenario in which we think the Greek government loses its popular support. [Greek Prime Minister Alexis] Tsipras will do what he needs to do to avoid that outcome."

But nevertheless, Grexit is on the table, governments are making contingency plans and economists are imagining what it would look like.

In 1994, Mr Spencer co-wrote a paper on the fragmentation of the Austro-Hungarian crown. He still sees it as the "key historical example of a currency union breakup".
---
Debt history capsized Greece - Euronews
"The Radical Left Syriza won parliamentary elections in January this year, on leader Alexis Tsipras's promise to renegotiate bailout conditions and end austerity, which had accompanied a 25% fall in GDP and a quarter of Greeks to lose their jobs.

They turned to him to get them out of this."
---
Sakellaridisno: No need for capital control - Ethnos.gr
"There is no way for capital control, the deposits are assured and the banking system is strong, said Greek government spokesman Gabriel Sakellaridis."
---
Yannis Stournaras: Dramatic appeal for agreement - Ethnos.gr
"The agreement with the negotiating partners is a historic imperative that we can not ignore was Stournaras appeal, that this was necessary in order to avoid bankruptcy, the exit of the country from the euro and the European Union resulting in Greece as a weak country in the Eastern Mediterranean.

This attack at SYRIZA from the Governor of the Bank of Greece C. Stournara. produced this response '[that] the governor of the Bank of Greece has not only gone beyond the limits of his institutional responsibility, but is trying to help to limit the freedom to negotiate an agreement by the Greek government. "
[English translation via Google Translate]
---
Greece's Tsipras set to head to Russia for some love - Yahoo Finance
"Tsipras' visit comes at a crisis point for Greece , with reforms-for-rescue talks between the country and its international lenders in deadlock.

Tsipras' government has already warned it will not have the money to pay a debt of 1.5 billion euros to the International Monetary Fund (IMF) without an agreement, prompting increasing concern that Greece will default and eventually leave the euro zone.

...The Greek and Russian governments' warming relations have not come as a surprise to some Europe-watchers.

"Ever since he became premier, Mr Tsipras has gone to great lengths to accentuate Greece's cultural and historical ties to Russia as part of his efforts to reorient Greece's economic and foreign policies away from conventional euro zone-centric ones," Nicholas Spiro, managing director of Spiro Sovereign Strategy, told CNBC Thursday."
---
June 17, 2015
Greece: The ultimate doomsday scenario - CNN MOney
"Things in Greece are bad right now, and if its leaders make a misstep in the next few days, they'll get a whole lot worse. The Greek central bank, which manages the country's money, is warning of a doomsday scenario if politicians fail to strike a deal with creditors.

...Roughly 30 billion euros ($33.8 billion) was withdrawn from Greek bank accounts between October 2014 and April 2015, according to the central bank.

...The latest jobless figures in Greece show unemployment still exceeds 25%, with 1.2 million people out of work. The rate among young people is twice that. The central bank's warning of "an exponential rise in unemployment" is unsettling at best.

"...An exit from the euro would only compound the already adverse environment, as the ensuing acute exchange rate crisis would send inflation soaring," said Greek central bank."
---
Greece, creditors dig in their heels on eve of meeting - Yahoo Finance
"Greece and its creditors took shots at each other on the eve a meeting of finance ministers tasked with finding a way to keep the nation from defaulting on its debt and, in the words of its central bank, suffering "a dramatic decline" in income.

Greek Prime Minister Alexis Tsipras called demands by the country's rescue lenders to slash pensions "incomprehensible," while European Union officials said their compromise proposals already leaned way over to Greece's side.

...Some member states are increasingly seeing a Greek exit, or Grexit, as a possibility, Dombrovskis acknowledged. "We are in the middle of June. By end of June, the current program expires and there are of course some discussions also on less favorable scenarios," he said."
---
Tsipras: Greece Ready to Give 'Big No' to Bad Agreement - Bloomberg
"Greek Situation Looking Increasingly Bleak

Greek Prime Minister Alexis Tsipras said he's ready to take responsibility for rejecting the terms of a deal on aid if creditors' demands are unacceptable.

With a viable solution "the Greek government recently elected by the Greek people will bear the cost of carrying through this difficult agreement," Tsipras told reporters in Athens on Wednesday. Without one, "we will assume the responsibility to say 'the big no' to a continuation of the catastrophic policies for Greece."
---
Just go: Majority of Germans want Greece to grexit -Breitbart
Polling company YouGov revealed Wednesday that 58 per cent of people would prefer it if Greece simply left the EU against just 28 per cent of Germans who thought that Greece should remain in, while 14 per cent had no opinion. Germany is Greece's biggest creditor and the biggest contributor to the EU budget and the eurozone bailout fund.

The poll results come as Europe readies for a last-ditch round of negotiations between Eurogroup finance ministers in Luxembourg on Thursday and Friday. As fraught as the situation is, German Chancellor Angela Merkel has publicly refused to give up hope of a solution – although she admitted on Tuesday that "a decision can only be reached [at the finance ministers' meeting] if there is a collective suggestion from the three institutions with Greece".
---
June 16, 2015
Leaving Greece to its own devices is not an option - Financial Times
"I detect a complacency in the way that some eurozone policy makers are handling these matters. They seem to think that the really important point is to make an example of Greece's radical leftist, Syriza-led government, not to mention anyone else in Athens who hopes to bend the rules and make monkeys of Greece's eurozone partners.

At best this is short-sighted, at worst a recipe for many years of Balkan unrest.

...The economic, financial and political turmoil that would erupt in Greece after a debt default, let alone a eurozone exit, would be terrible for most Greeks – but it would also have repercussions beyond Greece's borders. It would add to the political disorder, economic distress, corruption, organised crime, irregular migration, great power manoeuvring and outright war that characterises an arc of countries stretching all the way from Bosnia-Herzegovina in the Balkans to Syria on the east Mediterranean coast. "
---
Europe's Default Position on Greece - WSJ
"...the thorniest prospect involves the €27 billion in bonds held by the European Central Bank, with repayments of €3.5 billion in July and €3.2 billion in August. These bonds are a legacy of the 2012 debt restructuring, from which the ECB was excluded via a bond swap. To have taken part in the restructuring would have counted as providing monetary financing, illegal under European law.

But now, the ECB's ownership of Greek bonds may prove difficult. The ECB is providing support to the Greek banking system and has clearly argued it is for politicians to resolve the Greek problem. But it will be very hard for it to look past a default on bonds that it holds on its own balance sheet.

True, if a breakdown in political negotiations has already occurred, this may be a moot point. But this default would also mark a potentially irreversible rupture. While there is no mechanism to eject a country from the euro, a failure to repay the ECB bonds could force that debate—as well as raising questions about ECB losses."
---
Greece crisis: PM blasts 'criminal' IMF in defiant speech - UK Guardian
"Greek prime minister Alexis Tsipras said the International Monetary Fund had "criminal responsibility" for Greece's debt crisis on Tuesday, and called on the country's European creditors to assess the IMF's policies.

"The time has come for the IMF's proposals to be judged not just by us but especially by Europe," Tsipras told his parliamentary group, two days after the failure of debt talks with the IMF and the European Union brought Greece closer to a possible default."
---
Greece Blames Everyone But Itself And Won't Offer Any New Concessions In Negotiations - Forbes
"...Greece is insisting that the headline amount, the capital number, must be cut. Everyone else is insisting that it cannot be. This is purely political: Tsipras needs to be able to tell his voters that he's got the debt cut. And everyone else needs to be able to say that they haven't spaffed away their own taxpayers' money. Economically this can be dealt with (as it already has been in part) by changing the terms. Just extend the maturities and lower the interest rates and it amounts to the same thing. But Tsipras needs the headling number cut, not the economic equivalent, and everyone else can give him the economic equivalent but not the headline cut.

The third area is the supply side reforms in the Greek economy. Here it's the IMF more than anyone pushing these. Because they want a deal that means that Greece can actually pay off the debts over time. This means internal reform of that Greek economy. Syriza, being as they are of the hard (ish) left insist that those "neoliberal" reforms won't actually grow the economy. They're wrong but then again they are the democratically elected government of Greece.

So where we're left is that the troika has rejected the last Greek offer, the Greeks aren't going to change it and all that's really left is seeing who can be left with the blame for all of this."
---
June 15, 2015
Greece accuses Europe of plotting regime change as creditors draw up ultimatum - UK Telegraph
"Greek premier Alexis Tsipras has accused Europe's creditor powers of trying to subvert Greece's elected government after five years of "pillaging", warning in solemn terms that his country will defend its sovereign dignity whatever the consequences.

The defiant stand came as the European Commission lashed out at the Greeks and warned that the country would collapse into a "state of emergency" unless there is a deal to avert a financial crash.

Germany's EU Commissioner Guenther Oettinger said the creditor powers must draw up urgent plans to cope with social unrest in Greece and a break-down of energy supplies and medicine as soon as July.

...Syriza sources have told the Telegraph that Greece may seek an injunction from the European Court of Justice to stop the creditors and the EU institutions acting in a way that breaches Greek treaty rights. This would be an unprecedented move, greatly complicating the picture."
More UK Telegraph coverage:
Europe draws up Greek capital control plans as default is 'all but a certainty'
---
Syriza Left demands 'Icelandic' default as Greek defiance stiffens - UK Telegraph
"The radical wing of Greece's Syriza party is to table plans over coming days for an Icelandic-style default and a nationalisation of the Greek banking system, deeming it pointless to continue talks with Europe's creditor powers.

Syriza sources say measures being drafted include capital controls and the establishment of a sovereign central bank able to stand behind a new financial system. While some form of dual currency might be possible in theory, such a structure would be incompatible with euro membership and would imply a rapid return to the drachma.

The confidential plans were circulating over the weekend and have the backing of 30 MPs from the Aristeri Platforma or 'Left Platform', as well as other hard-line groupings in Syriza's spectrum. It is understood that the nationalist ANEL party in the ruling coalition is also willing to force a rupture with creditors, if need be.

"This goes well beyond the Left Platform. We are talking serious numbers," said one Syriza MP involved in the draft."

...The creditors argue that 'Grexit' would be suicidal for Greece. They have been negotiating on the assumption that Syriza must be bluffing, and will ultimately capitulate. Little thought has gone into possibility that key figures in Athens may be thinking along entirely different lines.

Tasos Koronaki, the party secretary, said on Sunday that attempts to split the party will fail. "The government will not enter into any agreement that is not accepted by the parliamentary group. We are more united than ever," he said.
---
Out of options and time, Tsipras faces Greece's moment of truth - eKathimerini
"Greek Prime Minister Alexis Tsipras has four days to capitulate to demands to keep Greece in the euro -- or prepare for a messy divorce.

The collapse of talks in Brussels on Sunday has made Thursday's meeting of euro-area finance ministers the next deadline in the saga that opened in 2009. Bills are piling up and the aid spigot, shut for 10 months, is about to be withdrawn.

...Without the ECB's largesse, Tsipras may need to impose capital controls to keep hard currency in the country as savers empty out their bank accounts in droves.

...Unless Tsipras changes his tune, German officials, including Chancellor Angela Merkel's deputy, have indicated a willingness to let the Mediterranean nation take its chances outside the 19-member currency union.

'We will not let the German workers and their families pay for the overblown election promises of a partially communist government,'' Vice-Chancellor Sigmar Gabriel wrote in a Bild opinion column on Monday. "
---
Greek banks see deposit outflow of $449 million on Monday - Yahoo
"Greek banks saw deposit outflows of about 400 million euros ($449 million) on Monday as the pace of withdrawals picked up from last week after talks with the country's creditors over an aid-for reforms deal broke down on Sunday, bankers said.

"There is worry but the outflows were rather contained, not as bad as feared in the context of a bad climate after negotiations hit an impasse," one banker told Reuters, declining to be named.

"For the system as a whole, Monday's outflow is estimated at around 400 million euros," the banker said. "
---
Greece Enters Fateful Week as Brussels Talks End Fruitlessly - Bloomberg
This article included a video report
"Greece enters what could be a defining week after last-ditch negotiations between representatives of the Greek government and its creditors collapsed on Sunday.

The euro dropped as the European Commission said the talks in Brussels had broken up after just 45 minutes with the divide between what creditors asked of Greece and what its government was prepared to do unbridged. The focus now shifts to a June 18 meeting in Luxembourg of euro-area finance ministers, known collectively as the Eurogroup, that may become a make-or-break session deciding Greece's ability to avert default and its continued membership in the 19-nation euro area.

"While some progress was made, the talks did not succeed as there remains a significant gap," the commission said in a text message. "On this basis, further discussion will now have to take place in the Eurogroup."
---
Creditors dig in after debt talks founder - CA News
"Greece and its creditors stuck to their positions on Monday after the collapse of talks aimed at preventing a default and possible euro exit, while Germany's EU commissioner said it was time to prepare for a "state of emergency". Prime Minister Alexis Tsipras ignored pleas from European leaders to act fast. Instead he blamed creditors for the collapse of the cash-for-reform talks on Sunday, the biggest setback in long-running negotiations to secure more aid for Greece.

Germany and other major creditor countries demanded that the Athens government come to its senses and offer new proposals. "It won't work that Greece sets the terms and says 'everyone has to dance to our tune'. Greece needs to get back to reality," Volker Kauder, parliamentary floor leader of Chancellor Angela Merkel's conservatives, told ARD television."
---
Greeks demand end to creditor 'looting' after talks break down - Yahoo News
"Following what it called a last attempt at a solution, the Commission said euro zone finance ministers would address the issue when they meet on Thursday. Fed up with years of austerity, Athens has balked at demands to raise taxes and cut pensions in order to narrow its fiscal deficit.

In his first public comments since the talks broke down, Prime Minister Alexis Tsipras on Monday said Greece would wait for its creditors to become more realistic and accused them of making unreasonable demands for political ends.

"One can only see a political purposefulness in the insistence of creditors on new cuts in pensions after five years of looting under the bailouts," Tsipras said in a statement to Greek newspaper Ton Syntakton.

"We will await patiently until the institutions accede to realism," he said. "We do not have the right to bury European democracy at the place where it was born."

Tsipras will meet his negotiating team later on Monday, a Greek local radio station reported. A spokesman for Greece's ruling Syriza party said the country would not back down from its previous negotiating position while also stressing that the government would not abandon the talks."
---
Greek default fears rise as '11th-hour' talks collapse - FT Times
"Greek negotiators, including Nikos Pappas, aide-de-camp to Prime Minister Alexis Tsipras, left the European Commission only 45 minutes after entering.

A commission spokesman said there remained a "significant gap" between the sides, amounting to up to €2bn per year, and there was no longer time to reach a "positive assessment" of Greek efforts before a meeting of eurozone finance ministers on Thursday.

"While some progress was made, the talks did not succeed," said the spokesman. "On this basis, further discussion will now have to take place in the eurogroup."
---
June 14, 2015
Greece on its own and in the Euro
"What kind of agreement they will conclude does not matter because both sides are well aware that no matter what terms will be set and how the agreement will be named, it will not be honored. The Greeks have no more money and all activities that could produce taxable income have ceased.

...This is not easy. Europeans not only do not trust Greek politicians but they want to severely punish the present Leftist government in order to discourage Europeans from voting for similar governments in other places like Spain, France or Italy.

Under the circumstances, the EU is not left with many alternatives. It will have to pay (directly?) Greece's foreign obligations and let the government sort out its domestic problems."
---
Greece rejects pension and wage cuts, VAT hike on power - Reuters
"Greece is trying to agree a cash-for-reforms deal with the European Union and IMF before the end of the month, when it faces a debt default unless it can secure fresh funds.

The delegation had submitted supplementary proposals which fully cover the fiscal gap and the primary surpluses, the official said, adding that these were "proposals which open the way for the final agreement that will cover all three - fiscal, funding and growth - pillars."
---
Sigmar Gabriel says patience with Greece is running out, Berlin won't be blackmailed - Foxnews
"...Gabriel said "a couple of game theorists in the Greek government believe that in the end the fear in Europe that Greece might leave (the euro) is so great that we'll agree to anything. That's not the case."

He repeated the German government's position that Greece needs to commit to previously agreed reforms if it wants a deal."
---
Tsipras warns of 'difficult compromise' after default threat - Yahoo
"Greek premier Alexis Tsipras warned Greece on Saturday to prepare for a "difficult compromise" with its EU-IMF creditors as his closest advisors delivered a last-chance proposal to avert a catastrophic default by Athens.

...The urgency for a deal increased exponentially on Friday when Europe's top economic officials said they had for the first time ever discussed the prospects of Athens defaulting on its debts.

"In discussions, a default was mentioned as one of the scenarios that can happen when everything goes wrong," a eurozone official told AFP on condition of anonymity after talks in Bratislava Friday.

The bombshell came a day after the IMF said it pulled its technical team from Brussels because it was dissatisfied with the state of the negotiations.

...The long-running saga over Greece's refusal to agree on reforms demanded by its creditors is set to come to a head at a meeting of eurozone finance ministers in Luxembourg on Thursday."
---
June 13, 2015
EU holds first talks on Greek default as Athens holds out hope - Reuters
"EU officials have held their first formal talks on the possibility of a Greek default, officials said on Friday, but the darkening outlook failed to fluster Prime Minister Alexis Tsipras, who holed up with his negotiators after proclaiming optimism at an open air concert.

In Athens, a government official denied that the possibility of Greece failing to honour its debt commitments had been discussed by the European Union, and said meetings with creditors would resume in Brussels on Saturday.

No one knows, least of all in Athens or Brussels, whether the anti-austerity government can reach a deal with its lenders before an end-June deadline and thereby avoid putting the country in grave danger of crashing out of the euro zone."
---
NEWS ARCHIVE - June 2015
---



---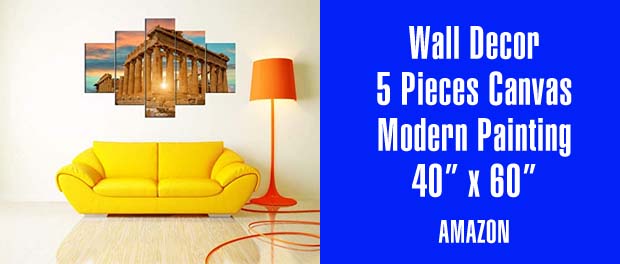 Parthenon Temple on the Acropolis of Athens Greece Artwork Wall Decor 5 Pieces Canvas Modern Painting Wall Art Home Decoration for Living Room Pictures HD Printed Framed Ready to hang(60''Wx40''H)
---
Create Amazon Business Account - save time and money on business purchases with competitive B2B prices and discounts