NEWS ARCHIVE - December 2013
---
Dec 31, 2013
Bailout program ends in 2014 says Samaras - Guardian UK
"Greece will leave its bailout programme next year without needing a third aid package, the country's prime minister, Antonis Samaras, announced on Monday, as he insisted that citizens could look to 2014 with confidence.

Samaras told long-suffering Greeks that the end of the country's financial assistance plan was in sight after almost four years of painful austerity, and that the new year would bring the prospect of normality.

"In 2014 we will make the big step of exiting the loan agreement," Samaras said in a nationally televised address. "In 2014, Greece will venture out to the markets again [and] start becoming a normal country… There will be no need for new loans and new bailout agreements"

Ireland left its bailout programme earlier this month, but a Greek exit would be a major milestone in the financial crisis that began to grip the eurozone in the spring of 2010. Greece has already received two aid packages, with around €130bn (£109bn) wiped off its debt in 2012."
---
Dec 30, 2013
Attack on German Ambassador's Residence - NY Times
"Assailants raked the German ambassador's residence in Athens with gunfire early on Monday in an attack that caused no injuries, Greek police officials said.

The police found 60 spent bullet casings at the scene and detained six people in connection with the incident, which occurred around 3:30 a.m. in an affluent suburb north of Athens. The bullet casings came from two Kalashnikov assault rifles, according to the police.

No one claimed responsibility for the attack, in which four bullets hit a security gate. But anti-German sentiment has been festering among many Greeks struggling with record unemployment and reduced salaries under a harsh austerity plan required for Greece's international bailout, which Germany had a major role in selecting the terms of."
---
Dec 29, 2013
Stalled Waste Disposal threatens Greek landscape - BBC

"A putrid mix of stale waste and methane engulfing the air - that is the stench that hits you as you approach the Fyli landfill just outside Athens.

Six thousand tonnes of rubbish arrive here every day from the capital and neighbouring regions. As trucks unload what they have collected that day, thousands of seagulls swirl above, ready to dart down on to the stinking pile. But there are other scavengers too - local Roma, who wade through the mountain of waste to pick out what they need.

Most is covered by gravel and then buried into a growing mound. But it is a ticking time bomb - Greece's largest landfill site is almost 90% full and has a year left until it is totally saturated.

...Greece buries 80% of its rubbish - over twice the EU average. At Fyli, there is a recycling plant but it only deals with a sixth of the waste that arrives here. Metal is removed for reuse, food is made into compost and some other items are converted into alternative fuel, mainly for the cement industry. But recycling is still in its infancy here.

...A site earmarked for an official landfill in Keratea, east of Athens, saw huge protests, halting its construction. But now the demonstrations have moved elsewhere, to Ilia in the Peloponnese, three hours' drive from the capital.

...The tragedy is that amidst their dire economic crisis, Greeks always tell you that at least they have the natural beauty of their country but even that is being destroyed by waste.

In a field nearby, huge piles of rubbish lie wrapped in white sheeting - a process known as "baling" - to prepare them for burial. It is supposed to be short-term but they have been stuck here for almost four years because of the failure to build a proper plant. The white film is splitting and bits of waste seep into the stream below.

"...Every time we've tried to do something, the residents stop us," says the mayor, Gerasimos Paraskevopoulos.

"Nobody wants waste in their backyard but we have to work together on this. We've also had to deal with a monster of bureaucracy. Municipalities passed the buck and there's been corruption over the years."

"But we will find a solution," he assures me, "because what's happened here is shameful."
---
Dec 26, 2013
Record Year for Greek Tourism - Greek Reporter
"The NBG [National Bank of Greece] announced that Greece achieved its goal of welcoming more than 17 million tourists.

According to the data released on Tuesday during the January – October 10-month period, the number of tourists increased by 15.5% compared to the same period in 2012.

Russian tourists increased by 55.2% and reached 1.3 million while there was a significant increase of U.S. tourists (29.2%). A smaller increase was noticed in tourists from the Eurozone (8.2%) and the European Union (5.4%).

...Under these conditions Greece showed a travel surplus of 10,068 billion euros in the 10-month period from January to October 2013, a 17.9% increase compared to 2012."
---
Recent Statistics [Nov 2013]
Coloring is relative: If the category has improved since the last report, it is GREEN Worse numbers are BLACK . Data source is ELSTAT.
| | | |
| --- | --- | --- |
| Consumer price index | Nov 13/Nov 12 | -2.9 |
| Harmonized Index Consumer Prices | Nov 13/Nov 12 | -2.9 |
| Gross Domestic Product (GDP) | Q3 2013 | -3.0% |
| Unemployment rate* | Q3 2013 | 27.0% |
| Industrial Production (non-construction) | Oct 13 / Oct 12 | -5.2% |
| Turnover Retail Trade | Sep 13 /Sep 12 | -5.9 |
| Producer Price Index Industry | Oct 13/Oct 12 | -1.6% |
| Building (volume) | Sep 13 / Sep 12 | -36.6% |
| Population count 2001 | 10,815,197 | |
| (2008 Eurostat Estimate Population) | 11,262,000 | |
| Registered Population 2011 | 9.903.268 | |
| Resident Population 2011 | 10.815.197 | |
NOTE: In general, all the numbers are bad compared to a year ago, but the amount of decline (marked green) has slowed versus the last report, which is either a month ago or just last quarter.
---
Elstat survey on retirement in Greece - Elstat
Survey and accumulation of statistics indicates that the average age of retirement is 58.
"The most frequent reason for the exit from the labour market is that the person reached eligibility for pension and chose to stop working (60.8%), while the second most frequent reason is that the person reached the maximum retirement age (28.3%). Health problems are reported as the reason for retirement by 5.7% of the respondents."
Download PDF of the entire Report from ELSTAT
---
Dec 25, 2013
Greek Coast Guard rescues 60 migrants off coast - New Straits Times
"The Greek coastguard has rescued more than 90 migrants sailing off the south of the country after their boat ran into trouble in bad weather, a spokeswoman said Thursday.

"Overall 97 persons (were rescued) yesterday, including three who are presumed traffickers," a coastguard spokeswoman told AFP, adding they have all been taken to the western city of Pylos.

"The traffickers are being detained in the police station and the other 94 persons are in a stadium" on a temporary basis, she said.

The boat first encountered difficulties late on Monday and the rescue operation, in which 13 vessels and one helicopter participated, was completed on Wednesday.

All the migrants are doing well according to the coastguard. Their nationalities have not been released."
---
Dec 23, 2013
Brain-drain in Greece continues - USA NPR
"Thanos Ntoumanis and his wife, Laura, are crashing at his parents' apartment in Greece's northern city of Thessaloniki.

The couple have packed their home and are moving to Germany. Thanos, a 38-year-old psychiatrist, is joining some 4,000 Greek doctors who have left the austerity-hit country for jobs abroad in the past three years. It's the largest brain drain in three decades.

"I won't say that I'm never coming back," he says. "I do need some distance, though. I don't want to get to that tipping point. I don't want to get to that point where I hate it here."

"You'll come back," says his mother, Pepi Mavrogianni, trying to break the gloom. She's a retired pediatrician in a "Hippocratic Oath" T-shirt. She brings out a tray of warm cheese pies.

"And we have Skype, so we can talk every day if we want," she says.

Three of her four children became doctors, like her and her husband, a cardiologist. Now, due to a confluence of austerity and an overproduction of physicians, her kids are all working abroad. "
---
Dec 18, 2013
Greece Eases Protection on Troubled Mortgages - ABC News
"The Greek government says it will partially lift protection for distressed mortgages in the crisis-hit country to protect banks from a rising number of unpaid loans.

The Development Ministry said Wednesday it will extend through 2014 a freeze on repossession but only for primary properties valued at up to 200,000 euros ($275,000) and households with an annual net income of under 35,000 euros."
---
Greece leaving the euro could be the spring surprise - MarketWatch
"What is the biggest shock that could hit the markets in the coming year? The Federal Reserve not just tapering, but deciding to hike interest rates back to normal levels? Violent protests in China aimed at toppling the government? OPEC deciding to price oil in bitcoins rather than dollars?

True, there were plenty of predictions of Greece getting out of the euro in 2011 and 2012. It never happened. Instead, a modest amount of debt was written off and the Greeks knuckled down to year after year of grinding recession. The markets have stopped worrying about a Greek exit from the euro — the so-called Grexit. Indeed, there has even been some talk of a Greekcovery getting underway. But in fact, the Grexit has not been cancelled, just postponed.

The key point is that it was not possible for Greece to get out of the single currency in 2012 or 2013. It had no way of paying for itself. But by next year, a trade and budget surplus will mean the country can leave if it wants to. The locks will have been taken off the doors — and it would be rash to assume Greece won't walk out. If it does, the most likely moment will be this spring, and it will rock the markets."
---
Sale of Greece's gas monopoly to be put off until 2015 - eKathimerini
"Greece is pushing back the sale of the country's gas monopoly beyond 2014 after the European Union asked for regulatory changes in the domestic market, according to the fund charged with selling state assets.

The EU asked for "an opening up of this market," Yiannis Emiris, chief executive officer of Greece's Hellenic Republic Asset Development Fund (TAIPED), said in an interview at Bloomberg's headquarters in New York late on Tuesday.

The changes "will further delay the process because we need to renegotiate, and DEPA needs to renegotiate with certain partners. This is going to take some time."
---
Dec 17, 2013
€1 Billion tranche released - eKathimerini
Though the money was released, differences still abound over VAT and other issues between the Greek negotiators and the Troika committee.
"The Euro Working Group on Tuesday gave the green light for the release of a 1-billion-euro sub-tranche of rescue funding for Greece after approving plans presented by the Greek government for the restructuring of Hellenic Defense Systems (EAS)."
---
Central Bank warning accompanies loan money release - Washington Post
"Most economic forecasters, including Greece's conservative-led coalition government, think the country will return to growth next year following a savage recession that's wiped out more than a fifth of the Greek economy. The Bank of Greece backed the growth prediction in a report Tuesday, forecasting an expansion of 0.5 percent in 2014.

However, it said a "polarized atmosphere" among political parties could set back years of painful reforms and derail plans to emerge from a severe six-year recession in 2014."
---
Dec 15, 2013
Greece's Dismal Demographics - NY Times
Article by Nikos Konstandaras focuses on the stats and the anecdotes of recent Greek history that indicates a quickly aging population and a younger group of adults who are choosing to only have one child, if any, two things making for a dark future. Joining the EU has turned out to be a two-edged sword on more than just loan money and bank-book balances, as Greece has quickly shifted into the declining birth-rate norm of Europe. Konstandaras does hold out two aces in the Greek back pocket: a loyal diaspora that funnels wealth back home, and a hoped for imigration reform that allows an offset coming foreign immigrants.
"The Greeks are in a struggle for survival. And the odds are piling up against us. The fight is not only on the economic front, as we try to meet our commitments under an international 240-billion-euro bailout deal that has resulted in greatly reduced incomes, higher costs and taxes, and an overriding sense of insecurity. The danger is even more basic: Deaths are outnumbering births, people are leaving the country, and the population is aging so fast that in a few decades Greece may be unable to produce enough wealth to take care of its people and may cease to be a viable nation state.

... Mr. Papadakis, the demographer, says that though there is no reported research on this yet, there is a trend toward people marrying later and then delaying having their first child. The most recent Greek statistical service figures show the number of weddings dropping from 59,212 in 2009 (the year in which the impact of the crisis first became evident) to 55,099 in 2011.

Marilena Kapidaki, an obstetrician, says that among her clients, people who married usually decided to have children but appeared to be limiting themselves to one child. "I would not be surprised if the fertility rate has dropped even further during the crisis," she says. The latest statistics, from 2011, showed a fertility rate of 1.4 in Greece, well below the 2.1 needed to replenish the previous generation. "A lot has changed since 2010," Dr. Kapidaki says."
---
Dec 13, 2013
Swiss Dufry buys remaining stake in Greece's HDF for 328 mln euros - eKathimerini
"Swiss travel retailer Dufry said it was buying the 49 percent stake in Hellenic Duty Free (HDF) it does not already own from Greek rival Folli Follie for 328 million euros ($452 million), a vote of confidence in the austerity-hit economy.

Dufry bought a controlling 51 percent stake in the Greek travel retailer in October 2012 for 200.5 million euros, with an option to acquire the remaining 49 percent in 2016.

Dufry said in a statement on Thursday the operation had contributed 274 million Swiss francs ($309.3 million) to group revenue between April and September. It expects to achieve an incremental 10 million euros in synergies thanks to the deal."
---
Greece a month away from key bailout target - Seattle PI
"Greece is close to reaching a central target of its bailout agreements with international lenders, after beating expectations for its budget performance in the first 11 months of the year, the Finance Ministry said Thursday.

It said the country is on track to achieve a modest primary budget surplus — excluding the cost of servicing its crushing debt burden — for the full year, meeting a key condition to qualify for further debt relief from its European partners.

Preliminary figures for January-November published Thursday showed a budget deficit of 3.2 billion euros ($4.4 billion), better than the target of 4.3 billion euros ($5.9 billion) and achieving a €1.2 billion euro ($1.65 billion) primary surplus, the ministry said."
---
Has the Greek Economy turned the corner? - BBC
Video report.
---
How real is the Greek Gas & oil future? - Forbes
"If you've been watching Greece's recent energy push lately, it's been difficult not to get too excited about the country's potential. From political commentators to Prime Minister Antonis Samaras himself, the message has been enthusiastic and clear – Greece is home to billions of barrels of oil, trillions of cubic meters of gas and most importantly for a country saddled with the longest recession in modern history, billions in potential revenue.

Over a dinner organized by the American-Hellenic Chamber of Commerce in Athens last week, Samaras told a gathering of political and business leaders that Greece could be home to 4.7 trillion cubic meters of gas could one day provide up to 25 percent of European demand. If they could manage to combine this with already active efforts by Cyprus and Israel, this amount could climb to 50 percent and not just for the short term, but for the next 30 years.

...However, as Athens current leadership presents a lucrative path towards energy independence and export options, some of the country's energy sector leaders are rolling their eyes at the rhetoric, while taking a more cautious approach to what Greece is actually capable of doing. There is potential for domestic potential is there, they say, but even meeting domestic demand is a dream that is incredibly far away."
---
Maria Callas birthday logo at Google.com - Dec 2, 2013
Image appeared on the google.com websites December 2, 2013 to mark the birthday of famed Greek soprano opera singer Maria Callas.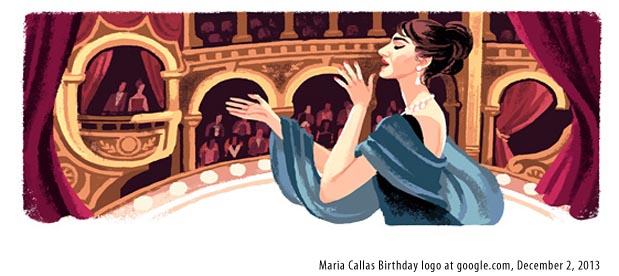 ---
Dec 2, 2013
Moody upgrade leads to fight with Troika - UK Guardian
"A growing spat between Greece and its lenders has taken the shine off the first good report card the debt-laden country has received from an international rating agency in years, amid mounting concerns over Athens's deteriorating relations with the bodies keeping its economy afloat.

A two-notch upgrade by Moody's was eclipsed over the weekend by the news that monitors representing the European Union, European Central Bank and International Monetary Fund had put off a planned visit that was due to begin on Monday.

"We haven't worked things out, we still differ over certain issues," the Greek finance minister Yannis Stournaras told reporters. "There are differences over two or three structural reforms," he said, adding that the fraught negotiations with the organisations would be pushed back another week.

On Friday, Moody's announced it had rare good news for Greece – it was upgrading its credit rating from C to Caa3 because of improved results in the country's economic adjustment programme."
See the main archive index of all collected news articles and pages on Athens Greece Now.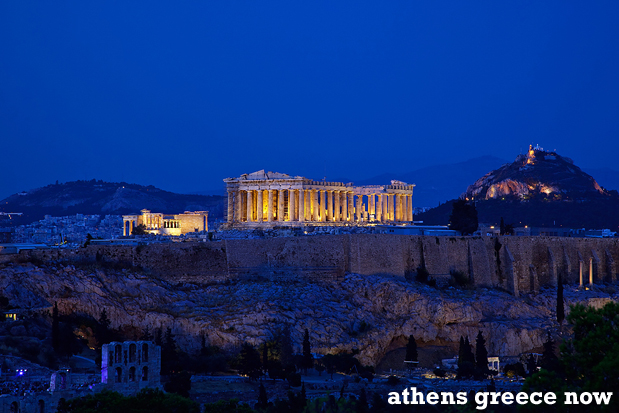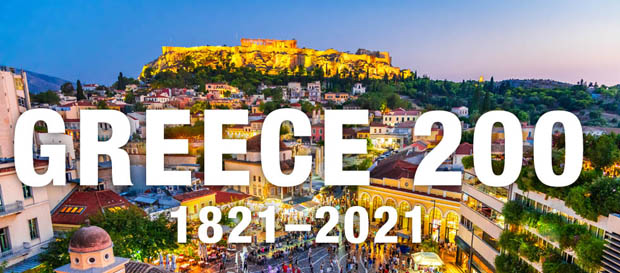 ---
Advertisement: I am an Amazon affiliate
Fodor's Essential Greece: with the Best Islands (Full-color Travel Guide)