NEWS ARCHIVE - NOVEMBER 2012
---
November 30, 2012
What's Happening:
European stocks mainly firm on fresh Greece action - Economic Times
Greece Extends Deadline for Banks' Second Quarter Results - WSJ
Health officials warn of increasing HIV infections in Greece - Los Angeles Times
Greece's trauma: Financial crisis, no jobs, suicide and HIV - UK Globe and Mail
---
November 29, 2012
What's Happening:
IMF money for Greece contingent on debt buy back - Reuters
"The (IMF) managing director (Christine Lagarde) said once progress has been made on specifying and delivering on the commitments agreed, in particular the implementation of debt buy backs, she would be in a position to recommend to our executive board the completion of the first review of Greece's program," IMF spokesman Gerry Rice told reporters.
---
what the Public Doesn't Know can't hurt them - ECB
ECB right not to disclose Greece-related documents: court - Reuters
"Bloomberg News asked the ECB in August 2010 to disclose two documents entitled "The impact on government deficit and debt from off-market swaps. The Greek case" and "The Titlos transaction and possible existence of similar transactions impacting on the euro area government debt or deficit levels".

The ECB refused access to the documents. Bloomberg News challenged that decision in the General Court.

...The judges agreed with the ECB that it could not disclose the first document because the information it contained was outdated, posing a substantial risk of severely misleading the public in general and financial markets in particular.

"In a very vulnerable market environment, that disclosure would affect the proper functioning of the financial markets.

...The court also found that the content of the second document was closely connected with the first, and that the ECB had not made a mistake in assessing that its disclosure too "would undermine the economic policy of the EU and Greece."
---
---
Euro Could Yet Trip on Greece's Buyback - WSJ
"...a closer look at how Greek yields are performing and how the country's debt-buyback plans are progressing paints a different picture.

...The Greek finance ministry has confirmed that the pricing and other terms of the buyback will be announced early next week but there are already fears that the program is starting to unravel.

...When the program was first mooted late on Monday after negotiations with creditors in Brussels, the talk was that Athens would offer about 35 cents in the euro.

Now, however, officials have admitted to Dow Jones Newswires privately that it is more likely that, given the current level of Greek yields, which have failed to fall like those of Spain and Italy, bondholders might only be offered between 28 and 30 cents in the euro.

And that's where the bond-buyback program, which is designed to reduce the country's debt mountain by about EUR29 billion ($38 billion), could trip up. "
---
Greece Will Borrow to Buy Back Debt - NY Times
Greece deal is 'unfair' to Ireland - Irish Independent
"London-based German academic Gunnar Beck said Germany was "tied to a corpse" and would be better to cut itself loose despite the benefits the common currency bring for German exporters.

Other newspapers said the special treatment doled out to Greece was unfair on countries such as Ireland and Portugal that have made big sacrifices to get their finances in order. "
Stournaras says voluntary debt buy back must succeed - Reuters
Greece, 'Fiscal Cliff' Weigh on U.S. Stock Futures - Wall Street Journal
---
Foto: Byzantine Church the Holy Apostles of Solakis
Ancient Agora, Athens, Greece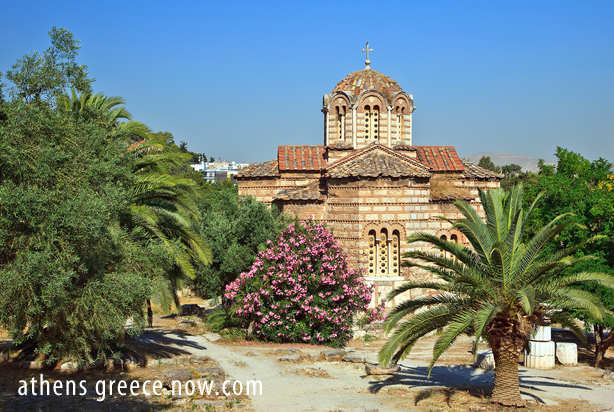 Source: Big Stock Photo
Additional photos here.
---
November 28, 2012
What's Happening:
"Historic" debt deal reduces Greek debt by 40 billion (in 2020) - eKathimerini
From the interview with European Economic and Monetary Affairs Commissioner Olli Rehn titled "Together, we will make it, Rehn tells Kathimerini after Greek debt deal"
"Last night's decision is a major milestone for Greece and for Europe. It will reduce the debt burden of Greece by 20 percentage points in 2020, which is around 40 billion euros of debt reduction, which is a very substantial amount and will help Greece to be more sustainable in economic terms.

[Question from eKathimerini]: The EU Commission's autumn economic forecast projects that unemployment in Greece will remain well above 20% even in 2014, the same is for Spain, and the recession continues throughout the periphery of the eurozone and it really touches the core of the euro. So do you think that the situation is socially sustainable?"

[Answer] If you look at the EU economy for the moment, it is true that we are still in the period of stagnation or recession and we see that next year we will return to recovery and we expect that 2014 will be the year of stronger economic growth. However there is quite a lot of economic diversity inside Europe, as you described, so that central Europe and parts of northern Europe are growing rather well, while the southern parts of Europe are still in the period of stagnation."
German opposition may delay vote on Greek aid - euobserver
Greece says debt buy back will be voluntary - Reuters
Greece hires Deutsche, Morgan Stanley for voluntary debt buy back: source - Reuters
Schaeuble Signals Greece May Need More Help as Bild Slams Deal - Bloomberg
Euro Moves Lower on US Fiscal Fears, Greece Debt Doubts - CNBC
Euro group's deal on Greece far from the last word - UK Globe and Mail
---
November 27, 2012
What's Happening:
Europe's Plan C for Greece Is No Better Than Plans A or B - Bloomberg
Greece's Official-Sector Debt Cut In Half And/Or Left Unchanged - Dealbreaker.com
Greece Is Fixed... So They Say - Seeking Alpha
Oil futures settle lower, hit by demand concerns - Marketwatch
Greece gets $57B in critical loans, debt relief - USA Today
"European and global financial leaders have agreed to release €44 billion ($57 billion) in critical loans to Greece and provide billions in additional debt relief in order to help the country stabilize its ailing economy.

After three weeks of negotiations, Greece's euro partners and the International Monetary Fund agreed early Tuesday morning to release the loans in four installments beginning next month. The leaders also settled on a raft of measures — including a debt buyback program and an interest rate cut on loans — that will reduce the country's debts by about €40 billion.

Greek Prime Minister Antonis Samaras hailed the agreement in Brussels as a victory that heralds "a new day for all Greeks." But the country will still face years of economic pain as austerity measures agreed to as part of the bailout package are implemented."
---
November 26, 2012
What's Happening:
Greece does not need debt forgiveness - Financial Times
"The conclusion seems to be clear: private sector forgiveness is not enough to achieve a sustainable debt.That portion of Greek debt held by European governments and institutions such as the European Central Bank will have to be reduced too. In the jargon, OSI (official sector involvement) must follow PSI (private sector involvement).

The International Monetary Fund has taken this line but met resistance from the European Central Bank and the European Commission, its partners in the so-called troika negotiating assistance for Athens. "
Shares, euro fall on Greece, U.S. fiscal talks - Reuters
ECB Said to Consider Helping Greece With Investment Holdings - Bloomberg
Greece uncompetitive despite plunging wages - Gulf News
---
November 24, 2012
What's Happening:
German Bunds Fall as Greece Loan Speculation Damps Safety Demand - Bloomberg
Greek Bond Rally Puts Buyback in Doubt - WSJ
Greek protesters march against mining projects - SunHerald
Greece recovers stolen Olympia artefacts: officials - hindustantimes.com
Greece: 3 people arrested for museum robbery - Boston.com
---
November 21, 2012
What's Happening:
German doubts force rethink on Greece - Financial Times
"German objections to suffering losses on official loans to Greece have forced the eurozone to explore more complex means of helping Athens cope with its debt mountain.

After almost 10 hours of intense talks on Tuesday night, eurozone finance ministers failed to agree on how fast to cut Greece's debt pile. They called a further meeting next week to settle differences and release €44bn of long-overdue aid.

The main stumbling block was Berlin's refusal to back "illegal" cuts to the interest rates on bilateral loans to Greece or return the profits from the European Central Bank's purchases of Greek bonds, said people involved in the talks.

An alternative proposal involves offering €10bn of extra loans to Athens from the European Financial Stability Fund, the eurozone's temporary bailout pot. The option is seen as a leading contender for a compromise deal. "
Greece fumes after bailout delayed - Toronto Star
Debt should be at heart of Greece's deal - Financial Times
Another Greece decision delayed – a new pattern here? - Market Watch
Greece headed for disaster, again - Winnipeg Free Press
---
November 20, 2012
What's Happening:
Greece Optimism Lifts Euro After Dip on French Rating - CNBC
'Greece Has Delivered,' European Official Says - New York Times
"We must still reach an understanding on several details," the chairman, Jean-Claude Juncker of Luxembourg, told reporters before the meeting. "I would expect that the chances are good that we will come to a final and joint solution this evening."

Among the issues that still need to be resolved among members of the troika of lenders, comprising the European Commission, the European Central Bank and the International Monetary Fund, is how quickly Greece should be obliged to bring its towering debt under control.

...Prime Minister Antonis Samaras, who is struggling to hold together an increasingly fragile coalition, hopes that a final push by Athens to tie up loose ends may lead to movement on the release of the aid and on the financing of a two-year extension to the country's fiscal adjustment period.
Greece Faces Threat of Blackouts as Crisis Deepens - Washington Post VIDEO
German parliament to vote on Greece next week - Merkel ally - Reuters
Greece's debt sustainability remains elusive – Deutsche Bank - NASDAQ
Greece's commerce sector shrinks 12% - Menafn
---
November 19, 2012
What's Happening:
Greece shouldn't expect debt writedown: ESM chief - Marketwatch
No writedown "except under extraordinary cicrumstances." One set of extraordinary circumstances coming up!
Greece finalizes reforms ahead of Eurogroup, as eurozone splits remain - eKathimerini
---
Greece: When anger goes beyond despair - CNN
"Today, Greeks are experiencing a different social reality, characterized by uncertainty, insecurity, distress, disappointment and the inability to map out any form of future for their lives.

Last year I conducted thirty five in-depth interviews with Greeks aged between 20 to 65, who are still living in the country.

Participants expressed negativity, pessimism and disorientation, particularly regarding the lack of any specific plan to improve their everyday lives.

...Even those who have an income cannot escape, as cuts continue and salaries and pensions are sliced by 40%. The monthly basic salary has now dropped from 739 euros in 2009 to 586 euros in 2012. In contrast, the price of essential goods has not dropped, and taxes have continued to rise.

Participants in the study felt cornered and cross as they explained that they were trapped by a government system that was only concerned about maintaining power without offering anything in return.

"We lived part of our lives in a way we didn't deserve, but the system allowed us to do it," a 37-year old electrician explained. "
---
ECB: The euro zone must settle Greece's financing next week for the next two years - Market Watch
U.S. political leaders' focus on 'fiscal cliff' while european leaders remain stuck on Greece - Wall Street Journal.
Marches in honor of Polytechnic Nov 17 draw 12,000 - Philly.com
National Confederation of Greek Commerce (ESEE) projects no improvement in employment for 2013 - Sky News
Austerity and shrinking economy have make Greek debt untenable - Wall Street Journal
---
Euro takes hit over Greek debt slowdown - WSJ Video
"A public spat between the IMF's Christine Lagarde and the Eurogroup's Juncker over how to resolve Greece's debt problem hits the single currency. Sentiment isn't helped by a disappointing Greek auction and a sharp fall in Germany's ZEW survey. "
---
Dark-skinned migrants in Greece singled out - Washington Times
"The attack came seemingly out of nowhere. As the 28-year-old Bangladeshi man dug around trash bins one recent afternoon for scrap metal, two women and a man set upon him with a knife. He screamed as he fell.

Rushed to the hospital, he was treated for a gash to the back of his thigh.

Police are investigating the assault as yet another in a rising wave of extreme-right rage against foreigners as Greece sinks further into economic misery.

The details vary, but the cold brutality of each attack is the same: Dark-skinned migrants confronted by thugs, attacked with knives and broken bottles, wooden bats and iron rods.

Rights groups warn of an explosion in racist violence over the past year, with a notable surge since national elections in May and June that saw dramatic gains by the far-right Golden Dawn party."
Related
---
November 16, 2012
What's Happening:
Bank Lobby Chief: Greece Needs Help, Not Writedown - The Street
Greece Asks U.K. Chancellor for HSBC Account Holders in Jersey - Bloomberg
Is the IMF Ready to Leave Troika and Greece? - Business Insider
EU's Rehn:Greece solutions shouldn't include change to principal - Reuters
Greece looks in the mirror, and cringes - Haaretz
"Even after the crisis began to grip the Attic nation, its people remained in blissful denial. Even now, after admitting the hard truth that it's all their own fault, some remain sunnily optimistic.

During the last year I and the rest of the world watched Greece's tragedy: its descent from a developed economy that hosted the Olympic Games in 2004, built on a history and culture that few countries in the world can boast, into a crumbling third-world country, shattered and pitiless.

Then last week I read about the arrest of journalist Kostas Vaxevanis for breach of privacy after his magazine Hot Doc published the names of more than 2,000 suspected tax evaders with Swiss bank accounts, and I felt something was starting to move in Greece. The masks were starting to come off. The real story was getting out.

....Most of the reporters in the [Greek] press and on television censor themselves. They know what the boundaries are and who not to mess with, Kapopoulous told me. The entire economy is controlled by six or seven families and not a paper in the land will write about them. Nor do they compete with one another: most branches have cartels. They divided the market like mafia dons. Not even the leftist press writes about them, Kapopoulous said. "
---
November 15, 2012
What's Happening:
Europe officially in Recession? - Reuters
"Global stocks fell for a seventh day on Thursday after data showed the euro zone entered a recession in the third quarter and on fear of the U.S. "fiscal cliff," while oil prices gained on growing concerns about violence in the Gaza Strip."
Greece sells more T-bills, raises full 5 billion euro - Reuters
Protesters break into German conference in Greece - USA Today
Greece Examines a Debt Buyback as One Way to Reduce Its Burden - NY Times
Greece trapped in the middle of IMF, EU dispute, no end in sight - GlobalPost
Greece Politics: Eyes Already On 2013 - ABC WHAM 13
IMF's Lagarde wants "real fix" for Greece as slowdown spreads - Reuters
"Greece needs a lasting solution to its debt burden to avoid a prolonged crisis as Europe's slowdown and U.S. fiscal problems dampen the economic outlook in Asia, International Monetary Fund Managing Director Christine Lagarde said on Wednesday.

The IMF expects a "real fix" for Greece that puts its debt on a sustainable path as quickly as possible, Lagarde said, showing no signs of backing down in a clash with the EU over how Athens can bring its debt down to a sustainable level.

"Obviously, from the IMF's perspective, we expect a real fix, not a quick fix, and that means clearly a debt that is sustainable as quickly as possible," Lagarde told a news conference in Malaysia at the start of a visit to Asia that will also take her to the Philippines and Cambodia.

Euro zone finance ministers have suggested Greece, where the euro zone debt crisis began, should be given until 2022 to lower its debt to gross domestic product (GDP) ratio to 120 percent, but Lagarde has insisted the existing target of 2020 should remain, in an unusually public airing of disagreement."
---
November 13, 2012
What's Happening:
Greece raises funds to avoid default - Financial Times
Greece raises $5.15 billion in short-term auctions ahead of Friday repayment - Fox News
Eurozone crisis as it happened: Greece gets more time as IMF and EU clash - Guardian UK
---
November 8, 2012
What's Happening:
"Greece's former Finance Minister George Papaconstantinou defends European Central Bank chief Mario Draghi's Outright Monetary Transactions plan."
---
"Not so Jolly Trip to Hell" - Greek Economy
Greece waits on pins and needles - MSN Money
"European finance officials don't look ready to approve a new rescue fund payment to the beleaguered country.

...More statements, still from unnamed officials, saying that European finance ministers won't be ready at their Monday meeting to vote on approving the release of the next 31.5 billion euro rescue fund payment to Greece. The final report from the troika -- the European Commission, the International Monetary Fund, and the European Central Bank -- won't be ready by the meeting date and the ministers, the unnamed source said, won't approve the payout from the preliminary version of the report.

Unnamed sources continue to insist that Greece will be able to find the cash to fund the government and banks through the end of November and maybe even through the first week of December. These sources also say that the next date that finance ministers could approve the payout for Greece would be Nov. 26.

To me, that seems like cutting it awfully close. Meanwhile, the Greek economy continues its not-so-jolly trip to hell. Unemployment was reported at 25.4% Thursday and is still climbing."
---
November 3, 2012
Golden Dawn continue ascendancy - UK Telegraph
---
November 2, 2012
Threat of default appears again
The arrest of journalist Costas Vaxevanis for publishing a list of Greeks who have money kept in Swiss Bank accounts has peeled back another layer of corruption (or, at least the appearance thereof) within the upper tiers of Greek society. Considering the scale of austerity being brought to bear on Greece, this sort of exposure would be an obvious step in the process of reconstruction. If not, then the weight of these revelations will be that much more pressure toward hurling Greece into even deeper crisis. How the government of Greece responds will probably determine the outcome.
---
November 1, 2012
Privatization passes
Greek parliament approves privatization law - UPI
The Greek Parliament narrowly approved a law granting the government new abilities for selling off state-owned companies.

Next week: voting on the €13.5 billion of cuts in Greek government spending needed to receive the next bailout tranche.
---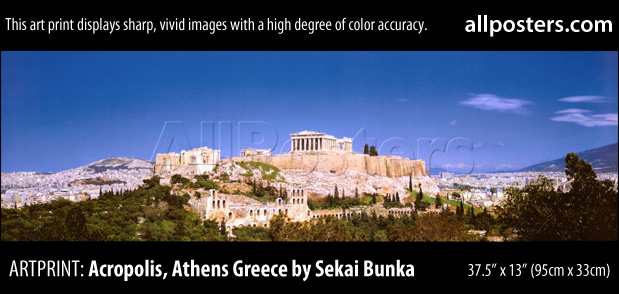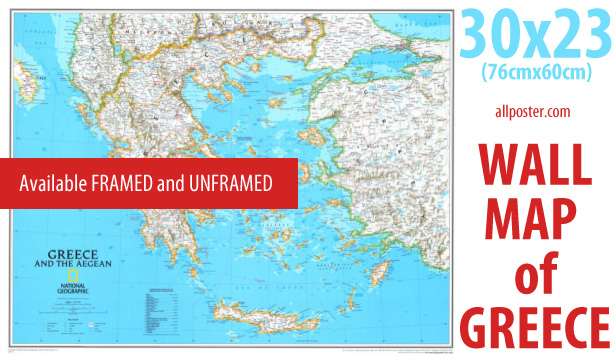 ---
---
Original page Dec 7, 2012
---



---
Advertisement: I am an Amazon affiliate
Fodor's Essential Greece: with the Best Islands (Full-color Travel Guide)