June 21, 2011
CNBC: Greek Streets 'Explosive' as PM Faces Confidence Vote
At CNBC, uncertainty about a head-on collision between the Greek government under George Papandreou and the street protesters:
"Persistent protests in Athens' Syntagma Square show that the Greek people feel increasingly disenfranchised with their political system and analysts told CNBC that the growing separation between the government and the population over austerity could prove 'explosive'.

Prime Minister George Papandreou last week floated the possibility of stepping down in order to build a government of national unity, and on Thursday reshuffled his cabinet, removing his finance minister George Papaconstantinou and replacing him with his former rival for the leadership of the PASOK party, Evangelos Venizelos.

EU finance ministers met on the weekend, and announced early Monday morning that they would withhold a 12 billion euro loan until the Greek parliament passes the austerity bill. Tuesday's vote is just the first step towards achieving some kind of a political consensus on the package of cuts and privatizations that is supposed to save Greece from defaulting on its debt.."
News media is now centering its reporting on the disconnection between the masses of protesters shouting against the ever-increasing pressures of the austerity plan, and the actions of Papandreou trying to hold together the Greek government and negotiate with the 'troika' that is requiring the austerity as a pretext for all of the additional loan money. Western media seems to look for the slightest hint of violence as a way to color the entire action of street demonstrations, and this has been the case during the last several months of Greek coverage.
"If we do go to elections we're going to get a multi-colored, fragmented, unstable, disparate coalition. That's why these protests are so significant, because (anti-austerity) is one thing that people can get behind," he added [David Lea, Western Europe analyst at Control Risks speaking to CNBC.com].

"Last week, if anything drives a default, I thought it would be the disputes between the ECB, the euro zone governments and the IMF," Lea said.

"Now I'm more towards thinking that it is going to be a public rejection of the course that Papandreou's been taking for the past two years, and the only way that is going to manifest itself is large numbers of people in Syntagma Square," he added.
In news reports elsewhere on the street demonstrations in Athens, I noticed that there were several instances in which the European Union flag (a dark blue banner with a ring of golden stars in the center) was now sporting a swastika in the center, as if to say the eurozone/IMF were fascists attacking Greece.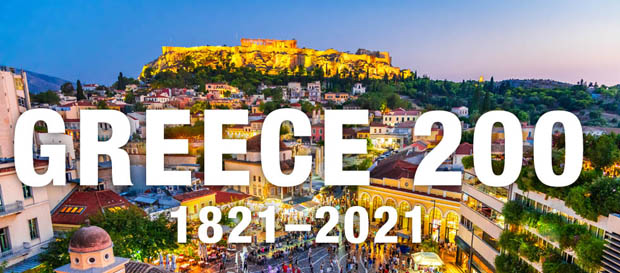 ---
Advertisement: I am an Amazon affiliate
Fodor's Essential Greece: with the Best Islands (Full-color Travel Guide)