NEWS ARCHIVE - September 2014
---
Sept 29, 2014
Who's Buried In The 'Magnificent' Tomb From Ancient Greece? - NPR
"Early last month, on a hill outside a tiny, windy village of almond and tobacco farmers in northeastern Greece, veteran archaeologist Katerina Peristeri announced that she and her team had discovered what is believed to be the biggest tomb in Greece.

The "massive, magnificent tomb," Peristeri told reporters, is likely connected to the ancient Greek kingdom of Macedonia, which, in the fourth century B.C. produced Alexander the Great.

Speculation over who is buried in the tomb has drawn a steady stream of visitors to nearby Mesolakkia, where the village's president — Athanassios Zounatzis, a silver-haired, retired tobacco farmer — now doubles as a tour guide.

"....Modern Greeks are very insular, inward looking and extremely traumatized by the financial crisis," she says. "I think they will feel really cheated if it's not Greek."

Peristeri, the lead archaeologist in Amphipolis, insists that the site is Greek, beyond a doubt.

That's also the sentiment back at Mesolakkia, where the townspeople remember a Greek archaeologist named Dimitris Lazaridis, who first discovered the Amphipolis mound in the 1950s but ran out of money to excavate it. Lazaridis said he also suspected that the tomb contained a major Macedonian tomb."
---
Sept 28, 2014
Fearing political crisis, Greece plots escape from bailout - Reuters
"In Berlin earlier this week, Samaras for the first time publicly acknowledged that Athens hoped to wean itself off a 240-billion-euro ($305-billion) EU/IMF aid package a year before its scheduled end in early 2016.

He offered no details, but Athens is calculating that declaring an end to the reviled bailout could be just the political game-changer it needs, with the end of bailout funding from the European Union in December offering a logical moment to seal the exit of the International Monetary Fund as well.

"It makes political sense, completely 100 percent," a source familiar with the discussions said. "The IMF is not pushing to leave, the government is pushing for it." Pulling this off, however, will almost certainly require Athens to notch up rapid-fire successes on several fronts - a swift end to its current bailout review, securing debt relief and the backing of European partners for going it alone."
---
---
Sept 27, 2014
Bad debt blocking recovery? - Bloomberg
"...Non-performing loans at Greece's banks have reached almost 80 billion euros, according to the country's Growth and Competitiveness Minister Nikolaos Dendias. To top that, Greek households and corporations had overdue taxes of 69.2 billion euros in August, data from the public revenue secretariat show. Also, "collectible" social arrears to pension funds exceed 14.5 billion euros, according to labor ministry figures.

"Some of this debt can never be recovered and should be written off," said Panos Tsakloglou, a professor at the Athens University of Economics and Business who was Greece's representative in the working group of senior euro-area finance ministry officials until June.

...The Greek government may need to address the country's private-debt crisis before it can convince its external lenders to give it additional relief measures.

The government is seeking an early bailout exit after the end of the next compliance review by the troika -- the International Monetary Fund, the European Commission and the European Central Bank. It also wants to ask for a further easing of repayment terms on the emergency loans it received from the euro-area crisis fund.

Before getting there, however, it needs to convince the bodies that it is complying with commitments -- one of them being effectively dealing with bad private debt."
---
Sept 24, 2014
Greece Merits Austerity Break, Samaras Tells Merkel - WSJ
"...Ms. Merkel seconded that view. "I am very pleased that there are quite positive signs coming from Greece," Ms. Merkel said. The "first tender shoots" of Greece's economic success are visible, she said.

Greece has secured two international bailouts totaling around €240 billion ($310 billion) from the so-called troika of international lenders. The troika, consisting of the European Commission, the European Central Bank and the International Monetary Fund, has insisted that Greece fix its finances and restructure its economy in exchange for emergency financing.

Greece needs some breathing space to ensure the economic recovery proves durable, Mr. Samaras said.

"If we generate a growth climate, we can achieve much more," he said. "That is why we need some breathing time to be able to support reforms differently."
---
Sept 18, 2014
Greece Third Country to Criminalize Denial of Armenian Genocide - Armenian Weekly
"While Turkey was pressuring the French president not to support a bill criminalizing denial of the Armenian Genocide, it had to cope with Greece, yet another country that just adopted a law making it illegal to deny genocides, including the Armenian Genocide. Greece is the third European country, after Slovakia and Switzerland, to pass such a law. The Swiss law, however, is under review by the European Court of Human Rights (ECHR) for violating a Turkish defendant's freedom of speech.

The French Parliament (2011) and Senate (2012) adopted a similar law to punish genocide denial that was overturned by the French Constitutional Council. To replace the failed law, French Deputy Valerie Boyer submitted a new bill to the parliament last week. President Francois Hollande has also pledged to back the criminalization of Armenian Genocide denial.

Despite legal uncertainties regarding such laws in Europe, the Greek Parliament on Sept. 9 adopted by a vote of 54 to 42 an anti-hate crime law—"Combating Discrimination, Xenophobia, and Racism"—making it illegal to deny the Jewish Holocaust and genocides recognized by international courts or by the Greek Parliament..."
---
Greece may not participate in Eurovision 2015 - GB Times
"Time may be running out for the Greek public broadcaster NERIT to persuade the European Broadcasting Union - the producers of the Eurovision Song Contest - of its eligibility for EBU membership.

The formal deadline for each country to confirm participation expired on September 15. NERIT's officials state they sent their application in on time but the EBU says Greece's application cannot be taken into consideration before its public broadcaster is officially an EBU member.

It is worth noting that NERIT has been Greece's new public broadcaster since the summer of 2013, when after an abrupt governmental decision the former broadcaster ERT was shut down sparking worldwide attention."
---
Athens wins 5th in innovative cities contest - Post Journal
"Barcelona, Spain, has captured the 5 million euro ($6.5 million) grand prize in a competition that spurs cities to develop novel approaches to improve urban life.

The Mayors Challenge is run by former New York City Mayor Michael Bloomberg's foundation, Bloomberg Philanthropies.

Four other cities won 1 million euros ($1.3 million) each: the metropolitan area of Kirklees, England; Stockholm; Warsaw, Poland; and Athens, Greece."
---
Turkey supports Macedonia's bid to join NATO - Zeenews
"Turkey supports Macedonia for NATO membership and will continue to do so. We also support Macedonia for EU membership. We hope that one day we will be in the European Union together," Davutoglu made the remarks at a joint press conference with visiting Macedonian Prime Minister Nikola Gruevski in the Turkish capital of Ankara.

...Greece is opposed to the use of the name Macedonia by its northern neighbour, saying that it implies territorial claims to Greece's northern province of the same name.

As a result, Greece is blocking Macedonia's bid to join NATO and the EU, saying that Macedonia can be a member only if a solution to the name dispute is reached.

In November 2008, Macedonia brought Greece to the International Court of Justice(ICJ) accusing Athens of violating a 1995 agreement by thwarting Macedonia's efforts to join NATO at a summit of the alliance in April 2008."
---
Sept 17, 2014
Greece gets three bids in mobile phone spectrum sale
"Greece's biggest telecoms operator OTE, Vodafone and Wind Hellas submitted offers to buy mobile radio frequency rights within the 800 and 2,600 MHz band, telecoms regulator EETT said in a statement. The deadline for offers expired on Monday.

The auction is part of Greece's 22 billion euro ($28 billion) privatisation plan agreed with its international lenders, the EU and the IMF, under a 240 billion euro bailout."
---
Sept 13, 2014
Greece will not need third bailout, PM Samaras tells paper - Reuters
"After nearly crashing out of the euro zone two years ago, Greece has managed to bring its finances back on track and post a budget surplus before interest payments last year.

Athens has relied on a 240 billion euro EU/IMF financing package since the second half of 2010 to stay afloat. Bailout funding from its euro zone partners ends in December while IMF aid will run out in the first quarter of 2016.

"Greece does not need new loans and could not sign a new bailout for money it does not need," Samaras told the paper in an interview.

"We are exiting the bailout for good, and our goal is to never again need to go into such a (bailout) programme, asking for loans to make it through the year."
---
Lagarde: Talking About Greece and its Taxes Got me Death Threats - Greek Reporter
"Lagarde only commented on taxation in Greece and raised the burning issue of tax evasion. When asked about past comments regarding tax evasion by the wealthy Greeks, she said: "I better not say too much because, you know, when I have talked about Greece and its taxes before, I got death threats and we had to increase security," adding, "but is the shipping industry really paying its taxes? Are others? I don't think so."
---
Sept 11, 2014
Five-year bonds set at about 1 billion euros - Business Recorder
"T-bill holders of the above maturities [T-bills maturing between Sept.19 2014 to March 6, 2015] can also exchange the short-term paper for five-year bonds due in 2019 at exchange ratios of 95.805554 to 95.297785 percent. The offer starts at 0600 London time (0500 GMT) on Thursday and expires at 1700 (1600 GMT). Alpha Bank, Eurobank, National Bank and Piraeus Bank are the dealer managers. Settlement is expected on Sept. 16. "
---
Unemployment drops to 27 percent in June - Reuters
"At more than double the euro zone average of 11.5 percent in July, Greece's unemployment rate remains near record highs despite signs of recovery in the economy, which is expected to emerge from recession and expand by 0.6 percent this year."
---
Greek Intelligence services tracking Jihadists moving through Greece - Los Angeles Times
"Greece's National Intelligence Service said Tuesday that it was at "a heightened state of vigilance" for suspected militants, keeping close tabs on radical Muslims, and had detected at least six foreign fighters with the terrorist group Islamic State transiting through the country in recent months.

The surveillance operation comes amid concern that the militant group, formerly known as Islamic State of Iraq and Syria, or ISIS, will retaliate for increased U.S airstrikes in Iraq and possible strikes in Syria.

About 300 Albanian fighters have joined Islamic State and the militant group Al Nusra Front, which is also fighting in Syria, according to the International Center for the Study of Radicalization and Political Violence, a think tank based at London's King College. Forty of them were arrested and tried last month in Kosovo, among the poorest states in the Balkans.

"More than half of them were released because they had no idea what they were getting into," said Jeta Xharra, director of the Balkan Investigative Reporting Network in Pristina, the capital of Kosovo. "Many new recruits do not know either. They are just replying to Internet ads that are pouring in from Turkey, promising money in exchange for a year of adventure, like a gap year after college."
---
More Than 80 Jihadists are Believed to Be in Greece - Greek Reporter
"Greek authorities are in constant contact with intelligence agencies in the US, France and the UK, as it is estimated that there are about 80-100 jihadists in the country, who either live or currently visiting Greece in order to go to Syria. Some are under police surveillance, while European countries inform Greece about Syrians and Iraqis living in the country who have family or friendly relations with jihadists who live mainly in Britain and France. Until today, three jihadist extremists of French nationality have been arrested.

According to The Los Angeles Times, the surveillance operation comes amidst concerns that ISIS will retaliate for increased US airstrikes in Iraq and possible strikes in Syria.

"...The threat level originating from Greece is very low because there are no verified indications of either dormant or active ISIS cells or splinter groups within the country," a senior intelligence official said. "We are, however, at a heightened state of vigilance now, exchanging intelligence from the United States, Britain, France and others," the LA Times report said.

...In recent months, Greek intelligence has detected six ISIS recruits traveling through the country, including a 23-year-old French national carrying a memory stick with instructions for making bombs.

"...Since the start of the year, Greece has deported more than 300 Syrians and Iraqis suspected of terrorism-related activities. What's more, with Greece neighboring Albania, the biggest source of Islamic State recruits in the Balkans, investigators warn that the passage of militants through this country could increase," the LA Times report said."
---
New Law Bans Holocaust Denial in Greece - The Table
"While Western Europe has claimed much of our attention this summer for its overt displays of anti-Semitism (see: Paris; Berlin; London), Greece's small but historic Jewish community is witnessing the legitimization of the Golden Dawn party, whose leaders routinely use Nazi imagery and deny the Holocaust. (One member of the group, a Greek doctor, was arrested in March for posting a 'Jews Not Welcome' sign outside his practice.)

While the neo-Nazi group's political ascent in modern-day Greece is a frightening prospect, outlawing hate speech is itself a controversial legal practice. Still, according to JTA, the local Jewish community has been pressuring lawmakers to take legislation action on their behalf for a while now. The ban on Holocaust denial, it appears, is for them a step in the right direction."
---
Sept 9, 2014
Half of businesses evading taxes - eKathimerini
"The Finance Ministry's force inspected 2,639 businesses across Greece in the six-month period, finding more than 390,000 tax code violations at 1,872 of them, or 54 percent. "
Ethnos.gr page on the same story
---
Greece to privatise 14 regional airports - Sofia Globe
"The management of 14 regional airports throughout Greece is set to be sold to private investors in the next two months, according to the Hellenic Republic Asset Development Fund (HRADF) schedule."
---
Can Greece be rescued? - The Commentator
"With vast levels of unemployment and a slump in the size of the economy of over a quarter since 2008, Greece looks in dire shape

...The minor problem is that there hasn't been nearly enough structural reform of the welfare state in Greece. For long-run fiscal recovery, it's very important to save money by reducing handouts that create dependency, while also shrinking the country's bloated bureaucracy. By comparison, it's less important (or perhaps even harmful) to save money by letting physical infrastructure deteriorate.

The major problem is that controlling government spending is just one piece of the puzzle. There are five major factors that determine economic performance, with experts assigning equal importance to fiscal policy, trade policy, regulatory policy, monetary policy, and rule of law."
---
Sept 8, 2015
Survivors of 1999 Earthquake Still Living in Prefab Homes - Greek Reporter
"Fifteen years ago, a 5.9 magnitude earthquake shook the Parnitha region in Attica, Greece. It was one of the largest and deadliest earthquakes to hit Greece in the last 50 years.

...fifteen years later, Greek newspaper "Ta Nea" reports that some of these people are still living in those prefabricated camps. Most of them are unemployed or do not have enough money to rent a proper home. They are forced to live in 23-square-meter iso-boxes with no electricity or running water."
---
Sept 7, 2014
Samaras announces tax cut plan - Reuters
"Samaras, whose conservative party trails the anti-austerity, radical leftist Syriza party in opinion polls, said a heating oil consumption tax would be cut by 30 percent and a "solidarity tax" would also be reduced.

...Greek officials brought up the issue of tax relief at talks in Paris this week with the lenders to review the progress of the bailout, but there was no confirmation that they had agreed to the package. Samaras said details of the tax cuts would be presented in the draft budget when it is announced in October.

He also said he was working on a taxation "road map", in which the top rate of income tax would be cut in stages to 32 percent from 42 percent and the corporate tax rate reduced to 15 percent from 26 percent. A deeply unpopular property tax would also be reduced, he said, without providing any details."
---
New sculpture discoveries at Amphipolis site - Fox News
"Archaeologists excavating a burial mound in northern Greece have found two marble sculptures of female figures and a large, colored marble panel in what appears to be the antechamber of the main room.

...The 60-centimeter (2-foot) female figurines are on a wall leading to the yet unexplored main room. The marble panel, 4.2 meters (14 feet) long by 1 meter (3.3 feet) wide, is carved with geometric shapes and painted dark red and yellow. It is located up a wall in the 6.5-meter (21.3-feet) high antechamber."
---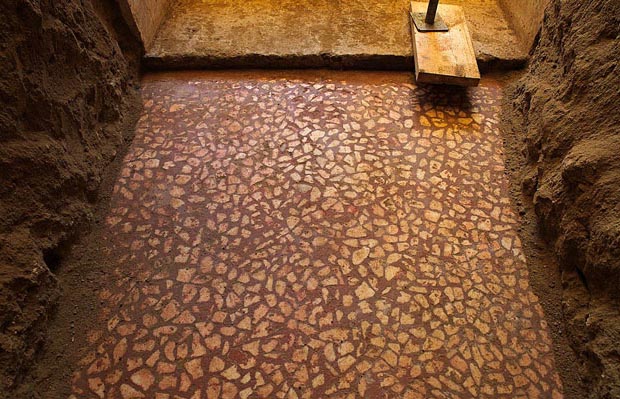 Mosaic from Amphipolis - Softpedia
"There's a lot of commotion going on at an archaeological site in Greece these days. Thus, researchers are busy excavating an Alexander the Great-era tomb, and are unearthing stunning artworks every day.

The tomb in question is located in Amphipolis, a municipality in Greece's Serres regional unit. It is encircled by a massive 1,600-foot (500-meter) wall made of marble, and has not yet been explored in its entirety.

Information shared with the public says that the entrance to this ancient tomb is guarded by two lion sculptures. This opening leads to an antechamber, which in turn guides visitors to the actual tomb, Live Science informs.

It is in this antechamber that archaeologists found a stunning mosaic that, like the tomb, dates back to the 4th century BC. The mosaic covers the antechamber's floor, and researchers say that, given its age, it is in excellent condition.

A photo of this mosaic was released to the press by the Greek Ministry of Culture, and is available next to this article. As easily noticeable, the mosaic comprises bits and pieces of white marble fitted onto a red background."
---
Sept 5, 2014
Greece 'danger zone' from rush of Syrian, Iraqi refugees - Reuters
"A surge in people fleeing violence in Africa and the Middle East has increased the pressure on the euro zone's most indebted country, a major gateway into the EU for migrants who attempt risky boat crossings through porous sea borders.

The latest influx was driven mainly by wars in Syria, the Gaza Strip, Libya and northern Iraq, Shipping and Maritime Minister Miltiadis Varvitsiotis told reporters.

"We are facing a great challenge," Varvitsiotis said, adding that there was a pool of more than two million migrants - half of whom are Syrian and other migrants now in neighboring Turkey - who could attempt to enter the EU via Greece."
NeoKosmos - Greece seeking additional funds for border-refugee management
---
Is 2014 the year Greece begins to grow again? - CNBC
"After six years of crippling recession, Greek officials are hopeful that the country's economy will grow in 2014—despite continuing sky-high unemployment and falling prices.

"I feel quite comfortable overall about the prospects of the Greek economy. We've succeeded after about six years to establish positive growth," Kyriakos Mitsotakis, the Greek Minister of Administrative Reform, told CNBC on Thursday.

Greece was first hit hard by the global financial crisis in 2008 and then ran into trouble paying down its debt in 2010. The country was bailed out by the rest of Europe and the International Monetary Fund, but hopes to graduate from its loan program in 2016 without further assistance—just as Ireland and Portugal did this year."
---
Debt talks coming end of September - Yahoo News
"Representatives from Greece and the "troika" of the European Central Bank, European Commission and International Monetary Fund had thrashed out sensitive details over three days of talks in Paris that Greek officials had hailed as "positive".

...The representative of the European Commission, Declan Costello, said the three days of talks had led to "a greater understanding of the most significant problems."

"We are preparing the next discussions scheduled for later in the month," he said.
---
Sept 3, 2015
Greece to issue new seven-year bond this year - UK Daily Mail
"Greece will issue a new seven-year bond by the end of the year, a government official said on Wednesday, as the aid-dependent nation seeks to capitalise on two successful forays into the bond market this year on the back of a recovering economy. It also plans to exchange three- and six-month Treasury bills with new 18- and 24-month T-bill issues by the end of the year to stretch out the repayment period, the official said.

Athens has a stock of about 15 billion euros of outstanding T-bills and refinances them on a monthly basis."
---
Parliament drafting new anti-racism laws - IFEX org
"Parliamentary review of a draft anti-racism law in Greece, which began in November 2013, has resumed following a nine-month interruption and is expected to be debated in parliament's recess section on September 2 and 5, 2014. Members of parliament should amend the draft to include measures to combat racist violence and protect free speech, Human Rights Watch said today.

The current version of the bill, if approved, would toughen criminal sanctions for incitement to hatred, discrimination, and violence. It would also criminalize denial of genocide, war crimes, and crimes against humanity."
---
Sept 2, 2014
Greece sells six-month treasury bills worth 1.1 bln euros - Hispanic Business
"Greece sold 1.1 billion euro (1.44 billion U.S dollars) worth of six-month treasury bills on Tuesday as part of its regular monthly treasury bills auction program, the Public Debt Management Agency (PDMA) said.

According to the announcement, the treasury bills were priced to yield 2 percent, marginally lower than a 2.02 percent achieved in the previous similar sale in August."
---
---
See the main archive index of all collected news articles and pages on Athens Greece Now.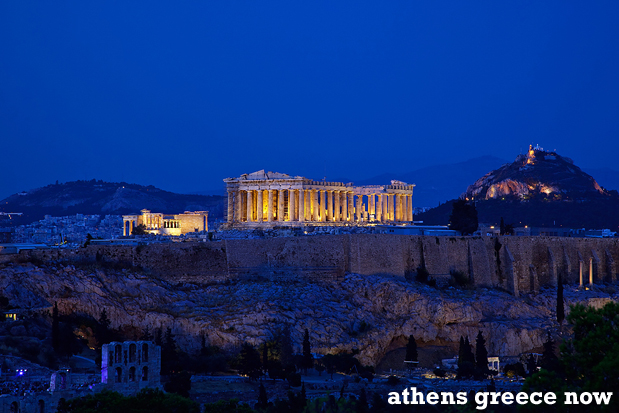 ---
Advertisement: I am an Amazon affiliate
Fodor's Essential Greece: with the Best Islands (Full-color Travel Guide)