NEWS ARCHIVE - July 2014
---
---
July 26, 2014
Tension of concessions versus fulfilment between troika and Greece - eKathimerini
"The troika, however, will also expect Greece to display progress in meeting its commitments. Apart from its fiscal targets, the government will also have to proceed with firing another 6,500 civil servants and evaluating the performance of the rest. The troika is also pushing for a new salary structure in the public sector. Greece's lenders also expect to see proposals for further reforms to the pension system and the labor market.

There is optimism within the government that the two sides could reach an agreement by the end of November or beginning of December, leading to the fifth review of Greece's adjustment program being concluded. Apart from triggering the release of another 1.8 billion euros in bailout funds from the eurozone, the conclusion of the review would also pave the way for further debt relief.

A top European Union official, though, told Kathimerini that if there is no agreement before the end of the year, when the current program expires, a third package would have to be agreed in 2015. This might involve a small amount of funding but would definitely include a deal on debt relief, while committing Greece to further reforms and monitoring."
---
July 24, 2014
Mediterranean "boat people" numbers soar - Reuters
"Almost 100,000 boat people have made the dangerous journey across the Mediterranean to Europe this year, a roughly 60 percent increase on the whole of last year, and about 800 have died in the attempt, the U.N. refugee agency said on Thursday.

The exodus has surged this year, as far more migrants put their lives in the hands of smugglers or unseaworthy vessels in a desperate attempt to reach Europe.

More than 75,000 made the trip in the first six months of the year, landing up in Italy, Greece, Spain and Malta, the UNHCR agency said. Their number included 10,500 children, two-thirds of them unaccompanied or separated from their families."
---
---
July 23, 2014
140 Thousand Greek Professionals Migrated Abroad - Greek Reporter
"According to a study by the Greek Labor Institute of the General Confederation of Workers (GSEE), during the years Greece has been experiencing an economic crisis, a 'brain drain' phenomenon has been intensified.

The main reason for this phenomenon is that Greece is unable to assimilate those who have more complex skills. In Greece there is a limited demand for college graduates and not an abundance, as one would think. Greece continues to be behind when it comes to offering job opportunities to young skilled professionals or young college graduates in comparison to the rest of the European Union."
---
National Bank of Greece gets okay for restructuring - Reuters
"NBG was one of Greece's big four banks that were rescued with state aid during the country's debt crisis. The Commission then reviewed NBG's business plan to see if it was in line with EU state aid rules.

"The measures already implemented and those envisaged in the future will enable the bank to fully restore its long-term viability, while limiting the distortions of competition brought about by the state aid granted," the Commission said on Wednesday."
---
July 18, 2014
Greece Seen Needing Third Bailout as Bonds Insufficient - Businessweek
"Greece's government has turned around its public finances and is running a budget surplus before interest payments. The cuts it made to get there deepened the six-year slump that cost the country a quarter of its economic output and fueled popular opposition to the bailouts. As a result, Prime Minister Antonis Samaras has repeatedly pledged that Greece won't need another bailout or new austerity measures.

Some economists don't believe him. The proportion of those surveyed who said more aid will be needed hasn't changed since a poll in April, just before Greece sold bonds in a return to markets that Samaras hailed as a vote of investor confidence."
---
Beauty of Greece Dazzles from Space - Livescience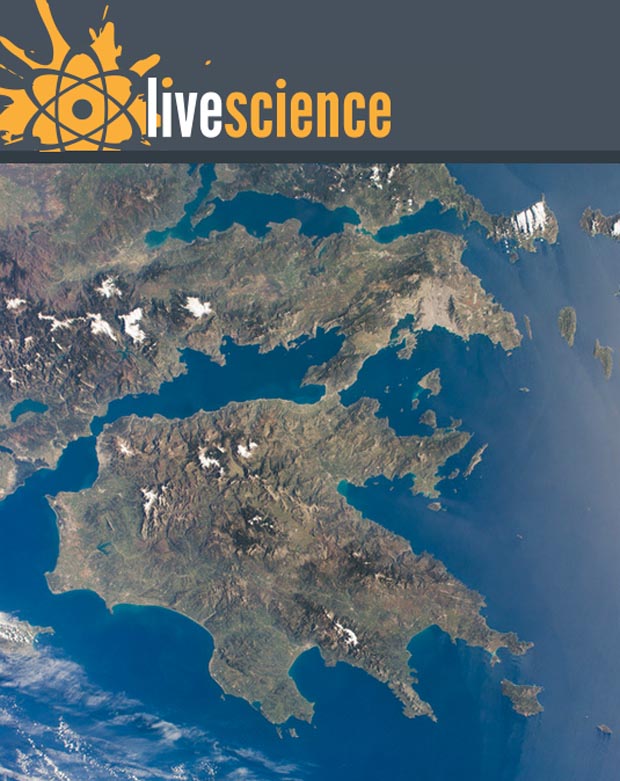 "Taken from the International Space Station, this photograph snapped on March 21 shows a cloud-free view of most of Greece. The large peninsula at the center of the image is the Peloponnese, home to the famous city of Sparta. The Peloponnese is connected to the Greek mainland by the Isthmus of Corinth. The city of Corinth, rebuilt in 1858 after an earthquake destroyed the ancient city, is visible as a small, gray developed area on the western coast of the isthmus, where it connects to the Peloponnese.

On the east side of the isthmus, farther north, is Megara. This city sits across from the island of Salamis, and, historically, was an important port for trade around the Mediterranean."
---
Greece ranked between Palestianian and Pakistanis for anti-Americanism - Pew Research
"A decade ago anti-Americanism was on the rise around the world, in large part thanks to public opposition to the U.S. invasion of Iraq. Today, despite recent revelations of U.S. National Security Agency spying on foreign leaders and global opposition to U.S. drone strikes, there is little evidence of profound anti-Americanism except in a handful of countries, according to a new Pew Research Center survey of 44 nations. Foreigners' love affair with the United States remains strong in Africa and most of Asia, Europe and Latin America. But who likes Uncle Sam, who doesn't and whose affections are evolving paints a pretty accurate road map of the overseas challenges facing Washington in the years ahead."
---
Greece Among Top 10 Anti-American Countries - Greek Reporter
"According to a new survey conducted on a global level by Pew Research Center and published in the American newspaper New York Daily News, Greece ranks 6th on the list of countries that dislike America."
---
July 14, 2014
3-Year Bond offering coming - NY Times
"After a successful issue of five-year bonds in April, Greece said it would sell three-year bonds "in the near future." A statement by Greece's Finance Ministry provided no details about the size or exact timing of the debt offering, but Greek news media said the sale, which would begin Thursday morning, would try to raise 2.5 billion to 3 billion euros, or $3.4 billion to $4.1 billion, and that the bonds would pay an interest rate of less than 3.5 percent.

Greece plans to use the proceeds from the sale, which will adhere to British law, to finance the repayment of €6 billion of debt maturing next month.

The fresh call for funds comes as investors looking for better returns flock to the higher-paying debt of countries like Greece. This month, Portugal and Ireland, both of which recently emerged from their international bailouts, made new forays into capital markets.

Analysts said that three-year bonds were not common but that the choice of such debt was in keeping with Greece's desire to build demand for its short-, medium- and long-term debt. "The Greeks are trying to build confidence along the yield curve," said Mujtaba Rahman, a director at the London-based Eurasia Group. "The three-year bond issue speaks to that strategy."
---
Paid TV subscribers doubles in Greece - Greek reporter
"Greeks like Fotou are contributing to what the country's two biggest telecom service providers OTE and Forthnet say is a doubling of subscribers to combined TV and online packages in the past two years. The increase comes even as unemployment climbed to 27 percent and retail sales plunged for a fourth consecutive year.

The number of Greek pay-TV subscribers stands at 760,000, up from about 300,000 at the end of 2012, according to estimates by OTE and Forthnet. This gives a market penetration of 19.5 percent, after it had been stuck at between 11 percent to 13 percent for nearly 10 years. "
---
Greek stock market's first IPO since 2009 draws mixed reception
"...market sentiment has picked up in recent months for Greece, which expects to emerge from recession this year and successfully returned to bond markets twice this year after a four-year exile.

Subscriptions for the IPO exceeded the 20.67 million ordinary shares on offer, with more than half coming from institutional investors, lead manager NBG Securities said on Monday in a bourse filing.

But the offer price was set right at the bottom of the 1.70-1.97 euro range, it said. Based on that, the firm raised 35.1 million euros ($47.9 million).

The July 9-11 offering also took place against a backdrop of unease in European stock markets triggered by concerns over the financial health of the chief shareholder in Portugal's biggest listed bank, Banco Espirito Santo (BES). "
---
Ellinikon the Ghost Airport - News Com Au
"It's a haunting sight: planes sit on the runway, but they don't go anywhere. Chairs are scattered across the terminal, but nobody sits on them. Escalators take prime position, but they haven't moved in more than a decade.

Built in 1938, it was the first airport for Greece's capital of Athens and remained its hub for 60 years. However it was closed back in 2001 and has now fallen into ruins, with these stark photographs taken by local Vassilis Makris showing its eerie remains."
---
July 13, 2014
Debt 'time-bomb' in Greece - Malaysion Times
"...To protect homeowners from total ruin, Greece has restricted forced auctions of a debtor's primar residence.

But a related backlog of court appeals for bankruptcy protection – 100,000 according to some estimates – could take a decade to resolve.

The Bank of Greece recently issued a set of recommendations to banks on how to deal with the is that included partial debt write-downs, extended loan terms and the acceptance of additional for of collateral."

---
July 9, 2014
The Strength of Greek Passport - The Greek Reporter
"Not all passports have the same power. The passport of an American citizen entitles him free entrance to 172 countries without a visa. Citizens of Iraq can visit 31 countries while citizens of Afghanistan have more limited options with 28 countries.

Each Greek citizen can visit 167 countries without a visa. Although Greece is a small country, its passport is ranked fifth among the most powerful in the world."
---
Dismal Demographics of Greece - NY Times
"The Greeks are in a struggle for survival. And the odds are piling up against us. The fight is not only on the economic front, as we try to meet our commitments under an international 240-billion-euro bailout deal that has resulted in greatly reduced incomes, higher costs and taxes, and an overriding sense of insecurity. The danger is even more basic: Deaths are outnumbering births, people are leaving the country, and the population is aging so fast that in a few decades Greece may be unable to produce enough wealth to take care of its people and may cease to be a viable nation state.

"...In 2012, the number of employed people in Greece was 3.8 million, while pensioners and the unemployed totaled 4.1 million, out of a population of 11,062,500. Fewer and fewer people are shouldering the burden of keeping the country on its feet.

...Even without statistical confirmation, the trend is evident. Some maternity hospitals have shut down wings and turned them over to other medical specialties, while many schools in the provinces and on the islands have only a handful of students. In village after village, the elderly outnumber locals and immigrants of working age."
---
July 8, 2014
The Privatization of Greece's Postal Service Is Under Way - Bloomberg
"To hear Greek News tell it, nobody in the country is crying about the Hellenic Post privatization: "Unlike in the United States and some other countries, Greek postal office workers and delivery persons don't wear uniforms and most post offices close at 2 p.m. and aren't open on Saturdays. The system has received complaints that delivery people don't always put the mail in mailboxes but toss it in hallways and yards of apartments."

One reason the Greek government hasn't sold Hellenic Post already is that it's been trying to cut the agency's operational costs and make it more attractive to possible buyers. That's not speeding the process. It might be best for the Greek government to leave the trimming to an unsentimental buyer such as CVC. There aren't many private equity companies investing in postal systems in the age of e-mail."
---
July 4, 2014
Power shortages as electrical workers strike - Reuters
"Parts of Greece were hit by power cuts on Thursday evening after electricity workers began one of a series of 48-hour strikes against government plans to sell off part of the country's biggest power producer.

Some Athens districts, remote villages in the island of Crete and areas in the north and south had their power cut for up to an hour during peak evening demand times, after 13 power stations were taken off line late on Wednesday, an official at power distribution agency DEDDIE said.

Earlier, the grid operator declared a state of emergency, citing a significant reduction of power output.

Liberalizing the energy sector is a key condition under Greece's 240-billion euro bailout by the European Union and the International Monetary Fund and parliament is debating a bill that would allow the government to privatize the Public Power Corporation (PPC) in 2015 by spinning off 30 percent.

Unions say electricity is a public good that should remain under state control and some 800 PCC workers rallied outside company headquarters in central Athens and then marched to the finance ministry against the privatization."
---
Tourism booming in Greece again - Gulf News
"It is Greece's classic summer ritual: the arrival of the island ferry, funnels billowing, horns blaring, gangplanks screeching as wide-eyed tourists prepare to disembark. Last week in the wind-swept Cyclades, the popular isle of Paros was no exception.

One by one they came vessels the size of tenement blocks disgorging holidaymakers onto an esplanade dotted with little white buildings in scenes of exuberant commotion. For Andreas Hadjiathanasiou, whose car rental agency has a seafront view of the spectacle, the new arrivals are a welcome sight.

The season has barely begun and business has already doubled. "We've ordered 60 new vehicles," says the operations manager who has relocated from Athens to Paros for the summer. "It's early days but tourists are pouring in from all over the place. Forget the crisis! I'd say this is one of our best years yet."
---
Greece's Next Bailout Loan Installment Approved - ABC News
"A key body monitoring Greece's bailout approved the disbursement of the next batch of rescue loans Friday, after the country met outstanding reform targets that had delayed the payment.

Greece's finance ministry said the Euro Working Group, made up of finance ministry officials from the 18-country eurozone and representatives from the European Commission and European Central Bank, approved the installment during a teleconference Friday.

Eurozone finance ministers are expected to formally approve the disbursement of the 1 billion-euro ($1.36 billion) installment in a meeting in Brussels on Monday.

To access the funds, Greece had to meet six specific targets, including passing legislation and reforming the pharmaceutical sector to lower pharmacies' profit margins and therefore prices."
---
See the main archive index of all collected news articles and pages on Athens Greece Now.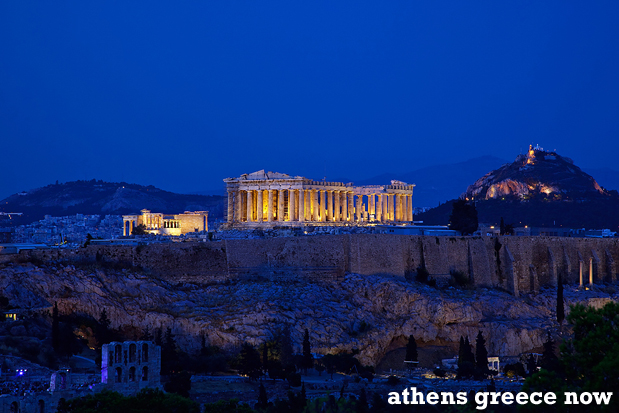 ---