NEWS ARCHIVE - June 2014
---
---
June 25, 2014
It Will Take 25 Years to Create the Jobs Needed: Endeavor Greece: - Greek Reporter
"According to Endeavor Greece, the country lost a total of 1 million jobs over the last five years. Three sectors alone account for 2/3 of the jobs that were lost: construction, retail/wholesale trade and non-food manufacturing. Meanwhile, other sectors such as real-estate have been practically wiped out.

...It is now clear that Greece should focus on specific sectors, such as agriculture, food manufacturing, tourism, logistics, and technology where the country has an advantage in regards to raw materials, geographical position and human resources.

It is estimated that more than 640,000 will be forced to change field of work, while more than 500,000 will be forced to move outside Athens and Thessaloniki to seek work in other parts of Greece."
---
Juan Carlos kept Spain 'from extremism,' Constantine II says - CNN
"His legacy is very, very important," Constantine II, who is Juan Carlos' brother-in-law, said. "He went through a very difficult period to do that. But I was convinced that he would overcome all the difficulties, and he has done that."

The monarch will step down after 40 years on the throne and hand power to his 46-year-old son, Crown Prince Felipe.

"Although I'm not party to his decision," Constantine II said, "I suspect that he considered that forty years is quite substantial."

"And so the difficulty is to find the right moment; I believe that he has done that. He has found the right moment."

In 1969, Juan Carlos was designated successor to the dictator Francisco Franco; when Franco died in 1975, he successfully steered his country back to democracy."
---
Greece Photo Essay at New York Times
Grim images of disarray and disaster compiled into a outline of what the photographer, Andrew Boryga, feels is happening to Greece.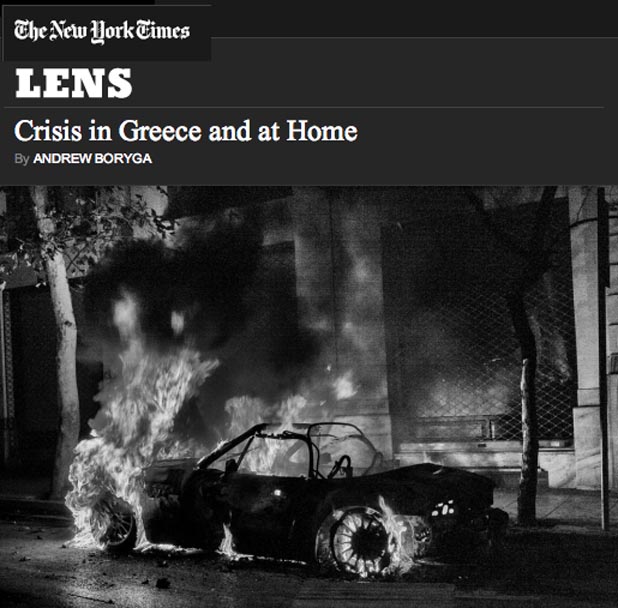 ---
---
June 23, 2014
Is Greece losing its reform drive? - NY Times
"Greece's top industry, tourism, is set to reach new highs this summer after setting records last year. Foreign investors are looking to take advantage of cheap labor, cheap real estate and a better investment climate. Only last week, the Chinese premier was in Greece, signing $4 billion of commercial deals and declaring that the country could become China's gateway to Europe.

One might have thought Mr. Samaras would stick with the team that helped deliver this success. But the prime minister was scared after his center-right New Democracy party was beaten into second position in the European Parliament elections last month by Syriza, the radical left group, and so promoted some populist politicians.

...The head of the quasi-independent tax agency was forced to quit. This was because he had made a mistake in issuing a circular saying that holders of Greek bonds would face retrospective taxation, according to two officials. His replacement will be chosen by a committee that includes France's top tax official, so there is no risk of cronyism, they say.

But Greece's euro zone partners and the International Monetary Fund are not convinced of this explanation."
---
June 20, 2014
China signs $4.6B trade deal with Samaras - WSBTV
"Chinese Prime Minister Li Keqiang oversaw the signing of trade and investment deals worth some $4.6 billion with Greece Thursday during a visit expected to help boost the recession-plagued country's economy.

At a press conference with Greek Prime Minister Antonis Samaras, Li expressed support for bailed-out Greece's economic revival effort. He also said China plans to increase its purchases of Greek government bonds when new ones are issued in a sale expected later this summer.

"We have never abandoned the Greek bond market but we are increasing our purchases," Li said. "I have expressed my will to Mr. Samaras that when the Greek government issues new bonds China will continue to be a long-term and responsible investor in Greek bonds."
---
1975 bouzouki 7 drachma stamp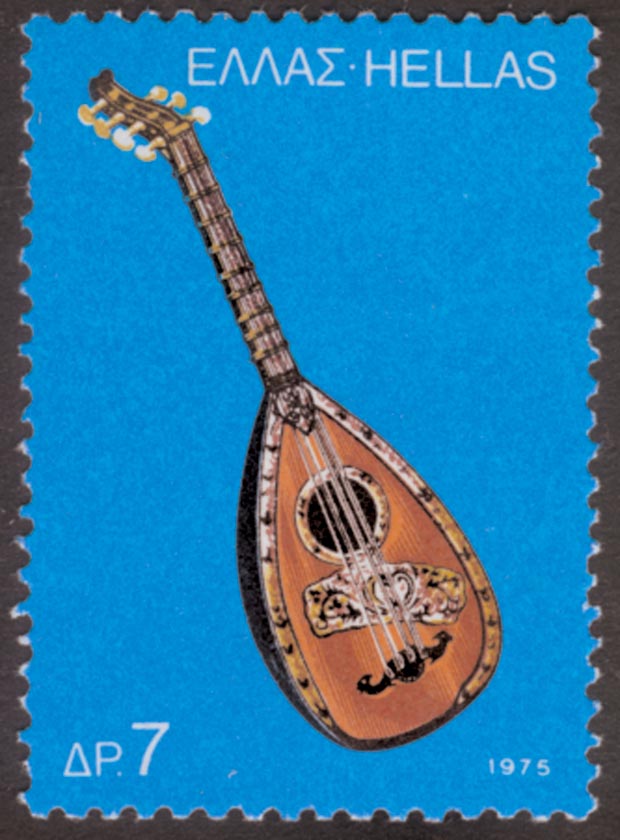 ---
June 19, 2014
Anger with Greek Shipowners on the Rise - Der Spiegel
"There was a time when Greece's shipowners adorned the covers of gossip magazines and ran football clubs, secure in the affection of millions of fans. But these days, men like Theodoros Veniamis, one of the richest shippers in the country, need personal protection. Many don't leave home without it.

On the list of Greeks hated by their countrymen, shipowners have almost reached the top; only politicians are more reviled. They are threatened by radical leftist groups and even physically attacked. There have also been attempted kidnappings. In at least one case, a family of a shipowner paid millions in ransom.

...But now the ship owners are facing pressure. The government in Athens has extracted their approval to voluntarily double tonnage-tax duties, a move that is expected to translate into €140 million in tax revenues from the shipping industry annually for the next three years."
---
June 17, 2014
As Greece questions its identity 'the only thing uniting us is conflict' - Irish Times
"Greek people are inured to uncertainty. The Greek word abebaios means "without a foundation, unsafe". It suggests that uncertainty emanates from a lack of structure in the Greek world. Question marks settle themselves on almost all social issues.

Perhaps only those who have emigrated and – with spectacular success in some cases – made new lives elsewhere, found something more certain. All this is by way of a preamble to the fact that Greece hasn't known this degree of uncertainty for many years.

...Greece had a fragile coalition before the elections, with conservative ND and socialist Pasok clinging to the slimmest of majorities. Today, that coalition seems even more unsteady. A general election now would see Syriza as the largest party, capable of forming a new-look coalition.

Of the 21 new Greek MEPs, six are Syriza, five ND, three Golden Dawn (fascists), one Pasok, two from the new Potami (river) party and two Communists.

The fact that one of these Syriza MEPs is 91-year-old Manolis Gletzos who as a teenager removed the Nazi flag from the Acropolis, is a sign not only of his continuing protest against fascism but also of the electorate's wish to indicate that some values transcend and outlive the mundanities of party politics."
---
June 13, 2014
Government losing to courts - NY Times
"The Greek government has made a range of painful cuts to salaries, pensions and jobs for public workers over the last four years, saying they were needed to satisfy the demands of the international creditors that bailed the country out. But the Greeks hurt by those steps, and the nation's courts, have a different idea.

Steadily, citizens groups — including police officers, university professors, cleaning workers and judges themselves — have challenged the cuts as illegal or unconstitutional. And in case after case, Greek courts have agreed, presenting a nearly existential question for the government: Can it actually shrink the state?

The mounting pile of judgments has now become a serious obstacle to the austerity drive of Prime Minister Antonis Samaras, with the International Monetary Fund warning this week that the "adverse court rulings" threaten to undo the country's reforms, which its creditors are scheduled to begin reviewing in July.

... "This is an avalanche that's started," said Jens Bastian, an economic consultant and former official on the European Commission's task force for Greece. "It's not going to stop."

...In January, Greece's top administrative court, the Council of State, deemed that the government's cuts to the wages of police and armed forces employees violated the Constitution. In February, the same court ruled that a tax on benefits for university staff members and cuts to civil servants' pensions were illegal. The same month, Greek Supreme Court judges found that a property tax introduced in 2011 as an emergency measure and later extended was unconstitutional. Another court rejected cuts to the salaries of state hospital doctors, university professors and, unsurprisingly, judges."
---
1975 Antigone Stamp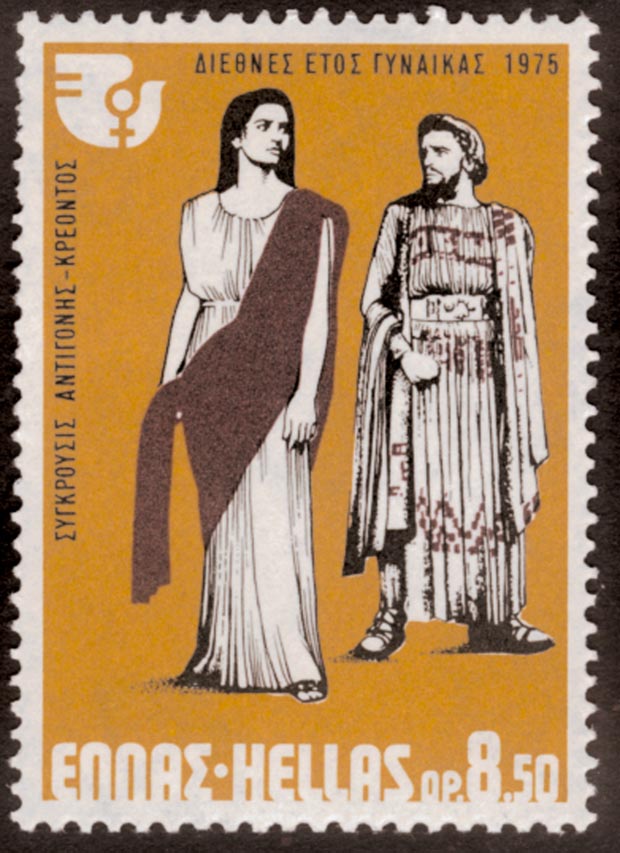 ---
June 12, 2014
Stournaras goes to central bank - Reuters
"Former Greek finance minister Yannis Stournaras, who spearheaded Greece's return to economic stability after it nearly crashed out of the euro zone, is to become the next Bank of Greece governor, the central bank said on Wednesday.

Stournaras, 57, will take over from George Provopoulos when the latter's term ends on June 19, days after being replaced as finance minister as part of a wide cabinet reshuffle by Prime Minister Antonis Samaras.

His appointment means he will be a member of the European Central Bank's Governing Council."
---
Submarine deal leads to lawsuits - Telegraph
"Greece has launched a multi-billion euro claim against one of Germany's biggest defence firms who sold the financially-beleaguered country four submarines in a complicated deal which has become symbolic of the country's economic woes.

The controversial deal has threatened Greece's position in Nato, according to well-placed sources, led to the criminal prosecution of the country's defence minister and the resignation of a senior Naval figure.

Last year, the former defence minister Akis Tsochadzopoulos was jailed after being found guilty of receiving an €8m bribe from Ferrostaal, one of the German companies involved in the deal. Ferrostaal agreed to pay a €140m fine.

Stelios Fenekos, a 52-year-old vice admiral of the 22,000-man strong Greek Navy, also resigned his position in the wake of a row over the vessels. He said he did so in protest at the Greek defence minister's decision to purchase the submarines, as well as other decisions taken that Mr Fenekos considers "politically motivated".
---
June 10, 2014
Stournaras out: Samaras shuffles cabinet - NY Times
"Prime Minister Antonis Samaras of Greece on Monday replaced his finance minister as part of a sweeping government shuffle intended to re-energize his coalition after its weak performance in European Parliament elections last month.

The new finance minister, Gikas Hardouvelis, a respected university professor and former government adviser, will replace Yannis Stournaras and try to enact a tough economic reform program that has been imposed by the country's international creditors in exchange for continued rescue loans.

Mr. Stournaras is expected to take over the top spot at the country's central bank."
---
June 9, 2014
Could Greece sell all of its major ports? - Marketwatch
"Greece's conservative-led government is open to selling-off all of the country's major ports as part of its sweeping privatization program, something that it hopes will attracts billions of euros in new investments and create new jobs.

Speaking in an interview with The Wall Street Journal, Greece's Minister for Shipping Miltiadis Varvitsiotis said that the country was ready to "roll out the red carpet" for investors in the 13 major ports it is planning to sell off, and was ready to consider private investment even in smaller harbors.

"I think privately managed companies can be more efficient and more aggressive in the market," Mr. Varvitsiotis said. "We want to exploit Greece's geographical position. The goal, however, is not just to raise money, it is to attract more business investment."

Sitting at the crossroads of Europe, Asia and Africa--and less than a day's sea voyage from the Suez Canal--Greece has a natural geographic advantage in the Asia to Europe shipping trade loop; the world's busiest in terms of cargo moved."
---
June 7, 2014
EU: 'Serious Concern' as Greece's Tax Czar Quits - ABC
"The European Commission expressed "serious concern" Thursday after Greece's powerful public revenues chief — a position created in 2012 at the insistence of bailout creditors — resigned citing "personal" reasons.

The Finance Ministry said it had accepted the resignation of Harry Theoharis, who quit a year and a half into his five-year term.

...The official's resignation came before a planned Cabinet reshuffle, expected within days, following the conservative-led coalition government's weak showing in European parliamentary elections last month.

Establishing a secretary-general for public revenues in the finance ministry was one of the conditions set by Greece's creditors to continue releasing rescue loans. The position was intended to boost independent decision-making and address the country's poor record of inefficiency and political interference in tax administration."
AP Report on Theoharis quitting
---
June 6, 2014
Greece Ranks 4th On World's Most Miserable Countries List - Greek Reporter
"In the midst of the financial crisis, Greece has been placed among the 10 most miserable countries in the world. Specifically, after a recent survey conducted by a Gallup poll, Greece came 4th on the list of miserable countries, just before Syria, that is in the middle of a civil war and right after Egypt, which is plagued with riots and coup d' états."
---
Greece native Candace Kendall up for Miss USA crown - Democrat Chronicle
"Candace Kendall, also known as Candace Kuykendall, graduated from Greece Arcadia High School and St. John Fisher College. She won the Miss New York pageant in January.

Kendall, who was Miss New York Teen USA in 2006, currently works as a full-time model in New York City."
---
June 4, 2014
IMF Approves $4.6 Billion in Bailout Funds for Greece - WSJ
"The International Monetary Fund on Friday approved $4.6 billion in long-delayed bailout funds for Greece, nine months after its last disbursement as Athens struggles to implement tough changes to its economy.

The country met a major milestone in its historically large and highly controversial bailout by posting a budget surplus late last year, and Greece's economy is expected to return to growth again this year after a six-year depression.

But the government had been unable to push through policies the IMF said would be necessary to spur competition and growth, such as changes to product markets and liberalizing protected sectors.

...The IMF's bailout tranche combines two bailout reviews after IMF and Greek officials fought for months over the conditions that would allow loan disbursal. Officials reached a tentative deal in March that needed final approval by the fund's executive board.

One outstanding issue, however, is how to reduce Greece's massive debt burden.

...Greece's debt is around 175% of gross domestic product, and Europe has promised to help Athens cut that to levels "significantly lower" than 110% by 2022."
---
Debate over immunity for Golden Dawn member draws protest group - AP News
"Nikos Michaloliakos and five other Golden Dawn lawmakers were jailed several months ago on charges of running a criminal organization, as part of an investigation into the Nazi-inspired party following last year's killing of a left-wing musician.

One of the jailed lawmakers has since been kicked out of the party, but all retain their parliamentary seats.

...Supporters of Greece's extremist right-wing Golden Dawn party have gathered outside Parliament ahead of an appearance by the party's jailed leader at a debate on lifting his immunity from prosecution on further charges."
---
June 3, 2014
The Reinvention of Tsipras as Greece's PM-in-Waiting - Business Week
" Tsipras, 39, last week spoke of attracting capital to regenerate the economy, pledged to maintain a stable tax regime for companies and offered to cooperate with Europe's traditional left-wing parties in his first interview since claiming the biggest share of the vote in European elections.

It's a far cry from the rhetoric of July 2012 when he announced his arrival on the international stage by telling prospective bidders for the crippled Greek state's assets that he'd make sure they lost their money. Fast-forward two years and with the economy set to expand for the first time since 2008, Tsipras is appealing to a broader audience.

"There is a gradual move to the center," Aristides Hatzis, a professor of law and economics at the University of Athens, said in a May 30 telephone interview. "Tsipras and the leadership of Syriza have realized this is the only way to achieve a majority at the polls. After the European elections, this strategy is clearly dominant."

"...We want to attract investors in Greece who will kick start an investment shock to restart the economy," Tsipras said in a May 28 interview at his office in Athens. "There are two conditions for attracting those investors: to feel safe about the euro area and the prospects of the Greek economy and to see serious public investment."
---
June 2, 2014
Schaeuble: Greece May Need More Help Past 2014 - Greek Reporter
The response seems to be "please, no more help!"
"Disputing Greek Prime Minister Antonis Samaras' assertion the country is on the road to recovery from a crushing economic crisis, the country will need a third bailout of under 10 billion euros ($13.6 billion), German Finance Minister Wolfgang Schaeuble said.

Samaras and Finance Minister Yannis Stournaras, ahead of critical May elections for Greek municipalities and the European Parliament, had steadfastly and repeatedly denied Greece would need more aid beyond the 240 billion euros ($327 billion) put up by the Troika of the European Union-International Monetary Fund-European Central Bank (EU-IMF-ECB) in two bailouts, most of which run out this year.

But Schaeuble, whose country has put up much of the money and demanded harsh austerity measures in return, told the German news magazine Focus that Greece still needs help.

He didn't say if more tough conditions would be insisted upon in return, with Samaras, whose New Democracy Conservatives took a beating in the EU ballot, having said he would never ever again implement more austerity, although he already has, with more pension cuts coming.

According to the interview, Schaeuble said that the second bailout, given in 2012, wasn't big enough. The Troika estimates it will take until 2022 before the country's debt is sustainable, which he said means a third rescue package."
---
Greece moves to calm austerity fears as Germany suggests new bailout - News Asia
"Greece sought on Sunday to calm fears of further austerity, after Germany's finance minister raised the prospect of a third rescue package for the struggling nation.

German Finance Minister Wolfgang Schaeuble said in an interview published on Sunday that "it's possible that Greece might require further aid, of a limited amount".

"It would be significantly lower than the two previous rescue packages - meaning no more than 10 billion euros (US$13.6 billion)," he told Focus magazine.

His comments fanned fears that the Greek government would be forced to impose further tough reforms including job and wage cuts in exchange for the aid.

Greece's radical leftist party Syriza, which won the European elections on an anti-austerity ticket, said Schaueble's comments pointed to "new measures" that would "exhaust people".

But the Greek finance ministry said the country had no immediate need of extra help."
---
---
See the main archive index of all collected news articles and pages on Athens Greece Now.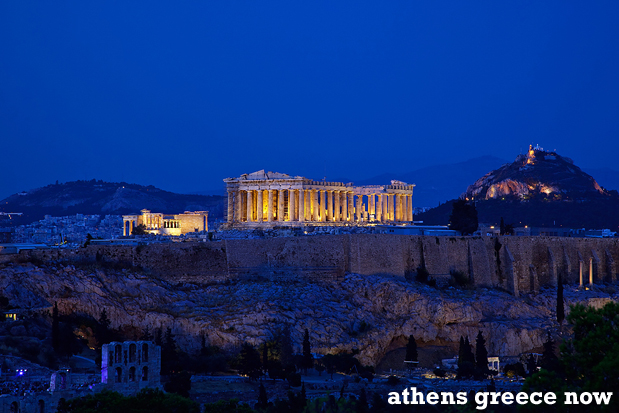 ---
Advertisement: I am an Amazon affiliate
Fodor's Essential Greece: with the Best Islands (Full-color Travel Guide)