NEWS ARCHIVE - May 2014
---
---
May 28, 2014
As Goes Greece, So Goes Europe? - NY Times
"The drama playing out in Greece over the past four years may hold useful lessons for Europe. Not every vote lost by the center is a vote against the Union. In Sunday's election, a coalition of the remnants of the two pro-European Union parties that dominated the Greek political center for decades was hit by a pincer movement from left and right. Syriza, a radical left party, won the most votes (26.6 percent), while the neo-Nazi Golden Dawn finished third, with 9.4 percent. The senior coalition partner, the center-right New Democracy, won 22.7 percent, while its junior partner, the center-left Pasok (running as part of the "Olive Tree" alliance), got 8 percent.

This confirmed opinion polls that Syriza was the party with the strongest support since national elections in June 2012. Syriza is opposed to the austerity program imposed on Greece in 2010 but is not anti-European Union. Golden Dawn is against austerity but also strongly against the European Union. The two parties represent the often bloody historical divide between Greece's left and right and would never agree on anything besides attacking the government.

Greece is not the first country to witness a protest movement against economic austerity, nor the first where xenophobic extremists have made their presence felt. But nowhere have the two extremes grown so influential so quickly, as formerly fringe groups fed off voters' anger and insecurity and wore down the credibility of mainstream parties.

In national elections in 2009, before the crisis, Syriza won just 4.6 percent of the vote, while Golden Dawn barely registered, with 0.3 percent (just 19,624 votes). But their recent strong showing, and the coalition government's weakening, suggests that if these had been national elections the results would have rendered Greece ungovernable, as no party could have formed a viable coalition with any like-minded group. With the economy still on life support, such political instability would be devastating."
---
May 27, 2014
EU elections turn rightward, but Syriza leads in Greece - CNN
"Greece's left-wing party Syriza bucked the lurch right in Europe's elections, beating the country's two political mainstays into first place.

The party posted an estimated 27% of the vote, four points clear of the center-right's New Democracy, which is headed by Greek Prime Minister Antonis Samaras.
EU elections: A far-right 'earthquake'

The results were in sharp contrast to the dramatic rise of Marine Le Pen's National Front in France and UKIP in the United Kingdom, both far-right nationalist parties. Syriza received almost three times the votes polled by Greece's far-right Golden Dawn party, which gained nearly 10% and two parliamentarians despite its leaders facing charges of running a criminal organization.

...Tsipras, who dominated the left-wing stage during Greece's national elections in 2012, said the results were "historic," and revealed a firm rejection of Europe's austerity measures.

"The message is that the disastrous policy of austerity must be terminated. All European nations must invest in democracy, growth, social cohesion and solidarity," he said.

In a statement, Syriza said the European election results showed the government no longer had "moral and political legitimacy" to negotiate with Europe and that the party would seek a snap election."
---
EU Beach Committee rates Greek beaches 93.2% - Ethnos.gr
"93.2% of Greek beach meets the strictest level of "excellent" (82.6% in the EU) and 99.2% (94.7% in the EU) meets the minimum requirements, according to the annual report of the European Committee on the quality of bathing water in the EU in Greece tested 2,162 beaches."
---
---
May 25, 2014
'Massive' gains for the rightwing in Austria, Greece, France - Brietbart
'The popular right-wing have gained massively in Austria and Greece, and in France Marine Le Pen's Front National will gain at least 20 seats. The non-mainstream right of the European Parliament will hold up to 83 seats, according to an exit poll analysis published by Bell Pottinger, a Brussels public relations firm."
---
May 24, 2014
266 Reported Hurt as Quake Rattles Greece - ABC News
"The quake struck at 12:25 p.m. local time (0925 GMT) southwest of the Greek island of Samothraki, 210 kilometers (130 miles) east of Thessaloniki and 296 kilometers (185 miles) northeast of the capital Athens. It was also close to the Turkish island of Gokceada and the Greek island of Lemnos.

...The Institute of Geophysics at the Aristotle University of Thessaloniki said the magnitude of the quake was 6.3. The U.S. Geological Survey initially reported a magnitude of 6.4, later revised to 6.9."
---
May 23, 2014
Syriza/Dourou taps into anti-austerity anger - Chicago Tribune
"I was worried my public life would start and end with a glass of water," Dourou said in an interview. "But thankfully people no longer know of Rena Dourou because of that incident."

Dourou's style - she often bangs her hand on the table to emphasize a point and is known for using slang - and her pledge to end a "humanitarian crisis" in debt-ridden Greece have helped Syriza breakthrough in a region that has so far been a bastion of support for the coalition centre-right and Socialist parties.

"Ours is no longer a vote of frustration and anger. Two years later, this vote has crystallized because of a clear plan and because our predictions came true: unfortunately, Greek national debt is not sustainable," she told Reuters this week.

"It's no longer a vote cast blindly in the dark."

Indeed, her strong electoral performance in local elections last Sunday highlights the danger facing Greece's fragile coalition in the upcoming EU vote, which has turned into a referendum of sorts for a government that has imposed harsh cutbacks to meet the requirements of its EU/IMF bailout.

Most polls show Syriza - led by firebrand Alexis Tsipras - with a small lead over conservative Prime Minister Antonis Samaras's New Democracy party.

A decisive Syriza victory by a margin of more than a few points could threaten a government hanging on to a two-seat parliamentary majority, especially if Syriza took a bigger share of the vote than New Democracy and Socialist coalition partner PASOK put together, analysts say."
---
May 22, 2014
Greek elections could roil Europe, again - WSJ Market Watch
"Forecasts suggest that nearly one-third of the 751 seats in the Parliament will be won by euroskeptic parties, which come from both the left and right wing. While hostile to the EU for a range of reasons, they're typically protesting austerity measures or immigration. They've seen an increase in popularity in the wake of the financial crisis, which began to rock markets full-force in 2008.

In that light, Stephen Pope, managing partner at research company Spotlight Ideas, says the key results will be from Greece, where the far-left Syriza party leads in the polls. Syriza opposes the massive bailout deals that were crafted between Greece's coalition government and the troika of international lenders — the European Commission, the European Union and the International Monetary Fund.

"We've done so much heavy lifting … over saving Greece. Nobody who's in the euro zone will deliberately try to force Greece out," he said in a telephone interview.

But if Syriza wins enough support in the European Parliamentary election, "one could easily see a push to have a new [Greek] election this year. That's a big problem to me," he added.

Financial markets tend to be indifferent about the parliamentary election, as investors give more weight to national voting, Pope said. But this time it could be different."
---
May 21, 2014
Syriza fares well in key local races - Reuters
"Greece's leftist Syriza party performed strongly in key races in the first round of local elections on Sunday, as voters poured out their anger at the government's austerity policies.

The vote, along with European Parliament elections a week later, is being closely watched as a gauge of sentiment towards the coalition of Prime Minister Antonis Samaras, which came to power two years ago and holds just a two-seat majority in parliament.

Official projections showed Syriza making the run-off in the race for mayor of symbolically important Athens. It also led in the wider Attica region, which includes just under a third of Greece's population.

"There is a new trend in favor of anti-establishment parties," political analyst John Loulis said. "... Although people don't trust Syriza yet, they are willing to experiment."
---
May 21, 2014
Juncker: Vote in the elections, just not for fascists and extremists - ethnos.gr
"Inviting European citizens to participate in elections but not to vote for extremist parties, he addressed the EPP. Jean-Claude Juncker candidate for President of the European Commission, said during the last press conference as part of his presidential campaign today in Brussels .

"The vote for extremist parties means at best empty seats in the European Parliament", said the former president of the Eurogroup.

"Vote, vote, but not extremists, fascists and xenophobes, who unfortunately still exist in Europe. If we want a Europe that works to serve the citizens should vote for people who will work hard over the years to the European Parliament, which will defend European values​and fundamental rights."
---
May 20, 2014
Why is Greece the most anti-Semitic country in Europe? - JTA
"When the Anti-Defamation League published its global anti-Semitism survey last week, Greece, the cradle of democracy, captured the ignominious title of most anti-Semitic country in Europe.

With 69 percent of Greeks espousing anti-Semitic views, according to the survey, Greece was on par with Saudi Arabia, more anti-Semitic than Iran (56 percent) and nearly twice as anti-Semitic as Europe's second-most anti-Semitic country, France (37 percent).

...both the ADL and Greece's small Jewish community caution that the reality is more nuanced than the poll numbers suggest.

...For their part, Greek Jewish leaders took pains to point out that despite widespread bigotry, Greece hasn't seen the sort of anti-Jewish violence that has cropped up in some other European countries, such as France.

"Despite the poll showing high levels of anti-Semitism, it must be noted that in Greece over the last four years we have not had any anti-Semitic violence against people or Jewish institutions," said Victor Eliezer, the secretary general of the Central Board of Jewish Communities in Greece.

"This is not a poll about violence, but rather a survey on stereotypes, and yes, there are a lot of stereotypes among the Greek public," he said."
---
May 19, 2014
Olive Oil, Honey Could Help Lift Greece Out of Recession - Bloomberg
"Greece, which saw exports fall 0.2 percent to 27.3 billion euros ($37.5 billion) in 2013, needs food and beverage companies to catch up with export-oriented industries like fuels and do more to help pull the country out of a six-year recession, Samaras told industry representatives on the island of Lesvos May 13.

More Greek food companies, some of whom were forced to look for sales outside their traditional home market as the crisis shrank the economy, should focus "on processing agricultural produce in order to bring Greek products to international markets," Samaras said. "Today, 200 large companies account for 85 percent of production while 17,000 small and medium-sized companies have huge potential."

Greek exports of agricultural products including food, beverages and vegetable oils rose 3.5 percent by value in 2013 to 4.75 billion euros, according to the Panhellenic Exporters Association. At around 17 percent of the total value of Greek exports, the food and beverage industry trails fuels and industrial goods like machinery and chemical products as the country's top export category.


Greece's economy contracted at its slowest pace in four years in the first quarter, the Hellenic Statistical Authority said May 15. The European Commission forecasts that Greek GDP will grow 0.6 percent this year, its first annual expansion since 2007."
---
Don't underestimate Golden Dawn - eKathimerini
"Analyses on and projections of the outcome of European Parliament and local elections abound, but another important and often disregarded part of the debate is how Golden Dawn will do. The fact is that there is a very serious danger the far-right party will have quite a strong presence in the polls, something that would create a new set of problems on the domestic as well as the international front.

It is a mistake to underestimate the popularity of Golden Dawn, which despite a small decline after last September's murder of rapper Pavlos Fyssas by a self-proclaimed member of the party and the criminal investigation that this prompted into the party and its leading cadres remains a significant factor on the political stage and is gradually making a comeback that can only be described as worrisome to democratic citizens.

A look at public opinion polls reveals the shadow of the far-right organization spreading across the charts. We must also bear in mind the fact that citizens may be reluctant to state to pollsters their intention to vote for Golden Dawn, making the situation of even greater concern.

These secretive voters may bring some unpleasant surprises. If, for example, Golden Dawn increases its share of the vote from the 2012 general elections and emerges as Greece's third-biggest party, or even if party spokesman and Athens mayoral candidate Ilias Kasidiaris – whose personal appeal has been steadily outstripping that of the party – does well enough in this Sunday's local elections to make it into the second round next week, Greek society will be facing a very troubling situation."
---
May 18, 2014
Despite economic improvement, protest vote poses major test for Greece's governing coalition - Fox
"Much has changed in the two years since Prime Minister Antonis Samaras' governing conservatives won a slim victory in a parliamentary election. In mid-2012, the debt-hobbled country was on the brink of a possible chaotic exit from the group of European countries using the euro currency, amid deep political and financial instability.

Since then, in a coalition with the remnants of his Socialist archrivals, Samaras has overseen a massive fiscal turnaround. Greece is projected to return to growth after a nightmare six-year recession slashed a quarter off the economy. But unemployment, although below its cruel peak of nearly 28 percent, remains very high amid a deep drop in incomes and property prices.

...In municipal and regional elections, held in two rounds Sunday and May 25, the center-left-backed incumbents are seen as favorites to win the major cities of Athens and Thessaloniki."
---
Election Day Challenge - Coalition Faces Tough Mid-Term - Greek Reporter
"Before the financial crisis forced them to share power, the conservatives and the Socialists combined accounted for nearly 80 percent of the vote — while SYRIZA had only about 5 percent before rising on the backs of an anti-austerity message that weary Greeks have embraced.

...Political analyst Thomas Gerakis of Marc Institute told Agence France Presse:."Even though the vote has local characteristics, in essence this is a test of forces between those who tolerate the government's policies and those seeking to send a message of protest."

...The biggest test though could be the May 25 European Union ballot which Tsipiras said would show voters disdain for austerity and repudiate Greece's ruling parties so much that it would bring down the coalition and force early national elections before the government's term runs out in 2016."

---
Greeks vote in first round of local elections - Reuters
"Greeks began voting on Sunday in the first round of local elections that mark Prime Minister Antonis Samaras's first big electoral test since coming to power two years ago.

The vote, along with European Parliament elections a week later, are being closely watched as a gauge of sentiment towards Samaras's fragile coalition, which could be in jeopardy if the far-left Syriza and far-right Golden Dawn parties fare well.

Nearly 10 million Greeks are eligible to vote on Sunday to elect mayors and town councils for 325 municipalities as well as prefects - similar to state governors - for 13 regions across Greece, with a run-off vote to be held on May 25.

...On Saturday, Samaras made a final appeal to voters to reject his rivals in the Athens race.

"There is a very specific dilemma in Athens," he said.

"Are we going to leave the city in idleness and to those who want anarchy or will we unite our forces so that no vote is lost and Athens pushes ahead?"
---
May 16, 2014
Euro Commission Presidency debate and Tsipras - European Voice
"...This debate was eagerly awaited because it was the only one to include all five candidates including Alex Tsipras, the firebrand Greek politician who is the nominee of the Parliament's far-left GUE group.

While the other four candidates are all from the Brussels bubble (three are members of the European Parliament and the other was head of the Eurogroup), Tsipras is from the outside. It was hoped he could inject a dose of reality in what have sometimes felt like very 'inside the bubble' conversations among these other candidates.

But for those hoping Tsipras would bring a new European idea to the table, they will have been sorely disappointed by last night's debate. Tsipras focused almost exclusively on Greece, rarely mentioning anything about European policy and continually bringing the conversation back to the austerity measures imposed on his home country.

...Juncker was Tsipras's main target, and his condemnations of the austerity policy imposed on Greece seemed to genuinely upset the former head of the eurogroup. "For years I worked day and night to avoid Greece having to leave the euro area," Juncker responded. "I did everything because I love Greece, and I love the Greek people." But his self-defence was greeted with boos by some in the chamber.

Guy Verhofstadt, the nominee of the Alliance of Liberals and Democrats, came ready with ammunition against Tsipras. He said the focus on banks was ignoring the fact that the crisis in Greece was caused by a "clientele state" and "the bad policies by the two main parties in your country." He then said that these parties are still funded by public banks, as is Syriza."
---
May 15, 2014
Greek Banks are back in the game - Valuewalk
"Our caution on certain Greek banks was based on a number of factors. Those included an uncertain February stress test that could have resulted in as much as a EUR 20bn capital shortfall, a sovereign whose yields have been highly distressed, and a weak outlook for the economy weighing on credit losses.

However the environment has changed now, the report says that strength in Greece's economy has now led to a revision in GDP expectations. Additionally the sovereign bond yields improved by 250 bps in just three months, which put the country back in the global bond markets."
---
May 14, 2014
"Less Disastrous" - Recession Easing - Bloomberg
"The European Commission forecasts that Greece's economy will expand 0.6 percent this year, its first annual expansion since 2007. The country's recession, deepened by budget cuts tied to 240 billion euros ($328 billion) of bailout loans from the euro area and International Monetary Fund, has cost Greece about a quarter of its GDP and left it with an unemployment rate of 26.5 percent."
---
May 13, 2014
Australia and Greece Announce Reciprocal One Year Work & Holiday Visas - Global Herald
"Australia and Greece have announced an agreement on a reciprocal one year work and holiday visa, which was signed this week.

Up to 500 young adults from Australia and up to 500 young adults from Greece may take advantage of the one-year visa...

...The relationship between Australia and Greece was described as "close and positive". Official data from the 2011 Australian census shows that around 400,000 Australians describe themselves as being of Greek ancestry."
---
May 12, 2014
Greece's top court allows far-right party to contest EU vote - Reuters
"Greece's Supreme Court on Sunday allowed the far-right Golden Dawn party to run in European elections this month, despite calls to ban it as its leader waits in jail to be tried for membership of a criminal organization.

The court routinely permits parties to take part in elections but a private citizen had asked it to exclude Golden Dawn this time because its leadership is under investigation over a string of attacks against immigrants and opponents.

Golden Dawn is expected to perform well due to a wave of anger against economic austerity - the price Greeks have paid for bailouts totaling 240 billion euros ($330 billion) from the European Union and International Monetary Fund to save the country from a debt crisis."
---
May 10, 2014
Greece's Tourists Are Coming, But Not Spending - Greek Reporter
"Greece expects a second straight year with a record number of visitors, but data shows the country's tourists are spending far less than the country's rivals.

Tourism is the country'g biggest revenue producer for its 249.1 billion euro ($342.7 billion) Gross Domestic Product, but the levels would be much higher if the country had more luxury hotels, major conference centers in main cities, cruise home ports, and marinas, the lack of which is keeping away rich tourists.

Last year a bevy of Hollywood celebrities showed up, mostly on the islands, driving a recovery from a disastrous 2012 summer during which people stayed away in droves because of constant images of strikes, protests and riots against austerity measures."
---
May 8, 2014
Greece investor spring breathes life into privatisation drive - UK Reuters
"Privatisation is a major part of the country's plan to reduce its 319 billion euro (261.6 billion pounds) debt mountain to 112 percent of gross domestic product within eight years, from 175 percent now.

But asset sales have lagged original targets set in the country's European Union/International Monetary Fund 237 billion euro bailout after the financial crisis.

Athens managed to attract only one valid, binding bid for any of the major privatisation deals it completed at the height of its debt crisis in 2012-2013, when its euro zone membership seemed to hang in the balance, scaring off investors.

But since Greece returned to bond markets last month for the first time in four years, investors are coming back. The Greek economy is expected to expand by 0.6 percent in 2014, its first growth after a six-year recession that has wiped out almost a quarter of GDP."
---
May 7, 2014
'Odds are in our favor': Piraeus bank - CNBC
"Greece is finally emerging from its deflationary six-year recession and the odds are in favor of not just an economic recovery but also solid investment returns ahead, the CEO of the country's largest domestic bank told CNBC.

"The opportunity in Greece has not run its course. We're just starting to get into positive growth territory and that will produce returns which some investors may wish to partake," Anthimos Thomopoulos, CEO of Piraeus Bank, told CNBC in an exclusive interview.

Greece is expected to see economic growth of around 0.6 percent this year, according to Eurozone estimates, but that follows an around 5 percent contraction last year. In two years' time, the economy could grow by as much as 3.3 percent, according to the government's economic projections."
---
May 5, 2014
Greece quietly launches new public broadcaster - AFP Yahoo
"Something new began at 6:00 pm," a voiceover intoned. "NERIT entered Greek homes, with pluralism and reliability, humanity and respect for culture and history." The muted launch of the new broadcaster was in stark contrast to the public outcry that greeted the shutdown of its predecessor ERT last June as part of draconian budget cuts.

ERT's sudden closure after more than 60 years on the air shocked even austerity-hardened Greeks.

...ERT, or Hellenic Broadcasting Corporation, had its origins in the 1950s when the Greek state first created three separate radio stations for information, entertainment and music.

Widely seen as hopelessly bloated, by last year it had 2,600 employees, 19 local and five national radio stations, a choir and three orchestras and cost 300 million euros ($420 million) a year to run.

An interim broadcaster, DT, took over in mid-July, and many of its journalists have been taken on by NERIT.
---
Acropolis 1910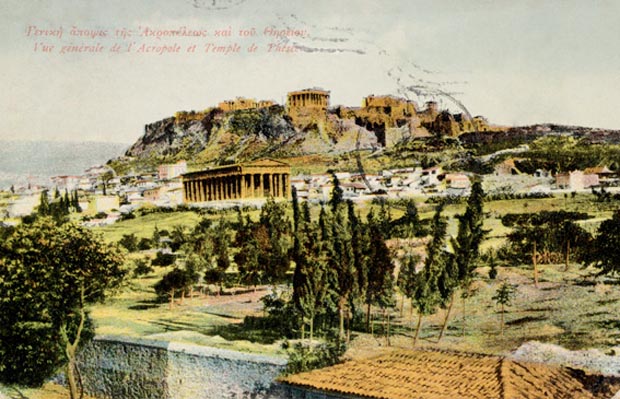 Postcard image, saw this at http://alexanderchalkidis.com
---
May 4, 2014
Greece Readies Debt Relief Plea - Greek Reporter
"With a primary surplus in hand, Greece is set to ask the eurozone to approve some sort of relief from the 240 billion euros it has borrowed from international lenders, reportedly a 50-year repayment schedule, lower interest or an outright cut.

Finance Minister Yannis Stournaras, who had previously said the country wouldn't need it, is now due to present the proposal to his peers in the other 17 countries that use the euro.

If Greece seeks a so-called "haircut," a reduction in the principal it owes, the cost for generations of wild overspending would be passed on to taxpayers in other eurozone countries.

While German Chancellor Angela Merkel, whose country is putting up much of the loan monies from the Troika of the European Union-International Monetary Fund-European Central Bank (EU-IMF-ECB), has ruled out a haircut, Greece has lined up a series of other options."
---
Recovery happening, but life is still a struggle - CNN
"The eurozone is emerging from its devastating debt crisis but life in Greece -- where the bloc's financial meltdown began -- remains a struggle for many.

CNN has tracked a group of Greek citizens since 2012, and revisited them* for an update on life in the country after years of austerity. They told CNN wages continue to be cut, healthcare is suffering and that leaving the country can seem the only option.

George Pentafronimos, an IT consultant who left Greece to live in Luxembourg, says leaving the country was one of the most difficult decisions he's made, but one he doesn't regret."
---
May 3, 2014
Conservatives regain slim lead - Reuters
"Greece's co-ruling conservatives have regained a narrow lead over the main, anti-bailout opposition three weeks before a European Parliament election, two polls showed.

The election, which coincides with a key local vote, is seen as a test for Prime Minister Antonis Samaras' fragile coalition in a country still reeling from the debt crisis and banking on loans from the European Union and International Monetary Fund.

Samaras' New Democracy - which leads the coalition with the Socialist PASOK party - and its rival, the leftist Syriza party, have been running neck-and-neck in polls for months, with voters often swinging in favor of one or the other party.

But New Democracy has seen a boost in ratings since Athens tapped bond markets in April for the first time in four years and Samaras promised to spend a 527 million euro ($731 million) windfall from Greece's 2013 budget surplus on poor, austerity-hit Greeks.

The poll conducted on April 28-30 by Metron Analysis for Sunday's Ethnos newspaper put support for New Democracy at 28.4 percent and for Syriza at 27.6 percent, excluding undecided voters - who otherwise stood at 17 percent.

In a poll by the same agency in April, Syriza was leading with 1.4 percentage points."
---
May 2, 2014
Unemployment: as in Greece, so in Europe - CNBC
"When Eleanna Malemi graduated with a degree in European and international studies in Athens in 2010, she did not expect to be working in a bar four years later.

But after countless job interviews and unpaid internships, she was forced to take work as a waitress in order to fund further study – a last-ditch effort to make herself more attractive to the sparse number of Greek companies actually looking to fill jobs.

"Since 2010 I have been searching for a job based on my studies, but it's been hard to find anything except non-paid jobs," she told CNBC."
---
See the main archive index of all collected news articles and pages on Athens Greece Now.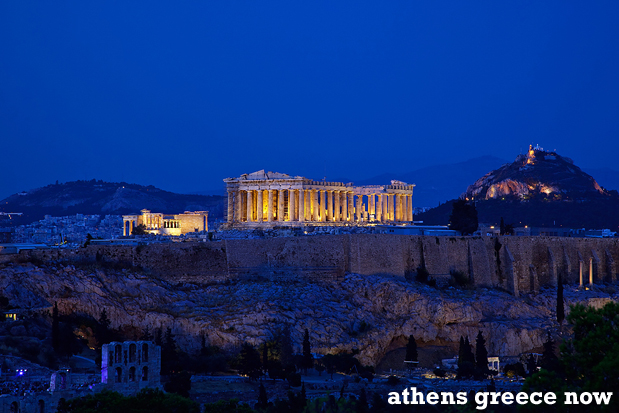 ---
Advertisement: I am an Amazon affiliate
Fodor's Essential Greece: with the Best Islands (Full-color Travel Guide)