NEWS ARCHIVE - March 2014
---
March 31, 2014
Greece Won't Need Third Rescue on Recovery: Stournaras - Bloomberg
"Up to the moment, we don't see a need for a third bailout," Stournaras said yesterday in an interview with Bloomberg Television in Athens. "I think the program money, along with the better performance on the fiscal side, are enough to cover us fully for the next 12 months, and under certain conditions that could continue up to well inside 2016."

The Athens Stock Exchange (ASE) rose 0.6 percent to 1335.74 yesterday, while Greece's 10-year bond yield fell 10 basis points to 6.57 percent, the lowest since mid-2010."
---
March 27, 2014
Piraeus Bank Completes Share Capital Increase - Wall Street Journal
"Piraeus Bank SA said Wednesday it had completed a EUR1.75 billion share capital increase, the second by a Greek bank this week, signaling a growing confidence by foreign investors in the nation's banking sector.

The announcement by Piraeus, Greece's largest domestic lender by assets, comes just a day after smaller rival Alpha Bank AE announced the completion of a separate EUR1.2 billion capital increase following a successful placing of its shares with foreign investors."

...Eurobank, now under state control, faces the biggest shortfall--requiring EUR2.9 billion. It has announced plans to move ahead with a EUR3 billion share capital increase to cover its needs. NBG, which needs to plug a EUR2.2 billion hole in its balance sheet, says it can raise the money without selling more shares.
---
---
March 26, 2014
China in lead for Greek Privatizations - Reuters
"A Chinese-backed group is set to win Greece's biggest privatization prize so far, a 915-million-euro deal to develop a prime seaside property at the former Athens airport of Hellenikon, two sources close to the talks told Reuters.

The sole bidding group, led by Greek real estate firm Lamda Development (LMDr.AT) and backed by China's Fosun (0656.HK) and Abu-Dhabi-based property firm Al Maabar, raised its initial offer by 25 percent, the country's privatization agency HRADF said in a statement.

According to two senior HRADF officials directly involved in the talks, the improved offer is satisfactory and will most likely be accepted by the agency's advisers.

"I consider it highly unlikely that our advisers will recommend us to turn down the offer," one of the two officials told Reuters on condition of anonymity."
---
March 22, 2014
Fresh milk may derail loan deal - Reuters
"Greece's government risks another rebellion over bailout terms this week after milk producers lobbied against a move to free up prices as part of efforts to make the economy more competitive.

The country's international lenders want it to ditch rules, such as limiting the shelf life of fresh milk to five days, that effectively deter importers.

But Greek dairy producers and lawmakers representing farming constituencies are fighting the move to call milk up to 11 days old 'fresh' - the latest in a long line of last-minute disruptions to Greece's bailout reviews with the European Union and International Monetary Fund.

Six lawmakers from within the ruling coalition - three from Prime Minister Antonis Samaras's New Democracy party and three from the Socialist PASOK - have opposed the proposal that will be submitted to parliament on Friday as part of an omnibus reform bill that Greece must pass to secure bailout aid.

If they vote against it, Samaras and PASOK leader Evangelos Venizelos could be forced to expel them, further reducing the government's slim majority of just 153 seats in the 300-seat assembly."
---
March 21, 2014
Rating agencies pronounce Greece "stable" - Irish Independent
"The ratings agency today reaffirmed its B-rating on Greece and said the outlook is stable. Greece's rating is still seven notches below what is considered to be investment grade. Ratings matter because they can affect a country's interest payments."
---
"Law of Return" passed for native born Jews - Haaretz
"The legislation applies to Jews who were born in Greece and left the country before May 1945. A similar piece of legislation applying only to Jews of Greek origin living in Israel was passed in 2011. The new legislation, which will take effect within the next few weeks, applies to Jews of Greek origin living elsewhere in the world.

Dimitrios Dollis, the former deputy foreign minister who initiated the legislation, said he did not believe that many eligible candidates would exercise their right to obtain Greek citizenship and move back to the country, but that was not the point. "It's about us feeling slightly better about correcting our past mistakes," he told Haaretz in a phone interview. "We are talking about one of the most ancient Jewish communities in Europe."

Before World War II, an estimated 100,000 Jews lived in Greece, spread out in more than 30 organized communities. After it was almost completely wiped out during the Holocaust, the Jewish community of Greece now numbers about 5,000."
---
Piraeus Bank test market appetite for Greece - Financial Times
"[Bank] Piraeus says its three-year €500m bond attracted orders of more than €3bn. Little wonder. With a coupon of 5 per cent, it offers considerably more yield than similar post-bailout bonds issued by Spain's Bankia and Portugal's BCP.

"There is a reach for yield in the market but beyond that investors are looking for assets that offer performance potential and credit upside," says Oliver Sedgwick, head of European investment grade syndicate at Goldman Sachs.

"[Greek banks] trade at a much wider spread relative to other peripheral banks and if you're positive on the Greek macro environment this would lead to spreads tighten to much lower more normalised level."

Analysts speculate that the Greek government, which owns a large stake of preference shares in Piraeus, will follow this year with its own first post-crisis bond."
---
March 20, 2014
49 Reasons to Love Greece - Buzzfeed
Entertaining visual essay about the positive side of Greece
---
March 19, 2014
Agreement made to release loan money - NY Times
"After seven months of faltering negotiations, Prime Minister Antonis Samaras said on Tuesday that Greece had reached a deal with its foreign lenders on economic reforms necessary to unlock billions of euros in crucial rescue funding. He also pledged to distribute 500 million euros to one million Greeks hit hardest by the country's economic crisis.

"The long negotiations with the troika have been completed successfully," Mr. Samaras said in a televised news conference. "United, the government achieved its mission."

He said his administration would honor a pledge to give a portion of a projected primary surplus — a budget surplus after debt payments — to "recompense the massive sacrifices of the Greek people." Members of the police and security forces on low salaries would be among the beneficiaries of the immediate delivery of the €500 million, or $695 million."
---
Deal struck with troika - Guardian UK
"Samaras told reporters: "The long negotiations with the troika have been successfully concluded. When others doubted the economy's achievements or even tried to thwart them, this government, united, went on [with the business of] seriously pursuing its mission, to get the country out of the crisis."

Listing what he described as the 21-month-old government's achievements – preventing Greece's exit from the eurozone, ending the country's prolonged recession and attaining a primary budget surplus "earlier than the [financial assistance programme] foresaw" – Samaras said the time had come when austerity-hit Greeks could finally take back what they had lost.

With a primary budget surplus – ie, before debt interest payments – to be formally announced by the Greek statistics agency in April, he pledged that his administration would act on its promise to help those most affected by the crisis."
---
Chrysochoidis: Bond Sales coming - eKathimerini
"Greece will probably sell bonds for the first time in four years before May as the nation seeks to rebuild its finances following an international bailout, Infrastructure Minister Michalis Chrysochoidis said.

The debt sale will be part of "a series" of positive developments before this May's European Parliament elections, Chrysochoidis, 58, said in an interview in Athens on Monday. "We will get the next loan tranche, the country will return to markets, with a slightly high interest rate, which will fall after, and Greece won't remain in this drama of quarterly troika reviews."
---
March 16, 2014
Working without pay in Greece - American NPR
This is an interesting look at a facet of the economic reality in Greece. It is very reminiscent of the same feature that was prevalent in the American 'Great Depression' of the 1930s, when vast swaths of people kept jobs by simply working without pay for businesses and public institutions which were virtually penniless.
"On a recent morning, the 51-year-old father of three and his 38-year-old wife, Alexandra Tsitoura, pull up their 9-year-old Fiat outside an empty office building.

Tsitoura also works at Hellenic Shipyards. Together, she and her husband used to make around $3,000 a month. Alexandra Tsitoura and Nikos Aivatzidis with their three children, Marios, 2, (left), Fani, 9, and Dimitris, 6, in their home in Athens.

As they get out of the car, they're greeted by a pack of stray dogs, looking for food. "My co-worker used to feed them," Aivatzidis says. "But she stopped coming to work."

Aivatzidis keeps coming in hopes that he and his wife will eventually get paid. And he has another reason for showing up at the shipyard at least twice week.

"I can't quit this job because I will lose my severance pay after 30 years of work," he says. "I can't justify that."

About 20 percent of Greek workers are trapped in the same dilemma. Many, like Aivatzidis, hold on because they know finding another job at a time when the unemployment rate is 28 percent is virtually impossible. "
---
March 14, 2014
Pipeline project goes forward - Forbes
"As much of Europe spent the last month worrying about what might happen if Russia decided to shut the valve on its gas supply, Athens has apparently decided the time is right to push a new energy role. This week, Greece's Energy Ministry launched an international tender for a pipeline project that would transport about 8 billion cubic meters of gas into the European market from offshore fields controlled by Cyprus and Israel. According to a Reuters report, the project would link Israel's Leviathan natural gas field to Europe by way of Greece through the IGI-Poseidon pipeline, managed by Italy's Edison and Greece's state-backed utility, DEPA.

For Israel, the pipeline would provide the country's first long-distant export option. Israel has recently announced a series of export agreements for its offshore efforts, 40 percent of which is allotted for sale outside of the country. However, so far, they have all been local, including sales to Jordan, Palestinian utilities and talks with both Egypt and Turkey. For Greece, a successful pipeline would help them carve out a long-sought energy role in the area.

Over the last three years, Athens has made a concerted effort to lay claim to the Eastern Mediterranean's recent energy rush, both as a potential transport hub for Israeli and Cypriot gas reserves and as a producer itself. The latter role, which has included studies suggesting offshore reserves near Crete, has failed to catch fire beyond political rhetoric. Meanwhile, after this week, it appears the country's transport aspirations may have some potential."
---
Tight races for May elections - Reuters
"Prime Minister Antonis Samaras' co-ruling New Democracy party and the main opposition Syriza party would both get 15.5 percent of the vote if EU elections due in May were held now, the poll conducted by Public Issue for the Efimerida ton Synakton newspaper showed.

To Potami (The River), launched by a well-known Greek TV journalist barely three weeks ago, was in third place with 7 percent, according to the poll, a surprisingly strong showing for a new movement.

More than 40 percent of those polled refused to say how they would vote or were undecided, but more than two thirds of 1,004 respondents said they would vote in the May elections."
---
March 12, 2014
Regulation hindering recover - Reuters
"These rules are among the hundreds of restrictive business practices in Greece that a team from the Organisation of Economic Cooperation and Development identified last year, as part of an 11-month investigation commissioned by the Greek government. In its report the OECD made 329 recommendations for rules that should be changed to open up competition and give a much-needed boost to the economy.

Quantifying the cost of these restrictions is a difficult task, but in 66 cases, the international experts did figure out a way to do so. Eliminating them would lead to a positive effect on the Greek economy of 5.2 billion euros, or just over $7 billion, they calculated. While that may not seem like a huge sum, in today's Greece, every penny counts. Kostis Hatzidakis, the Greek minister for Development and Competitiveness, is promising action "very soon" to retire some of the most intrusive rules that he says are holding back his nation's competitiveness.

That is easier said than done, and not just in Greece. In many European nations, a similar patchwork of rules limit competition, protect existing monopolies or otherwise restrict businesses for sometimes archaic reasons. In France, for example, there's currently a battle raging between retailers wanting to open on Sundays and labor unions who have successfully filed court actions to stop them."
---
Greece Holds One of the Highest Aging Rates in Europe - Greek Reporter
"...data from Eurostat found that population aging in Greece as well as in the rest of the EU countries continued incessantly during the last decade. The percentage of the elderly population in Greece increased significantly, from 16.7% to 19.4%, which is higher than the EU average (17.5% in 2011).

Examining the age structure of the Greek population, we see that the proportion of people aged over 65 years old exceeds 19% (nearly one in five), which places Greece among the three EU countries with the highest aging rates, along with Italy (20.3%) and Germany (20.6%). "
---
March 7, 2014
Rescue Loan deal will miss Mar 10 deadline - Reuters
"Greece and representatives of the European Union (EU) and the International Monetary Fund (IMF) had hoped to conclude the latest review of the country's reform progress under the terms of its international bailout by Monday, when euro zone finance ministers meet in Brussels.

But the talks will not be over by then because the two sides are still at odds over a range of issues, mainly on structural measures to boost the economy's competitiveness and over Greek lenders' capital needs.

"The distance between us has narrowed but we will still have work to do next week," one Greek senior government official told reporters after a new round of talks with lenders."
---
See the main archive index of all collected news articles and pages on Athens Greece Now.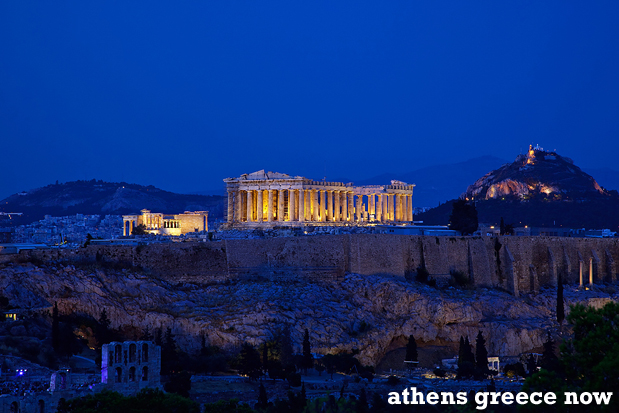 ---
Advertisement: I am an Amazon affiliate
Fodor's Essential Greece: with the Best Islands (Full-color Travel Guide)