NEWS ARCHIVE - September 2013
---
September 27, 2013
Venizelos - No 3rd bailout needed if we can return to bond mkt - Reuters
"Since the sovereign debt crisis of 2009, Greece has been shut out of international capital markets, resorting only to short-term borrowings, and has relied on two bailouts and a major writedown of Greek debt held by private investors.

Despite punishing fiscal measures and cash injections, it is expected to need an additional 10 billion to 12 billion euros in the next two years. The euro zone is likely to decide on a third bailout for Greece in November after international inspectors finish an assessment of its reforms.

Venizelos, a constitutional law professor and former finance minister who negotiated the debt writedown, said Greece was not looking for any more handouts but could cover its needs by returning to the bond market as early as next year and by renegotiating the interest and maturity of existing debt.

"Our point is not to transform the adjustment program as a more loose program, but to implement through a clever manner the existing program," he said."
---
September 25, 2013
Police investigated in Anti-Fascist Crackdown - NY Times
"The suspect has been linked to Greece's neo-fascist Golden Dawn party. Almost as chilling are accusations by some witnesses that a squad of police officers stood by as a group of burly, black-clad party members chased Mr. Fyssas down. A police spokesman denied that account, saying officers arrived right after the stabbing, in a gritty Athens suburb last Wednesday, and promptly arrested the suspect.

The killing of Mr. Fyssas has spurred the government to begin a risky crackdown on Golden Dawn, opening its first investigation into whether the police forces are infiltrated by sympathizers or members of the group, one of the most violent rightist organizations in Europe.

On Tuesday, officers raided three police stations on the outskirts of Athens. The sweep came a day after the government replaced seven senior police officials — including the chiefs of special forces, internal security, organized crime and the explosives unit — to ensure the investigation would take place with "absolute objectivity." In addition, two top members of the Greek police force resigned abruptly Monday, citing "personal reasons."

Such steps have the potential for volatile repercussions in a country where the security forces have had links to far-right organizations at various points since the end of World War II. They are likely to test the determination of the government and the public to turn back the influence of Golden Dawn, which has climbed steadily in opinion polls in the past year and has 18 of its members in Parliament."
---
Samaras attacks Golden Dawn state funding - UK Guardian
"As prime minister Antonis Samaras's government proposed that state funding for the far right group also be cut off if investigators found organisational links to the stabbing, Golden Dawn stepped up denials that it had any connection to the death. Its leader, Nikos Michaloliakos, insisted that the alleged killer was not a member of the party and had a tentative relationship with one of its 70 branches. "He was only passing through. I cannot control what everyone does," Michaloliakos told Kontra television in a rare interview.

Golden Dawn's spokesman, Ilias Kasidiaris, went further, accusing political parties, the government and the media of waging a dirty war against the organisation because of its growing appeal – despite one poll showing its support had dropped 2.5 points following the stabbing.

"Golden Dawn has been radically strengthened, it has passed 20% [in the polls] and in a few months it will lay claim to the biggest municipalities in the land. We will not stop. We have justice on our side and more than a million Greeks," Kasidiaris said.

Although surveys have shown the vast majority of Greeks expressing outrage at Golden Dawn's tactics in the wake of the killing, polls have also revealed the party maintaining steady ground in the areas most affected by the economic crisis."
---
September 23, 2013
Talks with creditors proceeds - USA Today
"Greece resumed talks with its creditors to review progress in stabilizing the indebted country's finances.

Finance Minister Yannis Stournaras met for more than four hours Sunday with representatives of the so-called troika of creditors — the European Commission, the European Central Bank and the International Monetary Fund. At stake is the continuation of the financing of Greece by the creditors, including a $1.35 billion (€1 billion) bailout installment to be paid in October.

In order to get this aid, Greece must finalize plans for the restructuring of three defense-related industries, which the EU wants liquidated; complete furloughs of around 12,500 civil servants by the end of September; pay back state debt to two major state-owned water companies that will later be privatized; and reform the lawyers' professional practice code, notably removing a requirement for a lawyer to be involved in the drawing up of contracts."
---
September 22, 2013
Troika talks resume in Athens - Fox News
"At stake in Sunday's talks with Finance Minister Yannis Stournaras is the continuation of the financing of Greece by the creditors, including a €1 billion ($1.35 billion) bailout installment to be paid in October. The discussion is expected to include the fate of Greece's defense industries, which the European Union wants liquidated; the furloughs for some 12,500 civil servants; and the ongoing privatization program."
---
Why Greece Is Not Weimar - NY Times
"The perfect political storm for violent extremism has descended on Greece. It consists of national humiliation, economic disaster, high immigration, political division and international tutelage. Look no further than Weimar Germany to understand its ingredients.

A typical confrontation occurred the other morning. Alex Soultos, who works in the jewelry business, was in a shouting match. A graduate of Northeastern University who returned to Athens from Boston in 2009, he was making his way through a crowd of strikers outside the Ministry of Administrative Reform and E-Governance when he lost it.

A group of women screamed abuse back at him. At our age, they demanded, where can we find jobs? They are among the 2,000 "school guards" who were ousted as the government scrambled to find 12,500 public employees it could shift by the end of this month to meet a deadline set by Greece's international creditors. "We have bills," Vespina Papadopoulou shouted.

But as Kyriakos Mitsotakis, the minister responsible for the cuts, explained to me inside the besieged ministry, the message from the "troika" (the International Monetary Fund, the European Commission and the European Central Bank) is clear: "If you don't do it, no more money!" Europe's requirement is: Reform or else."
---
September 18, 2013
Yiannis Vroutsis: no more cutting on pensions - NYT
Question: Can government resist push for more cuts?
"With a fresh inspection by Greece's foreign creditors looming next week and labor unions leading a new wave of strikes, the government here has drawn a red line: it will keep pushing economic reforms but vows to impose no more austerity measures on Greeks already battered from three years of tax increases and pension cuts.

"... Just let them try and cut our pensions again," said Maria Vassilopoulou, a 45-year-old nurse taking part in the protest. "They'll have a riot on their hands."

The Greek labor minister, Yiannis Vroutsis, denied over the weekend that pensions would be withheld or cut.

...But retirees are on edge. Stathis Meltakis, a 65-year-old car mechanic who retired this year, has been counting on a monthly payment of 850 euros from the country's biggest pension fund for private sector workers, IKA, which provides health coverage to 5.5 million people and pensions to more than 800,000. But last week, the union representing IKA workers warned of cuts of 10 to 30 percent in pensions next year.

"I've no idea when I'll get it or how long the checks will keep coming," Mr. Meltakis said. "You can't be sure of anything anymore."
---
Police raid Golden Dawn offices after stabbing incident - CBS News
"Police raided the offices of Greece's far-right Golden Dawn party Wednesday following a fatal stabbing by a man who authorities said admitted being involved in the party, the most serious instance of violence attributed to the extremist group.

Pavlos Fyssas, 34, a hip-hop singer identified by friends as an anti-fascist activist, died in a state hospital early Wednesday after being stabbed outside a cafe in the Keratsini area west of Athens. He suffered at least two stab wounds to the heart and ribs, authorities said.

A 45-year-old man who was arrested after being found in possession of a knife admitted to the attack, and to being involved in Golden Dawn, police said in a statement.

The party, whose senior members have expressed admiration for Adolf Hitler although they deny being a neo-Nazi group, won nearly 7 percent of the vote in general elections last year. Support has since risen to around 12 percent according to recent opinion polls."
---
Dramatic drop in Greek birth rate - UK Guardian
"The decline of more than 10% in the past four years is unparalleled in Europe and highlights the savage impact costcutting measures are having on the nation at the heart of the eurozone's financial woes.

"The falling fertility rate is a natural consequence of harsh austerity and record levels of unemployment, especially among the young," said Christina Papanikolaou, general secretary at the health ministry. "It is the mirror image of the 25% drop in our GDP since the start of the crisis," she said.

If further evidence was ever needed of the human cost of austerity, it is the effect budget-reducing policies are clearly having on childbirth in Greece. Figures released by the state-run Institute of Child Health show that the birthrate dropped from 118,302 in 2008 to 100,980 in 2012. "
---
September 13, 2013
Back to Work: Greece Deletes Computer Leave - WSJ
"...The bonus, known as "computer leave," applied to workers whose job involved sitting in front of a computer for more than five hours a day—basically most of the staff working in ministries and public services.

"It belongs to another era," Kyriakos Mitsotakis, the administrative reform minister, said. "Today, in the era of crisis, we cannot maintain anachronistic privileges."

Doing away with this bonus, which dates to 1989, represents "a small, yet symbolic, step in modernizing public administration," he said.

But the public-sector union Adedy said it would fight the decision in court."
---
'Greece in terrible state,' Oxfam warns - ekathimerini
"Greece is in a terrible state," Oxfam has said as a new report by the international aid agency warns that about 146 million Europeans, almost a third of the Continent's population, will be trapped into poverty by 2025 as a result of austerity policies across the region.

"...We were founded in 1942 because of the famine in Greece; no one would have believed we would be here more than 70 years later, saying, Greece is in a terrible state," Max Lawson, Oxfam's head of advocacy said in a statement.

"The UK, Greece, Ireland, Italy, Portugal, Spain – countries that are most aggressively pursuing austerity measures – will soon rank amongst the most unequal in the world if their leaders don't change course," he said.

...Austerity has helped Greece cut its primary deficit by 9.2 percent of gross domestic product in 2010-2012, one of the largest fiscal improvements recorded worldwide.
Oxfam is the "Oxford Committee for Famine Relief" begun in 1942 in the UK.
---
September 10, 2013
2013 surplus possible says Staikouras - eKathimerini
"Greece's central government had a primary budget surplus of almost 3 billion euros between January and August, the country's deputy finance minister Christos Staikouras said on Tuesday.

Excluding one-off revenues from European central banks, the surplus stood at 1.5 billion euros, the minister added. Greece continues to meet its budget targets and stay on course to hit a primary surplus at general government level at the end of the year, he said.

The ministry said that Belgium and Portugal rolled over their ANFA holdings of Greek government bonds in August."
---
September 9, 2013
How Greece and China are doing business - BBC
Greek exports to China are 1/20th of imports into Greece from China, but the rise of tourists from China to Greece has been increasing.
---
September 8, 2013
The worst is almost over : Samaras - UK Guardian
"If Greece kept up the progress – the condition of rescue funds worth €240bn from its "troika" of creditors at the EU, ECB and IMF – Samaras said the country would also succeed in shaving its debt mountain, at €320bn the biggest in the eurozone.

"After the end of the year, we will achieve a new lightening of the debt burden," he insisted reminding international lenders they had "committed to" making Greece's debt load sustainable if Athens posted a primary surplus [before interest payments on debt] by the end of 2013.

"A primary surplus will mean that the country can stand on its feet [and] will be the first decisive step towards exiting the policies of the memorandums," he said referring to the two loan agreements Athens has signed up to since the start of the crisis. By returning to capital markets and breaking free of creditors, Athens could use the surplus to "lighten the injustices" of Greeks on low pensions and public sector employees hit by cuts."
---
September 2, 2013
Financial support to go beyond 2014: Dijsselbloem - ABC News
"Greece will "very likely" need more financial aid beyond its current rescue loan programs, which end next year, the chairman of the eurozone finance ministers' meetings acknowledged Thursday.

Greece has been kept out of bankruptcy since 2010 with rescue loans worth 240 billion euros ($316 billion) from its eurozone partners and the International Monetary Fund. The possible need for further aid has proven a politically toxic issue in creditor countries like Germany.

"It's clear that despite recent progress, Greece's trouble will not have been completely resolved by 2014," Jeroen Dijsselbloem told lawmakers in the European Parliament.

He said "it's realistic to assume that additional support will be needed beyond the program," provided Greece complies with conditions set out by the eurozone finance ministers, collectively known as the Eurogroup. He says a decision won't be made before April of next year."
---
Greece will negotiate after achieving primary surplus, says Stournaras - eKathimerini
"Greece will embark on a major negotiation with its partners and creditors, known as the troika, after a primary surplus is achieved later this year, said Finance Minister Yannis Stournaras speaking on Skai on Wednesday.

While insisting the country was on the right track, Stournaras said Greece had to stick to its adjustment program.

A funding gap foreseen for summer 2014, which is expected to reach 10.5 billion euros, would be covered either through a return to the markets or a new loan, Stournaras said."
---
September 2, 2013
Greece rejects new oversight for privatization fund - DW-DE
"Greece's government has ruled out handing over the supervision of its privatization scheme to outside authority. This follows reports that the EU could push for new supervisors after lackluster sales of state property.

Both Greek Prime Minister Antonis Samaras and his finance minister, Yannis Stournaras, denied on Sunday that the government would even considering the idea of surrendering control of the Hellenic Republic Asset Development Fund (HRADF).

"HRADF will remain in Greek hands. End of discussion," Samaras told the left-leaning newspaper Eleftherotypia."
---
Samaras: Greece a"bastion of security" - Neoskosmos
"The prime minister's briefing of the president followed reports that Washington has asked Athens to provide permission for US military ships and aircraft to pass through Greek territory and use the Souda Bay and Kalamata military bases for an intervention in Syria.

The Defense Ministry rebuffed those reports earlier on in the week but the government sources that had briefed the Greek daily Kathimerini insisted that the prospect for Greek involvement in a US intervention has been discussed in view of Greece's experience in providing support for NATO's intervention in Libya in 2011.

Greece is monitoring the situation in Syria "with concern and composure" and is "trying to play its role as a factor for stability, peace and security", Foreign Minister Evangelos Venizelos said on Thursday, following a meeting he held with his cabinet colleague, Defence Minister Dimitris Avramopoulos."
---
Parallels between the decline of Detroit and Greece - Financial Times
"...if the talented people leave – which, in Ireland and Greece, they are doing – the chances of a return to growth diminish, especially in the absence of any form of stimulus. The permanent decline of a city such as Detroit is the price you pay for labour mobility. The middle classes there mostly left for nearby suburban areas, such as Oakland County in the north, one of the richest in the US. The population of Detroit has declined from a peak of 1.8m in 1950 to 700,000 in 2012.

Fourth, falling wages do not bring back equilibrium. As unionised jobs disappeared from Detroit, wages fell; yet unemployment remains extremely high. Unemployment peaked at 27.8 per cent in 2009 – virtually the same as in Greece today.

...Permanent decline is still not inevitable, neither for Detroit nor for Greece. The US city's house prices are so low that people are moving back to start businesses there, at least in the relatively safe areas. ...In Greece, it usually rests on some anecdotal story. One of my interlocutors recently witnessed the opening of a new shop in Athens, and drew wild conclusions about an incipient recovery.

....In Greece, the eurozone may yet accept a total debt write-off, and shift some investment into the country. If everything that went wrong in the past four years now turns right, it is conceivable that the Greek economy will resume growth after six years of recession. I do not think this will happen, but at least it is theoretically possible. Unlike Detroit, Greece also has the option of leaving the monetary union and adopting its own currency. But it is far from clear whether Athens would opt to do that – even if it were in the country's best economic interests – since political factors may prevail."
---
See the main archive index of all collected news articles and pages on Athens Greece Now.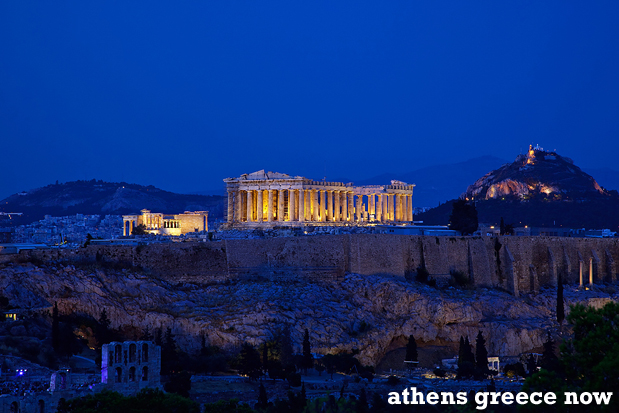 ---
Advertisement: I am an Amazon affiliate
Fodor's Essential Greece: with the Best Islands (Full-color Travel Guide)