August 31, 2012
September a hard month for Greece and Spain
'if greece, then spain'
This article from The Australian is slightly misleading since the Greek 'need for cash' is hardly unexpected, but scheduled as part of the tranche payments coming from the troika loan treaty. However, the article does demonstrate that many events in europe are combining (some on the same day!) that will destabilize an already destabilizing system:
"For years, policy makers have wondered what would happen if a large eurozone country, like Spain, was unable to borrow money in large quantities. Now they are edging closer to finding out. Demand for Spanish bonds is wilting fast, and Spain must issue billions more to cover its deficits and repay old debt coming due in October.

Meanwhile, Greece, again, will need more cash. And a constitutional-court ruling in Germany on the legality of the bloc's new bailout fund and elections in the Netherlands in which some lawmakers are advocating a eurozone pullout -- on the same September day -- could rattle the careful politics of Europe's rescue attempts."
The article goes on to describe that the great fear about Spain, which is going to need to meet €20 billion in debt payments in September, will quickly follow Greece if Greece is forced from the euro. Hence, the still unwavering gaze on Athens throughout europe.



---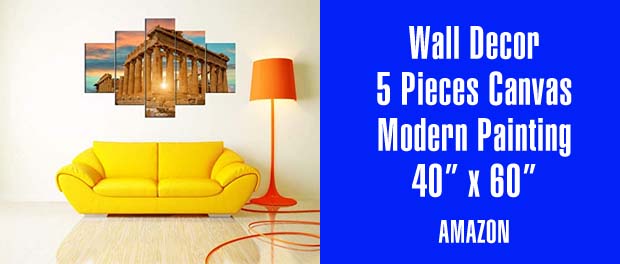 Parthenon Temple on the Acropolis of Athens Greece Artwork Wall Decor 5 Pieces Canvas Modern Painting Wall Art Home Decoration for Living Room Pictures HD Printed Framed Ready to hang(60''Wx40''H)
---
Create Amazon Business Account - save time and money on business purchases with competitive B2B prices and discounts