August 26, 2012
Merkel to anti-Greek colleagues "weigh [your] words carefully"
'no doubts greece will fail to meet 2014 deadline'
Chancellor Merkel is trying to restrain the volume of negative comments coming from within her ruling center-right coalition in Germany. To say the least, Greek leaders don't like the criticisms - 'stop the toxic comments' Samaras has asked.
But with the solid rejection of time extensions coming from both French President Hollande and Chancellor Merkel, Greek Premier Samaras is facing a blank wall to his effort to gain time for austerity measure implementations in Greece.
With recent comments by German Economy Minister Philipp Rösler that a Greek exit from the euro has lost its "horror," the voices indicating that time is running out on reforms are growing in number.
Next month the 'troika' commission investigation of progress in Athens will issue a report, and that will weigh heavily on what happens next, as continued Greek slowness on implementation will surely push even more european leaders into shrugging off 'saving' Greece at all.
Prime Minister Samaras is saying Greece won't ask for additional money, only more time. I think it is obvious that he wouldn't get any more money so there is no point in asking.
But, the view of this is as what Rösler said in his statements on the Greek exit 'horror': "Everybody must recognize that time always means also money… If the reforms are not undertaken, there can be no further aid." [Quoted in the Wall Street Journal.]
On the other hand, Greece isn't supposed to be experiencing a 6.35% contraction, which they have, and they're going to get clobbered some more before the year is out. Greece is in an impossible bind, the 'troika' of the IMF, eurozone and the European Central bank have insisted upon running the restructuring of Greece's economics, and very little is going the way the Troika has planned it. That's what happens when you join a club like the EU, you have to play by club rules.
Further Reading:
Merkel Warns Officials to Stop Criticizing Greece, ECB - Wall Street Journal

Germany and France turn screw on Greece over austerity plans - Guardian UK

German minister rejects more time for Greece - CBS News online



---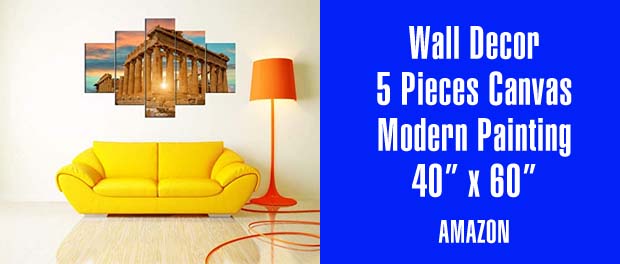 Parthenon Temple on the Acropolis of Athens Greece Artwork Wall Decor 5 Pieces Canvas Modern Painting Wall Art Home Decoration for Living Room Pictures HD Printed Framed Ready to hang(60''Wx40''H)
---
Create Amazon Business Account - save time and money on business purchases with competitive B2B prices and discounts