July 18, 2011
Globe and Mail "The Two United States"
Drawing comparisons between the ongoing Greek crisis and the problematic numbers in the United States which echo the same dilemmas (rising GDP debt ratios), and with Secretary of State Hillary Clinton currently in Greece and providing "cheerleading" for the efforts of Papandreou's government to implement the austerity plan, writer Anthee Carassava writes:
"So why the cheerleading? Because in an era of growing global interdependence, pundits and analysts argue, two United States are better than one. This week will be crucial. As U.S. President Barack Obama has given increasingly rancorous negotiations with the Republicans until the end of next week to reach agreement on the terms for raising the $14.3-trillion U.S. debt ceiling, Mr. Papandreou will take to Brussels on Thursday to meet with his European counterparts and craft some sort of second bailout for his country.

If Mr. Papandreou fails, a potentially ruinous debt crisis may shatter the European Union and set U.S. markets to a dangerous spasm. As Jamie Dimon, chief executive of JP Morgan, one of Wall Street's biggest banks put it recently: "No one can tell me with certainty that a U.S. default wouldn't cause catastrophe and wouldn't severely damage the U.S or global economy. It would be irresponsible to take that chance."



---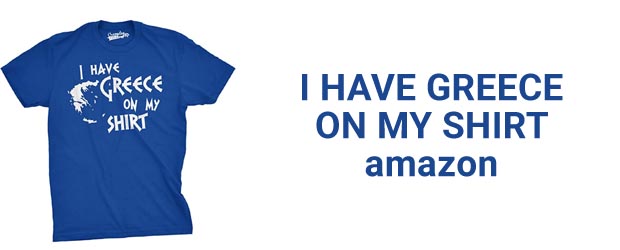 I Have Greece On My Shirt Funny Pun Geography Country Tee (Blue) - XL
---
Create Amazon Business Account - save time and money on business purchases with competitive B2B prices and discounts
---
Andros: The Little England of the Cyclades - AMAZON